We receive free products and receive commissions through our links. See
disclosures page
.
Queal is a Dutch company and the name is short for "quick meal." It comes in several varieties including high protein, low calorie, and vegan, plus they sell bars and nootropics as well.
The company is positive meal replacements are the most environmentally friendly way to eat. When you peruse their website you're told a lot of information: their product will "reclaim your productivity," help you save money, complete your nutrition, and it's environmentally sound because there's no waste, there's no meat, the packaging is recyclable, and all the ingredients are sourced from the Netherlands and surrounding countries.
A happy bonus: there are seven different flavors you can choose from. With names like "Chocolate Hazelnut Happiness" and "Funky Forest Fruit," can they really be as tasty as they promise — especially without artificial flavors? We decided to take "Awesome Apple Pie" for a spin to find out.
Queal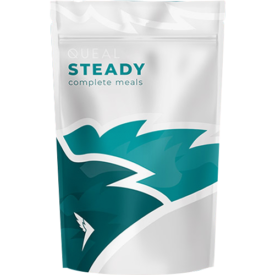 Queal is jam packed with vitamins, minerals, omega-3s, and flavor, making it one of the most appealing meal replacements on the market.
Queal Nutrition Info
One serving is five scoops and comes to 700 calories, so three "meals" gives you a regular (or at least, in line with common recommendations) calorie intake of 2100.
In those 700 calories you'll get 49 grams of protein, 79 grams of carbs (14 grams fiber, 8 grams of sugar), and 18 grams of fat (5.1 grams saturated, 6.2 grams polyunsaturated). There's 55 percent of the RDI of cholesterol in one serving.
The micronutrients are pretty great: there are 27 vitamins and minerals (if you're including sodium) and you can expect to get about 30 percent of the RDI of each. There are all the big hitters like Vitamin C, Vitamin D, and calcium, but there are a lot of nutrients that get left off of popular meal replacements like Vitamin K, chloride, and chromium. The only one I expected to see and wasn't there was choline, though not many people prioritize that one.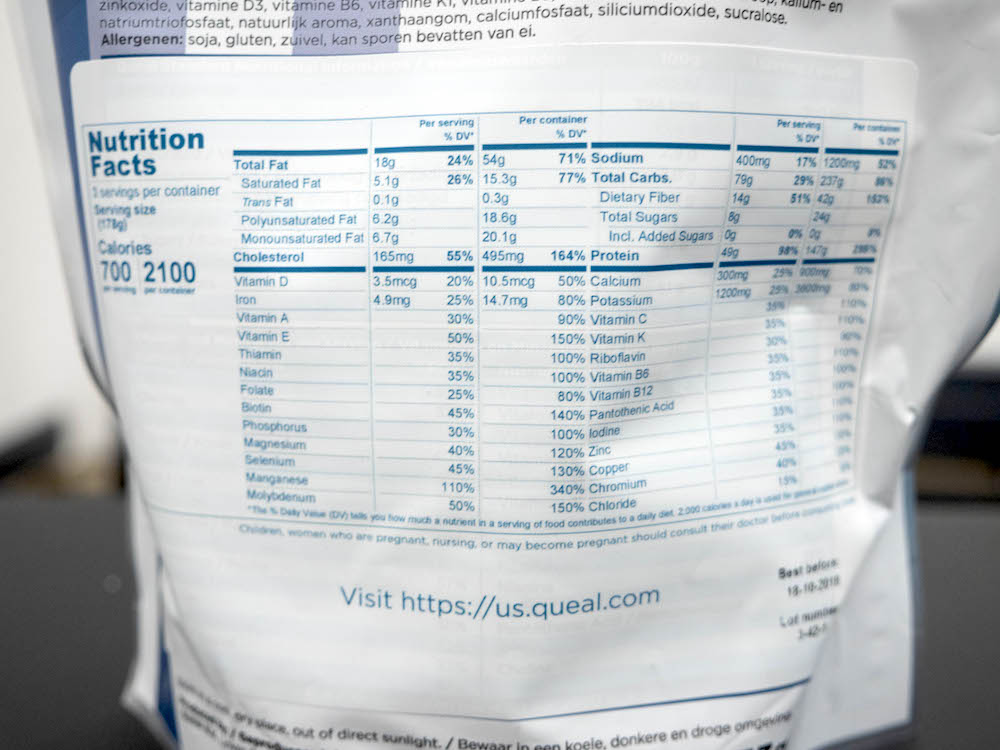 Queal made our list of the absolute best meal replacements — don't miss the rest!
Queal Ingredients
Scottish oat flour, maltodextrin, whey protein, soy flour, palm and flaxseed oil, inulin, the vitamin and mineral mix, glucose syrup, potassium triphosphate, sodium triphosphate, natural flavors, xanthan gum, calcium phosphate, silicon dioxide (for anti-caking), and sucralose, which is an artificial sweetener also called Splenda.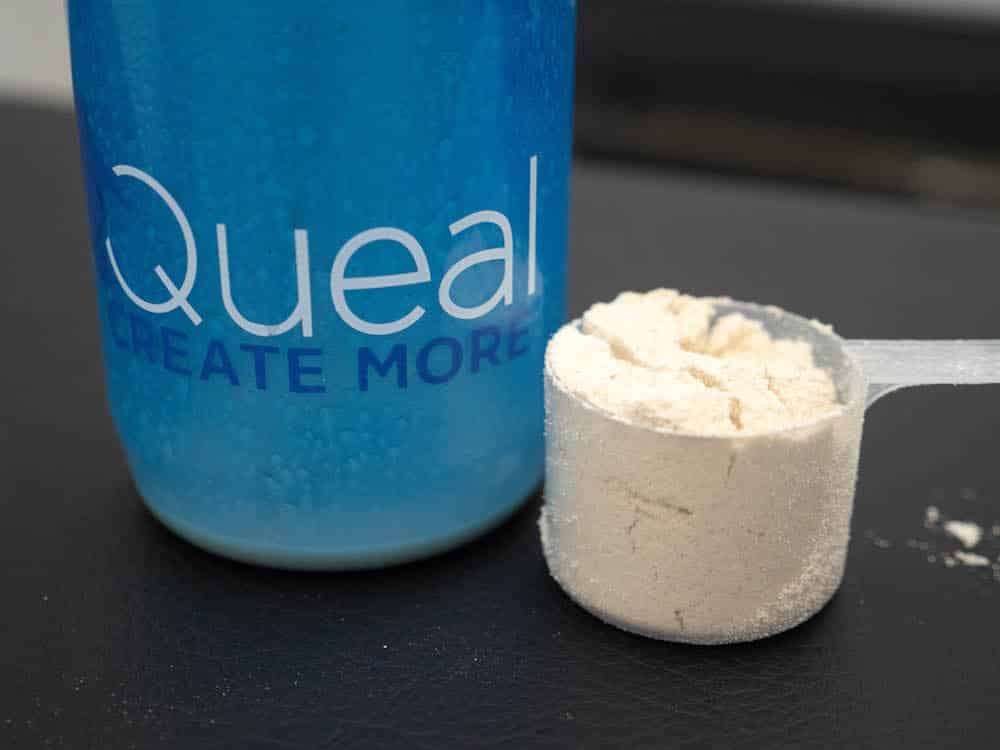 Queal Benefits and Effectiveness
Perhaps the most notable ingredient here is the palm oil, an ingredient that might be concerning due to its links with deforestation, but fear not: it's RSPO-certified palm oil that's considered environmentally sustainable by the World Wildlife Federation.
There are a lot of ingredients that your diet may eschew like soy, dairy, gluten, egg, sucralose, and the maltodextrin is made from corn starch. It's far from a Paleo product, but is it nutritious? Heck yes. As mentioned above, this really is a remarkably complete meal replacement that provides a solid third of just about all the micronutrients you could ask for besides choline.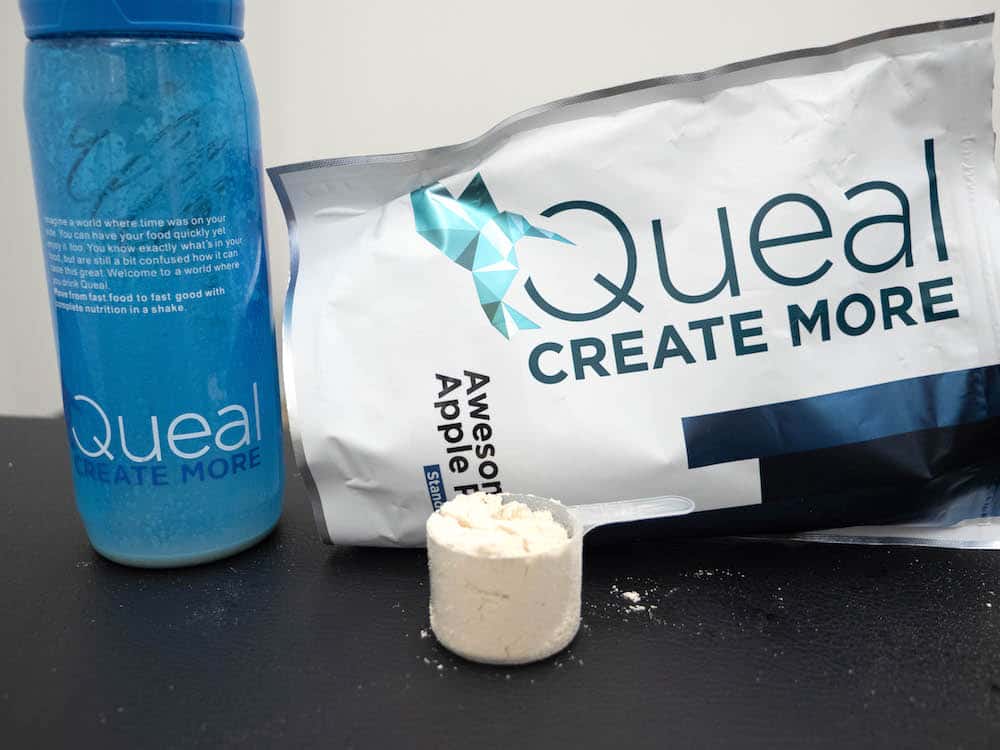 I was a little disappointed by the polyunsaturated fats — the label says there are 6.2 grams but currently there's no information as to how much of it is Omega 6 or Omega 3. Given that much of the fat comes from palm and flaxseed oil it seems likely there's a decent amount of Omega-3, but that information isn't present for now.
Still, it's among the best meal replacements I've seen as far as nutrition goes.
Queal Price
It costs $10 per bag and each bag has 3 servings, so you're looking at $3.33 per serving. There's no subscription available but if you're looking to save as much cash as possible you can get a flavor sampler of 7 bags for $69, which brings it to $3.28 per serving — not a big discount.
Most meal replacements are about $2 to $2.50 so $3.30 isn't the cheapest I've seen but it's really important to emphasize that most meal replacements aren't 700 calories, they're closer to 200 calories. So this is actually pretty good value.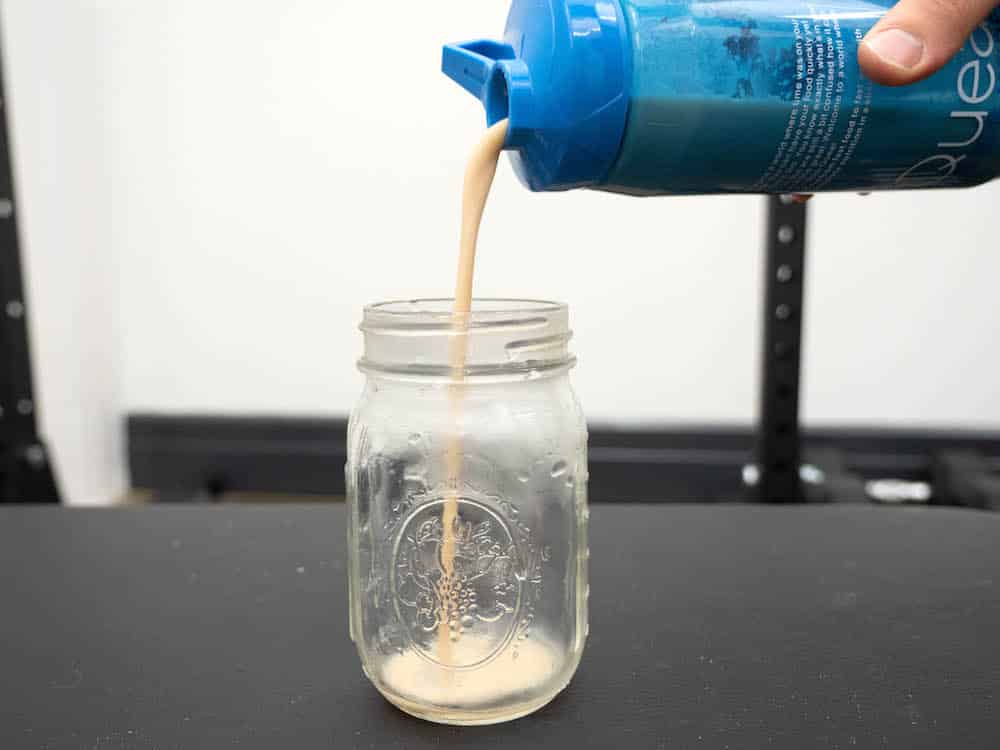 Queal Taste
The Awesome Apple Pie was surprisingly delicious: I tasted the apple, I tasted the cinnamon, and I tasted the pie crust, probably because of the palm oil. I was blown away by the taste, though I should emphasize that taste is subjective and a few people online aren't fans of the taste.
The Takeaway
This is remarkably nutritious and delicious, the only real (potential) downsides are the allergens, the sucralose, and the lack of info regarding Omega-3s. If you can live with that, this is a perfectly fine meal replacement.
Other Great Meal Replacement Reviews
Related Meal Replacement Content