We receive free products and receive commissions through our links. See
disclosures page
.
Boost is a part of Nestlé Health Science and as one of the few meal replacement shakes that actually gets advertised on television, there's a chance you've known about this drink for a while. The company advertises Boost as "convenient and nutritious way(s) to help you enjoy life" and offers about a dozen different varieties of the product that include those designed for glucose control, high protein diets, athletic lifestyles, and more.
We decided to try out the "Very Vanilla" flavor of the Original Boost Complete Nutritional Drink, which is also available in Rich Chocolate and Creamy Strawberry. The 240-calorie bottle is described as something to be enjoyed as "as a mini-meal or between-meal snack" and it boasts a pretty impressive nutrient profile.
See our picks for the best meal replacements on the market here!
Boost Original Complete Nutritional Drink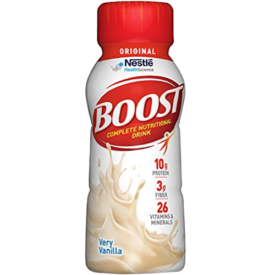 Boost Original Complete Nutritional Drink
Boost Nutritional Shakes aim to provide a moderate macro profile and have added vitamins and minerals in every shake.
Boost Original Complete Nutritional Drink Nutrition Info
In 237 milliliters you'll get 240 calories: 10 grams of protein, 41 grams of carbohydrates (20 grams of sugar, 3 grams of fiber), and 4 grams of fat (1 gram saturated). There's 3 percent of the RDI of cholesterol and 6 percent of your sodium.
As for the rest of the micronutrients, there's a lot to talk about here. If you're including sodium and choline and potassium, there are a whopping 28 micronutrients in every bottle and you can expect roughly 30 percent of the RDI of each.
It's a little low in a few of them: roughly ten percent of your daily chloride, choline,  and potassium. But this is still a phenomenal source of nutrition, with everything from popular vitamins like C and D (100 and 60 percent of the RDI respectively) to less common nutrients like Vitamin K and chromium.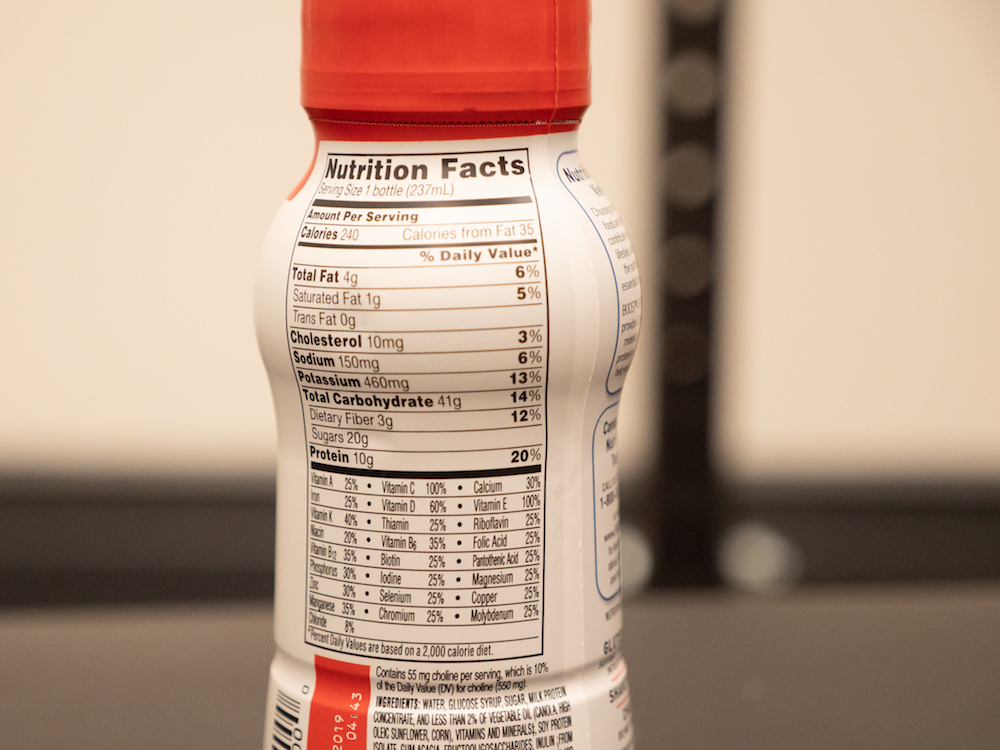 Boost Original Complete Nutritional Drink Ingredients
The first three ingredients are a little surprising for a health supplement: water, glucose syrup, and sugar. Then there's milk protein concentrate and the rest of the ingredients constitute less than two percent of the product's volume: vegetable oil (from canola, hish oleic sunflower, and corn), soy protein isolate, cellulose gel and gum, soy lecithin (for mixability), natural and artificial flavor, carrageenan, and stevia.
There are also a few ingredients that get a lot of attention in the product's marketing: inulin (from chicory root), fructooligosaccharides, and acacia gum, all of which provide prebiotic fiber.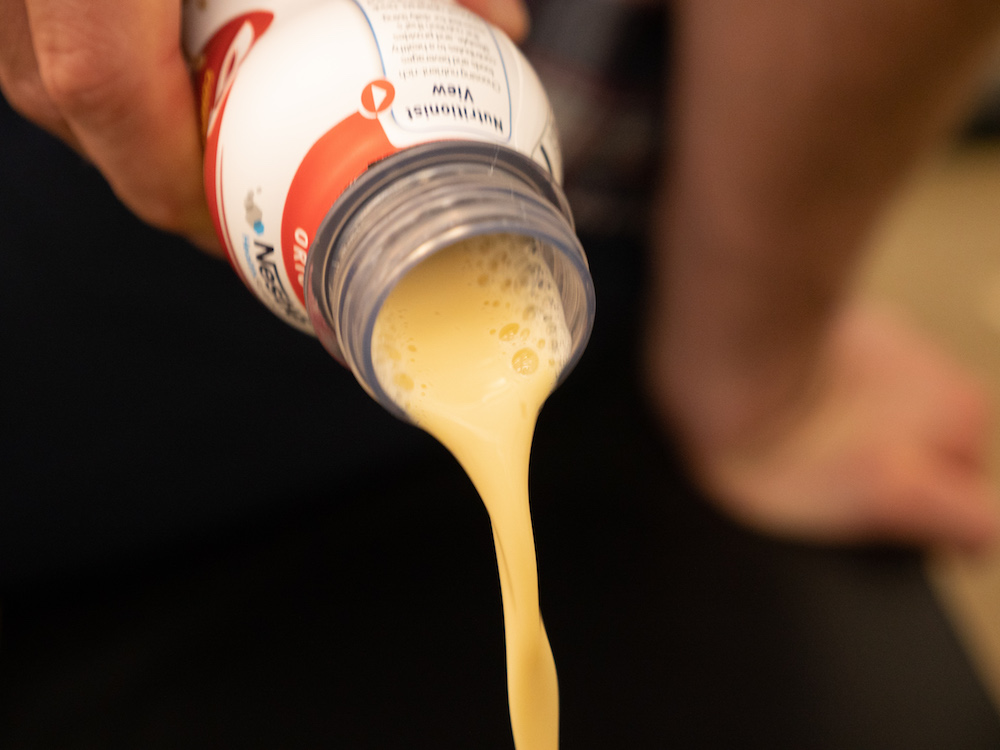 Boost Original Complete Nutritional Drink Benefits & Effectiveness
So let's start with the prebiotic fiber. Considered as food for the bacteria living in your digestive tract, prebiotic fiber may improve digestive health and Boost advertises their product as containing "Prebio1™ Fiber Blend," which they call
a proprietary blend of prebiotic fibers to help promote the growth of beneficial intestinal bacteria to support digestive health.
There's not much information about Prebio1, which seems to be used only in Nestle products. It's likely that it provides a little boost to digestive health but since we don't know how much prebiotic fiber a drink contains nor is there in any case a recommended daily intake for prebiotics, it's hard to know how useful the Prebio1 is, but the 3 grams of fiber in each bottle do provide 12 percent of the RDI of fiber.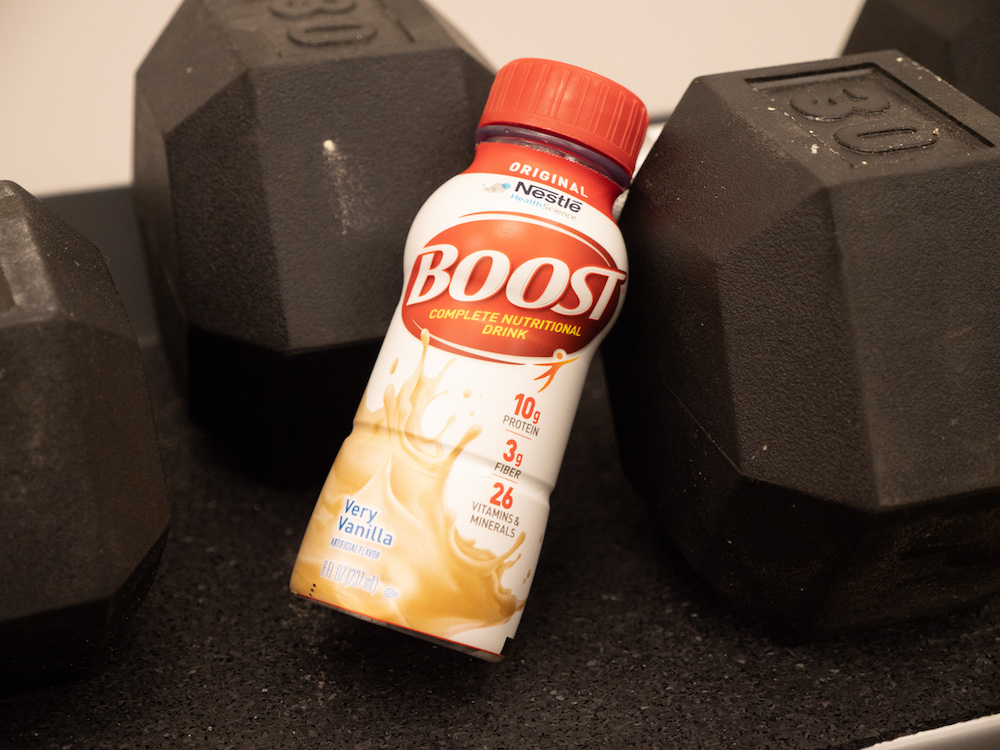 While we're talking about carbs, this has a 1:4 ratio of protein to carbs (so it won't be a favorite of people on low-carb or high-protein diets) and on top of that, Boost isn't low in sugar. Twenty grams in a bottle is pretty considerable, though the flipside of that is there are no artificial sweeteners, which some folks will be happy about.
In any case, this does have a ton of nutrients and with the ratio of protein to carbs, I can definitely see it being useful as a post-workout beverage or an anytime snack for active individuals.
Boost Original Complete Nutritional Drink Price
There's a minimum order of 6 bottles and whether you order 6, 12, or 24, you're looking at roughly $1.30 per serving. Since most meal replacements are somewhere between $2 and $2.50, that's a very reasonable price.
Boost Original Complete Nutritional Drink Taste
The Very Vanilla flavor tasted just like vanilla custard, of which I'm a huge fan. It's certainly not a low-carb or low-sugar beverage, but the good news is that all the sugar and artificial flavor make for a very tasty drink. Of course, if you aren't a fan of sweet and custardy then you won't love Very Vanilla — taste is subjective, after all.
The Takeaway
Boost is inexpensive, nutritious, tasty, free of artificial sweeteners, and contains a hit of prebiotic fiber. The downsides are it's pretty high in sugar, not particularly high in protein, and it has artificial flavors. It's also safe for people with celiac disease, though it does contain GMOs. It really depends on what you're after, but there are plenty of folks for whom Boost will fit the bill — even athletes.
Other Great Meal Replacement Reviews
Related Meal Replacement Content