We receive free products and receive commissions through our links. See
disclosures page
.
Soylent is probably the best known meal replacement on the market today, and that's because when it was first released in 2013, it didn't just claim the ability to replace an occasional meal — it wanted to replace food. Soylent caused conversation when founder Rob Rhineheart claimed to have gone thirty days on nothing but Soylent, and that it resulted in increased energy, better skin, improved focus, and greater endurance.
Today, Soylent has slightly changed their tactic, claiming that "Soylent is not intended to replace every meal, but it can replace any meal." It's available in a variety of shakes, but we decided to take version 1.8 of the "neutral" flavored meal replacement powder for a spin. How complete can a meal replacement get?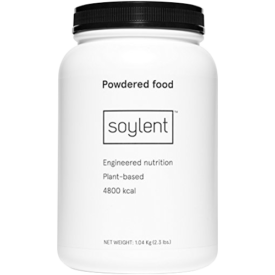 An extraordinarily nutritious meal replacement powder, Soylent is jam packed with nutrients often left off of its competitors and has enough calories to actually sub for a meal.
Soylent Nutrition and Ingredients
Two scoops delivers 400 calories and is considered the default serving size, what the company calls a "meal."
In those two scoops you'll get 20 grams of protein, 39 grams of carbohydrates (5 grams of soluble fiber, 15 grams of sugar), and 20 grams of fat (1.5 grams saturated, 3.5 grams polyunsaturated, 14 grams monounsaturated, no trans fat).
As far as micronutrients go, besides sodium (14 percent), a "meal" provides precisely 20 percent of the recommended daily intake of a huge array of micronutrients. Because Soylent aims to provide complete nutrition, I'll list them all here.
Vitamins: Vitamins A, C, D, E, K, B6, B12, thiamin, riboflavin, niacin, folate, pantothenic acid, biotin.
Minerals: Calcium, iron, potassium, iodine, magnesium, zinc, copper, manganese.
There's also 10 percent of the RDI of molybdenum, chromium, and choline, important nutrients which don't fit quite so neatly into the "vitamin" and "mineral" categories.
The ingredients themselves are mostly comprised of the nutrients themselves, but it's worth pointing out that the protein comes from soy, the fats come mostly from canola oil, there's soy lecithin for mixability and xanthan gum as a thickener and stabilizer, and the product contains the artificial sweetener sucralose, also called Splenda®.
Is Soylent really the best meal replacement on the market? See where it ranked on our final list!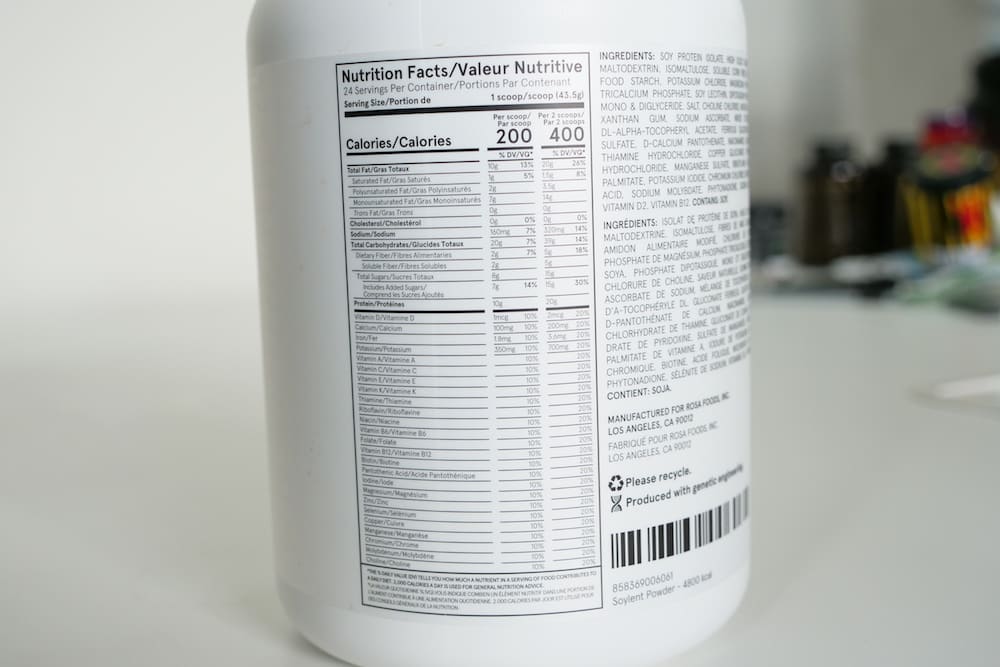 Soylent Benefits and Effectiveness
True to its mission, Soylent is phenomenally nutritious, moreso than many of its competitors. The majority of meal replacements are low in fat, a vital macronutrient. Many meal replacements are low in potassium and leave out Vitamin K, chromium, and other, lesser known nutrients. Soylent does not fall victim to these common faults. It's also completely plant-based, though it isn't technically certified kosher or halal.
So, Soylent is head and shoulders above the rest of its competition. That said, there are a couple of potential gaps in the nutrition. The first (and probably most minor) is cholesterol: there's none whatsoever in this product, although studies suggest that it does help to form cell membranes, produce sex hormones, insulate nerve cells, create Vitamin D, and manufacture bile.
One of my bigger issues with Soylent is that it doesn't have much in the way of omega-3 fatty acids. The two main omega-3s, EPA and DHA, help deliver a ton of benefits with regard to your joints, brain, and inflammation.
While they have appeared in previous versions of Soylent, they aren't in formula 1.8. It does contain two grams of ALA, a plant-based omega-3, which the body does convert to EPA and DHA — but some ninety percent of ALA is lost in the conversion process, so we couldn't say Soylent is a good source.
Finally, there are no digestive enzymes or probiotics in the product. They aren't considered essential nutrients, but they're often included in meal replacements to improve digestive health.
None of that is to say Soylent isn't a fantastic supplement, it just means you might want to find room in your schedule to consume some fatty fish now and then.
Besides the artificial sweetener and the soy, Soylent isn't gluten free and it's made with genetically modified organisms (GMO), which may make it off limits for some folks.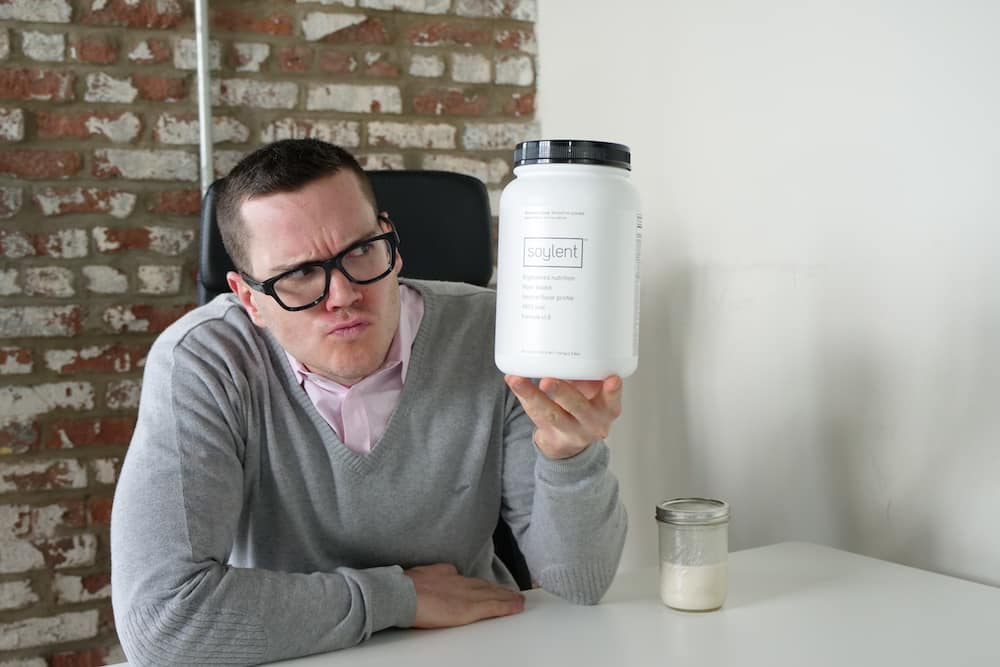 Soylent Price
You can pick up a tub of 2.3 pounds, which contains 12 "meals" of two scoops, for between $32 and $38. That's roughly $2.80 per serving. That's pretty pricy on a per serving basis, but on a per calorie basis it's great, since most meal replacement shakes have less than half the calories of Soylent.
You might be able to decrease the price if you subscribe for a monthly shipment of Soylent, or you can pick it up in pouches, which are closer to $1.75 per serving. The catch is that, at the time of writing, you need to buy at least 7 pouches (35 meals) at a time.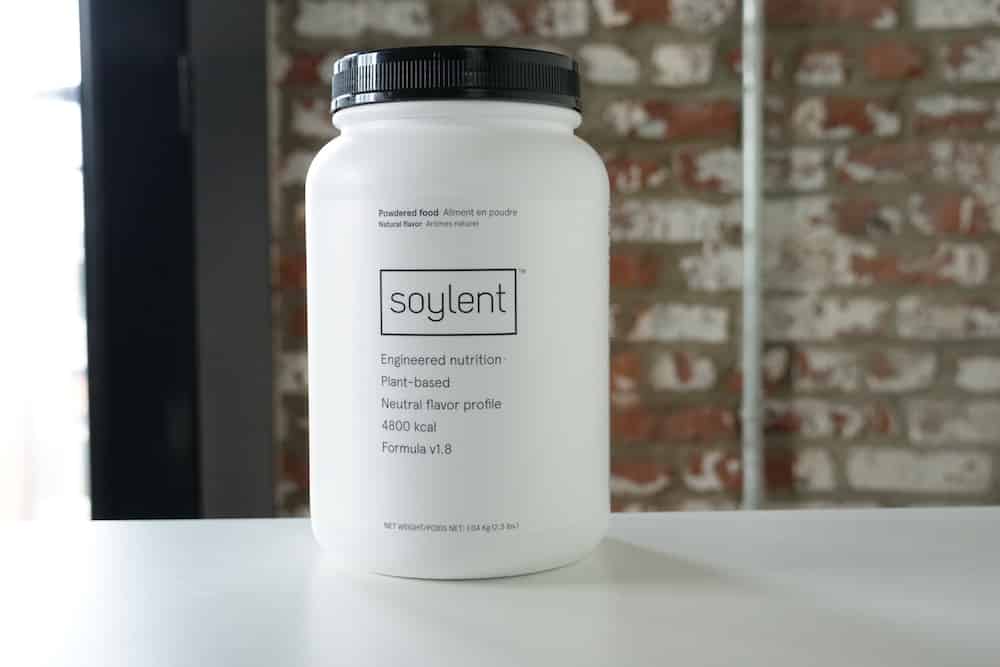 Soylent Taste
While the pre-made drinks taste more like oats and soy, mixing the powder with water makes for something that tastes more like plain, unseasoned, soft tofu. It's advertised as having a "neutral flavor profile" but I didn't care for the taste all that much. I'd recommend blending it in a shake or even adding some cinnamon and honey to the mix. On its own, I didn't find it neutral enough.
The Takeaway
Soylent's nutrition, while not totally totally complete, is head and shoulders above most other meal replacements I've seen. It has a few potential drawbacks: the taste, the omega-3s, the lack of cholesterol and probiotics, plus a lot of folks do try to steer clear of artificial sweetener. But strictly as a means to deliver nutrition, it's a very impressive product.
Other Great Meal Replacement Reviews
Related Meal Replacement Content