We receive free products and receive commissions through our links. See
disclosures page
.
Based in California, Kate Farms has an unusual story behind it. It's named after the founders' daughter, who was born with cerebral palsy, and they say they used their self-devised meal replacements to help her receive adequate nutrition and maintain a healthy weight after years of struggling to do so.
A few years later Kate Farms has devised several products, many of which are used in clinical settings to help deliver nutrition to patients suffering various ailments. (One is intended for folks with impaired digestion, for example.)
We decided to try out the Komplete Meal Replacement Shake, which is intended for anyone and everyone. Here's what's in it.
Kate Farms Komplete Meal Replacement Shake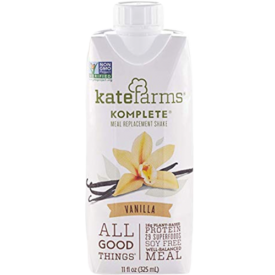 Kate Farms Komplete Meal Replacement Shake
This meal replacement is nutritious and especially low in allergens, making it useful for a wide variety of consumers.
Kate Farms Komplete Meal Replacement Shake Nutrition Info
The product comes in little cartons of 325 milliliters and there's 290 calories: 16 grams of protein, 41 grams of carbohydrates (5 grams fiber, 18 grams sugar), and 8 grams of fat (1 gram saturated). There's no cholesterol, 2 percent of your daily potassium, and 120 milligrams of sodium, about 5 percent of the recommended daily intake.
On a micronutrient basis there's 35 percent of the recommended intake of 24 other vitamins and minerals. There are the big hitters like Vitamin C and calcium as well as a lot of other nutrients that sometimes get left off of meal replacements like Vitamin K and chromium. The only nutrients I don't see a chromium and choline, but otherwise it's a solid spread.
What's the most complete meal replacement? We lay it all out in our ultimate guide.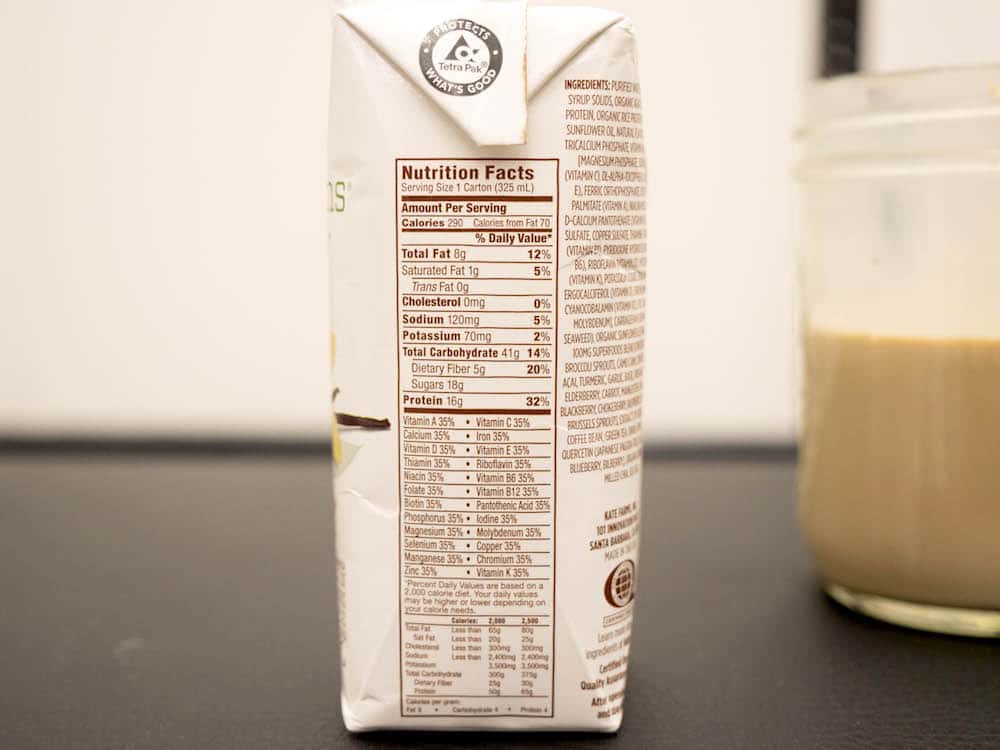 Kate Farms Komplete Meal Replacement Shake Ingredients
Most of them are the vitamins and minerals themselves, but there are a few ingredients worth mentioning. The first is that after water, the first two ingredients are organic brown rice syrup and organic agave syrup, so there's a fair amount of sugar here.
The protein comes from organic pea and rice protein, the fat comes mostly from organic high oleic sunflower oil, and some of the fiber comes from inulin, which is a prebiotic fiber that may have digestive health benefits.
In each bottle there's also 100 milligrams of what's called a Superfoods Blend that contains concentrates of broccoli sprouts, turmeric, garlic, basil, oregano, and a bunch of other herbs and vegetables that you cannot taste at all in the final product.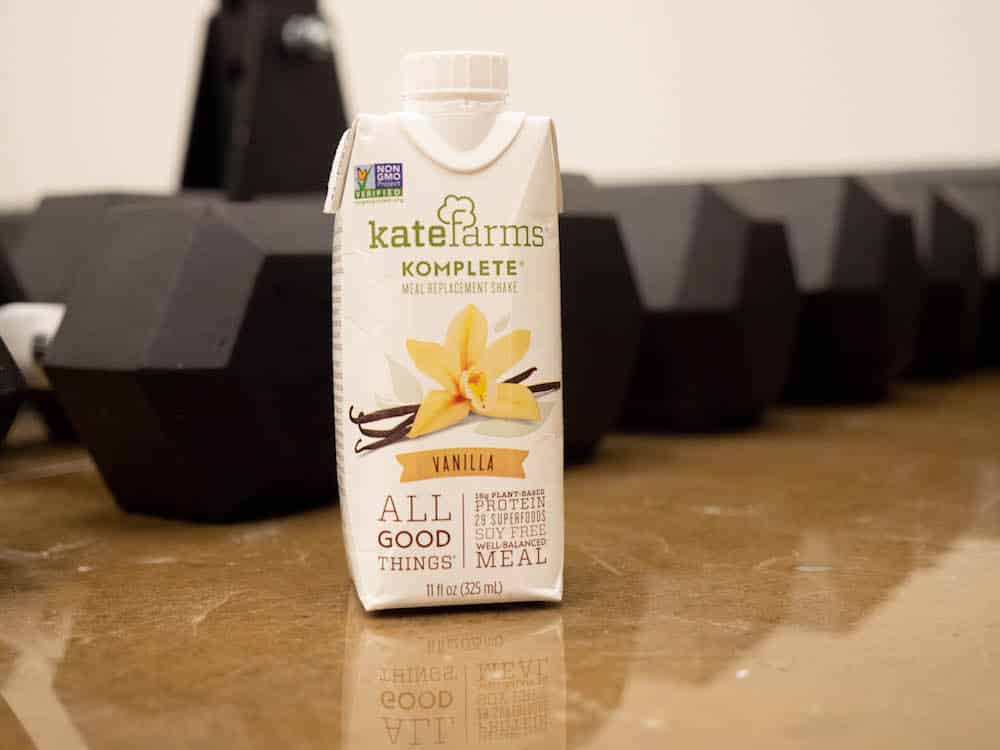 Kate Farms Komplete Meal Replacement Shake Benefits & Effectiveness
The idea with the Superfoods Blend is that it provides antioxidants on top of the vitamins and minerals, which is great, but they aren't quantified. Antioxidants can be measured with something like the ORAC scale, but that's not done with the Komplete Meal Replacement so it's hard to know what benefits you're really getting from 0.1 grams of tasteless vegetable concentrates.
The micronutrients, though, are truly excellent. Sure, there's no choline or chloride but besides that this delivers a solid third of the recommended daily intake of pretty much every vitamin and mineral you need, along with about 30 percent of your daily protein, 14 percent of your carbs, and 12 percent of your fat. While 16 grams may not sound like a lot of protein, it's a solid dose when considering the RDI — which is what this pretty clinical product does.
I would have liked a little more info on Omega-3s. Most of the fat seems to come from sunflower oil, which is high in Omega-6, and since Omega-3s may help to control inflammation I can see some customers wanting this information.
Finally, it's worth emphasizing that this is made in a hypoallergenic facility and there's absolutely no soy, gluten, dairy, or any allergens at all. This will make it great for folks susceptible to allergies and underscores the usefulness of this product in clinical settings.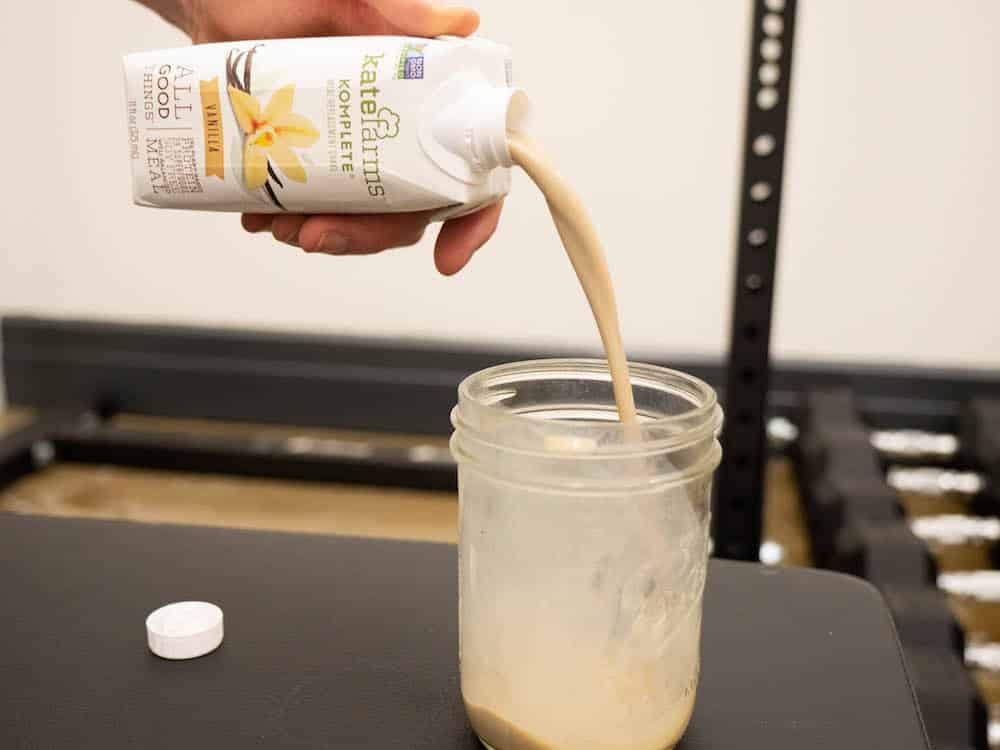 Kate Farms Komplete Meal Replacement Shake Price
You have to buy these in packs of 12, which will cost you about $43 or $44. That comes to $3.60 per bottle, which is pretty pricy. In my experience, the average meal replacement cost about $2 to $2.50, but this has the Superfoods Blend plus it's made in a hypoallergenic facility, so you may find the price to be worth it.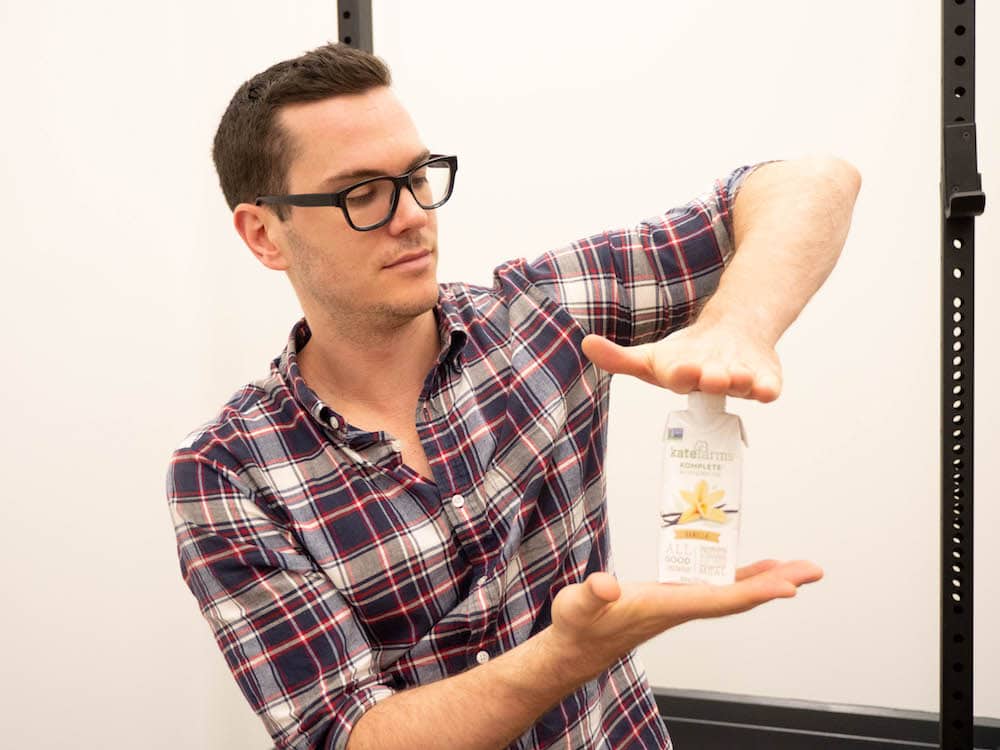 Kate Farms Komplete Meal Replacement Shake Taste
It's available in chocolate, vanilla, and coffee flavors. I grabbed vanilla and despite the fact there's no soy in this, it tasted like extra sweet vanilla soy milk or rice milk. Honestly, I found it a little too sweet — I had to sip.
The Takeaway
This has a ton of micronutrients, probably has a fair amount of antioxidants, and has absolutely no allergens. If you're looking for nutrition for delicate digestive systems this is a great source and probably worth the extra cost.
The downsides are the sweet taste and if you want to just consume these shakes you may need to figure out other ways to manage your intake of Omega-3s, choline, and chloride. But I can definitely see these fitting nicely into a well-managed diet.
Other Great Meal Replacement Reviews
Related Meal Replacement Content
Kate Farms Komplete Meal Replacement Shake
Per Serving: $3.60