Ample is one of the newer kids on the block in meal replacements, but the product has a hook: it's all made from whole foods.
Actually, that's just one of the hooks. According to their website, there are three main goals with this product: to reduce inflammation, to improve gut health, and to minimize insulin spikes. The company was founded in 2015 by Connor Young, a gentlemen who once ran his own CrossFit gym, who found that most snack bars and meal replacements left his friends feeling drained and with poor digestion.
He decided that instead of condemning packaged foods, he'd change packaged foods, and after a successful crowdfunding campaign he launched Ample. There's also a ketogenic version called Ample K and a vegan version called Ample V, but we went with the original in this review. We'd heard about this product before, since it's become relatively commonplace in discussions on meal replacements, and it takes an unusual approach to nutrition that emphasizes reducing inflammation, increasing antioxidants, and improving gut health. 
Save 15%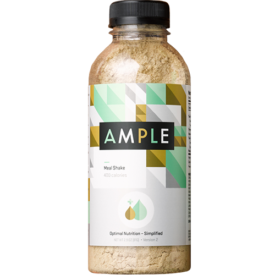 Ample has a solid amount of calories and macronutrients, won't leave you hungry, tastes awesome, and succeeds on digestive. Use code BARBEND to save 15% on your order.
Ample Nutrition Info
Ample comes in two sizes, 400 calories and 600 calories, and we picked up a 600-calorie bottle. It contains 36 grams of protein, 35 grams of carbohydrates (14 grams of fiber, 6 grams of sugar), and 35 grams of fat (15 grams saturated fat). There's also 15 percent of the recommended daily intake of cholesterol.
Ample did something unusual with their micronutrients. One bottle has 10 percent of your potassium, 8 percent of your iron, and 25 percent of your Vitamin D, magnesium, and calcium.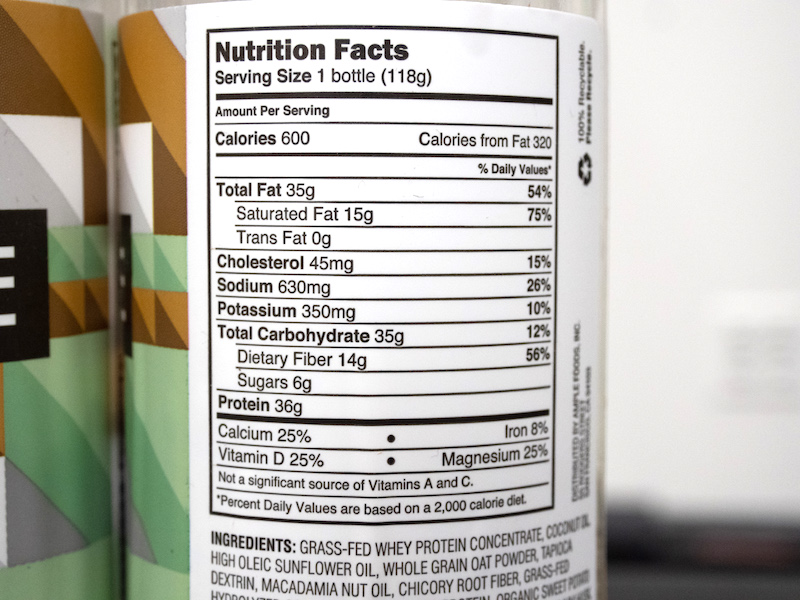 Ample Ingredients
There are quite a few ingredients that I'll try to separate by category. Note that this is Version 4.0.
Protein: Grass-fed whey concentrate, pea protein, grass-fed hydrolyzed collagen protein.
Fats: Coconut oil, high oleic sunflower oil, macadamia nut oil
Carbohydrates: Sweet potato powder, whole grain oat powder, tapioca dextrin, organic psyllium husk, chicory root fiber, acacia fiber
Probiotics: 4 billion CFUs from six strains: Lactobacillus acidophilus, Lactobacillus paracasei, Bifidobacterium lactis, Bifidobacterium infantis, Lactobacillus rhamnosus, Bacillus coagulans.
Fruits and Veggies: Zuvii™ green banana powder, organic wheatgrass, organic barley grass, organic chlorella
Flavorings: Dried honey, lemon juice powder, cinnamon, sea salt, natural flavor, monk fruit extract, stevia extract
Micronutrients: Potassium carbonate, calcium citrate, magnesium citrate, cholecalciferol (Vitamin D3)
Besides some sunflower lecithin and organic guar gum that's pretty much it.
Ample is one of our favorite meal replacements of all time! Check out the rest of the list.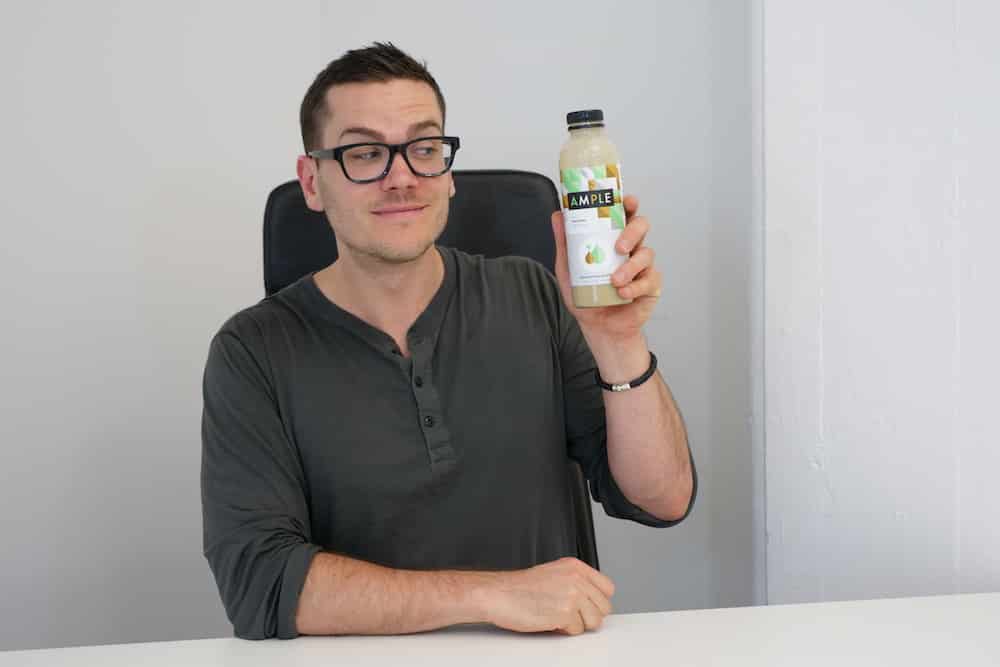 Ample Benefits & Effectiveness
So these ingredients are all natural, but what does it offer?
There are a few striking aspects. First, I like that it has a good amount of protein, fat, and fiber, making for a meal replacement that won't leave you feeling hungry and shouldn't result in a big insulin spike, so Ample succeeded on that front. Many competitors are particularly low in fat, so that aspect was especially refreshing. Note that with all the fiber, the net carbs are relatively low as well at 24 grams.
Then there's the digestive front. Ample has put a ton of probiotic bacteria in each serving, which could have a lot of health benefits.
They may be extra important for athletes: a 2017 meta analysis that was published in The Journal of Sport and Health Science found that probiotic bacteria could even help to manage exercise-induced stress.(1) It concluded that a healthy and diverse gut could help to improve recovery from workouts by reducing inflammation and improving energy storage. Indeed, inflammation is a huge component of how probiotics may improve health. Chronic inflammation has been linked to obesity, heart disease, and depression, and probiotics were found in some studies to not only reduce inflammation in the gut but also — possibly — to lower the likelihood of depression.(2)(3)(4)(5)
A lot of this research is in its early stages but it's promising nonetheless. Probiotics are often left out of a lot of meal replacements and coupled with the fiber, Ample has a really impressive commitment to this new frontier of health.
After insulin management and digestive health, Ample says it wants to reduce inflammation with an injection of antioxidants. Now, it does contain a lot of greens that are known to have a lot of antioxidants, which is a plus. That said, we don't really know how many — they're not measured. There are ways to measure antioxidants, like the the ORAC (Oxygen Radical Absorbance Capacity) scale. A cup of blueberries has about 12,000 total ORAC per serving, for instance. It would have been nice to know the ORAC value of Ample.
Otherwise, does this have the same kind of nutrition as some of the leading meal replacements on the market? Well, no, most of them have about 26 vitamins and minerals. But what Ample is doing here is giving a solid amount of calories, a good macro split, a ton of stuff for gut health, and a small number of very important vitamins and minerals. Most people are deficient in Vitamin D and magnesium and most women over 50 and men over 70 are low in calcium.
The thing is, it's not that hard to meet your RDI of Vitamins A and C and pantothenic acid and so on — there's an argument to be made that you don't need them in meal replacements provided you're eating enough whole foods and aren't trying to vastly exceed the RDI. But it is tough to get enough of the micronutrients Ample has strategically added to their product. Personally, I have a pretty darn healthy diet but I still take three supplements: Vitamin D, magnesium, and calcium. The ones that Ample adds. Those are tough to get. I liked Ample's minimalist approach, here.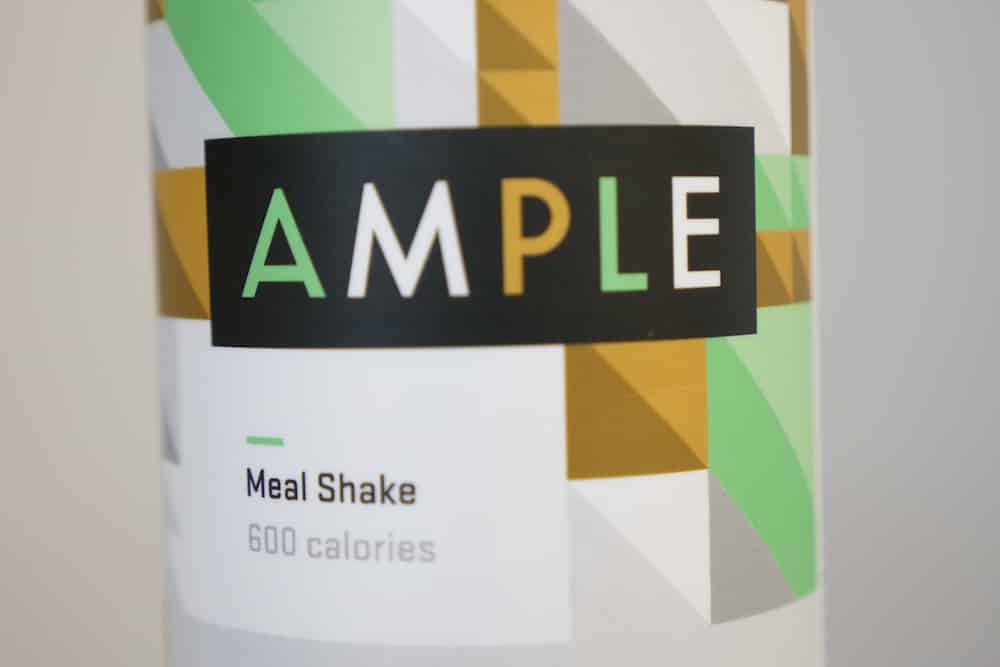 Ample Price
After the micronutrients, the price is probably the other main downside. If you buy one six-pack of the 600-calorie shake, it comes out at roughly $7.50 to $8.50 per bottle. If you get a 12-pack the price per serving drops by some 50-ish cents while a whole 60-pack is between $6 and $7. These prices can always change, of course.
You do have options beyond just ordering more and more of the bottles. Subscribing to regular shipments results in a discount of about 10 percent per order, and don't forget that Ample also has a 400-calorie version that costs between $6 and $7 before the discounts kick in.
The 400-calorie version is indeed cheaper, but it is worth emphasizing that with the average meal replacement costing about $2 or $3 per serving, it's still an expensive product.
Ample Taste
I loved, loved the flavor. For something that's proudly "all natural" with no artificial flavors or sweeteners, I confess that I went into the taste test with some trepidation but Ample has a secret weapon: the fat.
That 35 grams of fat really made for a delicious, creamy shake and when it combined with all the cinnamon, honey, and coconut oil, it made for a beverage that tasted pretty akin to liquid shortbread or Graham crackers. I genuinely look forward to drinking this, though I probably wouldn't be quite so glad to drink this thick, buttery shake on a hot day.
The Takeaway
Pros
No artificial ingredients
Good balance of fat, protein, carbs, and fiber
Contains probiotic bacteria
May provide antioxidants
Decent source of Vitamin D, magnesium, calcium, sodium
Cons
Pricy
Not a great source of vitamins
No mention of Omega-3 fatty acids
Antioxidants not quantified
Most people want a meal replacement for micronutrients first, macronutrients second. If that's you, Ample might not be your favorite meal replacement given it's not crazy high in vitamins.
What I think it is good for is a well-rounded diet that needs some extra calories between meals, for people looking to improve their gut health, or for people who are trying to lose weight. This is a very satiating drink and it's easy to consume on the go as well.
If if you keep an eye on your fruit and vegetable intake and just want something healthy to tide you over between meals, Ample has a solid amount of calories and macronutrients, a decent amount of key nutrients in which most people are low, it won't leave you hungry, it tastes awesome, and it definitely succeeds on the digestive health front.
Other Great Meal Replacement Reviews
Related Meal Replacement Content
References
1. Mach, N. et al. Endurance exercise and gut microbiota: A review. Journal of Sport and Health Science, Vol 6. No. 2 pp.179-197
2. Le Chatelier, E. et al. Richness of human gut microbiome correlates with metabolic markers. Nature. 2013 Aug 29;500(7464):541-6.
3. Carvalho, B.M. et al. Influence of gut microbiota on subclinical inflammation and insulin resistance. Mediators Inflamm. 2013;2013:986734.
4. Plaza-Diaz, J. et al. Evidence of the Anti-Inflammatory Effects of Probiotics and Synbiotics in Intestinal Chronic Diseases. Nutrients. 2017 Jun; 9(6): 555.
5. Messaoudi, M. et al. Assessment of psychotropic-like properties of a probiotic formulation (Lactobacillus helveticus R0052 and Bifidobacterium longum R0175) in rats and human subjects. Br J Nutr. 2011 Mar;105(5):755-64.