We receive free products and receive commissions through our links. See
disclosures page
.
In the sea of greens powders that are flooding the market, there are all too many that make bold claims about their properties without offering any real way to quantify them.
That's a problem that the California-based supplement company Paradise Herbs & Essentials sought to remedy with ORAC-Energy Greens, a mishmash of powdered grasses, fruits, vegetables, mushrooms, and probiotics that's intended to be used as a whole foods-based-based antioxidant supplement.
So, what exactly is in it, and what is the ORAC scale?

Buy ORAC-Energy Greens on Amazon
Ingredients
Paradise Herbs & Essentials has a big focus on traditional herbalism, and they operate with a philosophy they claim is rooted in Chinese, Ayurvedic, and Euro-Native American herbalism.
ORAC-Energy has over forty-two ingredients that are organic, pesticide-free, and arranged by categories: there's a blend of grasses like wheat grass and alfalfa grass, a blend of seaweeds, a "super beta-glucan mushrooms" blend, a probiotic blend, a berry blend, a "super antioxidants blend" made from tea and grape seed extract, "liver cleansing & tonic support" made mostly from milk thistle, "gingerzyme" made from assorted herbs, a "dual action energy formula" comprised of açai berry and maca root, and two more puzzling categories called "imperial adaptogen" and "nature's C with Qpower™."
The adaptogen blend is made from a variety of roots that are known in herbal medicine circles, like eluthero root, rhodiola, holy basil, Ashwagandha, and ginseng. The Qpower blend revolves around quercetin, a bioflavonoid that has antioxidant, anti-carcinogenic and stimulant properties.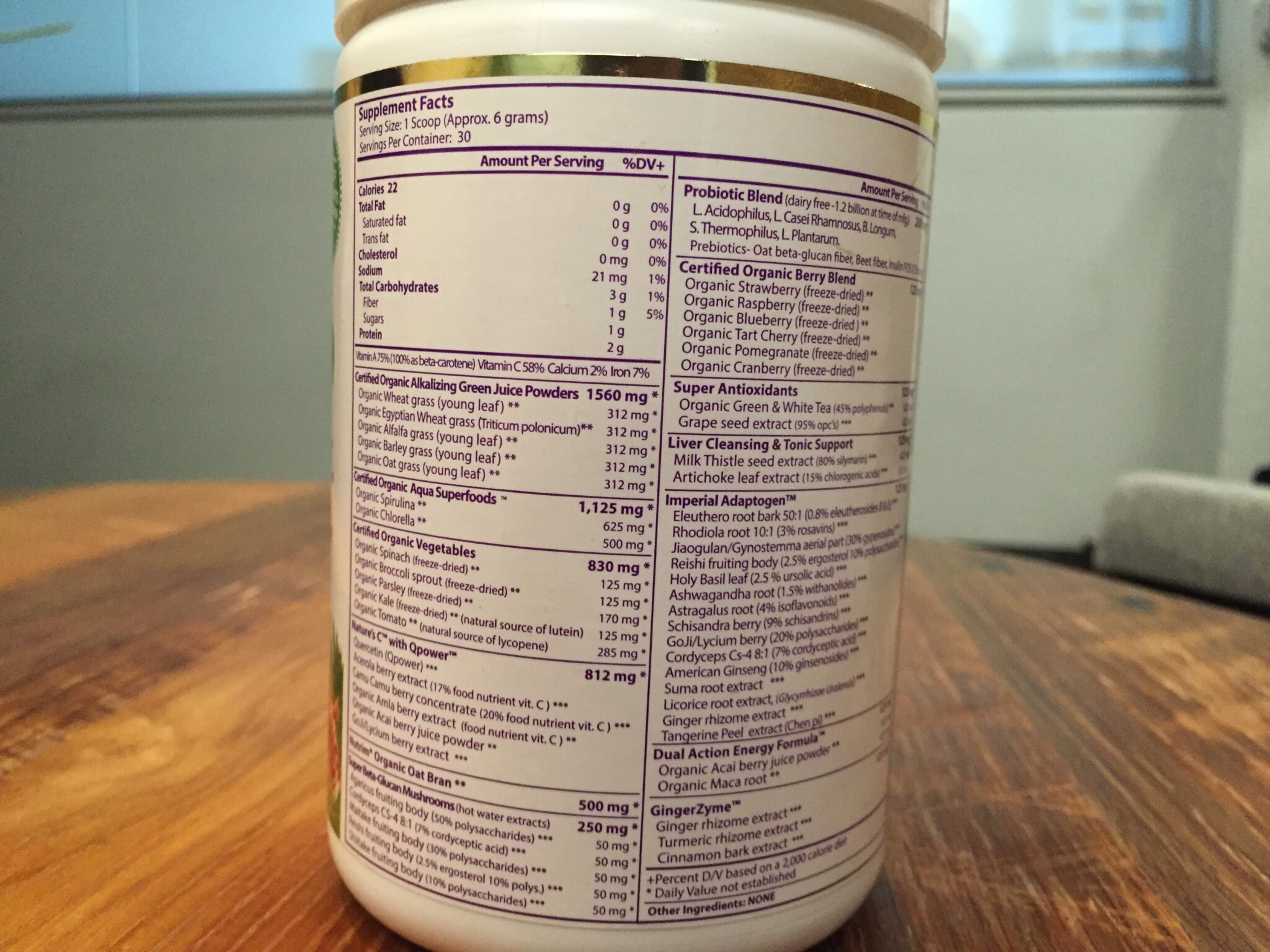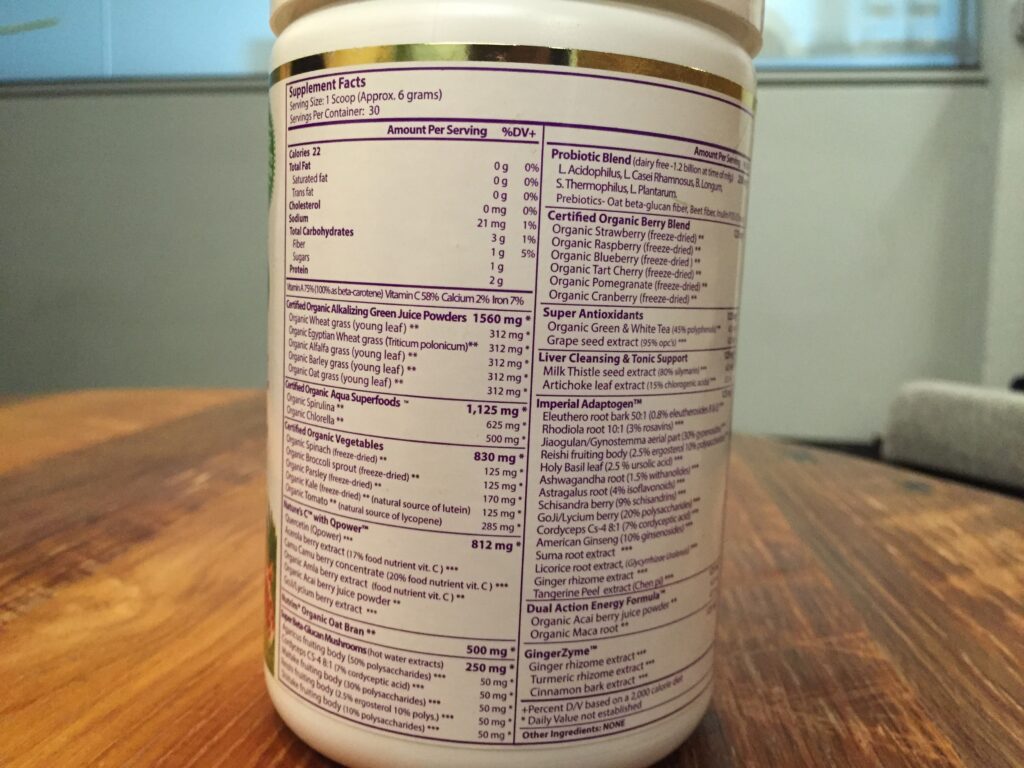 The product does a good job of saying how much of each ingredient it contains. Some of the aforementioned blends only mention the weight of the blend and not the ingredients themselves, but most of them list the weight of each and every ingredient, which is uncommon.
One scoop (about six grams) contains 22 calories, 2 grams of protein, 3 grams of carbohydrates, 1 gram of fiber, and zero fat.
Taste
It barely tastes of anything, which is a significant achievement on the part of Paradise Herbs & Essentials. With all the grassy-flavored greens powders on the market, it's easy to think that's impossible to make a tasty one, but ORAC-Energy is very mild with a slightly peppery finish. In that regard, it tastes a little like celery juice.
Effectiveness
What I liked about ORAC-Energy Greens is that they use the ORAC value to measure its effectiveness. That stands for Oxygen Radical Absorbance Capacity, and it's a way to measure the antioxidant potency of the product. It's not perfect, but it's a lot more useful than simply stating the product has lots of antioxidants without quantifying the claim, which is frustratingly common in other greens powders. This product contains 40,000 total ORAC per serving, about three times as many antioxidants found in a cup of blueberries. That's seriously impressive.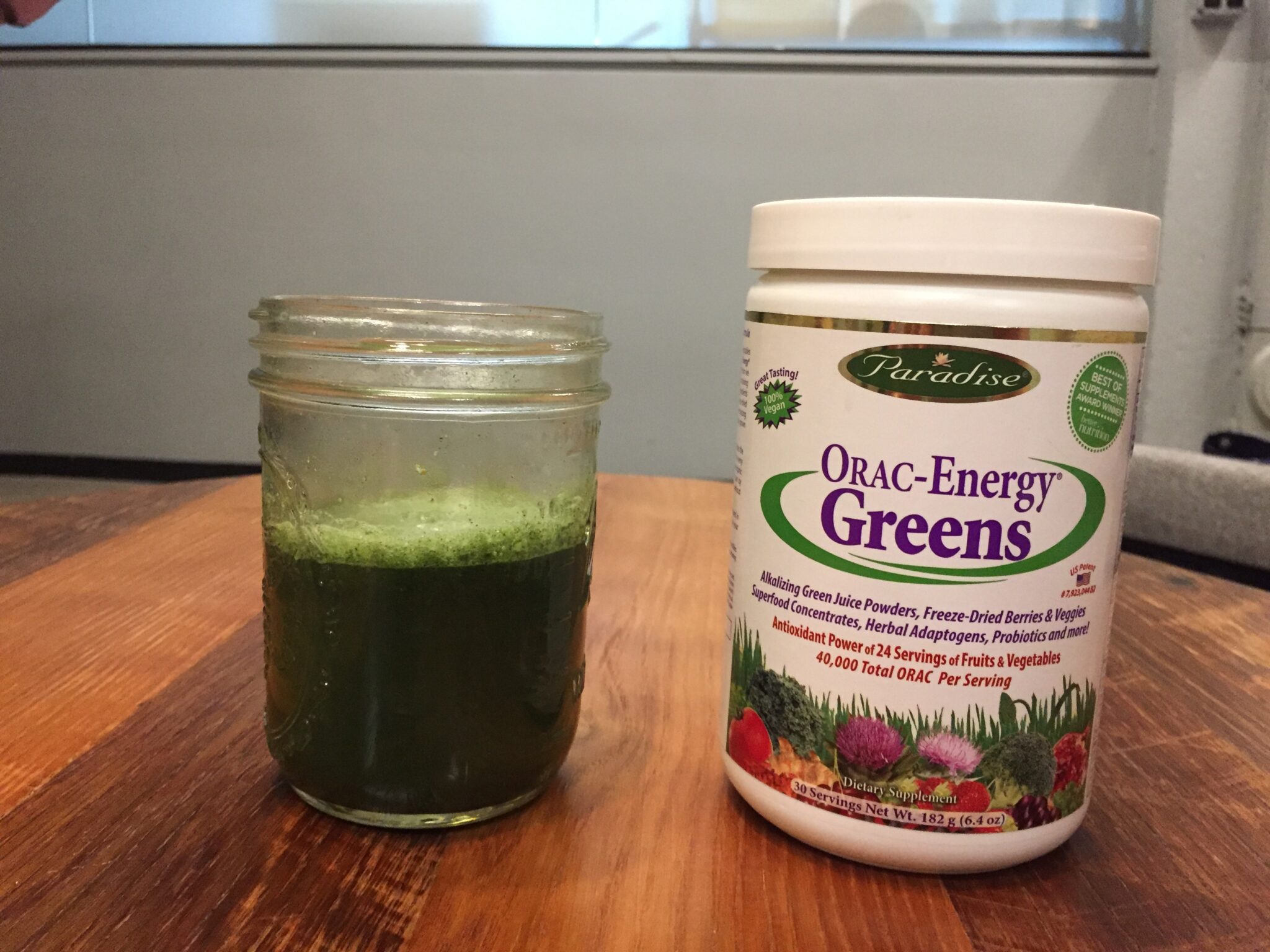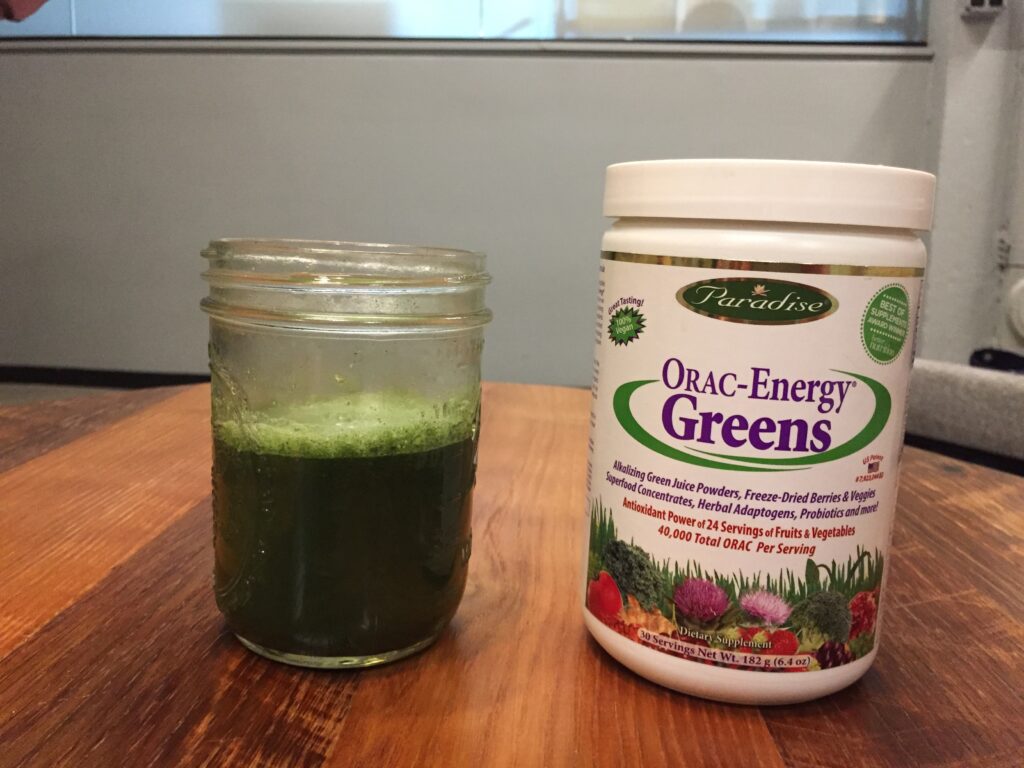 While we're talking about quantified benefits, there are also 1.2 billion probiotics per serving. That's actually not very high; most greens powders that do contain probiotics have at least two billion and some have up to 25 billion. But many of ORAC-Energy's competitors don't contain any probiotics at all, so it's definitely a nice addition to the product that should do a little help to improve digestive health and nutrient absorption.
There's not a lot of information regarding vitamins and minerals. The nutrition label only says it contains 75 percent of the RDI of Vitamin A, 58 percent of your Vitamin C, 7 percent of your iron and 2 percent of your calcium. There's no information about other nutrients, but since the product positions itself as more of an antioxidant supplement than a multivitamin, I didn't find that lack of information to be much of a downside.
Price
At around $30 for thirty servings, it's very reasonably priced. Many other greens powders are more expensive, less nutritious, and provide less information about their benefits.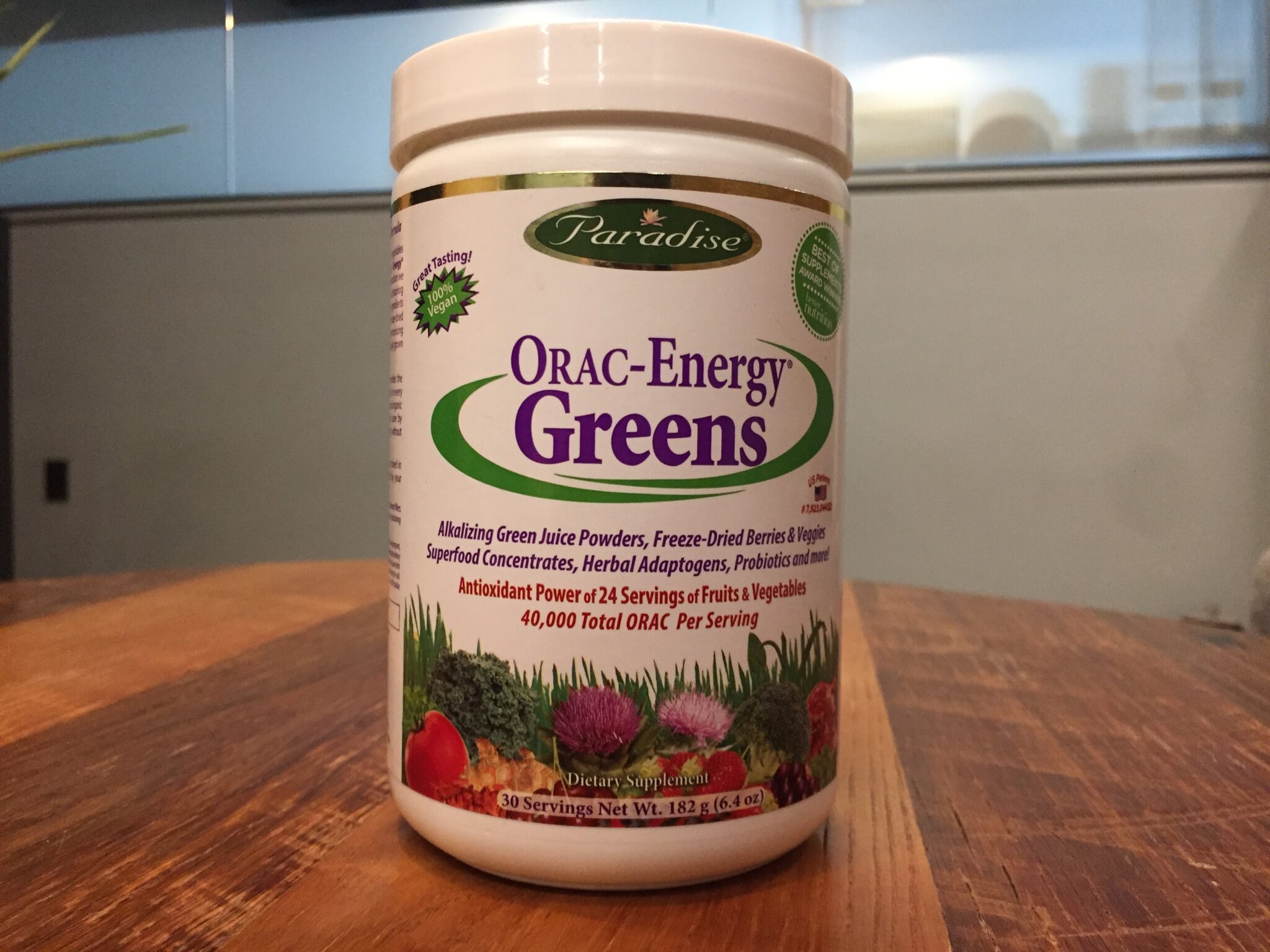 Compare that with Athletic Greens ($4.23/serving), Onnit's Earth Grown Nutrients ($2.30/serving), Patriot Power Greens ($1.96/serving) AI Sports Nutrition Red & Greens XT ($1.33/serving), Green Vibrance ($1.08/serving), PharmaFreak Greens Freak ($1/serving), Sun Warrior's Supergreens ($0.55/serving), and Amazing Grass's Green Superfood ($0.52/serving).
The Takeaway
I was pleasantly surprised by ORAC-Energy Greens. It's rare to find a greens powder that backs up its claims, provides detailed information about its ingredients, and doesn't pretend it can replace a healthy intake of fruits and vegetables.
It's not as well-rounded or as nutritious as other greens powders, but it's a heck of an antioxidant supplement.