GrubSub was started by biochemistry major Jesus Flores and two friends he met while studying at the California State University of Fullerton, and the product differentiates itself a little bit from other meal replacements by being somewhat customizable. The flavor is intended to be bland enough that you can easily blend it with fruit, different liquids, or whatever your heart desires.
On their site they claim that each "meal" of 500 calories contains 25 percent of your daily nutritional requirements, although many of the nutrients are considerably more than a quarter of your daily intake.
There are no flavors available, of course — it's just sold in one, plain flavor and there are no artificial flavors or sweeteners to spice things up. Here's what we thought of the taste, nutrition, and everything else.
We've tried dozens of meal replacements — these are our absolute favorites!
GrubSub Nutrition Info
This product comes in pouches of 500 calories each, which is considered one serving. In that you'll get 26 grams of protein, 61 grams of carbs (8.6 grams fiber, 3 grams sugar), and 16.9 grams fat (2.1 grams saturated fat, 3.3 grams polyunsaturated fat).
There's no cholesterol and about 25 percent of the recommended daily intake of sodium. As far as the rest of the micronutrients go, you can expect about 30 percent of the RDI of 26 vitamins and minerals (just about all of them) including chromium, choline, chloride, and a few others that sometimes don't make it onto the list of meal replacements.
Note that the amounts vary quite a lot, here. There's 117 percent of your copper, 174 percent of your phosphorus, and 561 percent of your manganese. There's also just 11 percent of your Vitamin K, the only nutrient that falls below 25 percent of the RDI. Perhaps most importantly there's 266 percent of the iron RDI, which has pros and cons I'll discuss below.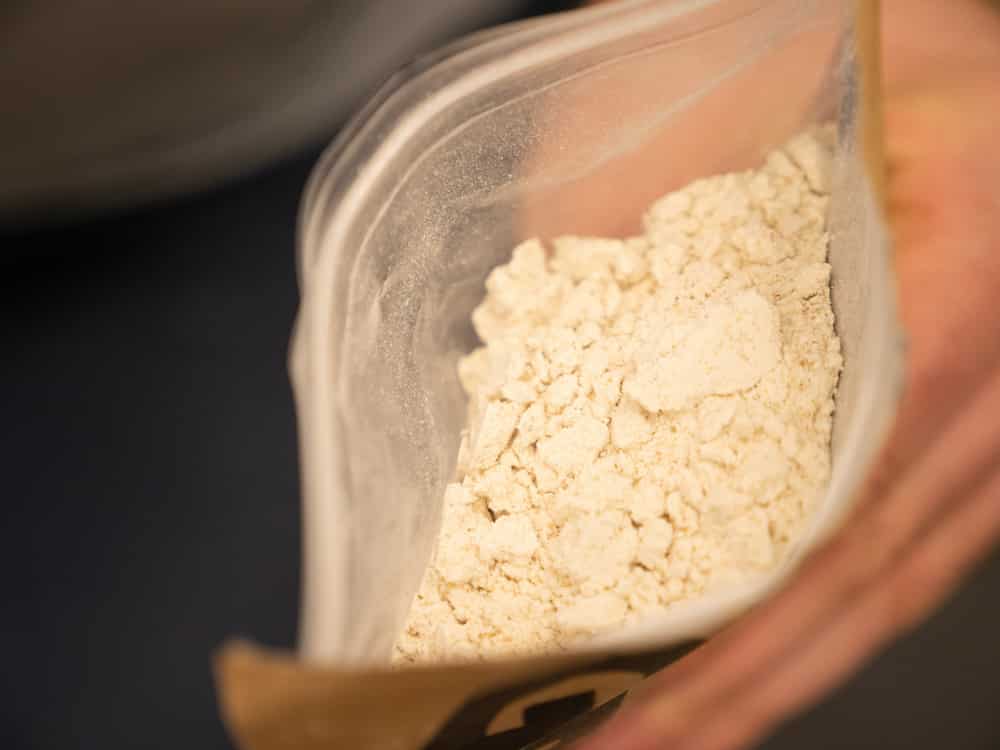 GrubSub Ingredients
These are pretty simple: oat flour, soy protein, sunflower oil, maltodextrin (a carbohydrate made from starch, usually corn), sodium caseinate, dextrose, the vitamin and mineral mix, and xanthan gum to act as a thickener and stabilizer.
GrubSub Benefits & Effectiveness
The first thought I had when handling GrubSub was that it's hard to get it out of the pouch without spilling, and it's practically impossible to divide into smaller amounts if you'd rather have a "snack" than a 500-calorie meal. That was a little annoying.
But the nutrition itself is impressive. If you include the sodium there are 27 vitamins and minerals here and despite the confusing fact that it's pretty low in Vitamin K it's a good source of just about everything else you could ask for.
There's no reason given as to why some nutrients are so much higher than others, but it's worth discussing the high iron. It might be good news for people who don't eat much meat, but men and seniors are sometimes advised to avoid supplements that are very high in iron because iron can accumulate in the blood, which is linked to certain health problems. We're not doctors and aren't a replacement for medical advice, but we did want to point out the fact that some consumers may not be delighted by a meal replacement with over 2.5x the RDI of iron.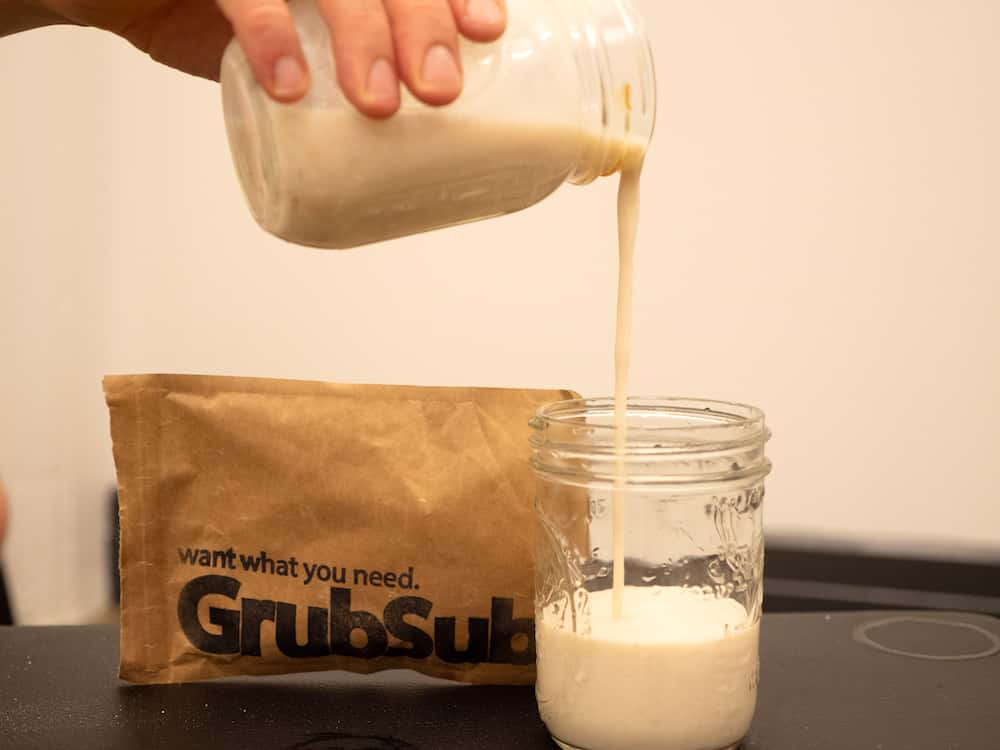 Besides that, there are 3.3 grams of polyunsaturated fat but no information as to how much of that is Omega-3 or Omega-6. (Most of the fat is sunflower oil, so it's almost certainly much higher in Omega-6.) If you're someone who tracks your polyunsaturated fatty acids, you might be disappointed by that.
But hey, it's packed with nutrients, pretty high in protein, and it has no artificial flavors or sweeteners. In fact, there aren't even any natural flavors, which brings us to…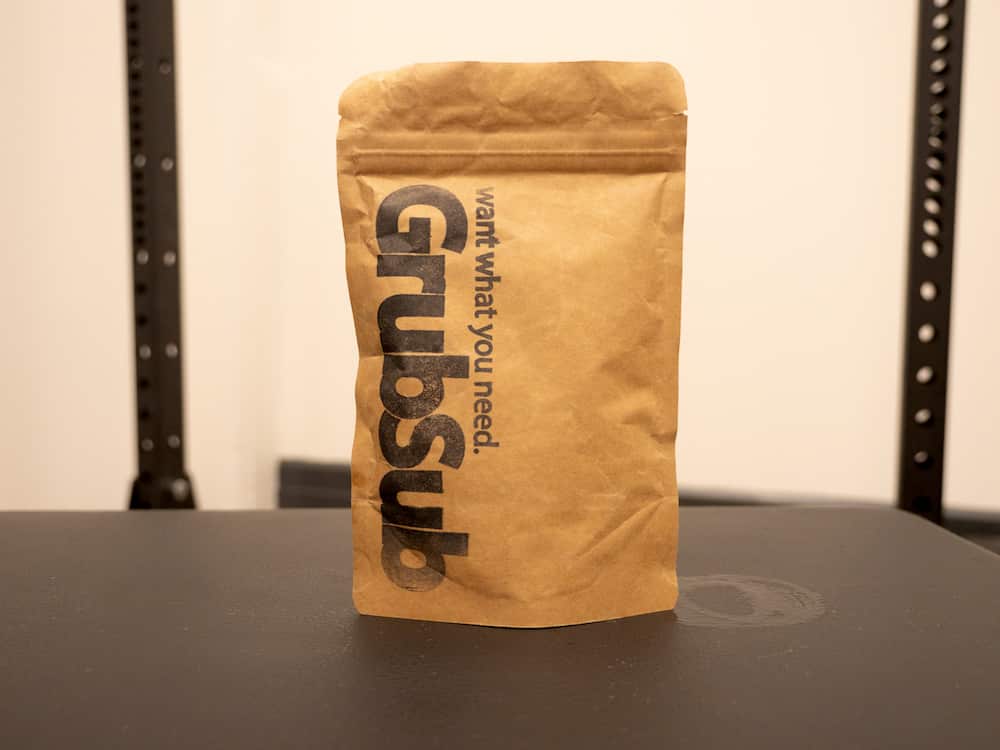 GrubSub Taste
The first ingredients are oat flour and soy protein, and that's what this tastes like: unflavored oatmeal mixed with unflavored tofu. If that sounds unappetizing, well, it wasn't the most fun to consume, but the oat flavor was a little more dominant than the soy flavor and it's worth remembering that GrubSub suggests mixing this with fruit, juice, milk, or other flavor-boosting additions.
GrubSub Price
You can pick up three meals for $9 and the price per meal slowly decreases the more you buy, all the way up until you buy 28 meals for $60, which comes to $2.14 per meal.
That's not a bad price for a meal replacement, which in my experience are usually between $2 and $2.50 per serving — but most meal replacements are about half the calories, so on a per calorie basis GrubSub is pretty well priced.
The Takeaway
Reasonably priced, pretty nutritious and free of artificial ingredients, a lot of people will like this product. The main potential downsides are the pretty soy-y taste, the high iron, the lack of Omega-3s, the unwieldy nature of the pouches, and the fact that it won't suit low-carb or Paleo diets. If none of that bothers you, this is a fine meal replacement.
Other Great Meal Replacement Reviews
Related Meal Replacement Content
Grubsub
Per Serving: ~$2.50