"Tsogo" is a word in Setswana, a language spoken by approximately four million people and originating in southern Africa, that means "resurrection" or "new life." And the meal replacement company has some pretty grand plans.
Not only do they hope to use their product to end world hunger and malnutrition, they make the very bold claim that you can replace every meal of the day with Tsogo and that it is "a complete food replacement that provides you with all the daily proteins, healthy fats, complex carbs, vitamins, and minerals that you need to thrive."
Unopened, one bag of Tsogo can last for 20 years and once opened it's good for 1 year, so it has garnered a small following among survivalists. Tsogo encourages you to add to their product, recommending berry- and spinach-filled shakes on their site while also selling protein boosts and caffeine boosts if you want to enhance the effects. But we're trying the plain old Tsogo 100% Food Replacement in the Chocolate flavor today. Do these nutrition claims hold up?
Tsogo 100% Food Replacement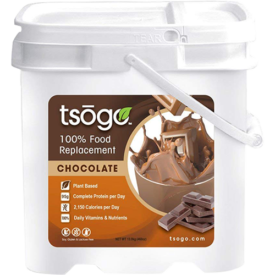 Tsogo 100% Food Replacement
Unusually nutritious and inexpensive, this one of our favorite meal replacements on the market.
Tsogo Complete Food Replacement Nutrition Info
One serving is two scoops (92 grams) and it has 430 calories: 19 grams of protein, 46 grams of carbs (5 grams of fiber, 12 grams of sugar) and 19 grams of fat (1.5 grams saturated fat). There is no cholesterol.
The vitamin and mineral spread is very impressive, with about 20 percent of the recommended daily intake for a wide variety of nutrients: Vitamins A, C, E, and K, plus iron, iodine, phosphorus, magnesium, zinc, selenium, copper, manganese, chromium, and molybdenum. While most nutrients get 20 percent of the RDI, there's 100 percent of the RDI of all the B-vitamins.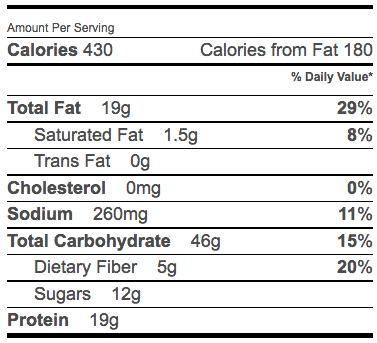 Tsogo Complete Food Replacement Ingredients
Most of the ingredients listed are just the vitamins and minerals themselves, but the rest of the ingredients are high oleic sunflower oil powder, rice protein, oat flour, honey powder, tapioca starch, cocoa, natural flavor, cellulose gum, salt, xanthan gum, and sucralose.
Tsogo is on our list of the best meal replacements on the market — find out why at the link!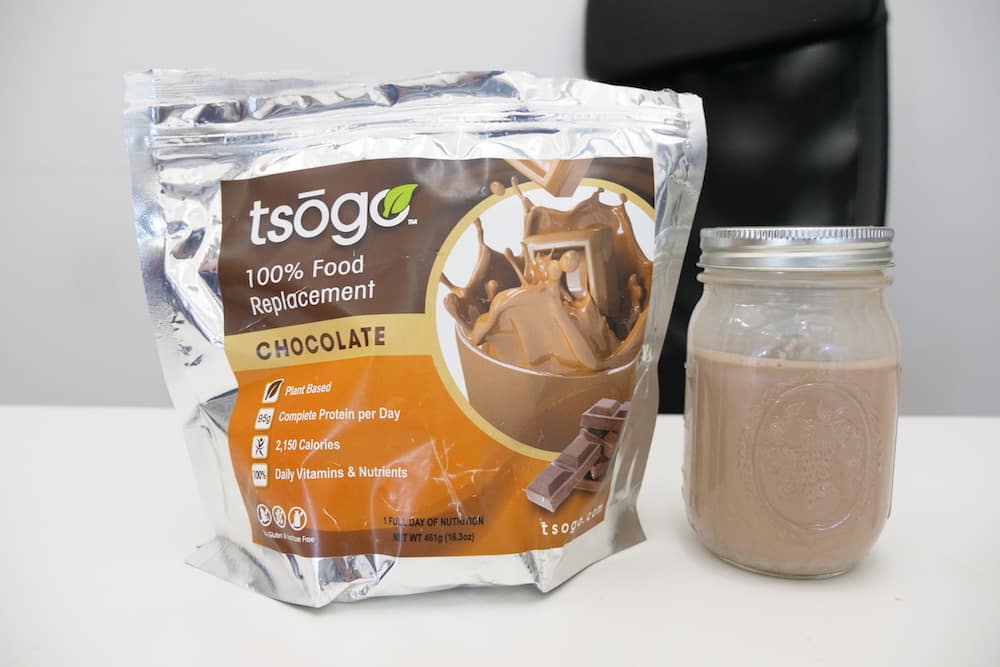 Tsogo Complete Food Replacement Benefits and Effectiveness
This is a very, very nutritious product. Tsgo really did a great job here, they have an extraordinarily wide variety of micronutrients on the label. The only thing I don't see is potassium (I think was just an error, since it's on the ingredients list) and choline, which is present in most other meal replacements of this caliber.
On the macronutrient side, I was happy with the fact that it's 430 calories. Too many meal replacements wind up more like nutritious, low-calorie shakes that provide 100 or so calories and a ton of micronutrients, but not really enough fat or calories to actually replace a meal.
People following low fat or low carb diets won't be too pleased with the 49 grams of carbohydrates per 19 grams of protein, plus there's 12 grams of sugar per serving, which may bother folks looking to minimize sugar. There's also the sucralose, an artificial sweetener that's also called Splenda, which some people try to avoid.
That said, it's very nutritious. There's no cholesterol, which you may be happy or unhappy about — studies suggest we do need some cholesterol in our diets after all — and the only other potential problem worth noting is that the sole source of fat is high oleic sunflower oil. That's higher in monounsaturated fats and may be better for your serum cholesterol levels than regular sunflower oil. But it is pretty high in Omega-6 fatty acidsand if there's one main issue with this product it's that it isn't a good source of Omega-3, so you may want to supplement your Omega-3s separately if that's a part of your nutrition that's important to you.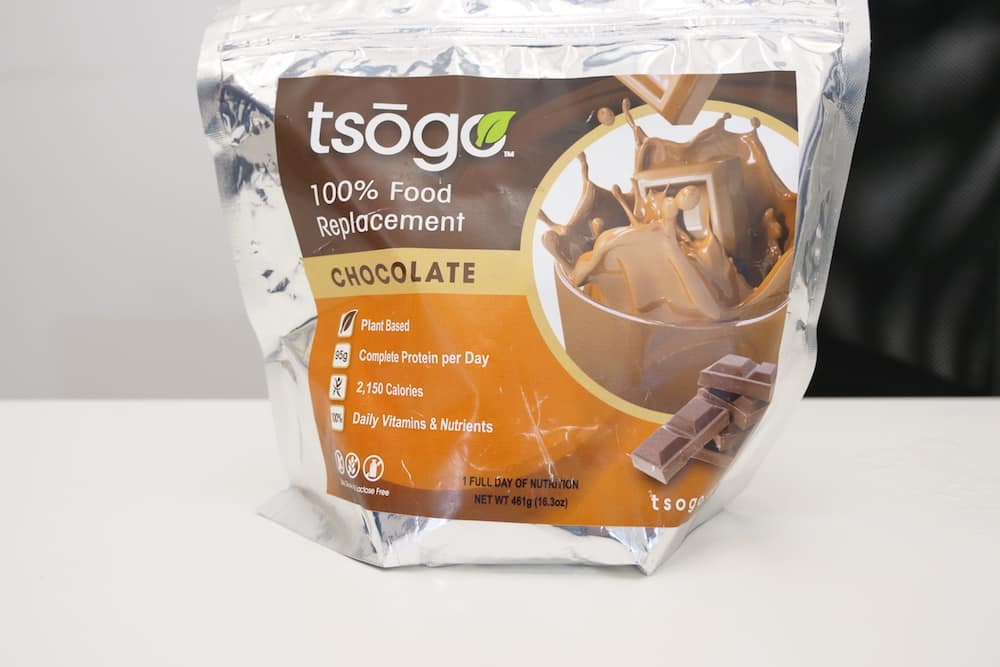 Tsogo Complete Food Replacement Price
There are a few different options for payment. One bag is 5 servings, which is a little over 2,000 calories and what Tsogo recommends you consume in a day if you're trying to replace all your meals. One bag is about $14, or $2.76 per meal. (Vanilla is slightly cheaper at $2.64 per meal.)
The average cost of a meal replacement is closer to $2, but most meal replacements are lower in nutrients and way lower in calories, so I think this is a very reasonable price
That's especially true if you order a big tub of 140 meals, which brings the cost down to $1.73 for chocolate and $1.50 for vanilla.
Tsogo Complete Food Replacement Taste
Because it's naturally flavored but it contains an artificial sweetener, this was a little more sweet than it was flavorful. I'd describe the taste as akin to a vegan chocolate protein shake: the main flavors are cocoa and nuts.
The Takeaway
Tsogo has done a solid job with this product. It's super nutritious, has a good amount of calories, and there's no dairy or soy or gluten. It might be a bit high in carbs for some people and the sucralose may make it off limits for others, but it's hard to find a meal replacement that offers more — especially at this price.
Other Great Meal Replacement Reviews
Related Meal Replacement Content