Owned by CytoSport and produced in California, the Muscle Milk brand is widespread enough that it's probably what most people associate with the words "protein shake." Not because it's the most popular whey protein powder, but because the pre-made cartons of Muscle Milk can be found in just about every convenience store in the United States.
They're best known for their variety of shakes, but Muscle Milk also makes coffee drinks, protein bars, and protein powder. I decided to see what their Chocolate protein powder had to offer.
Muscle Milk Protein Powder Nutrition Info
One scoop provides 150 calories: 16 grams of protein, 9 grams of carbohydrates (2g fiber and 2g sugar), and 6 grams of fat (2g saturated fat).
That's not high protein or low carb. Or low fat. In Muscle Milk's defense, they frame the product less as a low-calorie protein supplement and more as a healthy way to consume protein, carbs, and fat. The label talks a lot about how the carbs provide fiber and fructose and the fat blend is called "lean lipids™," which focuses on medium chain triglycerides (MCTs) and unsaturated fats sourced from sunflower and canola.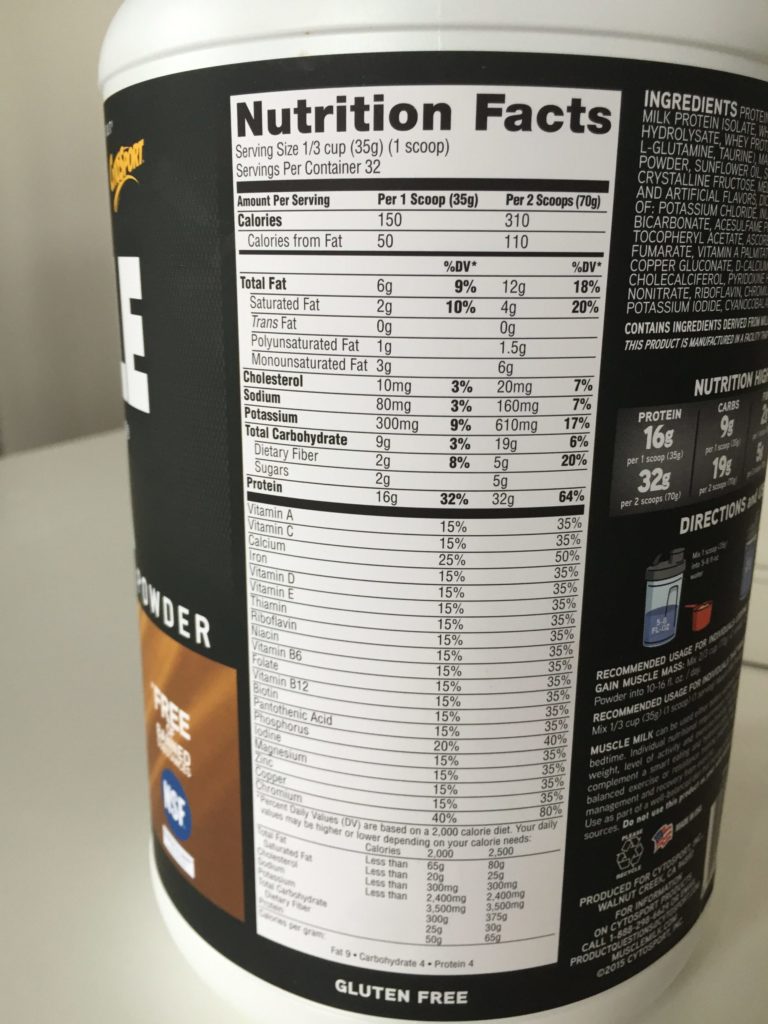 I was surprised to find that Muscle Milk contains an impressive amount of micronutrients. It's not crazy high in any of them — there's 15 percent of the recommended daily intake of each — but it contains Vitamins A, C, D, E, B6, B12, iron, zinc, copper, magnesium, and about ten more. That's definitely a nice bonus.
Muscle Milk Protein Powder Ingredients
The ingredients list is long, and not just because there are a ton of extra ingredients to provide the vitamins and minerals. Excluding those, the first ingredient is a protein blend of calcium sodium caseinate, milk protein isolate, whey protein isolate, whey hydrolysate, whey concentrate, lactoferrin, glutamine, and taurine.
Then there's maltodextrin (a sweetener), cocoa, sunflower oil, soluble corn fiber, canola oil, fructose, medium chain triglycerides, natural and artificial flavors, dicalcium phosphate, acesulfame potassium, soy lecithin, and sucralose.
[Related: Best Protein Powders]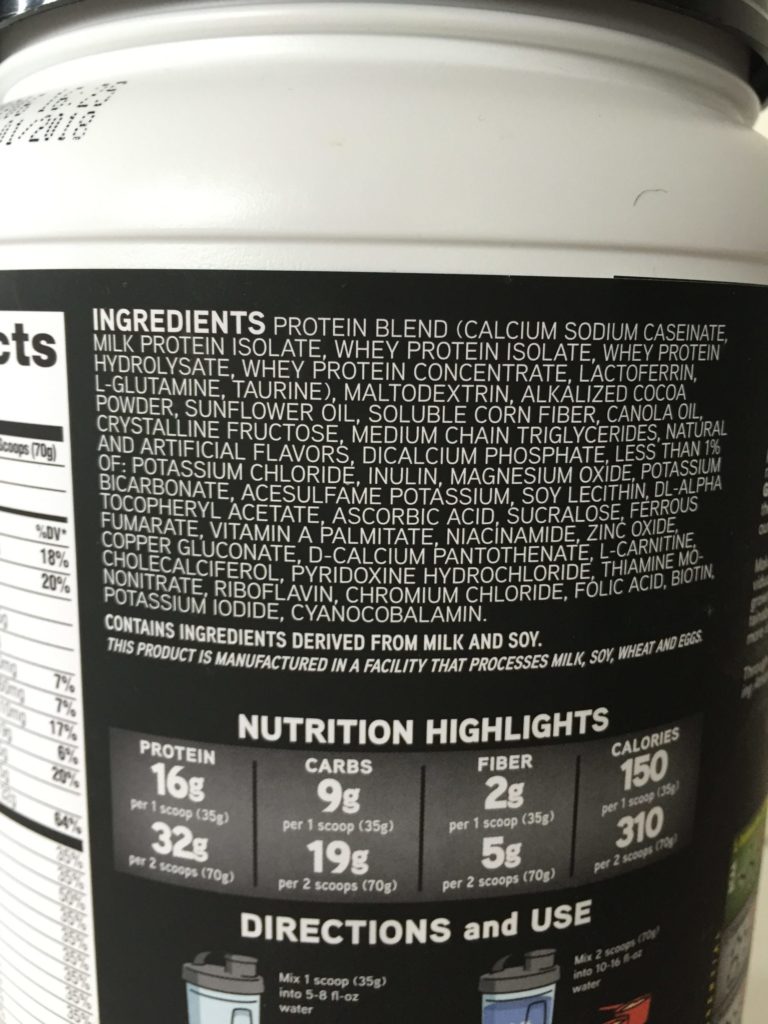 Muscle Milk Protein Powder Benefits and Effectiveness
I really liked all the added vitamins and minerals; it was definitely the best aspect of the product. The addition of taurine was a nice bonus as well.
But it's not a great protein powder. It's got a lot of carbs and fat, and the carbs come from lactose and fructose while the fats come mostly from seed oils, facts that might turn off a lot of fitness-minded folk. Add that to the fact that it contains soy, corn, and the controversial sweetener acesulfame potassium, and you've got a protein powder that's definitely made for the general population, not athletes who are following a restrictive diet.
There's also an absence of digestive enzymes like lactase, aminogen, and bromelain, ingredients that are usually added to protein powders that contain lactose to minimize digestive issues. If you have a sensitive stomach, this may not be for you. Note that it's also made in a facility that processes milk, soy, wheat, and eggs.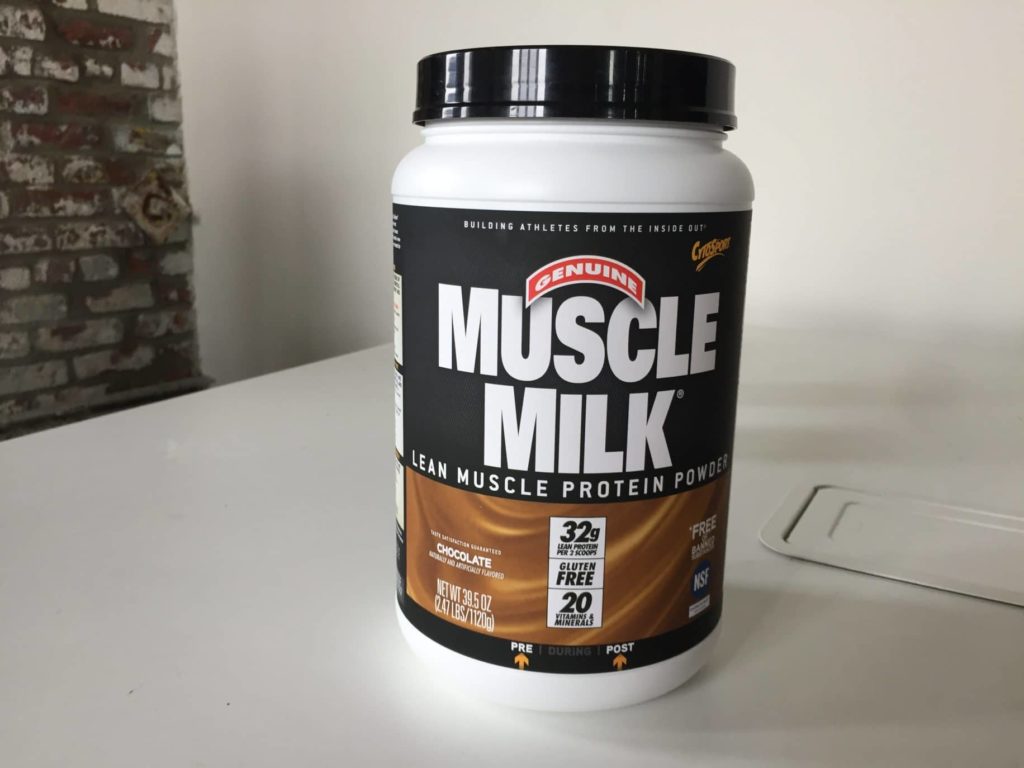 Muscle Milk Protein Powder Price
You can pick up a 2.47-pound tub for around $25. That'll provide 32 servings, so it winds up at 78 cents per serving or 4.9 cents per gram of protein.
The cost per gram of protein is important here, because each scoop only provides 16 grams of protein. So while 78 cents per serving is relatively cheap for a protein powder, 4.9 cents per gram of protein isn't. It's inexpensive, but it's more expensive per gram of protein than Optimum Nutrition, Muscletech, Musclepharm, and Cellucor. Even a 4-pound tub of Jym, which is considered a pretty premium protein powder, is 5.1 cents per gram of protein, just 0.2 cents more per gram.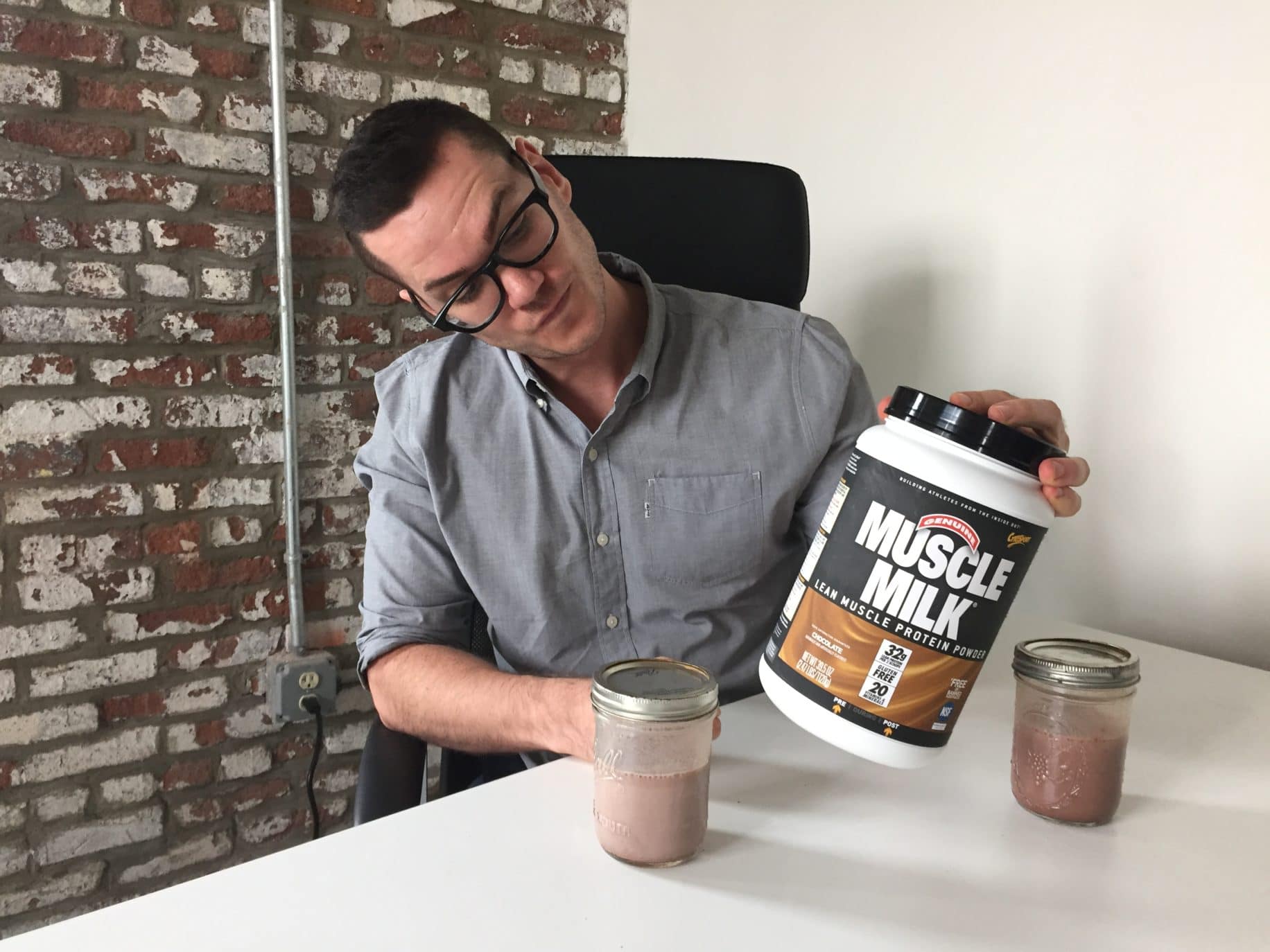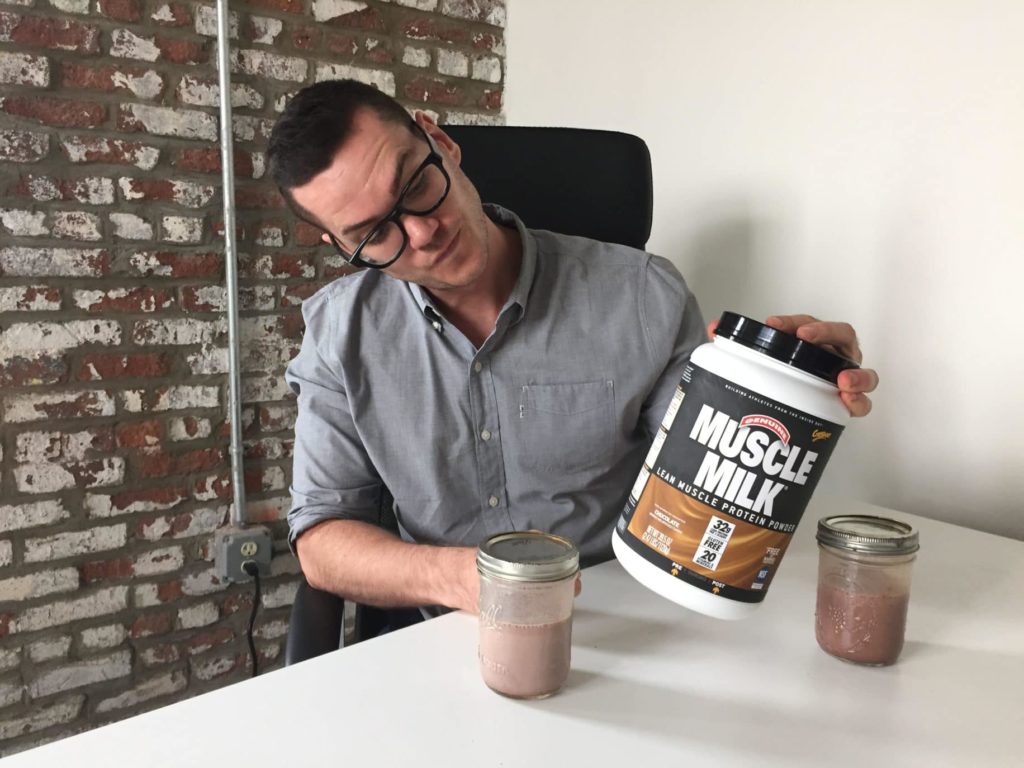 Mixability
I can't complain about the mixability — it dissolved quickly and easily, likely because of the inclusion of soy lecithin.
Muscle Milk Protein Powder Taste
I thought it tasted bad. The Chocolate flavor tasted like dark cocoa, but not in an enjoyable way. It's not rich or sweet or creamy, it's earthy and a little bitter, and it stuck to the inside of my mouth. I tried it with milk and in water, and I preferred it with water. But to be honest, but that's just because I tasted it less, which is pretty faint praise.
The Takeaway
When you look at cost, benefits, effectiveness, and taste, I personally wasn't a huge fan this product. If you're looking for an inexpensive protein powder, there are several options in the "Price" section above that are cheaper and better tasting. If you're looking for a protein powder with extra micronutrients, IsoPure is cheaper, more nutritious, and better tasting.
The drawbacks might be forgivable if it tasted great, but it doesn't. If you love the Muscle Milk brand, I'd stick to the protein bars.
Other Great Protein Powders Reviews
Related Best Protein Powders Content