We receive free products and receive commissions through our links. See
disclosures page
.
If you're looking to upgrade your home gym setup, a treadmill can be a perfect addition, allowing for days of logged mileage without dealing with the annoyances of inclement weather or trying to match your training schedule to daylight hours. While many of the best treadmills will cost a pretty penny, there are still some budget-friendly options out there worth considering, including the NordicTrack EXP 7i. Boasting a respectable 2.6 CHP Plus Motor, a seven-inch HD touchscreen display console, and access to the always-expanding iFit library of fitness classes and challenges, it's no surprise that we dubbed the EXP 7i as one of our favorite NordicTrack treadmills on the market today.
The NordicTrack EXP 7i has a number of respectable features, putting it on par with some of the best budget treadmills available, including a 10-year frame warranty, Bluetooth integration, and easy-to-toggle speed and incline settings. However, to achieve that wallet-friendly price tag, there are some components that may not fit every training style or running need. Is this a treadmill designed for long-distance runners or more advanced athletes? No, but for the average fitness enthusiast, we think the EXP 7i can be a true boost to your cardio training.
NordicTrack EXP 7i Treadmill
NordicTrack EXP 7i Treadmill
This tread still goes all the way up to 12 percent incline and 12mph in speed, plus it comes with a free one-month iFit membership (a $39 value). The adjustable cushioning can also help lower the impact on your joints, or mimic the feel of a road race if you are training for something on rougher terrain. 
Main Takeaways
The NordicTrack EXP 7i's integration with the iFit platform can help keep every training session fresh and interesting with over 17,000 fitness classes and challenges to choose from.
The smaller rollers and tighter running dimensions may not be suitable for taller athletes or those with longer strides.
The foldable SpaceSaver Design helps the EXP 7i take up less space when not in use.
NordicTrack Commercial 2450 Treadmill Video Review
Our reviews writer, Jake, put the NordicTrack EXP 7i to the test in this in-depth video review. Follow along as he explains why we view this treadmill as a great pick for budget-conscious athletes, areas where the machine falls short, some finer details of the iFit training library, and much more.
NordicTrack EXP7i Treadmill Review Specs
Price: $1,299
Max Incline and Decline: 12 percent incline, 0 percent decline
Max Speed: 10mph
Weight Capacity: 300lbs
Roller Size: 1.9 inches
Product Dimensions: 70.8" L x 34.9" W x 59.7" H
Running Deck Dimensions: 20" W x 55" L
The NordicTrack EXP 7i comes with a $1,299 price tag, but be sure to account for the additional iFit membership that will be due after an initial 30-day trial period. The training library is available for $39 per month, $396 for one year, $699 for two years, and $899 for three years. Adjustments-wise, the EXP 7i can reach speeds of up to 10 miles per hour as well as an incline of 12 percent.
While more experienced runners may want a treadmill with a higher speed rating or decline availability, we think these ranges can be suitable for most at-home fitness enthusiasts. Toggling through the ranges is also convenient thanks to the easy-to-use buttons across the display module. We're fans of the double-tap feature that gives you quick access to half ranges, such as 5.5 miles per hour or 8.5 percent incline.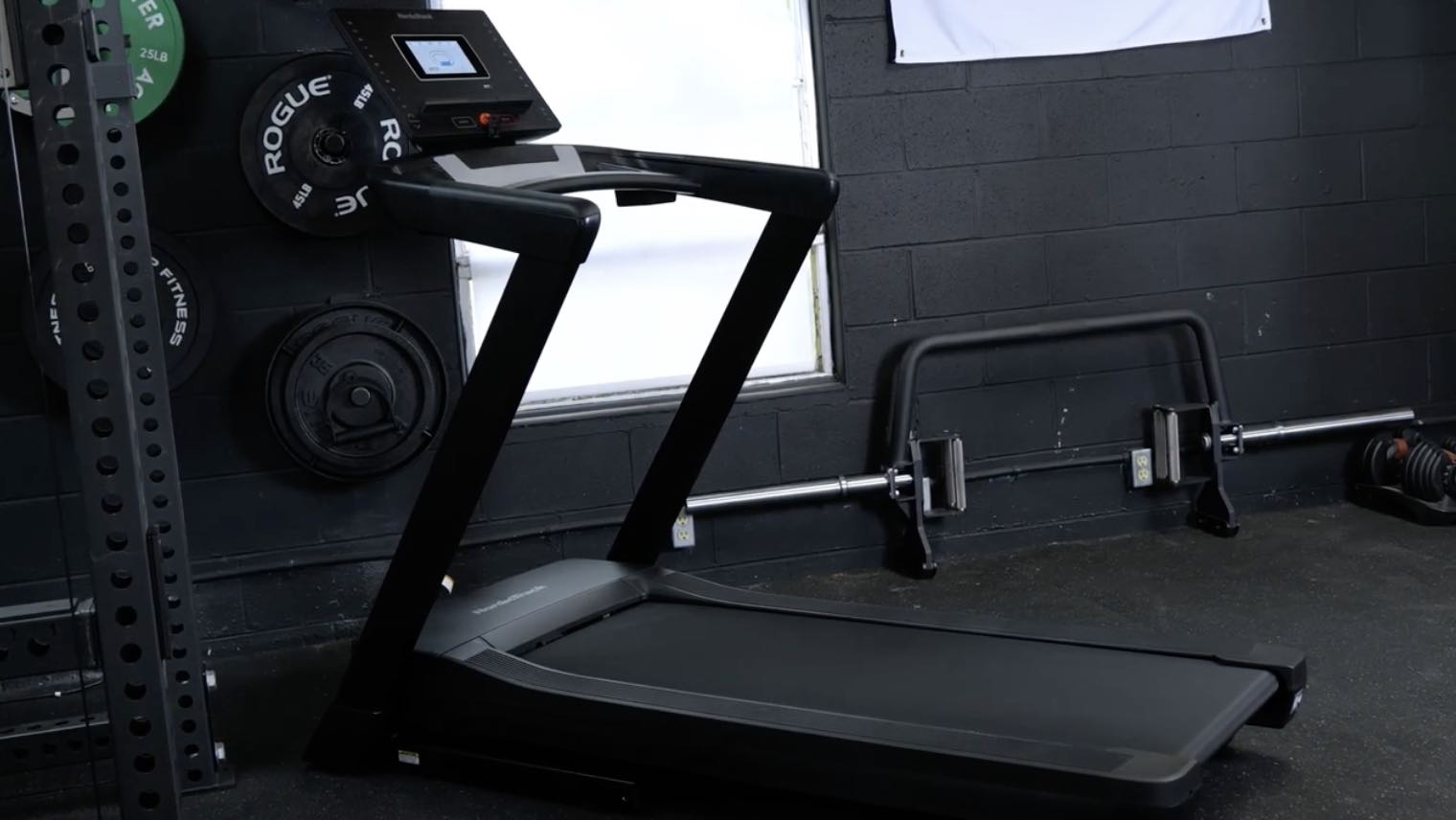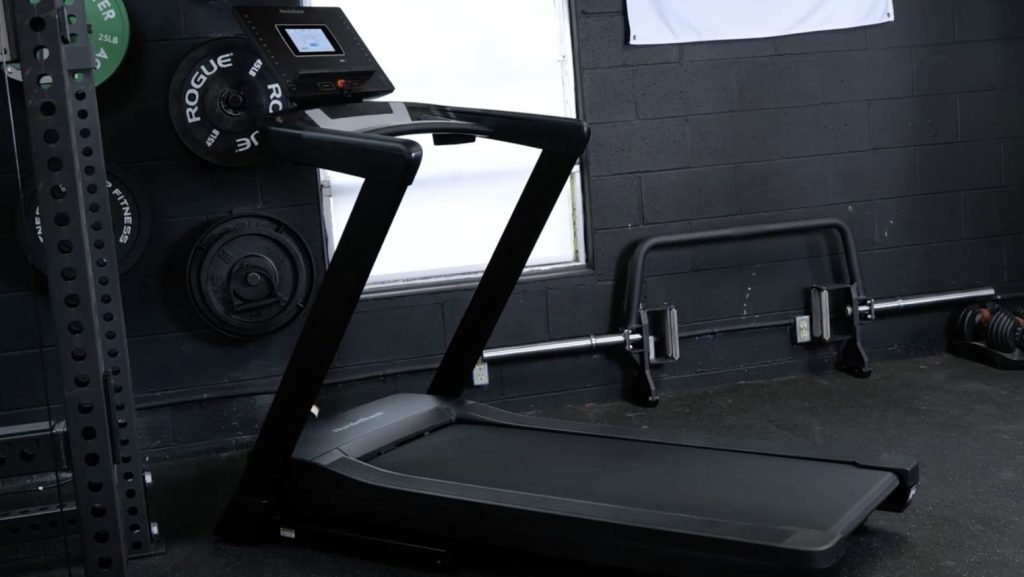 This EXP 7i treadmill takes up just over 17 square feet of space, but also boasts a foldable SpaceSaver Design for extra room when not in use. We also appreciate the wheeled frame that makes for easier maneuverability when rearranging your living space or training room. The NordicTrack EXP 7i also has a 20-inch by 55-inch running deck and 1.9-inch rollers.
Admittedly, these metrics may be underwhelming for more dedicated athletes, particularly those with longer strides. If you are an individual who showcases a longer gait, you can be better off with a running deck measuring 60 inches or more. For most individuals simply looking to log some miles here and there, though, the 1.9-inch rollers and 55-inch deck should provide a worthwhile, proper-fitting profile.
Pros
The seven-inch tilting HD Touchscreen provides clear statistics and visuals during workouts. Other treadmills in this price range often utilize a cheaper (and more basic) LCD display console.
Automatic Trainer Control within iFit classes automatically adjusts your speed and incline in-tune with the trainer-led class settings.
The foldable deck and wheeled design make for easier storage and maneuverability.
Cons
Athletes with longer strides may find the 55-inch running deck too short for their specific running gait.
Side handlebars do not feature pulse sensors. So, if you want to monitor your heart rate and caloric burn during workouts, you'll need to connect a separate device.
The NordicTrack EXP 7i does not include any pre-programmed workouts, so an iFit membership is practically required to get the most out of this machine.
Training With the NordicTrack EXP7i Treadmill
Functionally, we found the NordicTrack EXP 7i to be plenty capable of supporting most workout needs. Thanks to a great user experience across the display console, wide variety of training courses through the iFit library, and powerful 2.6 CHP (Constant Horsepower) Plus Motor, this budget-friendly treadmill can be great for novice and intermediate athletes alike. 
Despite the examined perks, though, we think dedicated runners may want a more involved training setup. For one, the 55-inch running deck may not support longer strides. The smaller 1.9-inch rollers will need to spin faster to keep up with the motor, too, which can make for a less efficient running experience, and heightened wear and tear over time. Finally, those wanting to track their heart rate and burned calories will need a heart rate monitor at their disposal — the EXP 7i does not include pulse sensors at the side handles like other profiles in the treadmill space.
iFit Membership and Training Programs
One of the biggest benefits we've found in training atop the NordicTrack EXP 7i is the iFit integration. This subscription-based service grants you access to over 17,000 fitness classes and challenges, which can go a long way in keeping every daily workout fresh and engaging. We also enjoyed the Google Maps Workout Technology, which allows you to run in some of the world's most intriguing environments, including Cape Town, South Africa, Paris, France, and more.
The available iFit integration also gives you access to the NordicTrack Automatic Trainer Control technology, which we found to be a convenient benefit when in the throes of a trainer-led course. Rather than having to pause and sync your speed and incline settings to the instructor's commands, the EXP 7i automatically adjusts in accordance with the program. This tech can help you stay in-stride (yes, pun intended) with your training and can allow for a more focused workout overall.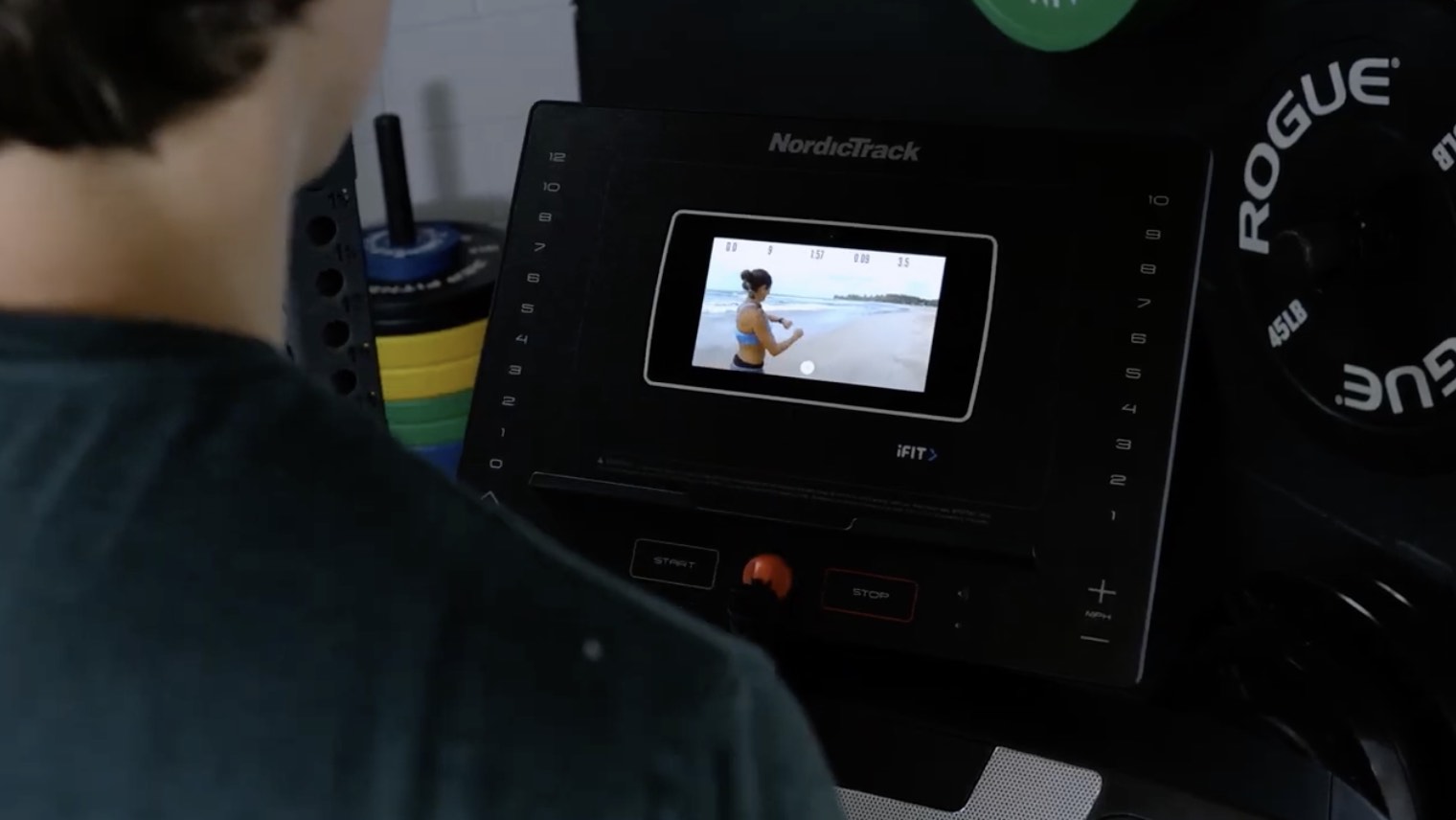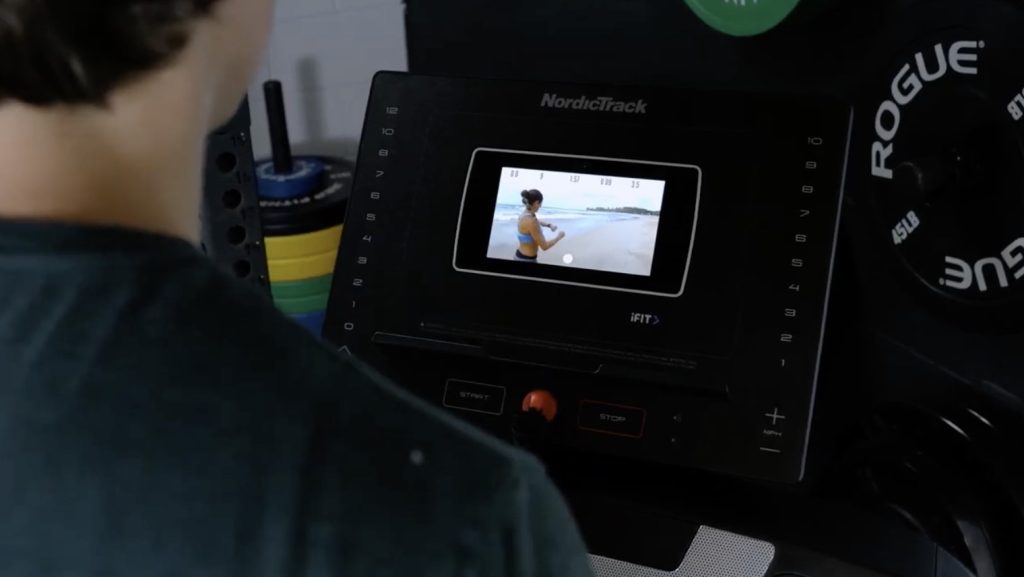 Outside of the iFit library, athletes can opt for a manual start. Unfortunately, the EXP 7i doesn't have any pre-programmed courses. So, unless you don't mind toggling your settings each time you hop on for a session, you'll undoubtedly need to subscribe to iFit for those coached workouts.
iFit memberships start at $39 per month, but NordicTrack does offer a 30-day trial period with the initial treadmill purchase, and yearly subscriptions can also potentially save you money. For example, a yearly iFit membership ($396) can help you save $72 per year, while a two-year plan ($699) could help you keep roughly $237 in your pocket. A three-year iFit membership is also available and costs $899 — a savings of $505 in comparison to the normal monthly billing rate.
Console Technology
It can be frustrating and tiresome to try and navigate a complicated display console while also trying to get a quality workout in. Thankfully, the console featured in this NordicTrack EXP 7i is simple to use thanks to its intuitive speed and incline toggles. Changing the settings can be done with just one touch, and we also enjoy the quick toggle feature that can increase or decrease your speed and incline in half increments. Of course, there's also the classic arrow toggles that allow you to work through the speed and incline ranges in more fine-tuned increments.
Additionally, the seven-inch HD Touchscreen is easy to read and provides all the desired information you want in training, especially when working within the iFit library. Each course and challenge showcases its length and metrics from the home screen, so there's little question as to how much of a workout you're signing up for from the start. The touchscreen also tilts within the display console, so you can achieve that ideal line of sight during training.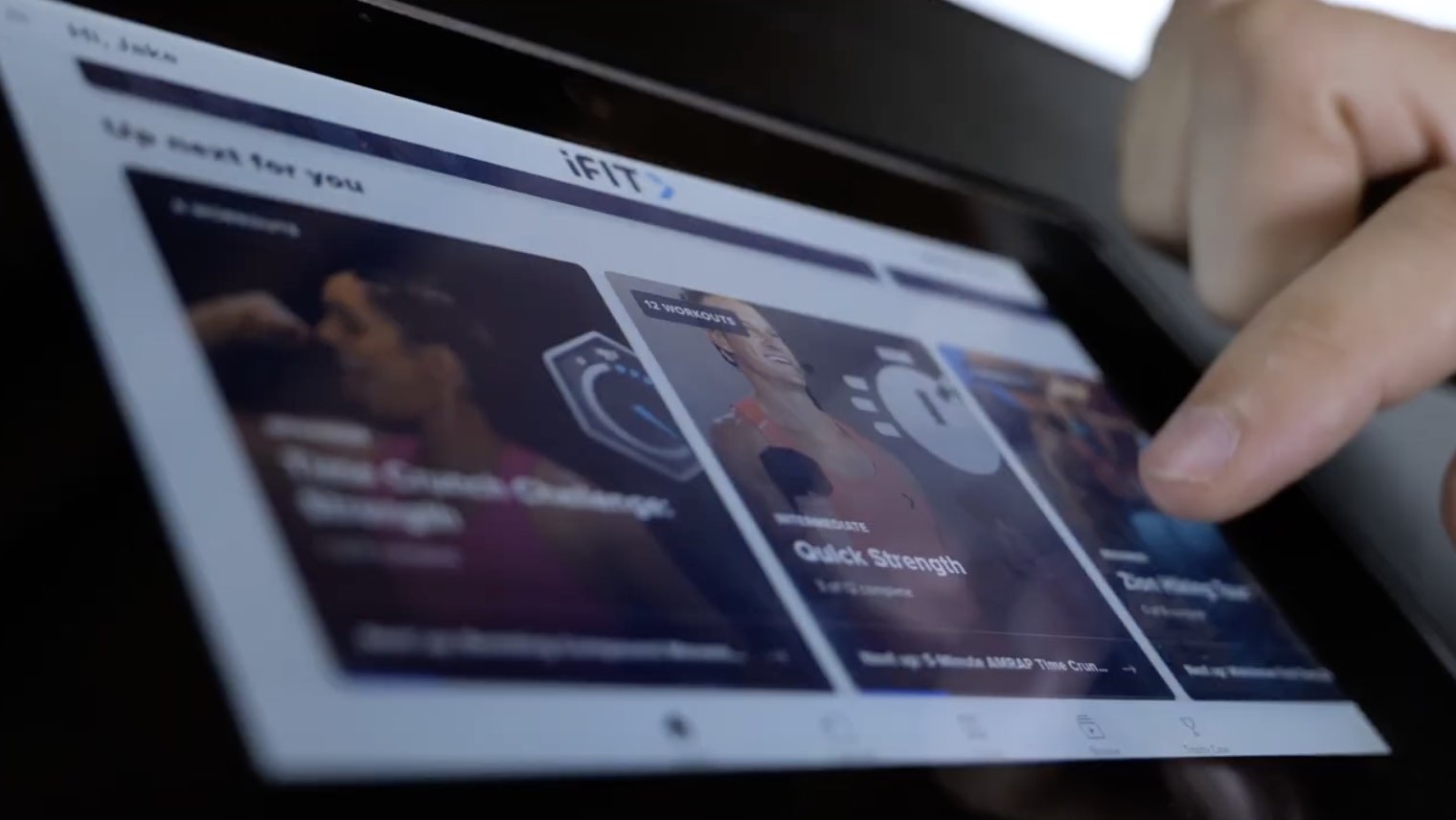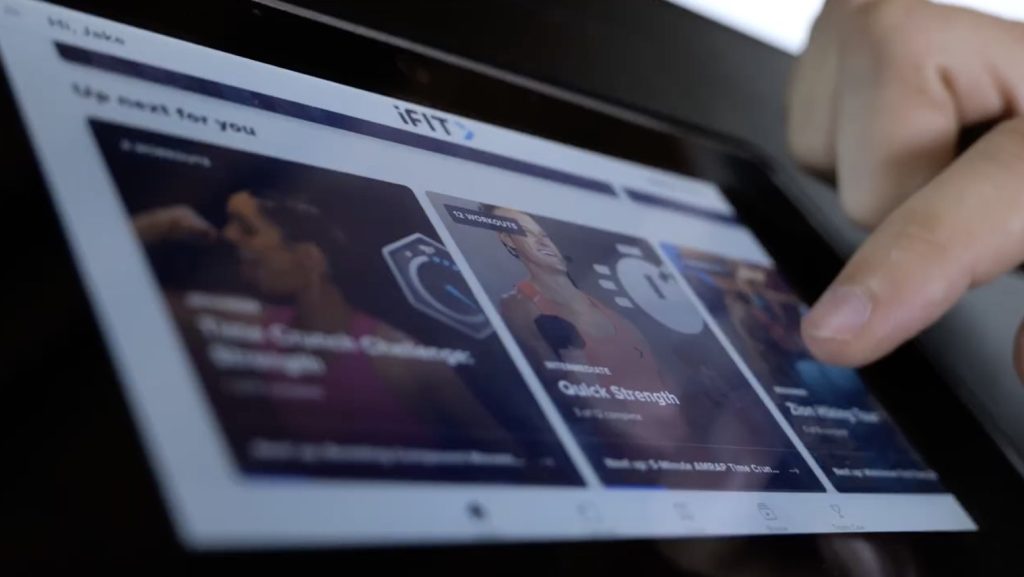 Admittedly, though, we found this feature to provide little influence on our overall training experience. If you do want to view your workouts and courses on a larger screen, the NordicTrack EXP 7i comes equipped with a convenient media shelf that can house your phone or tablet.
Speed and Incline Ranges
The EXP 7i's max speed of 10 miles per hour, as well as the max incline of 12 percent, can be seen as underwhelming by more dedicated running enthusiasts, but in training, we felt the available ranges proved their worth in low- to moderate-intensity sessions. There's a good bit of variety to keep your workouts fresh day in and day out, and the ranges can be a good way to get accustomed to treadmill running.
Plus, the experience with NordicTrack's Automatic Trainer Control technology in trainer-led fitness classes almost makes you forget about the limitations at play. This feature automatically adjusts your speed and incline in tandem with your trainer's instructions when following along in a workout.
Admittedly, though, we would have liked to have had access to a higher top range for certain training sessions. For example, having the ability to work sprint circuits into our workouts would have been ideal, especially when trying to raise intensities for a more worthwhile finish. However, there's still enough potential for high quality exercise with these ranges — the popular 12-3-30 workout is still in the cards.
Settings Response Time
When it comes to selecting a speed or incline, you probably don't want to sit around for long waiting for the motor to reach your desired settings. In testing, we found the 2.6 CHP Plus Motor to respond rather quickly when adjusting speeds atop the NordicTrack EXP 7i. There was little downtime in ramping up to 10 miles per hour from a static start, which allowed us to get right into training without much delay.
In terms of adjusting the incline, though, we did notice a slower process. The motor did take a while to reach our desired settings, loudly humming as the running deck climbed to the proper incline. While some athletes may want a quicker, more efficient toggling process, we don't hold this component as a definite negative when it comes to the EXP 7i. The slower incline adjustments can allow your body to ease into the different training conditions, making for a more comfortable setup from start to finish.
It's also important to note the size of the EXP 7i's motor. 2.6 continuous horsepower can be fine for light use throughout the week, but if you aspire to use this machine more extensively, it may be best to go with a burlier build. For reference, many of the top-performing treadmills we recommend in our overall guide boast motors of 3.0 CHP or higher to account for the more rigorous use.
Running Deck
We've praised the EXP 7i's compactness and storage capabilities, but that smaller frame did begin to rear its head when trying to leg out some final laps and miles in testing. The 20-inch by 55-inch running deck does make for a smaller footprint overall, but you need to be more aware of your stride length in order to help you stay atop the belt while in motion. Opening up your gait for all-out sprints can be difficult at times, especially when you compare the running experience to other treadmills out there. Those profiles can routinely boast a running deck measuring 60 inches in length, which gives you more opportunity to stretch out those landings and foot strikes without compromising your form.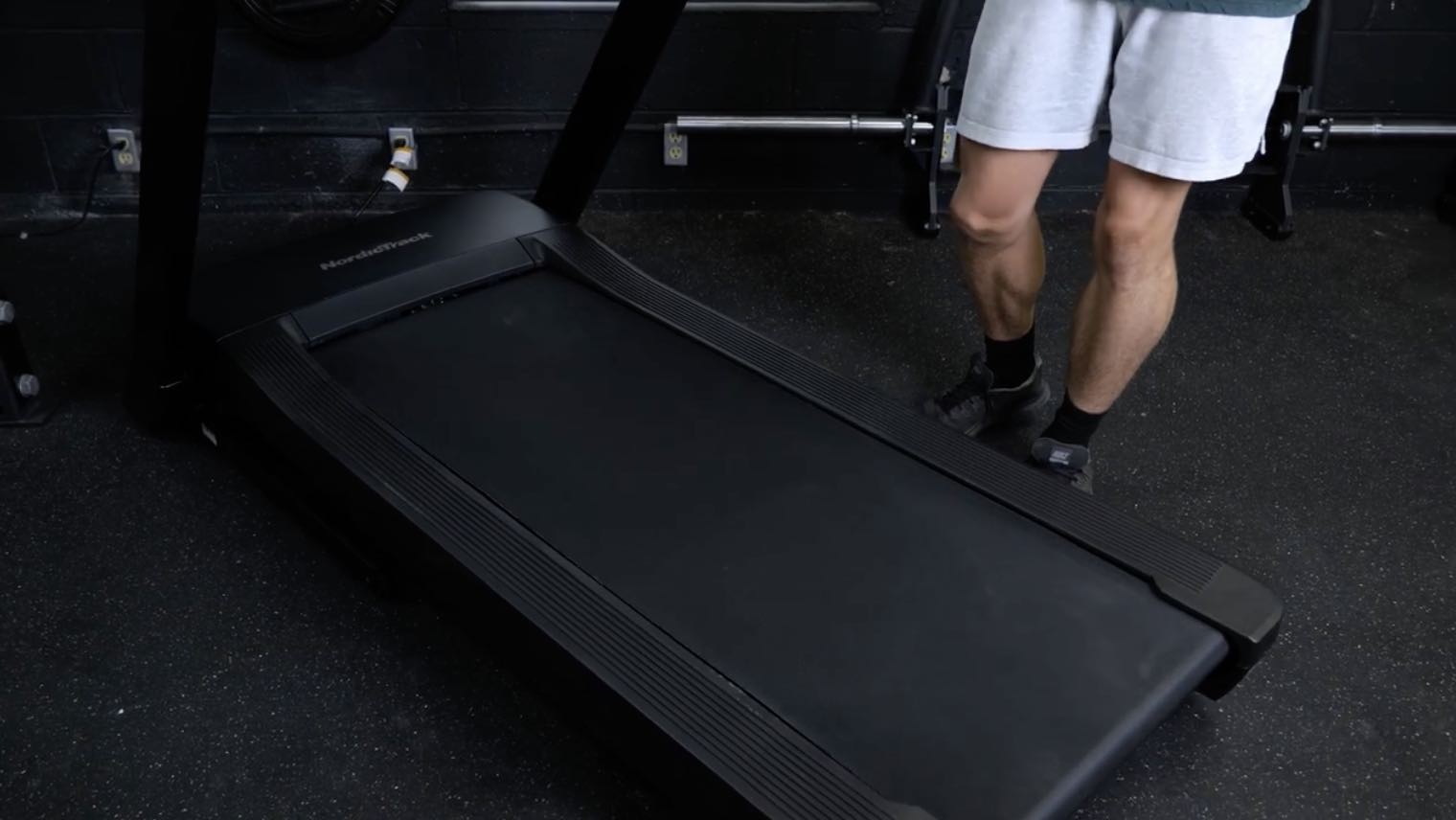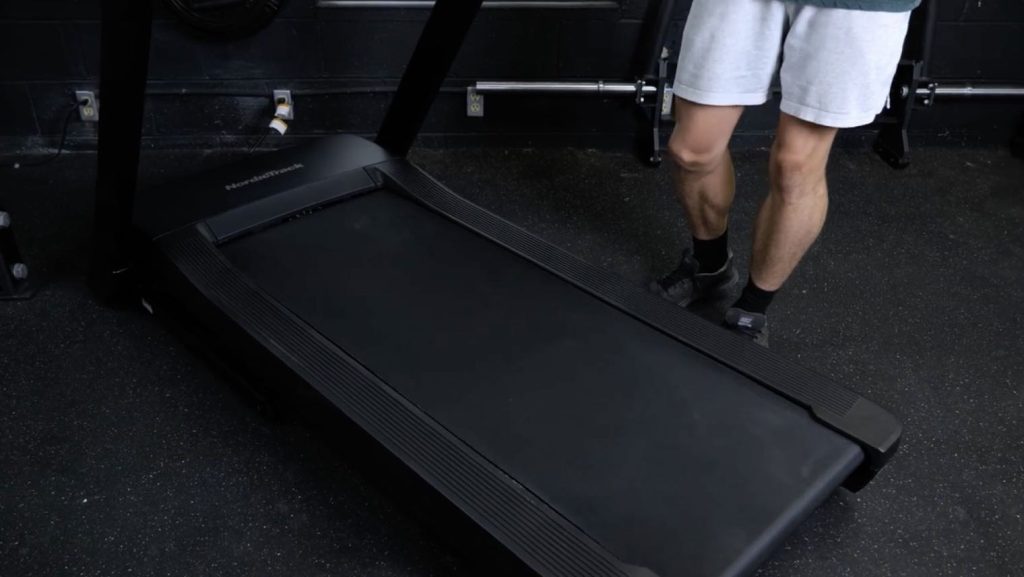 For this reason, we recommend keeping workouts at low or moderate paces, as you're less likely to take longer strides when working at these speeds. Taller athletes may also want to steer clear of this shortened running deck in an effort to keep every step and landing as natural and comfortable as possible.
What to Consider Before Buying the NordicTrack EXP7i Treadmill
Yes, we're big fans of the NordicTrack EXP 7i and highly recommend it for budget-conscious athletes. That said, we've learned a thing or two after testing and researching over 20 treadmills in our fitness experience. It's always a good idea to look closely at a treadmill's price, speed and incline ranges, overall size, and roller dimensions. These specs can give you a pretty decent picture as to how your training experiences will go with a given machine.
Price
The starting price of the NordicTrack EXP 7i is $1,299. This puts it in line with other wallet-friendly treadmills on the market, but it's important to remember that this cost is not your final total. You'll need to factor in the additional iFit membership, which is available after your 30-day trial period for $39 per month, $396 per year, $699 for two years, or $899 for three years. Add-on services, like white glove assembly and extended warranties, can also influence your final total.
Despite these extra costs, we still think this is a worthwhile treadmill to consider when looking to upgrade your at-home cardio setup. Convenient features like the HD Touchscreen display and Bluetooth connectivity are often available in more expensive treadmills but are less common with machines at this price range. Add in the iFit library and impressive warranty included with the EXP 7i, and it's hard to ignore the value at play.
Working and Storage Space Availability
Treadmills are inherently large when compared to other pieces of fitness equipment, so it helps to ensure your home or apartment has the space available for such a machine. The EXP 7i measures 70.8 inches long by 34.9 inches wide by 59.7 inches tall. It's still quite the footprint, but a little more manageable than other treadmills out there.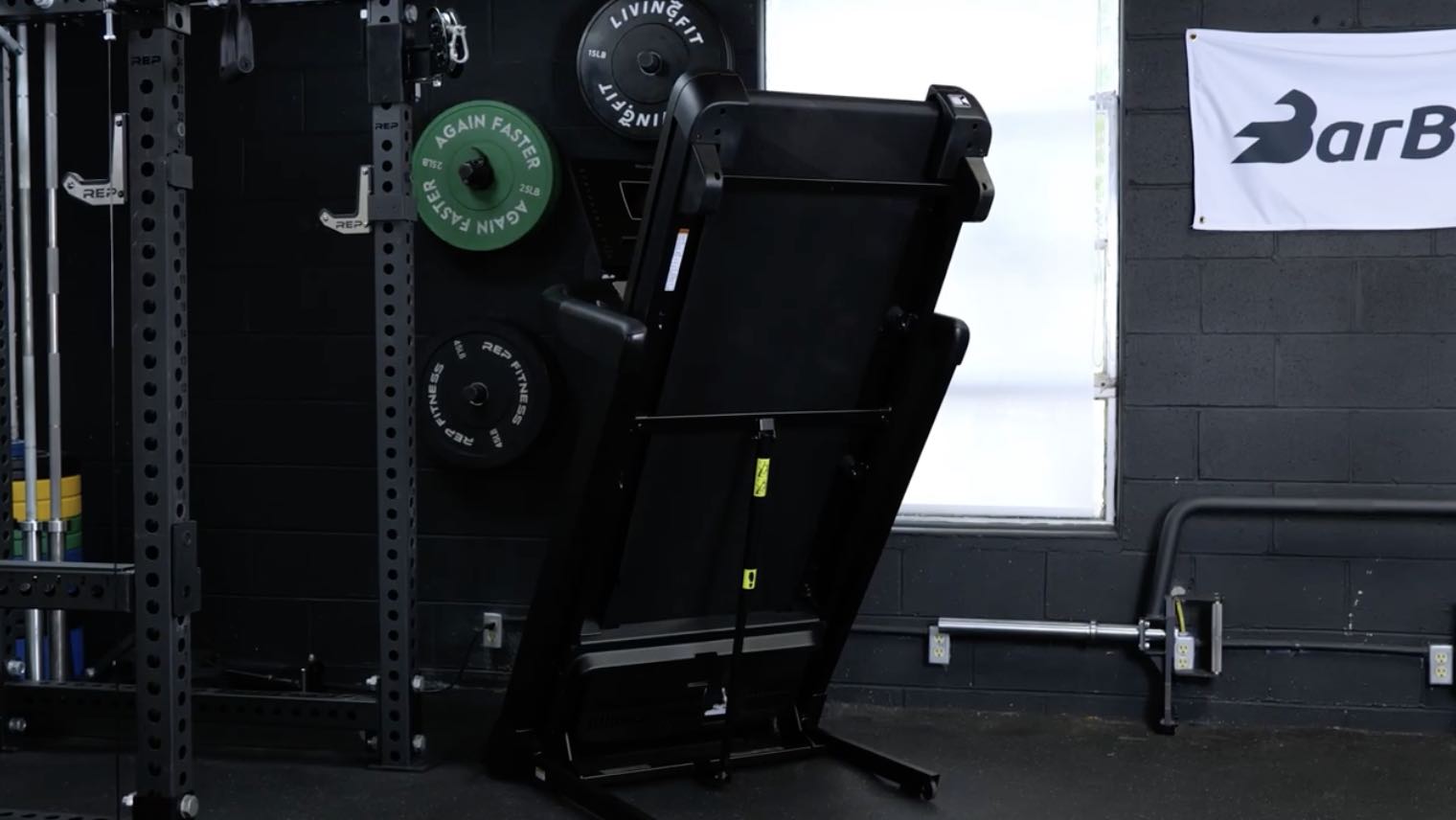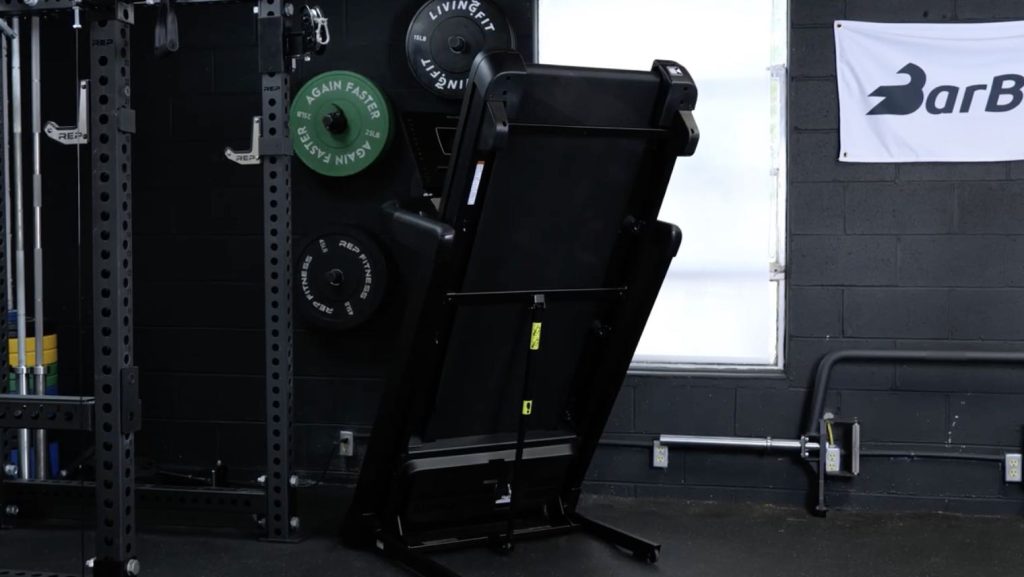 If you are cramped for space, it can also be wise to opt for a treadmill that folds up for more convenient storage when not in use. The EXP 7i does come equipped with such technology, and operating the SpaceSaver Design and EasyLift Assist hydraulics is very intuitive. The step-by-step instructions across the lift are simple to follow, too, so getting the running deck down from its raised storage position requires little effort, according to our tester.
Speed and Incline Ranges
Your speed and incline ranges can dictate how varied your training experiences can be from session to session. The NordicTrack EXP 7i can operate at speeds up to 10 miles per hour and can raise to an incline of 12 percent. These settings can be great for working out at a moderate intensity, but for athletes more invested in cardio training, it may not be enough. For one, the lack of a decline range does limit your exercise to climbs only, and a 10-mile-per-hour max speed may not be fast enough for all-out sprints.
If you're looking to utilize your treadmill day in and day out for hard-nosed runs and extended training, it may be best to look elsewhere for a speed and incline range that suits your needs. NordicTrack has plenty of other powerful treadmills in its roster, like the Commercial 1750, that offer higher max speeds and decline ranges, but these machines often pair these added benefits with a higher price tag.
Roller Size
The size of the rollers on your treadmill can be a good indicator of your machine's efficiency. The larger the roller, the easier the deck can move over extended training sessions. The NordicTrack EXP 7i has 1.9-inch rollers, which is understandable given the budget-conscious makeup of the machine, but admittedly, we'd like to see a larger diameter here. These rollers are going to work hard to get that deck through a revolution, and if you're running for longer clips in training, that can lead to quicker wear and tear.
For a more durable design and better belt efficiency, we recommend searching for a treadmill with 2.25- to 2.5-inch rollers. The NordicTrack Commercial X22i — another favorite of ours from the brand — does feature a beefier 2.5-inch roller diameter, but for nearly triple the price of the EXP 7i.
NordicTrack EXP7i Treadmill Vs. The Competition
We understand that there's no shortage of treadmill options to choose from, even when limiting your budget to $1,500 or less. So, to help you compare the NordicTrack EXP 7i to some of the top-performing models out there, we've composed this helpful chart to give you a side-by-side glance at key specs.
| | | | | |
| --- | --- | --- | --- | --- |
| | NordicTrack EXP 7i | Horizon 7.0 AT | Sole Fitness F63 | NordicTrack Commercial 1750 |
| Price | $1,299 | $999 | $1,199.99 | $2,499 |
| Max Speed | 10mph | 12mph | 12mph | 12mph |
| Max Incline | 12% | 15% | 15% | 12% |
| Max Decline | 0% | 0% | 0% | -3% |
| Weight Capacity | 300lbs | 325lbs | 325lbs | 300lbs |
| Roller Size | 1.9" | 2.36" (1.81" tapered) | 1.8″ | 1.9" |
| Product Dimensions | 70.8" L x 34.9" W x 59.7" H | 76″ L x 35″ W x 66″ H | 77″ L x 35″ W x 67″ H | 80" L x 38" W x 65" H |
| Running Deck Dimensions | 20" W x 55" L | 20″ W x 60″ L | 20″ W x 60″ L | 20" W x 60" L |
Two treadmills we think match up well to the EXP 7i are the Sole F63 and Horizon 7.0 AT. Prices are similar between the three, with only a few hundred dollars making the difference from one profile to the next. However, athletes wanting more high-intensity training may want to consider the Sole and Horizon options over the NordicTrack. The F63 and 7.0 AT both feature max speeds of 12 miles per hour, as well as max inclines of 15 percent. The EXP 7i, on the other hand, can only reach 10 miles per hour and an incline of 12 percent.
One area where the NordicTrack stands out from the Sole F63 and Horizon 7.0 AT, though, is in the equipment's footprint. The EXP 7i is significantly shorter in length than its competitors, meaning It takes up less space while in use. Granted, this shorter frame does cut five inches from the available running deck, so it may be less fitting for longer-striding athletes, but we'll take the more convenient dimensions when possible.
The EXP 7i also features an HD touchscreen display making training more interactive and engaging with crisp visuals and clear readouts. The Sole F63 and Horizon 7.0 AT utilize LCD consoles that don't provide the same sense of clarity and instruction in training.
Additionally, we've included the Commercial 1750 in this chart for a solid comparison within the NordicTrack brand. You'll notice that the Commercial 1750 features a higher max speed, wider incline and decline range, and larger running deck than the EXP 7i. That said, are those boosted metrics worth a $1,200 price increase? That's for you to decide.
Places to Buy the NordicTrack EXP7i Treadmill
The NordicTrack EXP 7i is available online directly from NordicTrack. This budget-friendly treadmill is also available at DICK'S Sporting Goods for even more buying convenience.
Warranties
The NordicTrack EXP 7i comes equipped with an impressive Manufacturer's Warranty at no additional charge. This coverage includes 10 years on the frame, two years on parts and one year on labor. A three-year Extended Warranty is also available for roughly $180, which extends the parts and labor coverage to five and four years respectively. Athletes can also opt for a three-year Maintenance Plan for roughly $260. This coverage includes a 10-year frame warranty, three-year parts warranty, and three-year labor warranty as well as an annual 15-point maintenance check, upon your request.
Customer Experience
In terms of purchasing, shipping, and delivery, NordicTrack makes the entire process quite convenient. Not only does the brand offer financing to help spread the larger cost over multiple months, but white glove assembly and room-of-choice delivery is also available. This means that if you opt for this service ($199), you choose the room you'd like to have your EXP 7i live in and trusted technicians will assemble the machine for you. Free curbside standard delivery is also available if you'd rather assemble your treadmill on your own.
Company Information
NordicTrack is one of the industry leaders in fitness equipment, manufacturing high-quality exercise bikes, rowing machines, ellipticals, and more. The brand also offers a convenient 30-day trial period with each purchase, and you're eligible for a full refund if you aren't satisfied with your equipment. To reach their customer support team, you can call them at 1-888-308-9616.
In Conclusion
The NordicTrack EXP 7i can be a great option for athletes on a budget, as well as those who use their equipment at light to moderate intensities throughout the week. Luxury features like an HD Touchscreen display and a compact footprint take the value of this profile well beyond its approachable price tag. Plus, the integration with the ever-expanding iFit library is a major plus when it comes to keeping workouts fresh, engaging, and entertaining.
Granted, some of the specs make the EXP 7i less of a fit for more invested athletes, including the shorter 55-inch running deck and smaller 1.9-inch rollers. Despite this, we're still confident in this machine's potential to deliver worthwhile training experiences, especially for beginners and recreational athletes. If you're curious about running at home and are looking for a vessel to get the most out of your iFit subscription, this wallet-friendly treadmill should definitely be on your radar.
FAQs
What is the top speed of the NordicTrack EXP 7i treadmill?
The NordicTrack EXP 7i has a speed range of zero to 10 miles per hour.
Can you use the NordicTrack EXP7i treadmill without an iFit membership?
An iFit membership is not absolutely required with the EXP 7i treadmill. That said, you can only access the manual start without an iFit subscription, so to make the most of the machine, we highly recommend signing up for the service. With over 17,000 engaging courses and challenges, as well as new content being regularly added, we feel the monthly or yearly cost is worth it.
What is the weight limit for the NordicTrack EXP7i treadmill?
The NordicTrack EXP 7i has a max user weight capacity of 300 pounds.