We receive free products and receive commissions through our links. See
disclosures page
.
If you've ever wanted to hit reset on your health, and add all the right supplements to your daily regimen, you've probably at least considered a personalized multivitamin subscription. There are multiple varieties on the market now, but most brands of personalized multis require a quiz and then build out your pack of daily vitamins based on your answers. While a multivitamin is usually included in the bunch, most brands will also include additional supplements, like omega-3, vitamin C, and magnesium, to name just a few.
Nurish by NatureMade is one of these personalized multivitamin brands, and I wanted to see what the hype was around these individual bags of vitamins for myself. Before trying Nurish, I had only built out my daily supplement regimen myself, with multiple bottles of various supplements — from a multi to a probiotic, and even vitamin D to get me through New York City's long winters and my SAD (seasonal affective disorder). With Nurish, I took a quiz about my daily life, goals, what kinds of benefits I'm looking for, and any additional supplements I may want in my pack, and they put together a personalized daily vitamin pack just for me.
While Nurish didn't hit every mark I was looking for, they did knock out a lot of the bottles I had in my cabinet. If you're looking for an easy way to get all your vitamins in one go and virtually eliminate the need to store bottles on bottles of supplements, or remember to stock up when you run out, a Nurish subscription could be a great option for you.
Main Takeaways
Nurish requires a five minute quiz to get started where they ask about your goals, daily life, and any specific supplements you may want in your individualized daily packets.
Each pack is formulated to suit you, individually, so no pack will be the same or have the same number of pills. But Nurish will send a month's supply (each month, if you subscribe) of vitamins separated into one packet a day.
You can adjust your pack or add supplements to it at any time if you feel you are missing a key nutrient.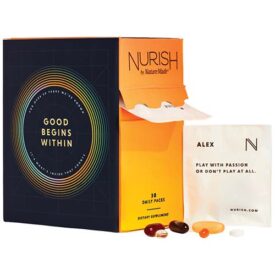 Nurish requires a quiz to build out your pack of daily vitamins based on your goals. Along with a multivitamin, Nurish may also include additional supplements, like omega-3, vitamin C, and magnesium.
Nurish Highlights
A personalized supplement like Nurish is ideal for people who don't know where to start with supplementation. Nurish takes the guesswork out of buying supplements and tells you exactly what you need based on your lifestyle and goals. It's also great for people who have a lot of separate bottles of supplements already, and want to consolidate their stash to free up some cabinet space.
However, for those who don't like taking a lot of pills, Nurish could be too much — most of their daily vitamin packs will contain over six pills to take each day. And because of the convenience factor, Nurish is also fairly pricey, so you'll want to make sure it's actually worth your while to subscribe.
Who Should Buy Nurish
Folks who are just starting out on a health journey and want a brand that will take the guesswork out of choosing what supplements to take — Nurish will provide a quiz that tells you exactly which supplements you need to hit your goals and complement your lifestyle.
Anyone who already takes a lot of different supplements and wants to get rid of their bottles of pills. Nurish will send you daily packets with around five different vitamins and supplements included, virtually eliminating the need to store separate bottles of all of your supplements.
People who travel a lot and need vitamins they can easily bring with them on-the-go will appreciate the convenience and portability of Nurish's daily packets.
Who Shouldn't Buy Nurish
Customers who know exactly what supplements they need, and don't need the help figuring out what vitamins can help them reach their goals.
Those who don't particularly value the convenience factor, and know they can easily remember to restock their supplements when they run out. This subscription service may not be worth it to you.
Buyers on a budget may find Nurish to be a bit pricier than buying all of your vitamins and supplements separately — you're paying for the nutritional guidance and convenience here.
Price and Buying Options
The price of Nurish varies depending on what vitamins are included in your daily pack. Each individual vitamin/supplement ranges from $4 to $8 per month, so your pack can cost anywhere from about $30 to $50 a month depending on how many supplements you are taking each day. For reference, mine cost around $45 a month — but I definitely selected a higher number of goals than average. If you stick to the basics, your cost will likely be lower.
You can opt to subscribe, which may knock $5 off the monthly cost and provide the best deal, but if you're not willing to commit yet, they do offer the option to buy your vitamins on a monthly basis.
Nurish Overall
Nurish comes with a month's supply of individual packets of vitamins and supplements based on your personal goals and lifestyle. These packets can contain multivitamins, omega-3's, calcium, vitamin D, and more depending on the answers you provide in the five-minute quiz you take upon sign-up. You can customize your packs at any time, and you can opt for a one-time purchase or monthly subscription. The biggest perk Nurish offers is its convenience and guidance toward hitting your nutritional goals — but you will definitely pay a little more for these benefits.
Formulation
It's impossible to say exactly what your individual packets will contain, but I can tell you what was in mine. In my quiz, I told Nurish the goals I wanted to achieve, which ranged from digestive health to exercise recovery, and Nurish even took the pollution of my home city and time I spend in the sunlight into account. I ended up with a daily packet of eight different supplements, and Nurish explains directly on their site (before you even hit purchase) what each supplement can help with — I'll get into the information they gave me a little more below.
Vitamin D3
Vitamin D3 can help support bones, muscles, and your immune system. Known as the "sunshine vitamin," vitamin D is particularly key in winter months for those who don't get enough sunlight — when you're exposed to sunlight, compounds in your skin react with the UV rays to create vitamin D. If you're not getting a ton of sun exposure, a vitamin D supplement can help provide the immune, bone, and muscle support we may miss during the colder months. My Nurish supplement contains one softgel with 125mcg of vitamin D3.
Women's Multi
Women's multivitamins vary across the market, but Nurish's multivitamin contains 22 key vitamins and minerals to benefit women specifically. These include calcium, iron, magnesium, vitamin B6, vitamin B12, biotin, selenium, folate, and more. Nurish's blend is meant to help fill nutritional gaps in your diet. Of course, the key with taking a multivitamin is that it will not replace a healthy diet of whole foods — it's only meant to complement one.
Milk Thistle
Milk thistle is key for liver and digestive health — as all food and beverages we consume are filtered through the liver (including alcohol), milk thistle is often associated with decreasing liver inflammation. Nurish does ask if you like to indulge in any alcoholic beverages, and since I do enjoy a glass of pinot grigio (or two), this 140mg of milk thistle is likely a great addition to my supplement regimen.
Omega-3
Omega-3 fatty acids (EPA and DHA fats) can help boost heart and brain health. If you often eat fish, like salmon, tuna, and halibut, you're likely getting a solid dose of EPA and DHA fats. However, many people don't eat enough fish to reap these benefits, so the 720mg of omega-3 fatty acids in Nurish's omega-3 supplement can help fill that gap.
Vitamin C
I'm sure many of us have long been told to drink orange juice when we're sick. This is because orange juice is a great source of vitamin C, an antioxidant that can help support immune health. Vitamin C is found in citrus fruits like oranges, lemons, grapefruits, and limes, and if your diet is low in fruits and vegetables, a vitamin C supplement could do you well. Nurish included one softgel with 500mg of vitamin C in my daily packet.
Hair, Skin & Nails
The main ingredient in Nurish's hair skin & nails supplement, is biotin (otherwise known as vitamin B7) — it contains 2,500mcg of it to be exact, which is about 8,333 percent of your recommended daily intake. Biotin can be found in egg yolks, liver, salmon, and avocados, but unless you're inhaling avocado toast like it's your job, you may not be getting enough to promote proper hair, skin, and nail health — especially as you age.
If you often find yourself wishing for stronger nails or less frizzy hair, but haven't wanted to implement a separate hair, skin, and nails supplement yet, Nurish makes this an easy addition at the end of their quiz — they ask separately if you'd like a supplement included in your pack to support this particular goal.
Magnesium Oxide
Magnesium is key in supporting nerve and muscle function — it takes the food you eat and helps turn it into usable cellular energy. It's one of the most prevalent minerals in our body and can affect everything from digestive health to sleep patterns. Those who are magnesium deficient may see the signs in these two places first, but magnesium is necessary for hydration and nervous system health overall.
You can find magnesium in whole grains, dark leafy greens, nuts, and beans, but this supplement of magnesium oxide (one of the many forms magnesium comes in — this one being particularly helpful with digestion) provides an additional 250mg per one-tablet dose.
Garlic
This is one of the supplements Nurish included in my pack that I was not too fond of. Don't get me wrong, I'm Italian, and I love an extra clove or two of garlic when it comes to my tagliatelle. But when you put garlic into pill form, the flavor just doesn't hit the same. It actually made it so all of the other pills in my pack had a slight garlic flavor as well, which was a bit of a turn off to taking my vitamins every morning.
However, garlic can be helpful for maintaining normal blood cholesterol levels, which I do need a little help with. Nurish included a 500mg garlic supplement for me for this reason, but I'll likely stick to my healthy diet of whole foods to manage my cholesterol, and skip the garlic in next month's order.
What to Consider Before Buying Nurish
Since Nurish is a pricey venture, you'll want to make sure its convenience and nutritional guidance are something you actually need in your regimen. On top of that, there are also characteristics of the product itself you'll want to weigh, but more on that below.
Price
Since Nurish does a lot of the work for you when it comes to creating a supplement regimen, the price tag is going to be higher than if you were to just go out and buy the individual supplements you're taking on your own in bulk. Each supplement is going to cost about $4 to $8 each, per month. So, if you're getting about five to seven different supplements in each pack, at the lowest, you're going to be spending $25 to $30 for a complete regimen.
You always have the option to remove or add supplements as you see fit. If Nurish recommends a supplement (based on your quiz) that is on the pricier end of the spectrum and not something you want to pay for each month, you can easily remove it from your pack.
However, if you want the best chance at meeting all of your goals you set in your quiz and getting the most from Nurish, it's best to stick to the supplements recommended — in which case, yes, you can end up spending up to even $50 per month on vitamins. For reference, your average bottle of regular multivitamins can cost around $15 to $20 for a 30+ day supply.
Number of Pills
If you're going to commit to Nurish, you need to be sure you can handle the number of pills that comes in each of your daily packs. For me, that ended up being nine pills. (Note: even if you only have five supplements, some supplements require two pills for a full dosage.) If you're pill-adverse, you may be better off sticking to a basic multivitamin (which can even come in gummy form, if you prefer), and maybe adding the supplement you need most in addition to that.
For example, I used to take a multivitamin and a fiber supplement when I was bad at eating my greens. If you're looking to reap the full benefits of a Nurish regimen, you'll likely be taking between five to 10 pills a day — just be sure that's something you can handle before you subscribe.
Supplements You Need
If you already know what you need to take to reach your goals, and have everything lined up in bottles on your counter, you may not need to trash your regimen and start a new one fresh. It's very likely that Nurish will tell you to keep doing what you're doing, but just separate your regimen out into packets.
Though there is something nice about the convenience that brings, it may not be necessary or worth the money if you're an experienced supplementer. However, if you travel a lot and need packets of your supplements you can easily throw in a bag, it may be worth considering Nurish even if you already know what supplements you need to take.
Where Nurish really comes into play is if you're just starting out and need someone to tell you what to do — Nurish can be a great guide. All you do is take a quiz, tell Nurish what your goals are, and they will hand you the best available answers (aka: supplements to fill your dietary gaps and help you reach your goals).
Subscription
We've likely all forgotten to alter or cancel a subscription at least once or twice in our lives. Since Nurish's best deal comes when you subscribe to their monthly plan, you're going to want to make sure you're aware of when your subscription is renewing — if you're likely to forget to alter, pause, or cancel your subscription when you need to, this may not be the best option for you.
Final Word
There's something to be said for having a personalized multivitamin pack waiting for you every morning. It makes it hard to forget to take one of your supplements, and it sure saves a lot of time spent unscrewing bottles. But if you're not one for taking a lot of pills and may prefer gummy supplements, there could be a better option out there for you.
You'll want to ensure you're going to make proper use of Nurish before you swallow the expensive monthly price tag. Of course, if you're just starting out and need a nudge in the right direction, this may be the perfect path for you. If you're already an experienced supplementer and are just curious about the convenience factor of Nurish, you have a little more to consider. As for me, I like the ease of ripping open one packet of vitamins each day, and having someone else do all the work for me — I just may skip the garlic pills next time, and save some money on breath mints.
FAQs
Is Nurish worth the money?
It depends on your personal situation. If you're fresh on the supplement journey, it may be nice to have Nurish guide you toward the right supplements to hit your goals. If you know what supplements you need already, Nurish may only be valuable for its convenient daily vitamin packets that are easy to take on the go, in which case, the monetary value is diminished a little.
How many pills come with Nurish?
This number is different for everyone. Nurish typically will recommend around five supplements to meet your goals, but you can also add to or subtract from that if you wish. Typically one pack will come out between five and 10 pills depending on the individual.
Can I change my Nurish subscription?
Yes, Nurish will give you an initial suggestion based on the answers you give in your quiz, but you can add other supplements or nix any of the ones they recommend for you at any time. Just be sure to check your subscription before it renews if you want to alter what you had in the previous month.