Dumbbells are one of the most popular implements to train with for every level fitness enthusiast. Whether you're a bodybuilder, recreational lifter, powerlifter, true workout beginner or functional fitness athlete, there's a good chance that dumbbells are used at some point in your program.
Like most pieces of strength equipment, not every dumbbell is created equal and there are options that will suit different settings, needs, and types of athletes best. In this round-up, we dive into the deep and vast world of dumbbells and assess the market's best bell's pros, cons, and best uses. We then match all of those attributes with fitness enthusiasts they'd best suit. Consider us dumbbell matchmakers.
Editor's Pick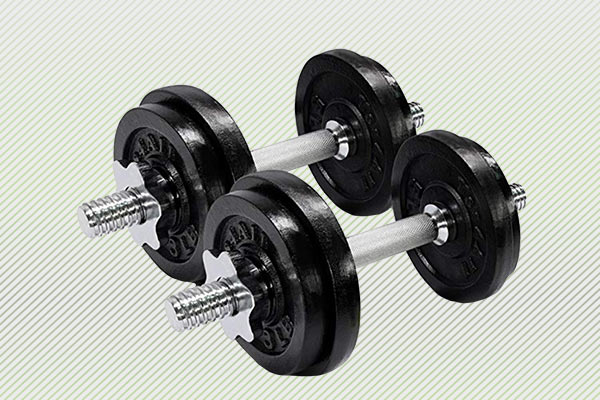 Yes4All Adjustable Dumbbells
The Yes4All Adjustable Dumbbells made our top pick for a very specific reason and that's their total weight for the price. These dumbbells have multiple weight and accessory options and you can even select dumbbell sets that come with a connector to create a barbell out of them. If you're a home gym fitness enthuasist that wants your weight's worth in money, then these dumbbells are a good pick. 
Yes4All Adjustable Dumbbells Pros
Multiple weight and accessory options. 
Cost efficient option for the weight provided. 
One year warranty on plates and handles.
Yes4All Adjustable Dumbbells Cons
Metal may chip if not properly cared for. 
Limited space on each dumbbell handle. 
Yes4All Adjustable Dumbbells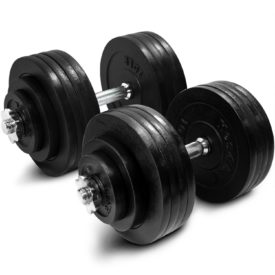 Yes4All Adjustable Dumbbells
The Yes4All Adjustable Dumbbells provide a ton of variability with weight selection and some sets include a connector to turn your dumbbells into a barbell. 
Methodology
For every dumbbell, we assessed two critical factors that we feel weigh heaviest when it comes to your investment. First, we assess the overall construction of the dumbbell and quality of its materials. Second, we acknowledge who the dumbbell best suits and in what settings the dumbbell is most beneficial.
Construction
Yes, dumbbells are simple in design, but that doesn't mean we should write off their construction. The construction assessments we perform for every dumbbell compare the materials used on the heads of the dumbbells (each end), the shaft connecting the heads, and how the materials work together.
Our Construction Assessments Include:
Heads of the Dumbbell
Dumbbell Shaft
How the Materials Fit Together
To provide some context for the home gym beginner, we've provided a couple direct examples below of ways we use our construction assessment on a regular basis.
Construction Example 1: How do the dumbbell's heads work together with the metal shaft? If the heads are rubber, for example, we look for early wear and tear potential with the rubber coming off of the shaft and lipping. This can indicate that the dumbbell is low quality and could chip relatively quickly.
Construction Example 2: Does the dumbbell have metal that is resistant to chipping? This is especially important when evaluating an all metal dumbbell with plates and clamps.
Another important characteristic we consider with the construction of the dumbbell is warranty. Typically, a warranty indicates better quality. Long story short, understanding the construction of a dumbbell is key for those wanting their investment to go the distance.
Who Can Benefit Most
Outside of construction, we also assess which populations would benefit most with the use of the dumbbell in question. Construction plays a role in this assessment as well, but so does price and overall performance traits of the dumbbell.
Below, we've provided four main populations we assess each dumbbell's best uses for and why we rope specific dumbbells into each category.
Home Gym Users: Dumbbells need to be easy to store, have construction that will not damage their surroundings, and come at a fair price.
Beginners: Dumbbells should accommodate for a beginner's grip tolerances and come with a fair price.
Advanced Lifters: Dumbbells need to have large ranges of weight, a strong construction, and knurling to support grip.
Value Shoppers: Price is king!
BarBend Tips
Q: I'm new to training, what type of dumbbell should I look for?
BarBend: A good starting option would be some of the rubber coated dumbbells because they generally last a long time, come in affordable sets, and work great in nearly every home gym setting.
Q: Should I go for metal, rubber, or more something else?
BarBend: At the end of the day, all of these options will provide a solid workout, so we'd base this question on your workout setting. If you're working out in an apartment, then go for rubber or tech-based adjustable dumbbells, and if you're in the garage, select whatever type of bell your heart desires.
Wrapping Up
Dumbbells come in all shapes and sizes (well, kind of), and not every bell is created equally. One of the best ways to approach finding the perfect dumbbells is by combining where you're working out most with your expertise. Once you've come up with these two answers, then you can begin narrowing down your choices to options that suit both of those needs best!