There are a lot of treadmills on the market today that look the same, and by many standards perform and run the same way. The Trueform Runner treadmill, however, is not one that blends in with the crowd. A motorless treadmill built to react to even the slightest of movements so that its users can learn to run properly, this treadmill prioritizes running form over gadgets and Bluetooth speakers.
If you're on the market for a treadmill that doesn't require electricity and will help shape your running form, you'll want to keep reading our in-depth Trueform Runner review.
Main Takeaways
The Trueform Runner is a motorless treadmill that harnesses the user's stride to power itself.  

It is specifically designed to improve running form and to help prevent injuries.

This is a popular, hand-welded tread for CrossFitters and CrossFit Affiliates.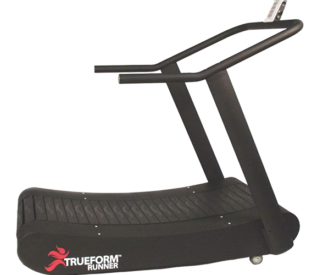 If you're in need of a treadmill that prioritizes form and core running basics, the TrueForm Runner is the perfect fit. Powered by the runner's stride, it's a staple in CrossFit style workouts. 
Trueform Runner Highlights
The Trueform Runner is a treadmill specifically designed to shape an athlete's running form. With a curved belt and no motor, this treadmill aims to imitate running outdoors while also compelling runners to develop a better foot strike for an improved running gait.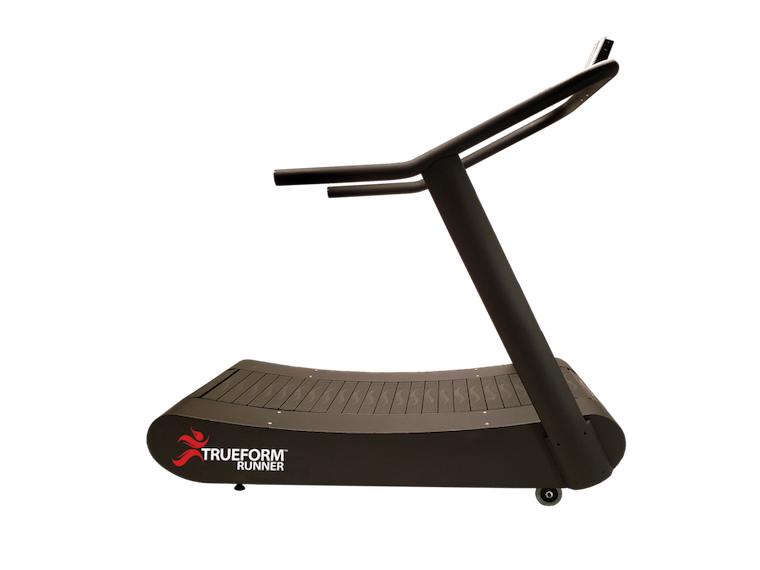 Who Should Buy The Trueform Runner 2.0
Newbies to avid runners who want to improve their running form.

Runners wanting to control their speed and acceleration.

People who want a treadmill that imitates running outdoors.
CrossFitters looking to purchase a treadmill that is often used for WODs.
Who Shouldn't Buy The Trueform Runner 2.0
Buyers who want an electric treadmill with a lot of features.

People who want to track more metrics like calories and heart rate on the treadmill itself.

If you prefer the broader belt that most regular treadmills have.
Price
While The Trueform Runner 2.0 comes in at a higher price point than other treadmills on the market, it's price does fluctuate. While most treadmills range from $1,000 to upwards of $4,000, you can find the Runner on Trueform's website ranging from $6,995 down to $4,695 depending on sales and promotions at the time. Recovery for Athletes sells the Runner for $5,995 while Rogue Fitness has it listed for $5,695. While it might be too pricey for some, this should be a solid treadmill you won't have to replace over time. If you really want to save some money, keep your eye out for when Trueform offers special sales on their treadmills.
Overall Build and Quality
While some treadmills have frames and components made out of plastic, the Trueform Runner 2.0 is entirely made of steel and aluminum, which makes it a strong piece of equipment that is still lightweight. It's a one-piece frame hand-welded and built for longevity.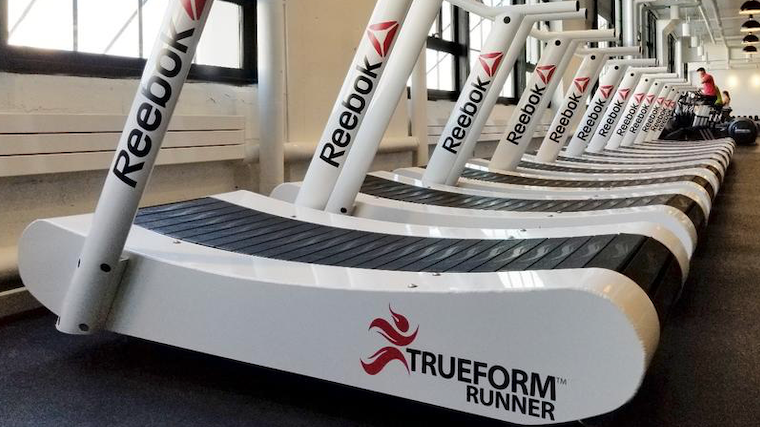 Features
This treadmill responds to every movement its runner makes. While it doesn't have many fancy features like a heart rate monitor or a USB port to plug your smartphone, it does provide some of the essential facets any runner will need to elevate their running game like a running belt that reacts to every move you make on it and a metrics monitor.
Speed range
The Trueform Runner is a motorless treadmill. It's Responsive Belt Technology is receptive and will move even during the lightest of walks. This means users have full control of their speed as the faster they run, the faster the belt moves.
Incline range
With no motor, there is also no mechanism to elevate the treadmill for inclines. The most a user can do to imitate a steep surface is to run close to the front curve of the belt. The closer they are to the curve's highest point the more incline they'll feel.
Included workouts
While this treadmill does not come with included workouts, buyers can subscribe to Trueform's online courses to use in conjunction with their Runner. Trueform's programs can help runners at any level improve their running performance.
Trueform has also teamed up with other fitness organizations like Spartan Race that buyers can use with their treadmill.
Display
The Trueform Runner features a small screen to monitor pace, speed, and distance. Its non-intrusive size helps users focus on their runs rather than consistently seeing their metrics front and center. Powered by LED lights, this display tracks distance metrics in either miles or kilometers.
Heart Rate Monitoring
While many treadmills provide some sort of tool for users to monitor their heart rate, this one does not. Trueform's aim is to help users run better by improving their form. Even the smallest of change in how you land your foot while running can boost your performance to help you meet your goals. That being said, there are a variety of monitors shoppers can buy to use while running on the Trueform Runner if they prefer to track their heart rate.
Fans
Although some people might like this feature, The Trueform Runner does not come with built-in fans. Since it is motorless and has no electrical requirements, some users might have to clip on a battery operated fan to this treadmill, or set one beside it, if they prefer to feel the wind blow.
Bluetooth and Audio Options
There are no Bluetooth and audio options on the Trueform Runner. Without these features, runners are left to focus on their run and – if they want – pop in their own headphones during their exercise.
HDMI, USB, and Other Inputs
The Trueform Runner has no electrical components. With that, it's not going to have any screens or programs that might need an HDMI or USB. Sorry runners, you can't charge your phones on this treadmill.
Water Bottle, Cup Holders, Tablet and Phone Holders
With an emphasis on running form, The Trueform Runner does not have storage options for phones or water bottles. This creates more space for users to run comfortably.
Product Specifications
Here's a complete rundown of the product specs on the Trueform Runner 2.0.
Motor
The Trueform Runner 2.0 is manually operated. The runner powers this treadmill as soon as they start to walk or run. This feature can help reduce stride imbalance some runner's encounter while doing their runs on treadmills.
Running Surface
In comparison to other treadmills on the market, this treadmill's belt is a bit narrower. While most treads have a running surface of about 20 inches wide, The Trueform Runner's belt is 17 inches.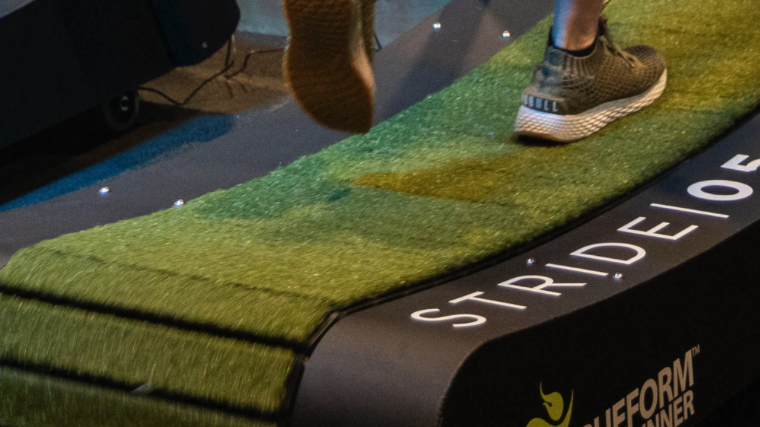 This width should help runners avoid swaying off track and develop a more straightforward running gait. It will also benefit runners to distribute the impact of their foot strikes evenly.
Weight Capacity
This treadmill's build sustains high levels of impact. It can take up to 400 pounds of a runner's weight and up to 700 pounds if the user is walking.
Folding Options
This treadmill does not come with a folding option but it does feature wheels for portability. The treadmill weighs 350 pounds, but the wheels enable users to move the unit easily.
Footprint
The Trueform Runner is more compact than some other treadmills on the market. It has a footprint of 64 x 36 x 63 while others will have average lengths ranging from 70 to 80 inches. Its size is pretty standard when it comes to width and height, but its length will definitely save you some floor space.
Electrical Requirements
This motorless treadmill has no electrical requirements. It is manually operated and doesn't need to be plugged in or charged to function.
Warranty
Trueform has different warranties for each part of it's Runner. Trueform guarantees that the frame will stand the test of time and will not succumb to defects. They offer a Lifetime Warranty to support that promise. They also offer a 10-year warranty on the tread and all its parts assuring they won't break down over time. The LED metric display has a two-year warranty and they offer labor coverage of any unforeseen repairs for one year.
Belt Material
Its Kraiburg rubber belt is composed of repurposed tires. It is durable and slip-resistant to support even the sweatiest of running sessions. The rubber production is also environmentally friendly as it is non-polluting and isn't regenerated with chalk or any other low-quality materials that might decrease the rubber's build quality.
The Trueform Runner 2.0 also offers customization on their running belts. Buyers can substitute the rubber belt with an artificial turf fitting for baseball, football, and soccer players who want to run in their cleats. There is also a running track belt option, which can be easier on the muscles and joints.
Lastly, buyers can swap out the standard Kraiburg rubber with a Naboso surface. This type of textured material targets distinct nerves on the bottom of the feet and can increase foot stimulation. The Naboso surface could be a good option for rehabilitation centers looking to help patients with orthopedic injuries.
Curved Belt
While many treadmills have a flat surface, The Trueform Runner's curved belt is designed to improve a runner's form. The curve at the end of the belt can help runners integrate back kicks into their running. This type of movement can strengthen glutes, hamstrings, and hips for a stronger lower body for increased speed and agility.
The curved belt also helps users get their treadmill moving. By dragging their foot at the top of the curve, a runner can set their treadmill in motion.
Bearings
While this treadmill is motorless, it does feature over 100 individual bearings supporting the belt underneath. These ball bearings are made out of steel and won't wear down. They offer minimal friction and act as guides for the belt to roll smoothly as you run.
Cushioning and Feel
What you feel while running on the Trueform Runner will depend on the tread you choose. If you stick with the standard Kraiburg rubber, you'll feel a stable but flexible belt. The running track alternative provides more of a spring-like bounce while users running on the Naboso surface will feel more of a textured material that is designed to target nerves on the bottom of the feet. All these tread options will provide smooth cushioning for a softer step upon impact.
Color
Buyers can also decide the Runner's color. They can choose from over 200 custom colors and hues. If you're a gym owner or have your own home gym, the ability to choose your own color is a nice add-on for people who want to customize their treadmill.
Branding Options
Gym owners, athletic training facilities, and rehabilitation centers can take their branding even further. Buyers can not only choose their color and tread option, but they can also stamp their logo on their runner. If they're not sure how to customize their runner, Trueform has a design team that will work with them and will create a digital mockup of their runner at no extra cost.
Handrails
Formed with two-inch steel tubing, the handrails on this treadmill are solid for whenever you need to grab hold. It's painted with a textured powder coat to enhance your grip even while you sweat.
Performance Adapter
Buyers interested in The Trueform Runner can further enhance their running experience by purchasing The Performance Adapter. This accessory can be attached to the treadmill to create a tethering system. Users can tie a resistance band to the adapter and extend it around their waist to add tension to their runs. The Trueform Runner's compatibility with The Performance Adapter can help enhance acceleration and boost any runner's explosiveness and even speed.
Use for CrossFit Training
The Trueform Runner is typically regarded as the go-to treadmill for CrossFit athletes and CrossFit affiliates when running outdoors isn't an option. Often in a WOD (workout of the day) where indoor running is involved, the Trueform Runner is considered to be the treadmill of choice. CrossFit as a discipline tends to focus on high intensity interval training (HIIT) and movement form, so the use of the Trueform Runner in CrossFit aligns well with that style of training.
Workout Apps and Compatibility
Although there are no workout apps specifically made for the Trueform Runner, that doesn't mean you can't use some of the most popular running programs with it. Runners can use treadmill specific apps such as Nike+ Run Club, Apptiv, and Treadmill Trails if they want to track more metrics.
Subscriptions
Users get free access to Trueform's on-demand channel and their library of over 200 health and fitness videos. Their on-demand channel offers monthly full-body workout guides so that users can have some structure to keep them on track to reach their goals. Trueform's video library includes drills, exercises, and nutritional tips so that users can not only assess their running form but also gain some guidance for other fitness goals.
Places to Buy
This treadmill can be purchased from Trueform Runner's website. Shoppers can also look to Rogue Fitness and Recovery for Athletes to buy their Trueform Runner. Obstacle course enthusiasts can show their team spirit by getting a Spartan Race branded runner directly from Spartan's website.
Company Information
Trueform Runner launched over five years ago. With a collection of motorless treadmills, their mission is to correct running form with an emphasis on the human body's natural movement. They also produce a Trueform Trainer which is a lighter version of the Runner and the Office Cruiser treadmill with a handrail made to fit walking desks.
Contact
Trueform is based out of Connecticut, USA and can be contacted either by sending them an email on their website or calling them at 860-895-8533.
Return Policy
If this treadmill does not meet your expectations for any reason, you can return or exchange it within 30 days. Customers must return the Runner in its original packaging and good condition. There is a 20% restocking fee if your return does not meet these requirements.
Final Word
Whether you're running as a supplement to your strength training, preparing for an upcoming marathon, or simply want an upgraded method to run indoors, The Trueform Runner is designed to improve anyone's form to run longer, faster, and more efficiently. This treadmill is not going to do the work for its runner. Users should find that this treadmill is beneficial not just for their running condition but also their overall health.
FAQs
Is the Trueform Runner expensive?
Non-motorized treadmills can be a bit more expensive than those with motors. While the Trueform Runner might cost you more than a standard treadmill, it is within the price range of manual treadmills which can start from $4,000 and hit $5,000 and more. Trueform does offer some specials on their Runners from time to time.
Does the Trueform Runner run on electricity?
No, the Trueform Runner is manually operated. It is powered by the runner with each step they take. The display will require batteries for it to function but both the rechargeable battery and its charger are included with the purchase of the Runner.
Is the Trueform Runner easy to move?
The Trueform Runner weighs in at 360 pounds. While it is heavy, this treadmill is equipped with two front-end wheels that make it easier to move around. It is recommended to have a designated space for your Trueform Runner, but the wheels make it portable if you do have to move it.