BarBend HQ has been on a quest to find the best weight lifting belt for every type of strength athlete. Our mission through multiple sweaty — often heavy — gym sessions was to provide you with direction when choosing the best lifting belt for your needs. The perfect belt for you will be tailored to your lifting style, goals, sport, budget, and comfort preferences.
After every gym session, we're just like you. We are strength athletes asking the question, what's the best lifting belt? We're continually building our belt arsenal and putting more products to the test. We've now reviewed and tested dozens of belts with our favorites listed below.
No matter your strength sport or strength level, this is your definitive guide to finding your perfect weight lifting belt. We looked for the best lifting belts in five different categories, then provided a descriptive analysis behind why we chose each included in the lists below.
Best Lifting Belt for CrossFit
A great belt for CrossFit needs to be dynamics in nature and up for any potential task thrown at it. In addition, it needs to be rigid, but walk the line of not limiting mobility.
Schiek 2004 lifting Belt
The Schiek Model 2004 Lifting Belt was our top choice for functional fitness workouts. This belt has a cone-shaped design, so it hugs the body well and has added lumber inserts. In addition, there are two velcro strips to provide a firm, stable hold.
This belt was a little tougher to adjust quickly, but the stability and versatility greatly make up for this aspect.
Schiek Model 2004 Lifting Belt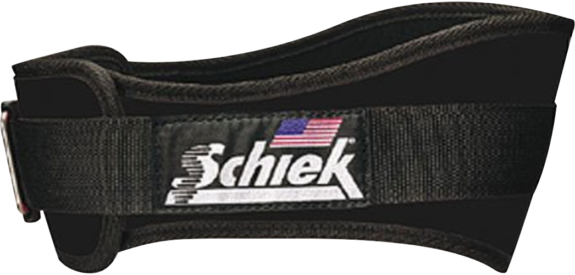 Schiek Model 2004 Lifting Belt
This lifting belt is designed for versatility and to contour to the body's natural shape to provide support.
Who Should Buy the Schiek 2004 Lifting Belt
Functional fitness athletes that want a lifting belt for multi-purpose use.
Recreational lifters that train in a variety of ways.
Athletes that would like a belt for support and prefer non-leather options.
Who Shouldn't Buy the Schiek 2004 Lifting Belt
Powerlifters that need maximum rigidity in training and competition.
Budget-conscious shoppers that want the most value-focused belt.
Best Lifting Belt for Deadlifts
A great deadlift belt needs rigidity and stability to support the heaviest of pulls. So thicker material, a strong buckle, and well-made material is a must for this type of belt.
Rogue Ohio Leather Belt
Our favorite belt for deadlifts is the Rogue Ohio Lifting Belt. The belt is made of thick leather with a cylinder design and is also comfortable on the torso. Possibly the best aspect of this belt was how durable it felt.
The unique vegetable tanning process Rogues uses creates a firm belt, but with a little flexibility so you can truly wrap the torso tightly and pull big weight.
This leather weightlifting belt has a quality finish and stainless steel buckle to ensure durability and trunk stability.
Who Should Buy the Rogue Fitness Ohio Lifting Belt
Serious lifters that want a durable and rigid belt to support big pulls.
Athletes that like a rigid belt, but one with a slightly more accommodating feeling to it.
Recreational athletes that have an interest in competing in the future.
Who Shouldn't Buy the Rogue Fitness Ohio Lifting Belt
The true beginner that doesn't need a belt for their lifting belt.
Value shoppers that are trying to spend the least amount possible.
Best Value Lifting Belt
The best lifting belt for the value will walk the line of providing performance support and also going easy on the wallet.
Harbinger 4″ Nylon Belt
The Harbinger 4″ Nylon Lifting Belt is a great pick for the budget-conscious shopper. This belt is fairly standard for what it has to offer, which makes it great for a variety of users.
Besides being friendly on the wallet, this belt provides a fairly support nylon construction with adequate velcro and a steel buckle for durability purposes.
Harbinger 4″ Nylon Lifting Belt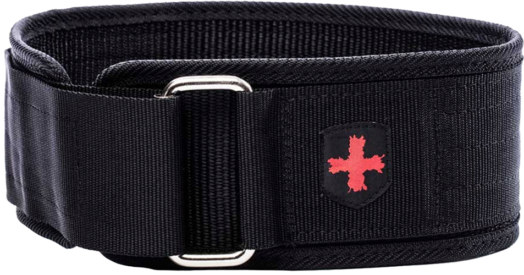 Harbinger 4″ Nylon Lifting Belt
A 4" versatile nylon lifting belt that offers a strong buckle and plenty of velcro for a secure fit.
Who Should Buy the Harbinger 4″ Nylon Belt
Recreational lifters that want a belt for casual support during training sessions.
Beginners that are just starting to begin experimenting with belts.
Budget-conscious shoppers.
Who Shouldn't Buy the Harbinger 4″ Nylon Belt
Serious strength athletes that need a belt for maximal lifting and competition.
Athletes that have a specific ask and need from a belt and want one to last.
Best Lifting Belt for Squats
The ideal lifting belt for squats will be plenty rigid to support the torso's angle when moving through the full range of motion needed for squats.
Rogue Fitness 4″ Faded Belt by Pioneer
The Rogue Fitness 4″ Faded Belt by Pioneer is the perfect option for tackling heavy squats. This belt is rigid and made to last, as it's made in collaboration with Pioneer Fitness, a leader in lifting belts.
The thicker leather, stainless steel buckle, and heavy stitching will make this belt not only durable but incredibly supportive for a rigid torso that's needed to tackle heavy squats.
Rogue 4" Faded Lifting Belt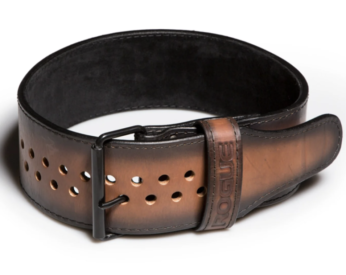 Rogue 4" Faded Lifting Belt
The Rogue 4" Faded Belt by Pioneer is the perfect option for the serious lifter that wants a belt that is going to last and provide a lot of support.
Who Should Buy the Rogue Fitness Ohio Lifting Belt
Athletes that take their squat training seriously and want a rigid belt option.
Lifters that want their investment to go the distance.
Serious strength athletes that compete or want to compete.
Who Shouldn't Buy the Rogue Fitness Ohio Lifting Belt
Beginners that have yet to wear a belt in their career.
Value shoppers that want to save money.
Best Lifting Belt for Weightlifting
Weightlifting athletes will want a belt that doesn't limit mobility and promotes stability in clean & jerks, snatches, and squat.
Rogue 4″ Nylon Belt
The Rogue 4″ Nylon Belt was one of our top picks for weightlifting. We liked that it's a versatile nylon option and offers a decent level of torso support.
The construction of the belt is durable with a fair amount of stitching around the outside edges, and there's a good amount of velcro surface area to pull the belt as tight as you need. Also, we liked the stainless steel buckle this belt uses.
Rogue 4 Inch Nylon Lifting Belt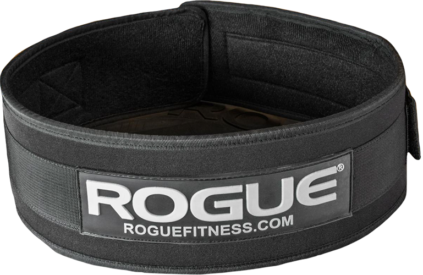 Rogue 4 Inch Nylon Lifting Belt
A nylon based belt with ample velcro to ensure a versatile, comfortable, and supportive fit.
Who Should Buy the Rogue 4″ Nylon Belt
Weightlifting athletes that need support and mobility in lifts.
Athletes that are considering competing in weightlifting and want a competition belt.
Recreational lifters that want a supportive belt that's easy to travel with.
Who Shouldn't Buy the Rogue 4″ Nylon Belt
Powerlifters that want a belt to train and compete in.
True beginners that have not built a foundation of mechanics.
How We Test Belts
We test belts on a variety of criteria and each category receives special attention to decide which belt deserves the top pick.
Functional Fitness
To test a belt's ability to perform well in WODs and metcon styled workouts, we utilize power and strength movements. Some of the lifts we utilized are the power clean, deadlift, front squat, back squat, and overhead press. These movements are put back to back and rely on time in some workouts.
We look for three different things when testing a belt's ability to perform in a functional fitness setting. First and most importantly, the stability a belt provides. A belt is worn for its stability, so we watch how the torso is supported through the variety of movements chosen. Second, a belt's versatility. We watch for mobility issues and times when a belt limits someone's mobility. Third, comfort and ease of use. This point is essential for testing how quickly you can adjust a belt in-between sets and how it leaves your torso feeling after a workout.
Deadlifting and Squats
The best way to test a belt and it's ability to perform great with deadlifting and squatting is to deadlift and squat, so we did…a lot. Every strength athlete typically has some form of deadlift in their training, so we performed a majority of our lifts from a conventional style deadlift with some sumo pulling. A good deadlifting belt will promote torso stability from all angles as we actively brace into it.
Weightlifting
To test a belt's ability to perform well for weightlifting we use a variety of movements, which include the front squat, power clean, power snatch, and overhead press. All of these movements are relevant to movements and lifts an Olympic lifter will be performing on a regular basis.
When using these movements to test a belt's ability to be great for weightlifting we look for two things. The first aspect we look for is the belt's ability to keep the torso stable in the catching and front rack position. A solid weightlifting belt will provide support and prevent the torso from excessively flexing. The second aspect we look for is the belt's ability to support range of motion and not limit it. A good weightlifting belt is often contoured to be made skinnier in the front, which allows a weightlifter more mobility when catching weight.
Why Lifting Belts?
A belt is a useful piece of equipment to keep in your supportive strength arsenal. Belts are primarily used to prevent injury and support the torso during heavier movements by support proprioception and the creation of intra-abdominal pressure. The use of a belt can provide a strength athlete with extra support around the torso to increase a lift's safety.
Every strength athlete can benefit from choosing a belt that's catered specifically for their sport. A powerlifter and strongman athlete often want a cylinder styled belt, which is a weight lifting belt that wraps around the torso equally.This type of athlete will typically want a stiffer, or more rigid belt for strength movements, as they're often pressing, squatting, and deadlifting.
An Olympic lifter needs a weightlifting belt that provides support, but also versatility. The typical Olympic weightlifting belt usually comes tapered, so the posterior is thicker in width than the front of the belt. The stiffness and material of this athlete's weightlifting belt usually comes down to personal preference, as this athlete is performing power movements often.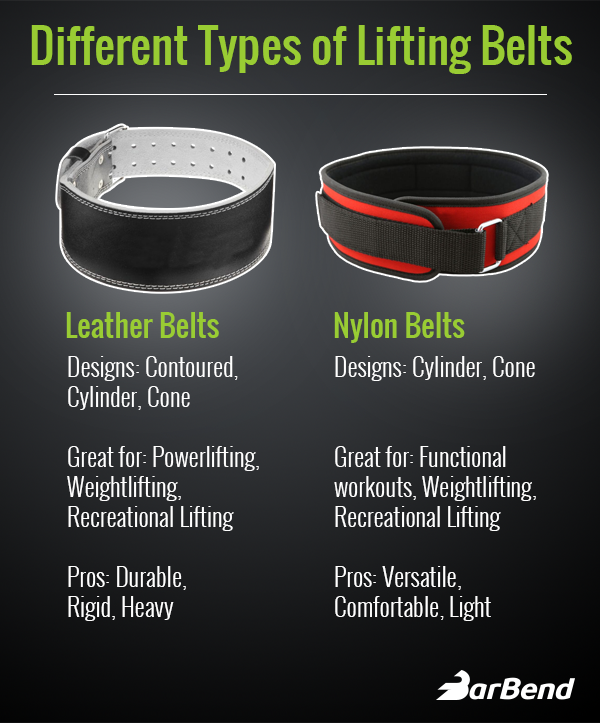 The recreational and functional fitness athlete will often want a weight lifting belt that provides support, comfort, and versatility. Since these athletes perform multiple movements during a single workout, then they need a belt that holds up well with power and strength exercises.
Different Types of Lifting Belts
There are multiples types of belt designs, but from our tests and reviews every belt can technically fall into three major categories: cylinder, tapered, and cone. Each belt has different design attributes to benefit certain types of strength athlete.
Cylinder Lifting Belt
This style belt is the same width at every part and covers the torso equally. Belts like the Schiek Model 6010 Double Prong Competition Power Belt and the Rogue Ohio Lifting Belt are perfect examples of this belt design. They are designed to support the back, abdomen, and sides evenly with the same amount of material. Powerlifters and strongman athletes typically sway towards these belts.
Tapered Weightlifting Belt
This belt is often favored by Olympic lifters and recreational athletes because it provides the posterior with extra width, but thins out towards the abdomen. The skinnier portion over the abdomen allows the torso to remain mobile while providing support.
Cone Belt
This design is possibly the most rarely seen. These belts are contoured on the sides, but offer a thicker posterior and anterior section. In theory, their design is supposed to follow the natural curvature of the torso. The Schiek Model 2004 Lifting Belt utilized this type of belt design to create a versatile, yet supportive belt.
Multiple Types of Material
When it comes to belt material there are two main choices: leather and nylon. It may seem like there are more types of material, but for the most part every belt starts with a leather or nylon base.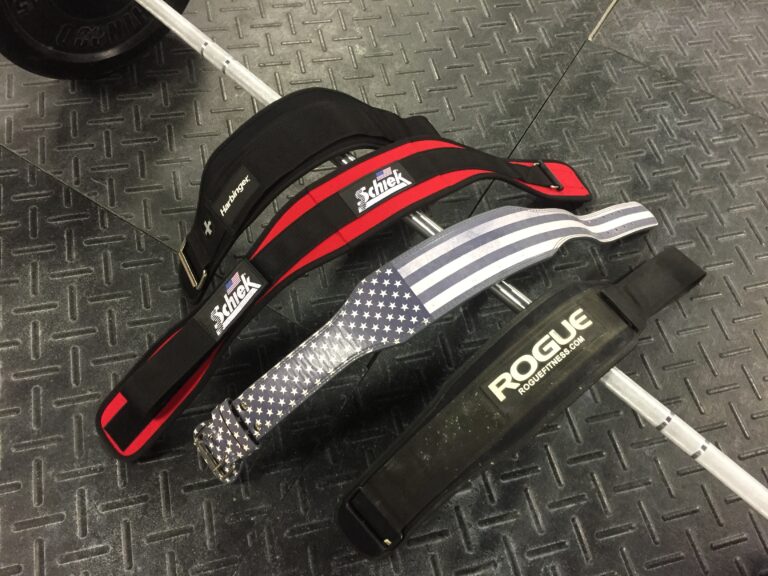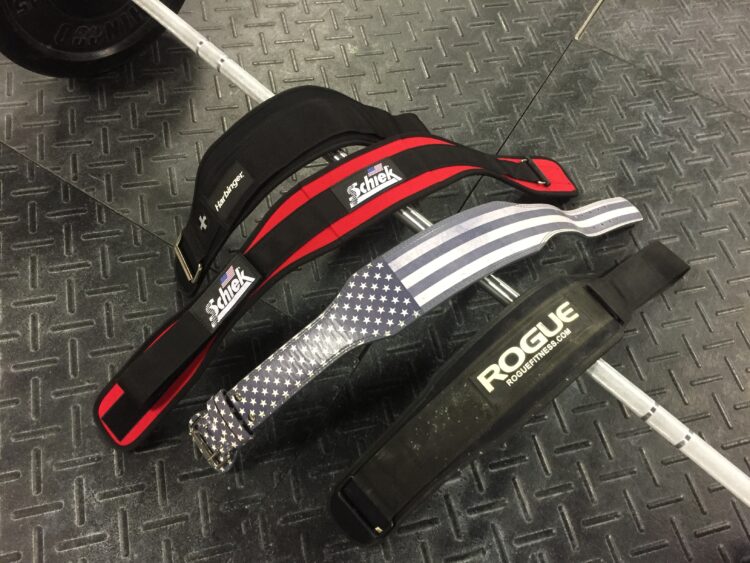 Leather
The type of leather a belt uses will often correlate with how stiff or rigid it is. Leather belts will last longer than their nylon counterparts. Almost every leather belt is tanned and oiled, much like the Harbinger 4″ Classic Oiled Leather Lifting Belt. The way a belt is tanned and oiled can help you predict how high of a quality the belt is. Some belts contain a specific tanning method, like the vegetable tanning process the Rogue Ohio Lifting Belt has.
In terms of leather stiffness, suede belts are often on the stiffer side, which is what the Schiek Model 6010 Double Prong Competition Power Belt uses. There are also softer types of leather belts that bend and hug the waist, which are good for functional fitness styled workouts. An example of this belt would be the Unbroken Designs Stars and Stripes 4″ Leather Lifting Belt.
Nylon
This type of belt typically isn't known for how stiff it is, but more so for the comfort and versatility it provides. The stiffness of this belt relies on whether the belt has added inserts or has extra width. The Harbinger Contoured FlexFit Lifting Belt has a 6″ width and added kidney pockets, which are made to provide the kidney areas of the torso more support. Another example of a belt that has added lumbar inserts is the Schiek Model 2004 Lifting Belt.
Some nylon belts don't contain extra inserts but have extra width for torso support. The Harbinger 5″ Foam Core Lifting Belt provides an extra inch of thickness with a soft comfortable feeling.
Wrapping Up
There are so many belts on the market that a strength athlete might find themselves overwhelmed when looking for their perfect fit. If you breakdown your selection into multiple categories, then the process can become easier. For example, take the above sections and rank them into what's most important to you.
Different types of strength athletes will have different needs and requirements. If you take the time to figure out what type of training you're doing most, then you can help ease the belt selection process. We're going to continue to add to our comprehensive list to constantly provide you with the best information when selecting your perfect belt.
Lifting Belt FAQs
Why weight lifting belts?
A lifting belt is a supportive piece of strength equipment that is designed to support performance in strength sports and torso rigidity during big lifts. It's  a tool designed to offset stress throughout the torso and increase proprioceptive bracing to ensure technical efficiency.
Do you need a weight lifting belt?
If you're a recreational lifter, then you don't necessarily need a lifting belt for success, however, that doesn't mean it can't be useful. For example, if you plan to push your limits and train heavy consistently, then a belt can be a useful tool based on your goals and needs to ensure your torso is receiving enough support.
Should beginners use a lifting belt?
It depends. If you're a true beginner, then you should conquer form and mechanics first before reaching for a belt. At times, lifters can reach for a belt a bit too soon in their career before they nail their mechanics. On the flip side there are occasions when a beginner might need a belt. For example, if you're a beginner strength athlete and you're working with a coach and they advise you to grab a belt, then doing so can help with the specificity of your sport.
When should you wear a lifting belt?
A lifting belt can be worn during maximal lifts, heavy sets, and strength sport specific movements. While it's certainly not a must in these occasions, these are the times when athletes will reach for a belt to support performance with the creation of additional intra-abdominal pressure.