The sport of strongwoman is one that is slowly garnering more attention. It isn't on the same level of visibility as the men's version, but that doesn't mean it isn't any less competitive. The athletes that compete train at an elite level and commit themselves to a standard of strength excellence that very few others can truly understand.
What these ladies do on the platform or in front of the camera is the climax of a lot of intense training. So the feats that they perform are earned and greatly admired by those that do follow the sport. The ladies on this list are normally around the top of the standings in any contest they enter, and some have world records to their credit.
[Looking to up your strongman training game? Check out our list of the best home gym equipment!]
Non-Open Women
3. Rebecca Cumpsty
Cumpsty is the current overall world record holder in the Log Press with a weight of 253 pounds (115 kg). She's a two-time Britain's Strongest Woman under 82 kg winner as well. Cumpsty is strong with lifts outside of her competitive sport as well. One example is how she performs snatch grip deadlifts with 418 pounds (190 kg) for reps.
2. Rhianon Lovelace
Rhianon Lovelace is the 2018 World's Strongest Woman lightweight winner and holds the world record for lightest woman to deadlift 600 pounds (272.5 kg). She weighed 139 pounds (63 kg) when she did it. She set the world record in the Axle Press as well with a completed lift of 204 pounds (92.5 kg).
Ingalls holds a unique honor in her division (middleweight) because she has won the Arnold Pro Strongwoman, the Strongest Woman in the World, and the World's Strongest Woman contests. At one point, she shared ownership of the Circus Dumbbell world record by lifting a 165 pound dumbbell for two reps. She also previously held the world record in the Log Press with a weight of 245 pounds(110 kg).
Open Women
5. Danielle Vaji
Vaji has competed as a middleweight but entered the 2020 Arnold Pro Strongwoman as an Open competitor. She was still able to finish as the runner-up in that contest. Her strength levels are of a high standard regardless of the division she is in. Pressing is the Dallas police officer's strong suit. Her 225 pound Axle Press is a Texas state record.
She first made headlines by performing 175 pounds for 17 reps in 2018. She also performed a 285 pound log press in her middleweight days. She also set a world record in the 2019 Strongest Woman in the World contest by tossing a 55 pound salmon 15 feet, 4 inches. She won the middleweight division of that contest.
4. Donna Moore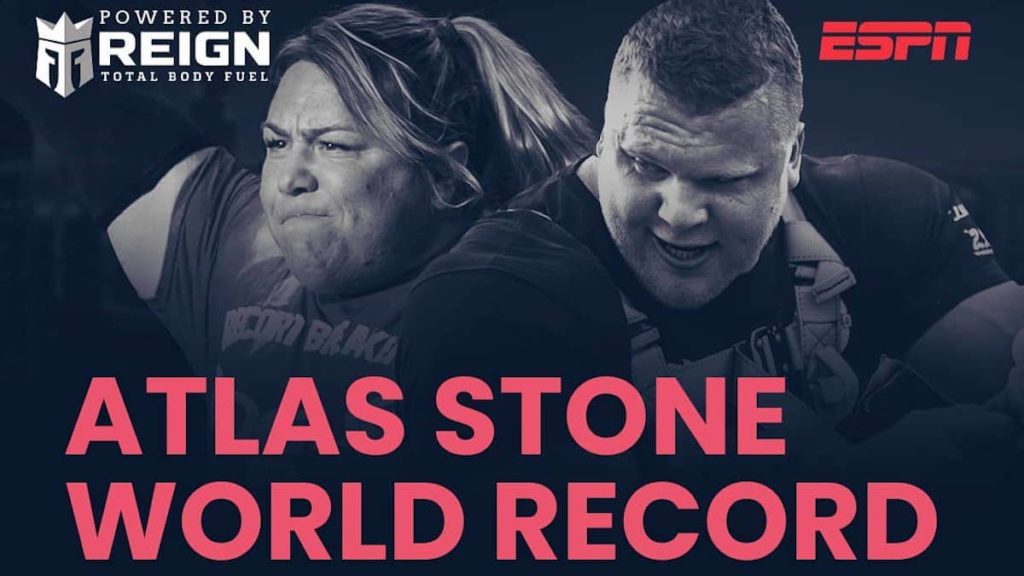 Moore has been competing since 2012 and is one of the veterans of the sport. She's also one of the most decorated. Among her wins are three Arnold championships and three World's Strongest Woman titles. She's known as the "Queen of the Stones" thanks in part to her world record of seven Ardblair Stones that she was able to load in 42.44 seconds at the 2019 Donald Dinnie Day event. She is also the world record holder in the Atlas Stones both with and without tacky, having lifted a 330 pound stone with it and a 324 pound stone without.
3. Andrea Thompson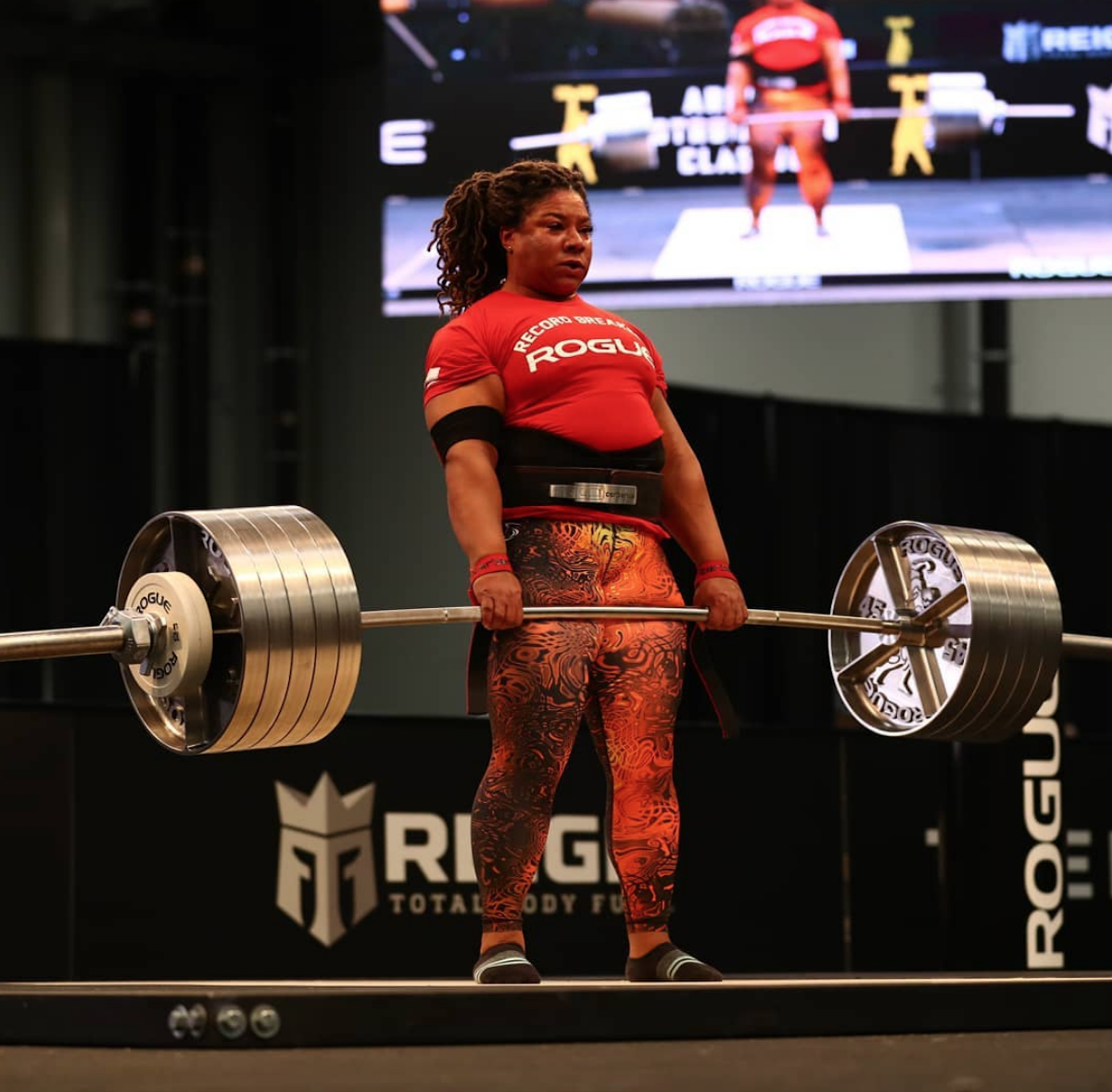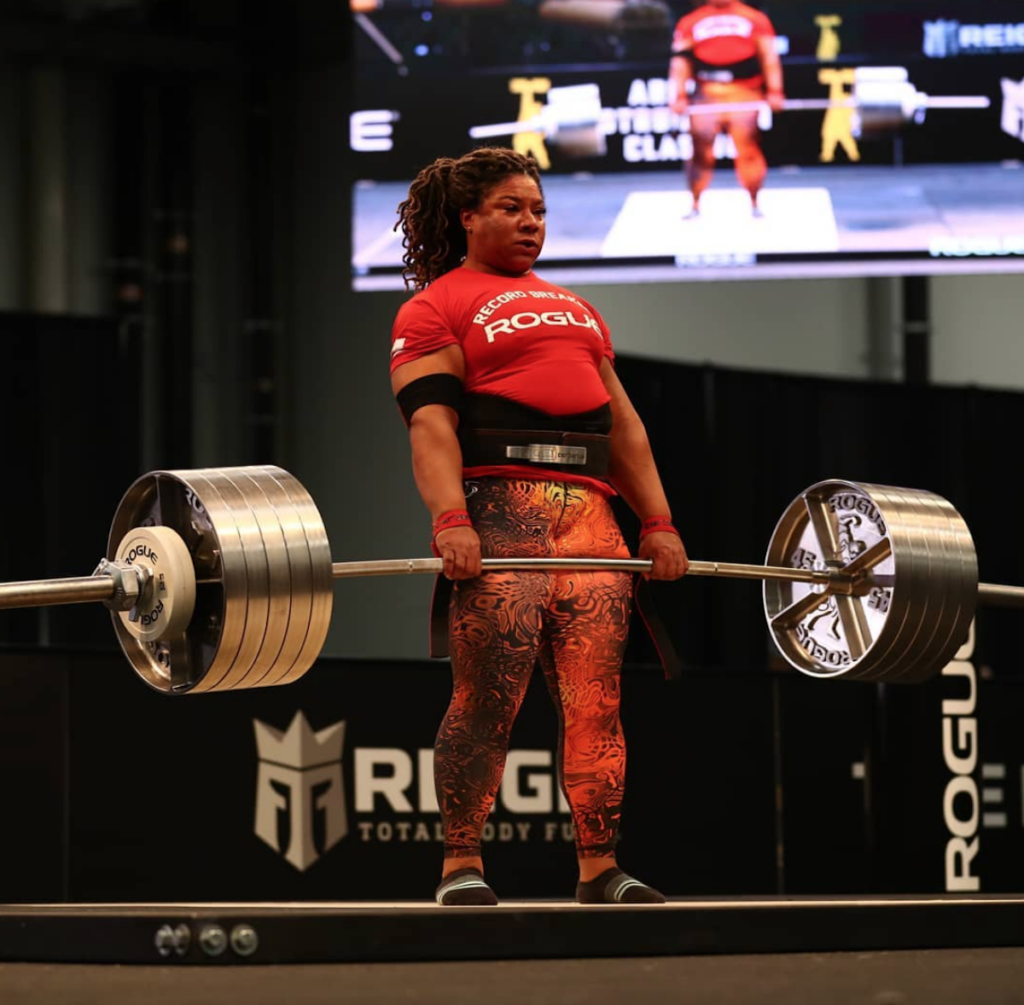 [Related: Listen to our podcast with Andrea Thompson!]
Thompson approaches every obstacle in front of her as if she knows she can do whatever she wants with it. Her titles include the 2018 Strongest Woman in the World, four Britain's Strongest Woman championships, and she is the world record holder in both the Elephant Bar Deadlift (621 pounds) and the log press (297.7 pounds).
2. Jessica Fithen
Fithen is a two-time Strongest Woman in the World winner (different than Moore's title). The athlete from Indiana dominated the 2019 contest thanks to her pressing a 210 pound keg overhead and performed 460 pound Axle Bar Deadlifts for reps.
1. Olga Liashchuk
Liashchuck is the two-time Arnold Pro Strongwoman Champion. Among her most notable feats to secure those titles were performing 5 reps on the Circus Dumbbell with a 140 pound weight and flipping a 500 pound tire 9 times in one minute. She also has a unique world record. She is credited by the Guinness Book of World Records for the fastest time to crush three watermelons with her thighs with a time of 14.65 seconds.
Featured Image: Instagram/liefiasaurus