The third and final event of Day One of competition at the 2023 World's Strongest Man (WSM) contest in Myrtle Beach, SC, was the "Log Ladder." Shifting to the Land Stage, each strongman within their respective groups raced to clean and press five logs weighing 275, 310, 350, 375, and 400 pounds as fast as possible within 75 seconds. They squared off in two-man heats.
[Related: 2023 World's Strongest Man Live Results and Leaderboard]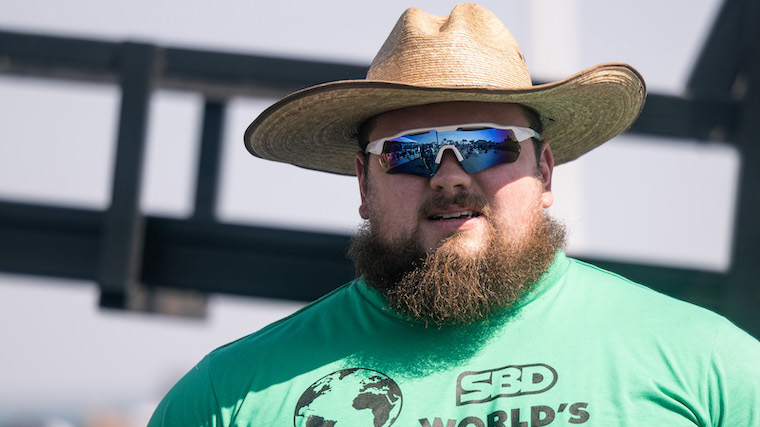 [Related: Cardio for Strongmen and Strongwomen to Supercharge Your Conditioning]
2023 World's Strongest Man Loading Race Results
Below are the results for each of the groups:
Group One
Tom Stoltman — five in 41.56 seconds
Pavlo Kordiyaka — five in 46 seconds
Bobby Thompson — four in 25.83 seconds
Eddie Williams — four in 55.89 seconds
Konstantine Janashia — four in 68.39 seconds
Pa O'Dwyer — three in 25.8 seconds
O'Dwyer and Williams were first to the stage as the tarps were pulled off the logs. They synchronized the first two logs as they paced their way across the stage. O'Dwyer pulled ahead on log three but failed log four. Williams tap danced with log four overhead but locked it out before the whistle signaled time.
Kordiyaka and Janashia clashed in heat two. They adjusted their respective logs, and the race was on. Kordiyaka power cleaned his first two logs to take the lead and didn't give Janashia a chance to catch up. A push jerk cleared the final log as Janashia failed his fourth rep. A follow-up attempt was successful right as the whistle blew.
Thompson holds the American log lift record and suggested he would clean house in this event. Tom Stoltman was his pairing in the heat, aiming to get his first event win of the contest.
A near false-start from Stoltman let Thompson take a lead he refused to give up, but two missed attempts on the fifth log let Stoltman cross the finish line first. Thompson limped off the stage, seeming to favor his right hamstring.
Group Two
Thomas Evans — five in 38.96 seconds
Luke Stoltman — five in 52.76 seconds
Oleksii Novikov — four in 32.50 seconds
Gavin Bilton — four in 56.84 seconds
Kristjan Jon Haraldsson — two in 16.28 seconds
Fadi El Masri — two in 17.43 seconds
El Masri and Haraldsson comprised the first heat for Group Two. The former power cleaned the first log before struggling with the second. Haraldsson appeared steady through two logs, but neither athlete cleared the third.
Heat two featured Bilton versus Luke Stoltman. They both practiced visualizing the logs shooting overhead as the announcer hyped the pairing. A hiccup by Stoltman delayed the down signal on the first log, but he held his composure. Bilton fell a full log behind as Stoltman locked out the fifth log to raucous applause. Bilton make an attempt on the final log, but it was too much to handle.
Novikov held a comfortable lead in the group following back-to-back event wins and needed to clear all five logs faster than Stoltman to keep the streak alive. He was up against Evans in the final heat, and both blitzed the first three logs. Evans cleared log four as Novikov fumbled. Evans won the event clearing all five logs in under 40 seconds.
Group Three
Mitchell Hooper — five in 39.51 seconds
Matthew Ragg — five in 55.84 seconds
Graham Hicks — four in 28.31 seconds
Aivars Šmaukstelis — four in 30.44 seconds
Mateusz Kieliszkowski — four in 33.24 seconds
Spenser Remick — four in 38.79 seconds
Kieliszkowski sought some redemption to close an otherwise lackluster start to his competition against Remick. The Polish strongman power cleaned three straight logs before securing a slow fourth. Remick kept pace. They attempted their fifth logs together, but both waved it off.
Šmaukstelis and Hicks are both historically excellent in overhead events. An unfortunate bounce on the second log that recoiled into Šmaukstelis' left knee cost him time, allowing Hicks to reach the final log first. Hicks wore the log like a bow tie for a fortnight but couldn't budge it from his collarbone. Likewise, Šmaukstelis cleaned the final log but couldn't lock it out.
The final heat on Group Three paired Ragg and Hooper, both coming off impressive deadlift performances. Hooper attempted to hurdle over the first log, but it tripped him up. He let the forward momentum take him all the way to a clean fifth log. Ragg stayed with Hooper til the end and cleared all five logs as well.
Group Four
Brian Shaw — four in 33.99 seconds
Jaco Schoonwinkel — four in 34.77 seconds
Rauno Heinla — three in 21.6 seconds
Kevin Faires — three in 28.93 seconds
Gabriel Rhéaume — three in 32.96 seconds
Adam Bishop — three in 33.25 seconds
Faires and Rhéaume opened for Group Four. Rhéaume missed his lockout on the first log and effectively did a double. This wore him down by the time he cleared the third log. Both men made aggressive attempts on the fourth log but were unsuccessful.
Bishop and Schoonwinkel were paired for heat two. Schoonwinkel threw the first three logs overhead as Bishop struggled on the third log. The South African reached the final log, took a deep breath, and sustained the log off his chest but couldn't lock it out. Bishop bowed out before attempting the fourth log.
Shaw and Heinla were last out for Group Four and knew five logs would leap them ahead of the rest of the group. Both made quick work of the first three logs. Heinla missed the fourth log, leaving Shaw the opportunity to go for the win. Log five reached the front rack position but not the lockout.
Group Five
Trey Mitchell — five in 39.44 seconds
Evan Singleton — four in 35.48 seconds
Eythor Ingolfsson Melsted — four in 39.93 seconds
Paul Smith — four in 45.84 seconds
Jean-Stephan Coraboeuf — three in 22.34 seconds
Mark Felix — one in 7.58 seconds
Smith versus Coraboeuf was the opening pair for the first heat of Group Five. Both cleared their first trio of logs, but the fourth halted Coraboeuf. Smith advanced to the final log and psyched himself up, but it was a clean without a press.
The penultimate heat featured Felix versus Ingolfsson Melsted. The latter took a brisk pace out of the gate and reached the final log in rapid time. Felix bowed out at the second log. Ingolfsson Melsted moved the fifth log off his chest but didn't have the staying power to secure it.
Mitchell versus Singleton closed Day One of competition. They knew five logs would secure second-place points at minimum. The pace from Singleton was fiery and was matched by Mitchell's brute force. Mitchell cleared four logs in an eyeblink and won the heat as the first in the group to clear all five logs. Singleton made two attempts on the fifth log but bounced out in what looked like a near-injury.
On To Day Two
There are still plenty of points left to play for in the Qualifying stage of competition. Three more events are scheduled for Day Two, the first of which is Conan's Wheel at 8 a.m. EST.
Featured Image courtesy of World's Strongest Man