Two years ago, the COVID-19 pandemic upended everyone's lives, including how people exercised. At-home workouts increased during lockdowns and quarantine, as people turned to the comfort of their homes to stay in shape.
But now that pandemic mandates are lifting and life begins to return to a semblance of normality, how are people adapting their fitness routines?
We surveyed over 1,000 Americans to better understand how fitness habits evolved over the past 24 months, and what 2022 may hold in terms of fitness goals.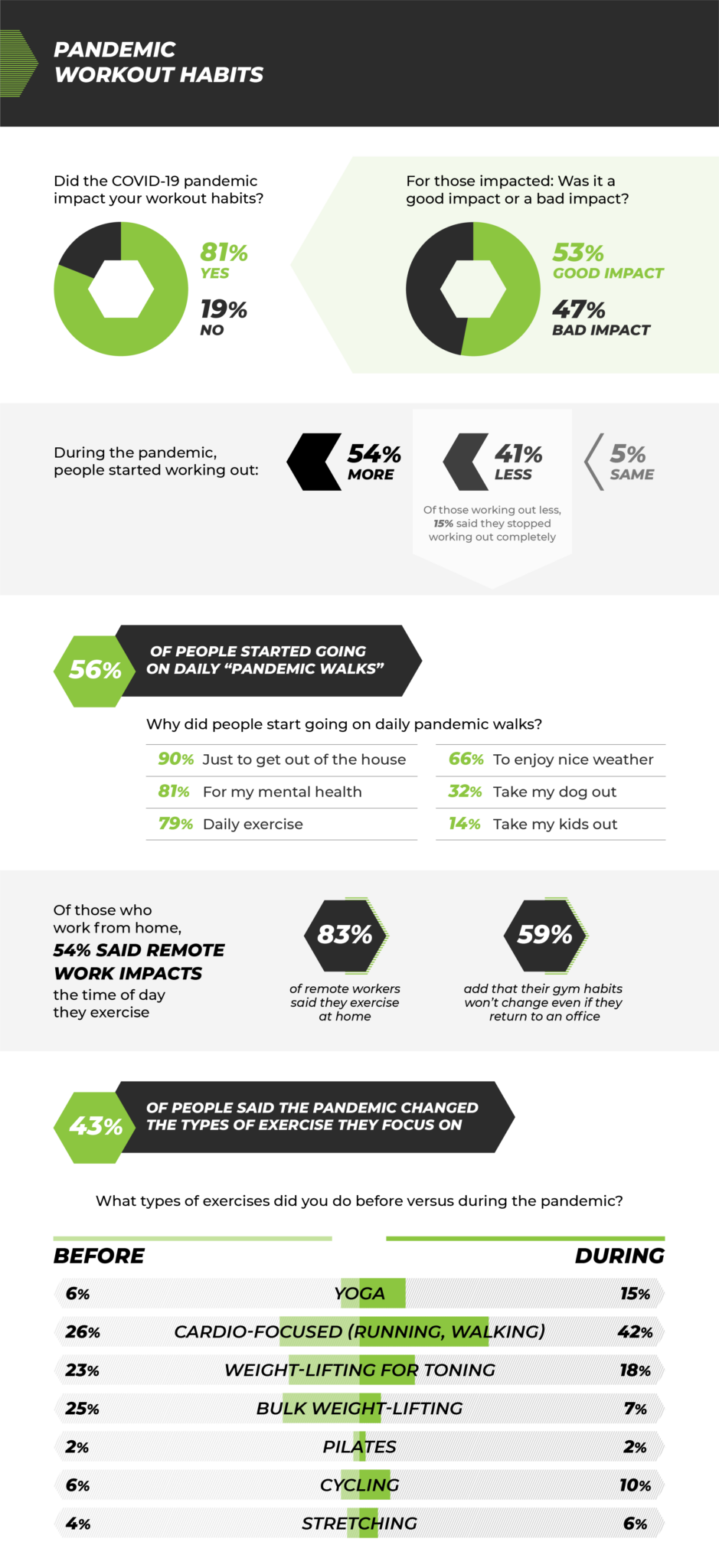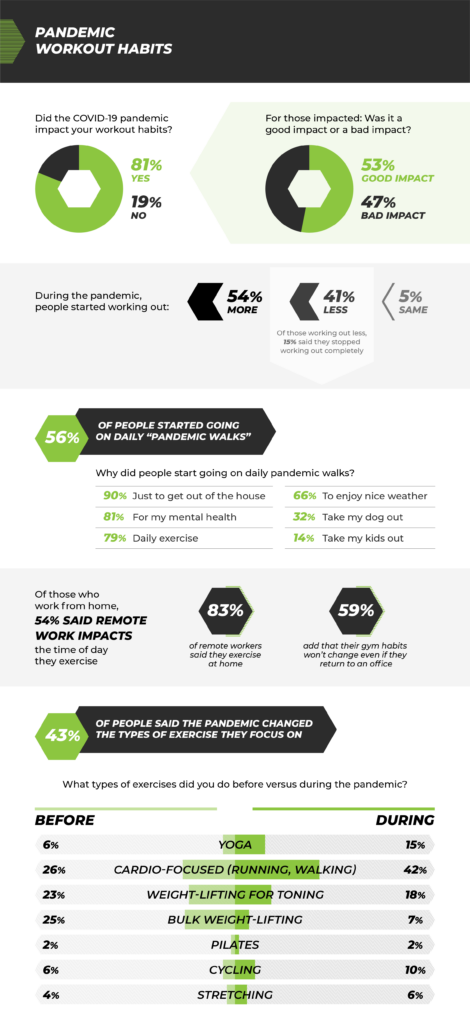 More than 8 in 10 Americans say the pandemic impacted their workout habits, and for nearly half of them (47%), it was a negative impact.
During the pandemic, 54% of Americans said they started working out more while 41% said they exercised less. Of those that began working out less, 15% said they stopped working out altogether.
After a few days of being stuck indoors during the initial quarantine, Americans everywhere were itching to just get outside. Over half (56%) said they began taking daily "pandemic walks," and it wasn't just to enjoy nice weather. They went on walks for their mental health, as a form of daily exercise, to walk their dogs, or to spend time with their kids outside.
When gyms and fitness facilities closed, people had to resort to other avenues of fitness to stay in shape. Without certain equipment or instruction, the types of exercise people were drawn to also shifted. 43% of people reported changing the type of workout they focused on, with the biggest growth revolving around cardio-focused exercises.
Americans adjusted to an at-home workout regiment, especially those working from home. Eighty-three percent of remote workers said they work out at home, with 59% adding they won't return to a gym even if they have to return to an office.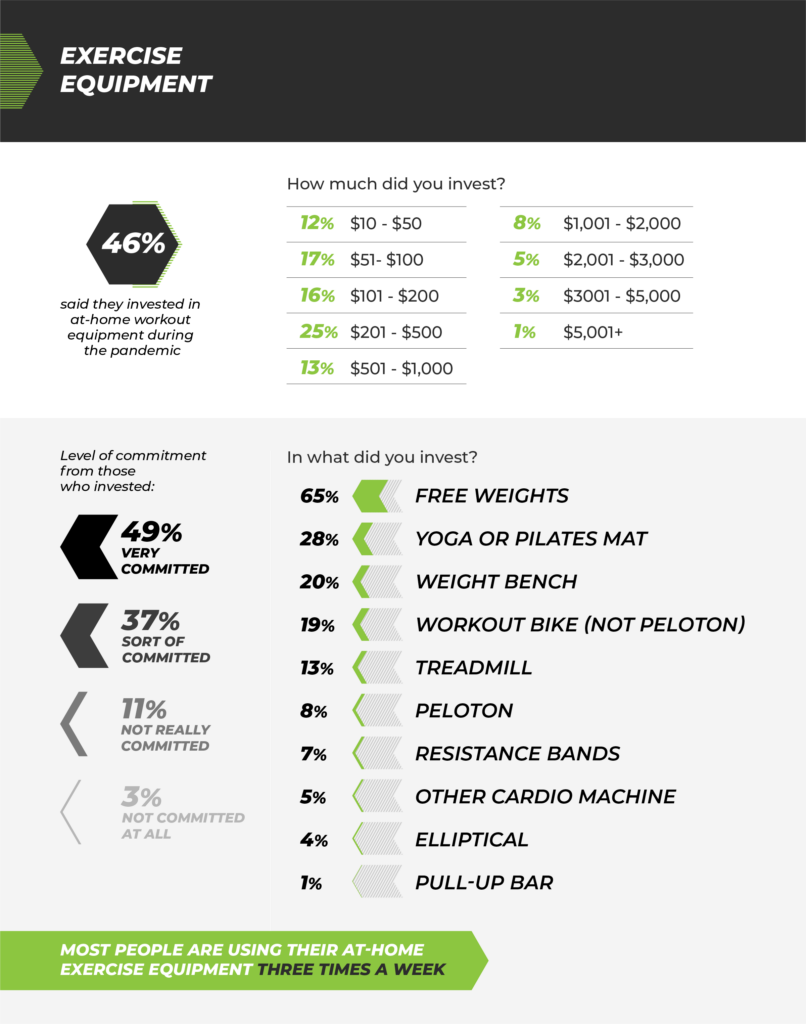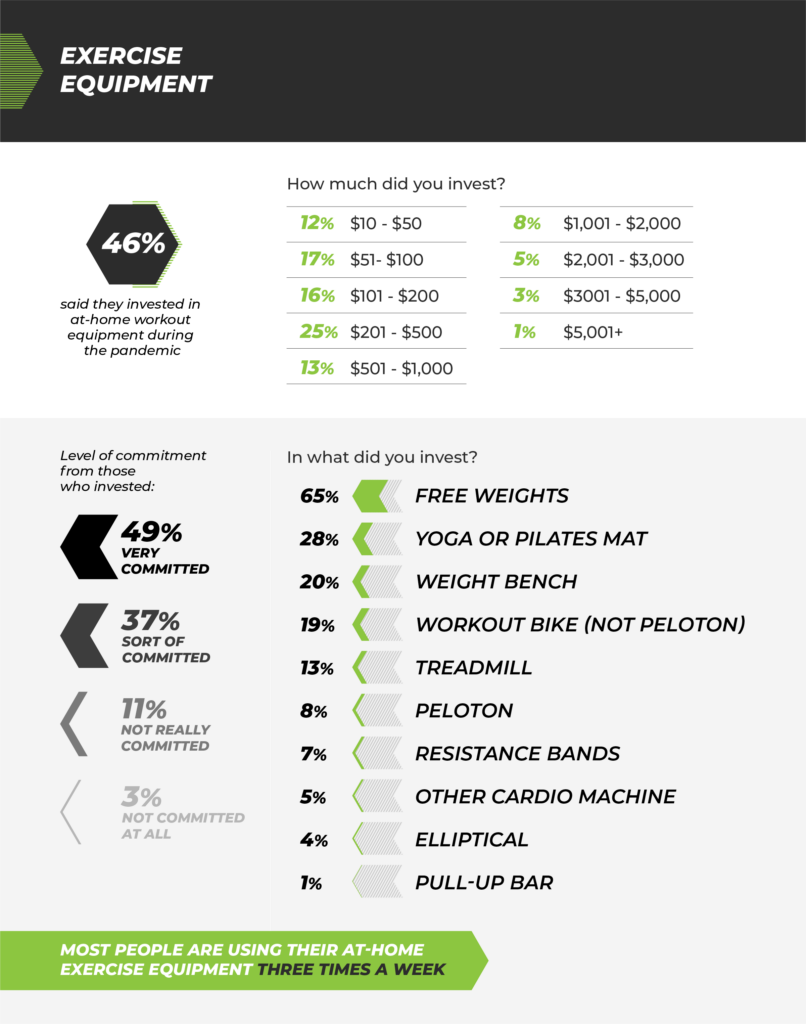 Nearly half (46%) of respondents said they invested in exercise equipment during the pandemic. The majority spent between $200 and $500; primarily on free weights, yoga mats, weight benches, treadmills, and exercise bikes (including Pelotons).
Forty-nine percent of people added they're very committed to using the equipment they've purchased, and on average, their at-home equipment gets used three times per week.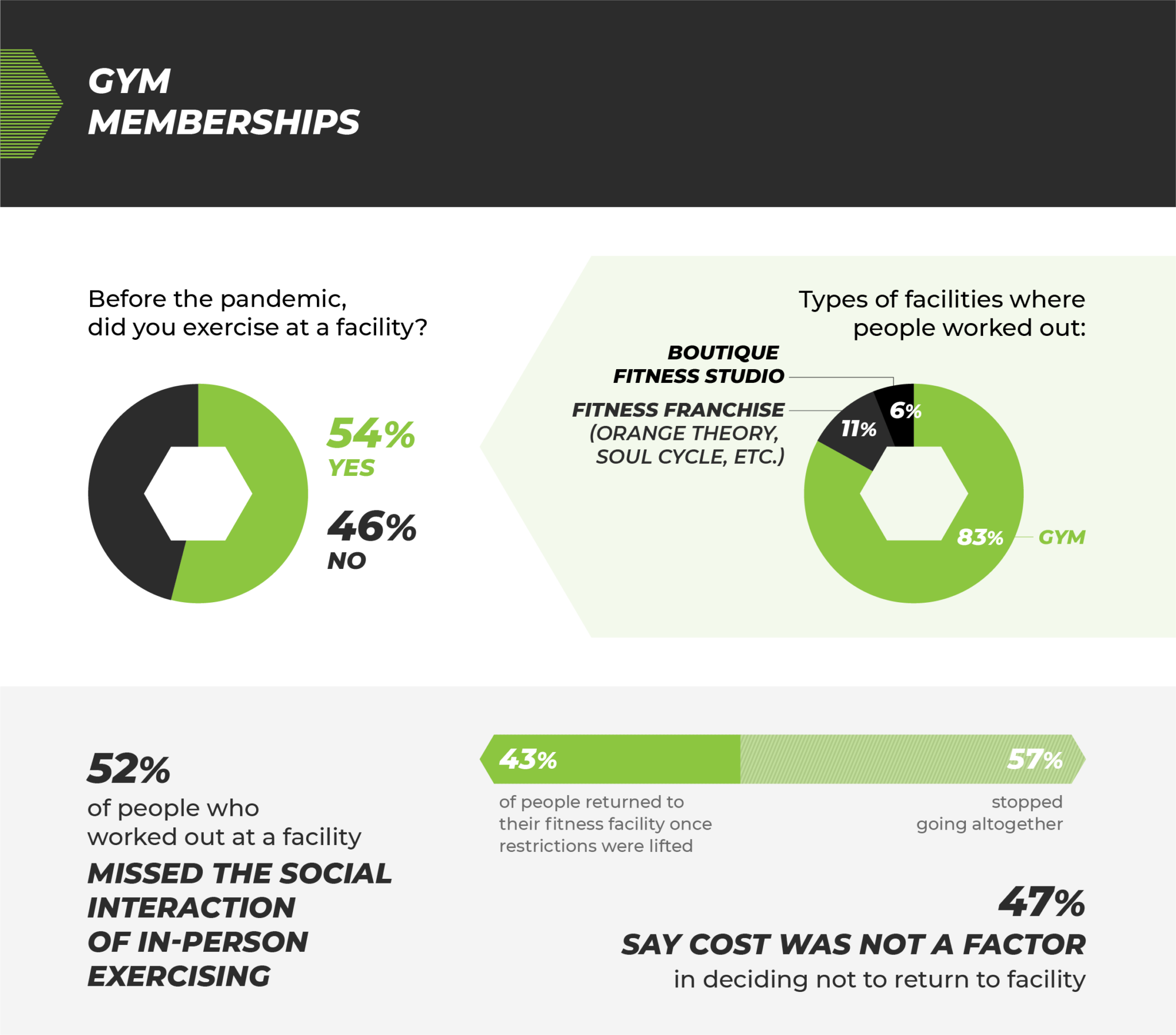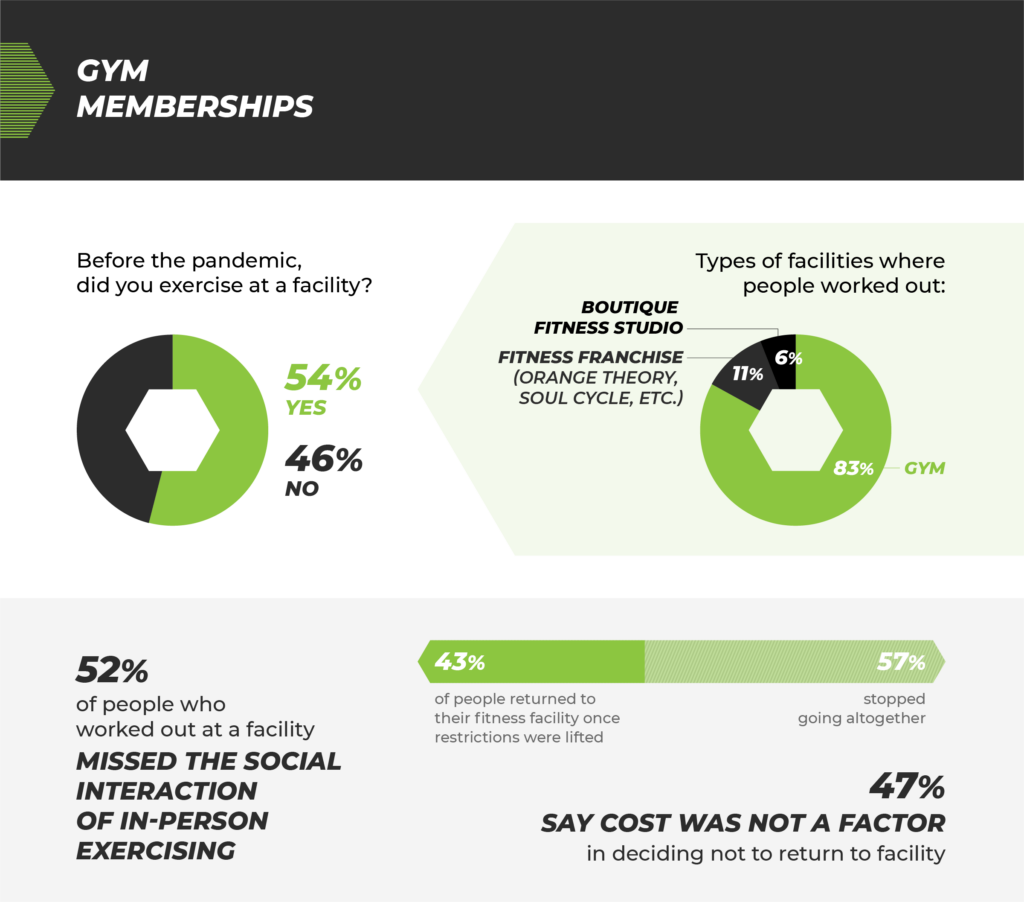 What about gym memberships? Prior to the pandemic, the majority of respondents exercised at a gym. But 57% said they've stopped going altogether, even now that those facilities have reopened. One of the most missed aspects of working out at a facility was socialization, according to over half (52%) of respondents.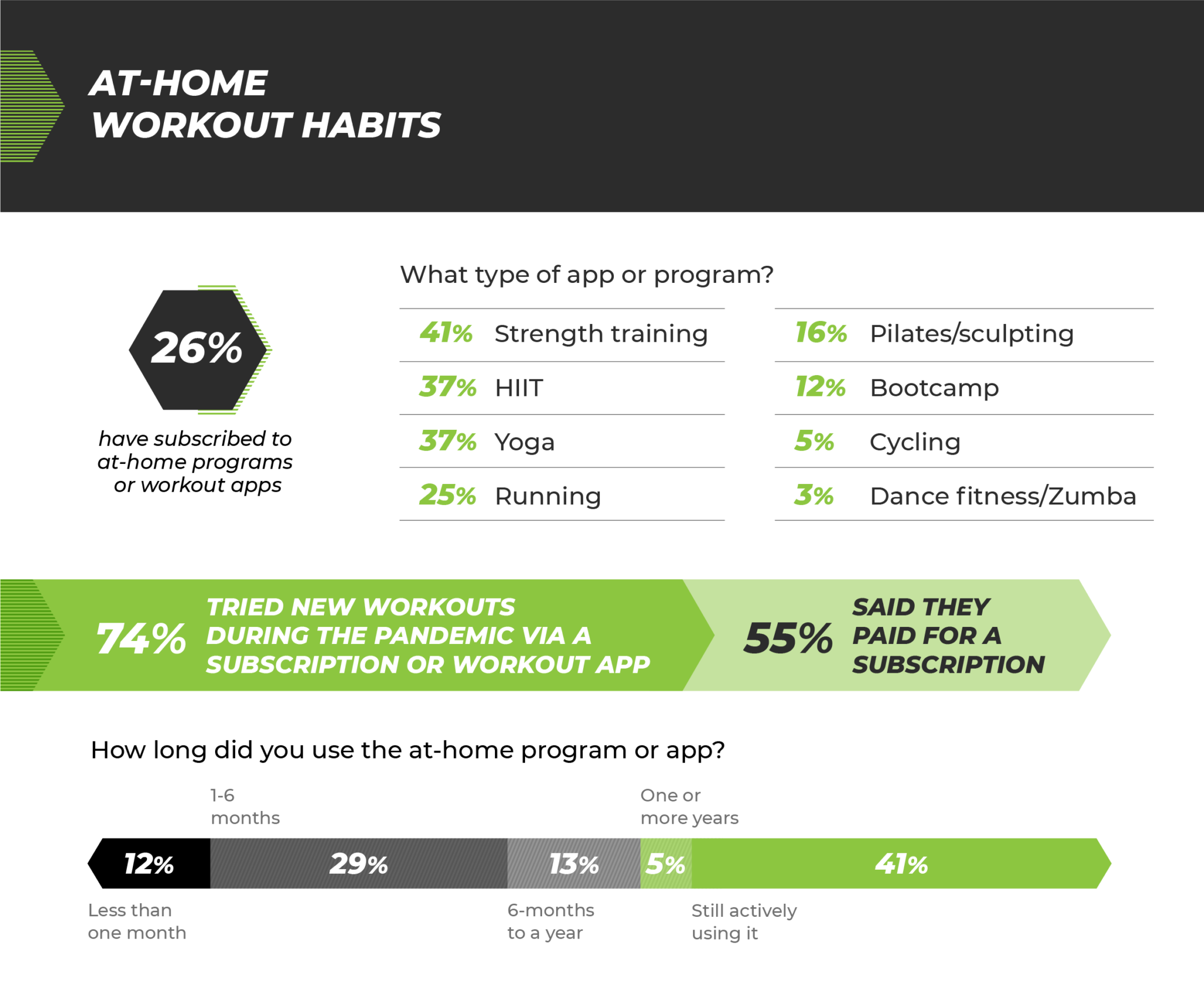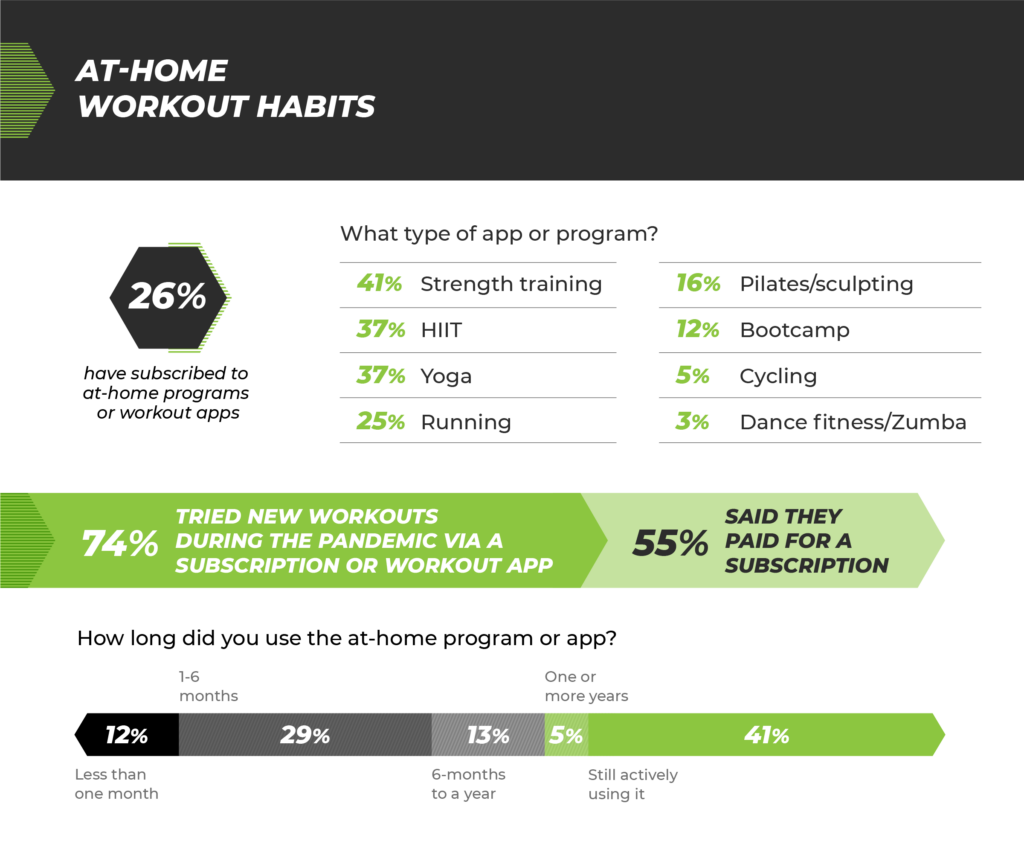 You don't always need equipment to exercise, sometimes all you need is some instruction. And during a pandemic, that instruction can come from an online program or an app. Twenty-six percent of Americans said they subscribed to an at-home program or app during the pandemic, and 74% said they tried new types of workouts thanks to those apps or subscriptions. The most popular exercise apps or programs include strength training, HIIT, yoga, and running.
Over half (55%) said they paid for their subscription, and 41% said they still actively use that at-home workout app or program. However, more than 1 in 10 said they only used their subscription for less than one month.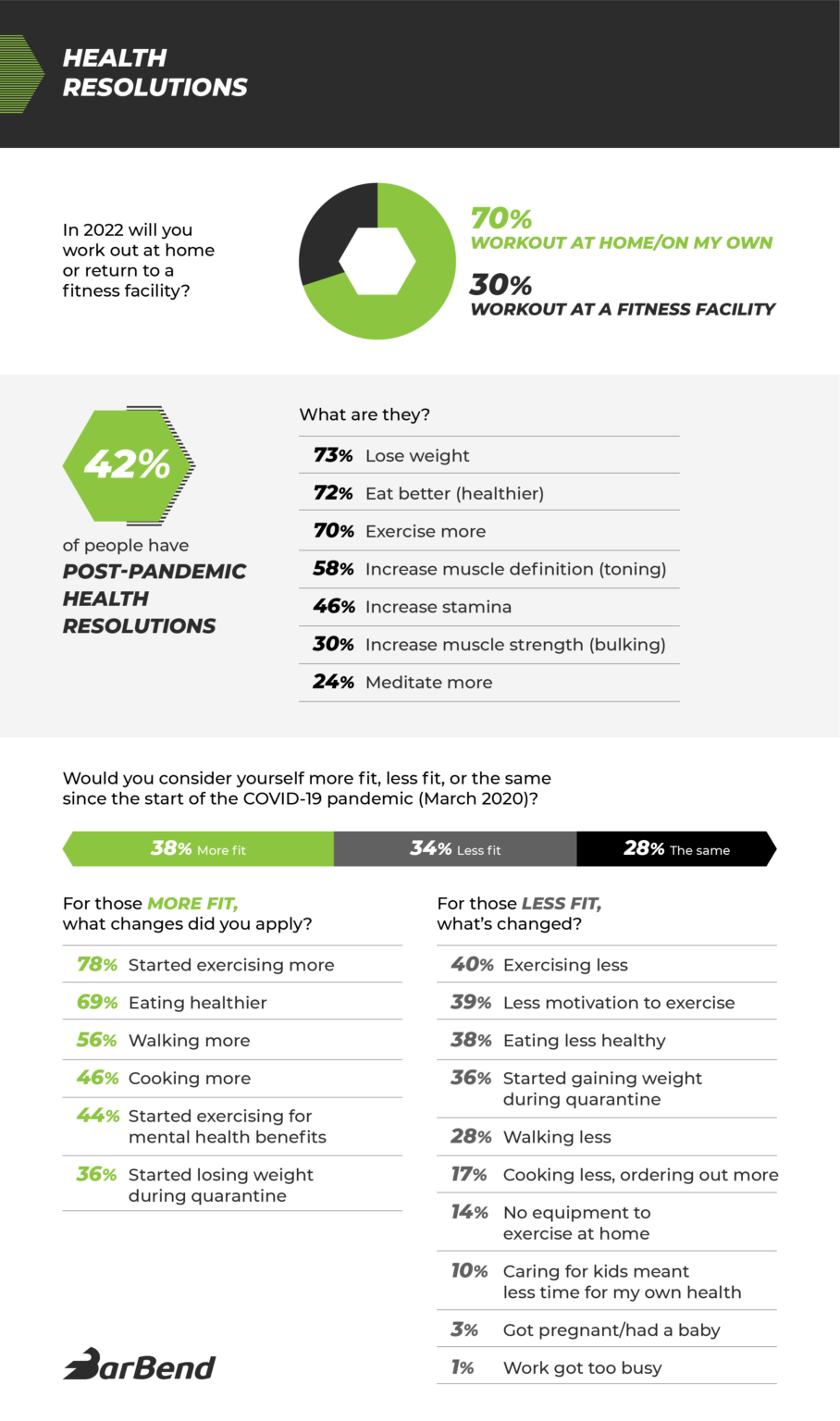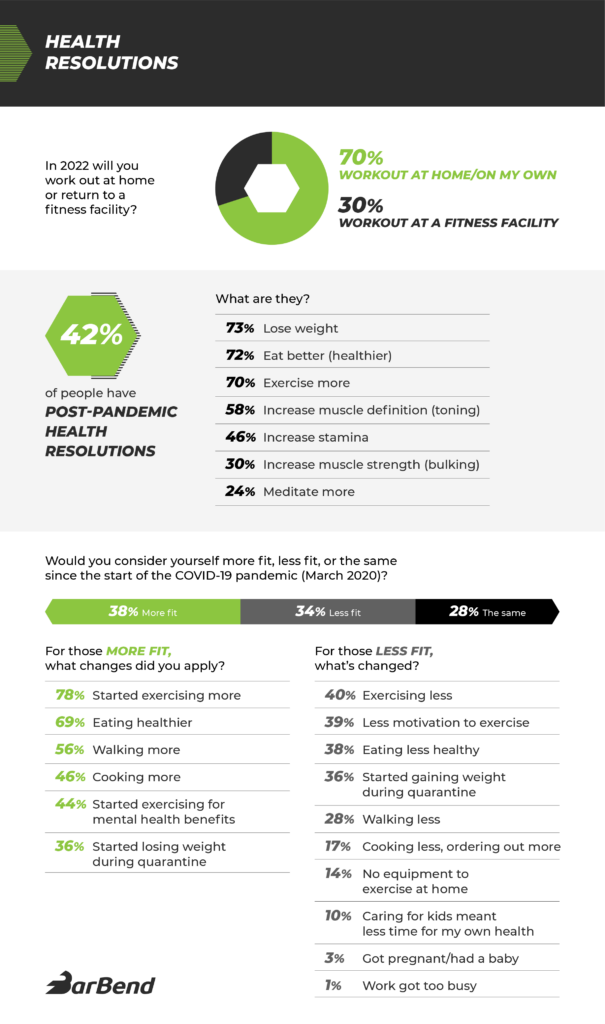 Despite pandemic restrictions and mandates lifting, many of those who have adapted to working out at home will continue to do so. Only 30% of respondents said they'll return to exercising at a fitness facility this year.
Thirty-eight percent of respondents said they're in better shape and more fit now than they were in March 2020 (the onset of the pandemic), and made changes such as exercising more, eating healthier, walking more, and cooking more. For the 34% that reported being less fit, they've been exercising less, haven't been able to find the motivation to work out, and were walking less.
But as we enter year three of the COVID-19 pandemic, there's been an adaptation to a "new normal" and people are eagerly awaiting the "end" of the pandemic. Nearly half (42%) of respondents said they have post-pandemic health resolutions, such as losing weight, eating healthier, and exercising more.
Methodology
In February 2022, we surveyed 1,036 Americans with a self-reported interest in health and fitness to get their feedback on working out during the COVID-19 pandemic. Respondents were 49% female and 50% male, with an age range of 18 to 85 and an average age of 38 years old.
For media inquiries, contact [email protected]
Fair Use
When using this data and research, please attribute by linking to this study and citing https://barbend.com/.
Featured Image: antoniodiaz/Shutterstock