Ankle weights are an accessory used to improve the intensity of different exercises. Often the purpose of strapping on ankle weights is to add extra weight that your body has to adjust to and work with. There are a lot of ankle weights on the market, and the makers can vary in design, weight, and fit.
We've tested and researched several ankle weights and curated a list of five of the best on the internet. We paid close attention to quality and price and considered different goals and reasons for purchasing ankle weights. We looked at ankle weights that are adjustable, functional, and also will help enhance various exercise moves. Check out five of our favorites below!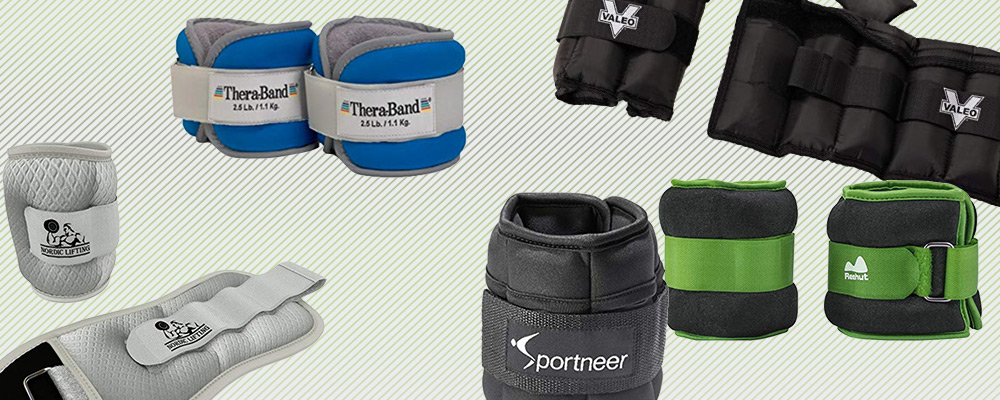 Editor's Pick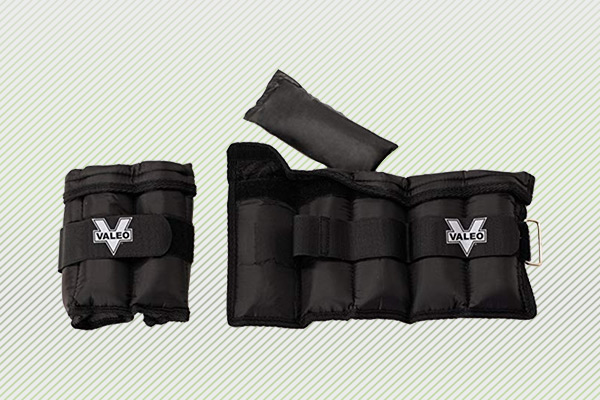 Valeo Adjustable Ankle/Wrist Weights
Valeo Adjustable Ankle Weights are easy to put on, comfortable, and are designed with performance in mind. They are easily adjustable because of their D-ring strap/velcro closure. The ankle weight is designed with five sand-filled bags and depending on the user's goals it can be adjusted from one to five pounds. These ankle weights are also offered as 10 pounds and 20 pounds, however the prices do vary. 
Pros:
Adjustable

. Although there are five individual sand bags, the weights can be adjusted from one to five pounds depending on preference. 

Accessibility.

The velcro closure makes these ankle weights easy to strap on and take off. 

Padding.

These ankle weights are designed with padding to make for a non-intrusive and comfortable fit.
Cons:
Price.

Depending on the weight, the price will vary. The heavier the weight the more the ankle weights will cost. 

Comfort.

These are simple and don't have different material on the exterior and interior like some makers. These are comfortable with the padding, but don't expect extra cushioning or a terry cloth interior.
Best Design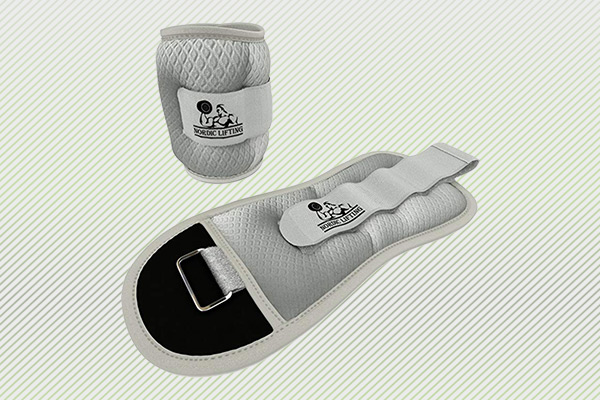 Nordic Lifting Ankle/Wrist Weights
The neoprene padding on the Nordic ankle weights make these top tier when it comes to quality and comfort. They also go so far as to include a bag to make these easy to grab and pack on the go. The entire design and structure is simple, but they are also easily adjustable to made into wrist weights which adds a unique element that isn't the case in all makers. 
Pros:
Color.

These are offered in a sleek grey color which is different than the standard black color that is frequent across makers. It also looks clean with the black text and design on the ankle weight. 

Trim

. These ankle weights have a reflective trim on them which makes them useful in darker workout environments. 

Value.

For an affordable price these ankle weights come with a bag, an instruction manual, and are designed to be used as wrist weights as desired.
Cons:
Adjustability.

These ankle weights don't have removable sand bags like some of the ones we've tried, so although the velcro and strap can be adjusted, the weight can't be altered with these. 

Price.

These ankle weights are offered at 1,2,3,4, and 5 pounds. The prices do go up with the weight selected.  
Best Fit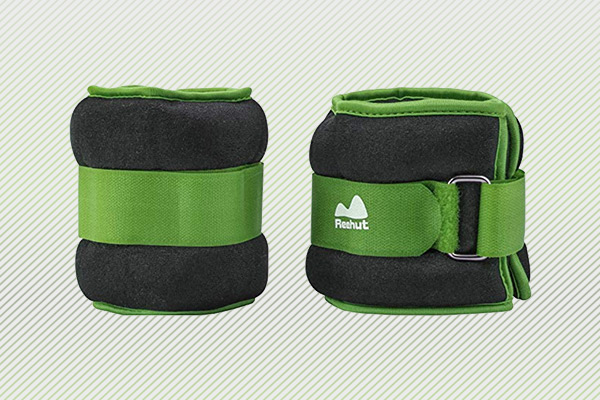 REEHUT Durable Ankle Weights
The breathable cotton material and adjustable strap should guarantee a good fit. These ankle weights fit snug, but never pinch. They are weighted with sand, but are properly designed and sealed to ensure no sand should leak out. Match the weight with a color, and prepare to feel secure and challenged with these ankle weights. 
Pros:
Variety.

These ankle weights are offered in seven different colors and weights. They even go so far as to include a specific pair for younger kids. The red color (.5 pounds per each) is the suggested product for younger kids. 

Use

. These are no fuss and simple to use. The strap is adjustable and allows for a secure and comfortable customized fit.

Refund.

If these do not do the trick, REEHUT has a 30-day refund or replacement, plus a two-year warranty.
Cons:
Adjustability.

These do not have removable sandbags. Once the ankle weight is selected, that is the weight that the user will have to work with. 

Price.

The prices do go up with the weight. The cheapest pair are the .5 lbs, and the most expensive are the 5 lbs pair. 
Best Value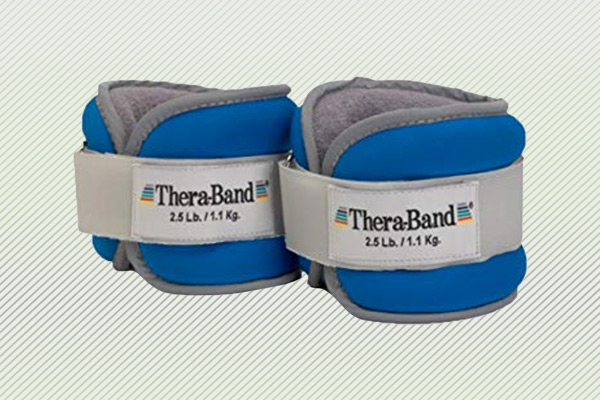 TheraBand Ankle Weights
The TheraBand ankle weights come in a pack of two and are adjustable and made with a moisture absorbing material fit for any workout or environment. In terms of two quality products and an affordable price, this is one of the best values on the market. TheraBand stands out from the rest because of its two material design which has a super soft terry cloth interior and neoprene exterior. 
Pros:
Material.

These ankle weights are designed with different exterior and interior materials. The exterior is made with neoprene, which gives a durable and cushioned feel. And the interior is made with terry cloth which is moisture absorbing and soft. 

Customizable.

The buckles and straps are adjustable which allows for a secure and customized fit. 

Use.

TheraBand ankle weights can also be adjusted to fit as wrist weights.
Cons:
Options.

There are only two weights options. The first is a set of two 1.5 lbs, and the second is a set of two 2.5 lbs. 

Shipping.

These currently can only be shipped within the United States. 
Best Performance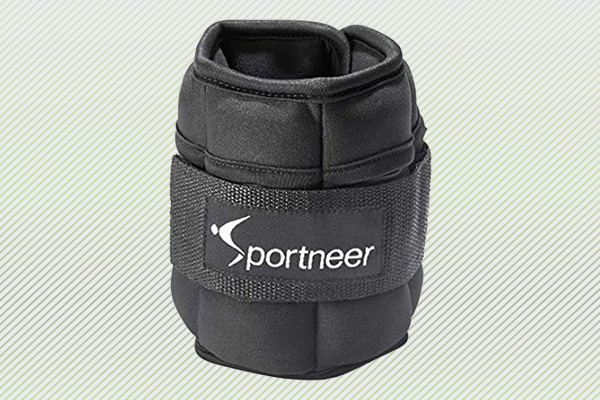 Sportneer Ankle Weights
Sportneer Ankle Weights have a sleek design and are made with a durable neoprene exterior. They come with five removable sandbags which make them a great option for various performance goals. They also have velcro straps which can make them even longer depending on preference. 
Pros:
Customizable.

All of the sand pockets are removable ( and each pocket weighs .6 lbs.) In general, the ankle weight can be heaviest 3.5 lbs (per ankle weight), but the removable pads allow the entire item to be as light as .5 lbs (per ankle weight.)

Length

. These ankle weights go above and beyond by including a strap that can be adjusted from

11.8 inches  to 12.6' inches. This makes for a great customizable option for all shapes and sizes.

Detail

. The neoprene exterior makes for a durable and breathable feel. The trim of the velcro is also stitched well to ensure a long lasting product.
Cons:
One size.

Since the pads are removable, these ankle weights do come in one general size. It is recommended to take measurements prior to purchasing. 

Process.

The removable pads make it a customizable option, however it is important to realize that this can take a little bit of work taking out and putting back in the sand bags. 
How We Picked
We chose these five ankle weights based on a methodology that prioritized design and comfort. While adding weight to any workout isn't going to make the exercises easier, the strapping and fit of the product should be comfortable. We looked at products that are adjustable, are offered in different weights, and are affordable.
Design. We chose ankle weights that are designed in a way that can wrap around different sized ankles. We think the best products are the adjustable ones. We picked the ankle weights that have adjustable straps that can give a customized fit to any ankles, and are easy to put on and take off.
Price. The prices do vary with most ankle weights as the weight goes up. We looked at products with a wide range of pricing, but selected the best quality at affordable prices. We also made sure to look at how much the price increases and list with the product descriptions.
Comfort. It can be hard enough adding weight to an exercise, so the product shouldn't pinch or aggravate in anyway. We looked at sizing, material, and found that the best products used soft and breathable fabrics like cotton.
Performance. We selected products that have fitness goals and performance in mind. This means they include different weight options, sometimes go as far to include exercise guides, and can all be adjusted. We also tested to make sure that the fit wouldn't be too loose or give in a way that could hinder or mess up a workout sequence.
BarBend Tips
At BarBend we're always a fan of finding products that can enhance any workout. Ankle weights are a great accessory to build up from bodyweight movements. When we're shopping for ankle weights we consider the fit, the durability of the product, the design, and more. Here are a few tips we'd suggest.
Goals. The first thing to consider when shopping for ankle weights is what your performance goals are. Once that is set, it will be easier to choose what weight to go with. We would even go as far to recommend purchasing a couple of different weight options.
Adjustability. Like most products, there isn't one size that fits all. Luckily, most ankle weights come with adjustable strapping that make it easy to customize as fit. We would highly recommend looking at products that are easy to adjust with a simple loop and hook system or velcro.
Comfort. Keep an eye out for ankle weights that have sufficient cushioning and even extra padding. These feel the best and won't compromise the intensity level. Materials like cotton that are breathable and soft are the best fabric type to consider if comfort is a priority.
Price. Since ankle weights come in all different weight levels, be ready to spend more money if you want heavier weights. That being said, there are plenty of reasonably priced ankle weights on the market that won't break the bank or lack in quality.
Wrapping Up
Now that we've gone over five of our favorite ankle weight products on the web, we hope that you're feeling motivated to take your workout routine to the next level.