We receive free products and receive commissions through our links. See
disclosures page
.
While carnitine isn't considered an essential amino acid (meaning one that we can't synthesize in our body), carnitine is still a very important amino acid. Many people include it as a crucial part of their supplement regimen for the potential improvements in post-workout recovery and fat burn. You'll also find carnitine in many pre-workout supplements for a potential energy boost. It's possible that it may have applications for longevity too, but what makes a good carnitine supplement? (1)
There are different forms of carnitine where it's bound with other ingredients for potentially better absorption. The most common form is Carnipure™, which is l-carnitine l-tartrate, but you may also see the pure molecular form of l-carnitine by itself in products. (2) Carnitine comes in a variety of doses. Common dose sizes range from 200mg to 1,000mg per serving, but often, you'll see around 500mg per serving. (2) When a product is as popular as carnitine and there is such a wide variety of options on the market, it can be hard to determine which is right for you. We've put together this list of the best carnitine supplements for various people and purposes.
Best Carnitine Supplements
Editor's note: The content on BarBend is meant to be informative in nature, but it should not be taken as medical advice. The opinions and articles on this site are not intended for use as diagnosis, prevention, and/or treatment of health problems. It's always a good idea to talk to your doctor before beginning a new fitness, nutritional, and/or supplement routine. Individual needs for vitamins and minerals will vary.
Best Carnitine Supplement Overall: Momentous Acetyl-L Carnitine
Momentous Acetyl L-Carnitine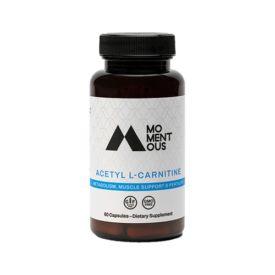 Momentous Acetyl L-Carnitine
Momentous L-Carnitine provides about 500mg of carnitine per serving with no added fillers or ingredients. You can buy this bottle for $25.95, which comes to only about $0.43 per serving.
Pros
This carnitine supplement supports recovery with no added fillers or ingredients.
This supplement is third-party tested, so it's totally safe to consume.
You can subscribe to monthly deliveries and pay only $22.06 for 60 servings (a one-time purchase is $25.95).
Cons
This is a capsule supplement, so you won't be able to add it to your post-workout smoothies.
Those who want additional ingredients in their carnitine may prefer one of our other picks.
The top carnitine product needs to check all the right boxes. It has to be cost-effective, properly dosed, and worth the price. Momentous Acetyl L-Carnitine ticks all those boxes, and more.
This product is a complete post-workout formula intended to aid in recovery and muscle growth. Each dose has a solid dose of 500mg of acetyl l-carnitine, which can help you potentially recover and grow muscle better. This formula is super simple, and that's actually the only ingredient on the list — no added fillers.
This product is pretty cost-effective, too, at only $25.95 per bottle of 60 servings (that's less than $1 per serving). You can find more robust formulas out there, but for those who solely want a carnitine supplement, Momentous is the way to go.
If you're looking for a no-nonsense carnitine source that doesn't have other pre-workout and recovery-oriented ingredients, this is the formula for you.
[Related: Could Baking Soda Be The Best Workout Supplement You've Never Tried?]
Best Fat Burner with Carnitine: Transparent Labs Fat Burner Stim-Free
Transparent Labs Fat Burner Stim-Free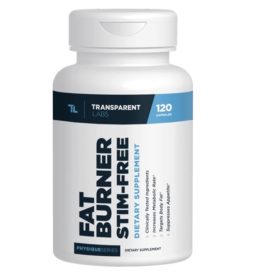 Transparent Labs Fat Burner Stim-Free
This product uses science-backed doses of cayenne, 5-HTP, and Coleus Forskolin to aid fat loss without the use of jitter-inducing supplements. Use the code BARBEND10 for 10% off!
Pros
As a full fat burner supplement, this product contains other ingredients that can potentially help with fat burn outside of carnitine.
Unlike other fat burners, this product is stimulant-free, so you won't get unwanted jitters.
This supplement comes in convenient capsules, so you don't have to mix it with anything.
Cons
Compared to other supplements on this list, you get less carnitine content per serving.
Many people take carnitine supplements in order to help aid them in their weight loss journey. That's why a lot of companies have started to introduce carnitine supplements with other fat burning ingredients included. If you're looking for a carnitine supplement that also packs a fat-burning punch, this pick has you covered.
Many carnitine products contain ingredients that may help with increasing muscle mass, like creatine. This product goes the other route, including ingredients that can help you burn more fat without the addition of stimulants — like caffeine. This product contains 750mg of acetyl l-carnitine, which may make fat more easily available to be burned.
Transparent Labs also includes forskolin and cayenne pepper, which can help to burn fat and increase metabolism, too. This product is packaged in capsules with a recommended serving size of two capsules twice daily, both times 30 to 60 minutes before a meal. Transparent Labs designed this to potentially help boost your metabolism without extra stimulants to aid in reaching your body composition goals.
This fat burner contains carnitine, forskolin, 5-HTP, and cayenne pepper, all of which may be able to help you during a cutting phase — this is great if you're looking for more of a fat burning boost along with your carnitine.
Best Carnitine Supplement for Recovery: Legion Recharge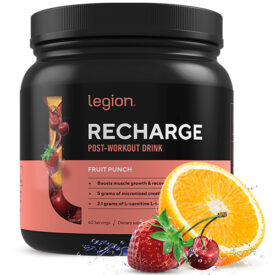 Legion Recharge is a well-rounded option that includes a solid dose of creatine monohydrate, along with l-carnitine l-tartrate, which may help to reduce exercise-induced muscle damage and improve recovery.
Pros
This formula has additional ingredients (like creatine) that can potentially help with your gains.
It's naturally sweetened with stevia, so there are zero added sugars, like sucrose or corn syrup.
You can just mix this powder with some water for a delicious strawberry lemonade drink.
Cons
Athletes who just want a supplement that just contains carnitine should look elsewhere.
This supplement only comes in one flavor.
Carnitine is probably best known as a weight management supplement, but a lot of post-workout products include it for its potential to aid in recovery from workouts. If you're looking for a carnitine supplement for recovery purposes, this pick is the way to go.
Legion Recharge is a carnitine supplement within a post-workout drink that can potentially help with recovery and muscle soreness. Not only does this supplement contain 2.1g of carnitine, but it also has 5g of micronized creatine, and 10.5mg of corosolic acid. The idea is that creatine and carnitine can potentially work together, which may help you recover better, and be ready for your next session.
It's an ideal supplement to take just after your workouts to help maximize gains and potentially reduce soreness. It's all-natural and contains no added sugars. Plus, it comes in four different flavors — Blue Raspberry, Fruit Punch, Grape, and Strawberry Lemonade.
This post-workout supplement contains carnitine, creatine, and corosolic acid, which combined, can help with recovery, muscle retention, and muscle soreness after your training sessions.
Read our full review of Legion Recharge.
Best Carnitine Capsules: Momentous Acetyl-L Carnitine
Momentous Acetyl L-Carnitine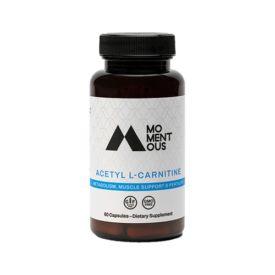 Momentous Acetyl L-Carnitine
Momentous L-Carnitine provides about 500mg of carnitine per serving with no added fillers or ingredients. You can buy this bottle for $25.95, which comes to only about $0.43 per serving.
Pros
You only have to take one capsule per serving and don't need to mix with any water.
These capsules are third-party tested, so you know the ingredient label is accurate.
This product only contains carnitine without any additional ingredients.
Cons
If you'd rather take a powder or liquid carnitine supplement, you can find other options out there.
These only provide 500mg of carnitine per dose, and you can find higher-dose products on the market.
Anyone who wants other ingredients (like those to potentially help with pre-workout energy or fat burn) with their carnitine won't find those inclusions here.
Sometimes taking a supplement in powder form just isn't possible or convenient. Maybe you're traveling or on the go often. Maybe you just don't like taking your supplements in powder form. If that sounds like you, then carnitine capsules may be just the product to grab.
If you find carnitine powders, pre-made liquid, or chalky tablets to be off-putting then a carnitine capsule may be for you. Momentous offers third-party tested capsules that have 500mg of l-carnitine per serving.
Thanks to the simplicity of the carnitine capsules, you can regulate your dosage easily if you want a higher or lower dose each day by simply popping another capsule. You don't have to worry about chewing into your supplement budget much either, since each 60-capsule bottle is only about $25.95 (around $0.43 per capsule) — rather well-priced.
This product is about as straightforward as a carnitine supplement can get with only one ingredient other than the capsule. It's also very cost-effective and easy to modulate the dose, making it a great choice for those looking for a capsule version of carnitine.
[Related: The Lifter's Guide To Magnesium: What This Nutrient Does For Strength]
Best Carnitine For Athletes: Legion Recharge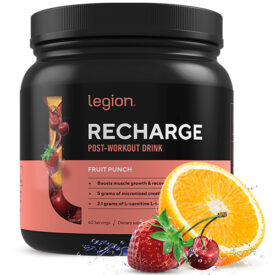 Legion Recharge is a well-rounded option that includes a solid dose of creatine monohydrate, along with l-carnitine l-tartrate, which may help to reduce exercise-induced muscle damage and improve recovery.
Pros
Athletes who are looking to try carnitine in combination with their workouts — it's ideal to take this supplement after you hit the gym.
Those who want a high dose of carnitine will like that this supp provides two grams per serving.
Anyone who wants more than just carnitine in their supp. This post-workout product comes with creatine and betaine as well.
Cons
This supplement is a powder, so you do need water to mix it.
You can find other supplements on this list that are just carnitine.
Athletes train hard and need to recover even harder. Sometimes you may need some help along the way with that. That's where a carnitine supplement comes in. Not only can it potentially help with maintaining your optimal weight for competition, but it may also help you recover better with less muscle soreness for your next training session.
Legion Recharge is an ideal supplement for athletes to take post-workout to help potentially maximize gains and reduce muscle soreness. This product packs a solid dose of over two grams of l-carnitine l-tartrate in each scoop. L-carnitine has been shown to help reduce recovery times and improve muscle soreness after resistance training. (7) That's what makes this product with a high dose of carnitine a great pick for athletes looking for a carnitine supplement.
Recharge is available in six different flavors, including unflavored, all with no artificial flavors or sweeteners. This product also has five grams of micronized creatine monohydrate, which may help improve muscular strength and power. Recharge keeps the ingredients list short and to the point — only including the necessities.
If you're an athlete looking to drop a few pounds or stay focused in the gym, carnitine might help. This particular supplement provides a large 2.1g dose of carnitine and other potentially helpful ingredients that you can take post-workout, like creatine and corosolic acid.
Best Carnitine-Only Supplement: Momentous Acetyl-L Carnitine
Momentous Acetyl L-Carnitine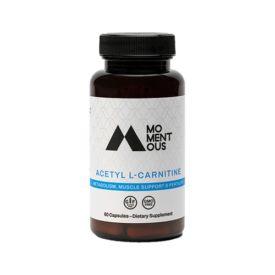 Momentous Acetyl L-Carnitine
Momentous L-Carnitine provides about 500mg of carnitine per serving with no added fillers or ingredients. You can buy this bottle for $25.95, which comes to only about $0.43 per serving.
Pros
Folks who want a carnitine supplement that just contains carnitine will like this product.
You only have to take one capsule for a full dose.
This supplement costs less than $1 per serving, so it's pretty reasonably priced.
Cons
If you're looking for a more robust ingredient list, you can find products that contain other potentially helpful fat-loss and muscle-building ingredients.
So you're looking for a carnitine supplement, but just want carnitine by itself. It can be difficult to find a high-quality product that's just the one ingredient you want. If that's the case, we've got what you're looking for with this carnitine-only supplement that comes in a convenient capsule form.
Many carnitine supplements can contain other helpful ingredients (such as creatine, or even a full line-up of pre-workout ingredients). This is a great option for those who just want carnitine. Momentous contains 500mg of carnitine per each one-capsule serving, and that's it.
While this dose is on the lower side, if you want a higher dose, you can take two capsules instead of just one. Plus, it's fairly inexpensive when compared across the market.
This is a great, minimal option if you're looking for a carnitine supplement, and don't want it to be bogged down with other ingredients you may already have in your regimen.
Best Bulk Carnitine: BulkSupplements ALCAR HCL
BulkSupplements.com ALCAR HCl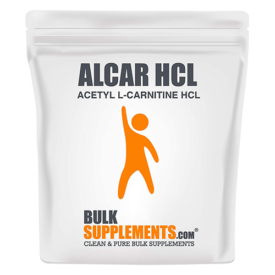 BulkSupplements.com ALCAR HCl
Pure acetyl l-carnitine that's unflavored and lab tested for purity.
Pros
This bulk package has 250 servings per container.
BulkSupplements test their supplements in-house and by a third party for purity.
This one is a pure carnitine supplement that's unflavored, so it mixes well.
Cons
You need a pretty large container to store all of this carnitine.
Unflavored carnitine supplements are kind of sour, so it's best to mix with other ingredients.
Buying things in bulk can be cheaper and more convenient than buying in smaller quantities. Bodybuilders know this all too well as they can be seen regularly buying rice by the cart full. If you're in the market for a bulk carnitine product, our top pick here might be the one you've been searching for.
Buy bulk, save cash, at least if you're really taking a lot of carnitine. BulkSupplements is indeed the best way to buy up to a thousand servings of carnitine at once, and the quality is superb: it contains absolutely nothing but acetyl l-carnitine.
Additionally, this carnitine supplement is tested both in-house and by a third party to ensure quality, and it's made in a facility free from major allergens. Each serving provides a solid dose of 600mg of pure acetyl l-carnitine.
One of the recurring issues that arise with BulkSupplements is the lack of resealability of the bags their supplements come in. That has the potential to endanger the freshness of the carnitine in the long term, so it is likely best to transfer the powder to a different container. Although that might be tedious, the trade-off is getting a huge amount of product for a very low price per serving.
Best Tested Carnitine: Nutricost Acetyl L-Carnitine (ALCAR)
Nutricost Acetyl L-Carnitine (ALCAR) 500 Grams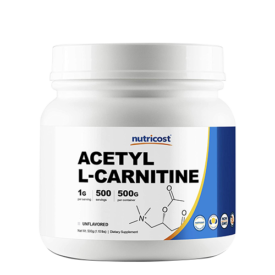 Nutricost Acetyl L-Carnitine (ALCAR) 500 Grams
This carnitine is third-party tested and has no extra ingredients at all. You'll get 1,000mg per scoop of pure acetyl l-carnitine and each container has 500 scoops in it making this a great bulk buy too.
Pros
This product has extensive third-party testing for purity and label accuracy.
You get pure carnitine in this supplement, no added ingredients.
With 500 doses per tub, this product is only a few cents per serving.
Cons
This supplement does have an expiration date, so you have to get through all 500 doses before then.
You need to mix this product into a smoothie because the taste is pretty sour solo.
All of the products that we include on our lists are high-quality and well-reviewed. Some companies decide to go above and beyond the norm and test their products comprehensively, including third-party testing for each batch of product made. Our top pick for best tested carnitine is from one of those companies.
Acetyl l-carnitine may cross the blood-brain barrier more effectively than l-carnitine, and Nutricost provides some of the best supplements on the market. (14) A big standout is that the product is third party tested, plus one little tub provides a considerable 500 servings of one gram each. This pure acetyl l-carnitine product provides 1,00mg of ALCAR per scoop, allowing you to modify the amount you take easily either up or down.
The other notable standout detail about Nutricost is they provide pure carnitine. There are absolutely no other ingredients included — a huge boon for athletes who want to know exactly the amount of every supplement they're consuming.
If you value supplements that have been third-party tested, this product from Nutricost will not disappoint. It's also difficult to beat the value of this product as each serving only costs around a dime.
Benefits of Carnitine Supplements
Carnitine has the potential to help with many aspects of athletic performance, like muscle retention, recovery, soreness, and energy. This supplement has also been studied for improving longevity, as well as potentially increasing fat burn. (3) Whether you're looking for more energy, help with fat burn, or better recovery, we break down the potential for carnitine to help with each of these aspects of training below.
Energy and Longevity
Carnitine can help your mitochondria function and produce energy. Carnitine is a chemical made in the brain, liver, and kidneys that can help your body transport fatty acids to the mitochondria, which can then turn them into usable energy. Supplementing with carnitine may help improve mitochondrial function. Since mitochondria are key in regulating immunity and aging, healthy mitochondria can help promote both immunity and longevity. (1)(2)
Fat Loss
Carnitine seems to help move more fatty acids into your cells to be used for energy, so there's a popular theory that it can be useful as a weight loss supplement. Human studies are mixed, though — some analyses saw significant weight loss, particularly among obese or older adults, while others saw none. (3)(4) More research is needed, particularly in young subjects.
Better Muscle
Carnitine, particularly the form called L-Carnitine L-Tartrate, may help to reduce muscle damage experienced during exercise. (5)(6)(7) This research used doses of two grams per day. There's also research suggesting that carnitine helps build and retain lean muscle among the elderly, but there's not a lot of evidence on young, healthy folks. (8)(9)
Better Cardio Workouts
Two to four grams of carnitine per day — a fairly high dosage for most — has seen an increase in anaerobic output, meaning short bouts of high-intensity exercise. (10)(11) Short bouts of high-intensity exercise include activities, like sprints and HIIT workouts.
Sperm Quality
High doses of carnitine — two or three grams daily — appears to increase sperm quality with regard to sperm morphology. (12) Sperm morphology refers to the size, shape, and appearance of sperm. Abnormal morphology can contribute to infertility, so this is especially helpful for those who may be trying to conceive.
How We Chose the Best Carnitine Supplements
There are so many carnitine supplements on the market, and we want to ensure we're always recommending only the best products. Price can vary widely from $20 up to $60 per container and beyond for carnitine supplements, so it's essential to consider the cost per serving. There are other things to consider, as well, like added ingredients, such as caffeine or various vitamins. We also look at the molecular form of carnitine that the supplement provides in addition to the serving size required to receive an adequate dose.
Cost
Let's start with the obvious decision influencer: price per serving. Of course, the less expensive products will rank higher on our list assuming the number of servings is equal. Like most supplements, buying in bulk can save a lot of coin, but it runs the risk of the product expiring before use. If you're training for a powerlifting meet, calibrate how many servings you intend to take during your training period working on those squats and deadlifts, and try to line up with a product that offers that requisite number of servings.
Added Ingredients
Not all carnitine supplements are made equal. Of course, dosages will vary from product to product, but some products will also include other ingredients that may or may not be appealing to you. Some examples are added vitamin B or calcium.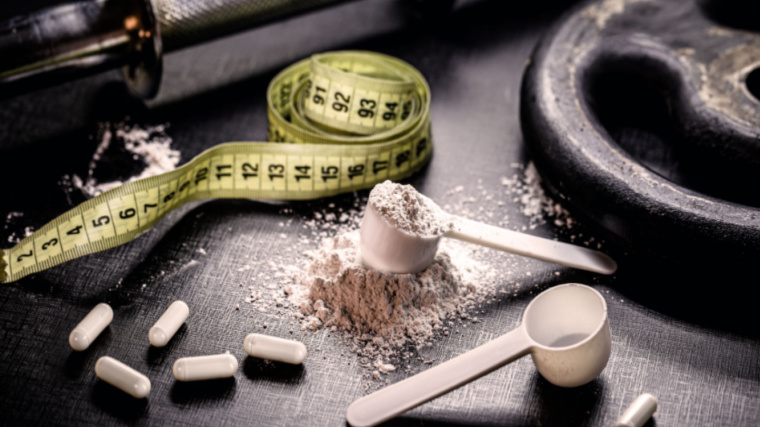 If you're in the market for boosts of the additional ingredient included, then you hit a nice little jackpot. However, if you're not, there are plenty of pure carnitine options on the market. Just keep in mind that pure carnitine has a sour taste that may not be palatable for some users.
Form
This will come down to preference, but are you looking for a capsule, tablet, powder, or liquid? There are plenty of each on the market, each with their own pros and cons. Liquids are pretty easy to flavor without bogging down with a bunch of unnecessary sweeteners. Powders are usually the easiest way to get pure carnitine. Capsules and tablets might be easier or more efficient to consume for some customers but there is often a number of added ingredients added to make the tablet or capsule. If you have a preference for how you consume supplements, there are luckily options on the market likely to line up with that.
[Related: 10 Kinds Of Creatine And What They All Mean]
How Much Do Carnitine Supplements Cost?
Carnitine is one of the most cost-effective supplements on the market with many of the options coming in much cheaper than pre-workouts or other products. That said, the serving sizes are generally too small for a truly noticeable effect, so many people, especially those already used to taking carnitine, will have to take an extra serving or two to realize carnitine's potentially beneficial effects.
Best Carnitine Overall
Momentous Acetyl-L Carnitine

$25.95

Per serving: $0.43

Best Fat-Burner with Carnitine
Transparent Labs Fat Burner Stim-Free

$54.99

Per serving: $0.92

Best Carnitine Supplement for Recovery
Legion Recharge

$39.99

Per serving: $1.33

Best Carnitine Capsules
Momentous Acetyl-L Carnitine

$25.95

Per serving: $0.43

Best Carnitine for Athletes
Legion Recharge

$39.99

Per serving: $1.33

Best Carnitine-Only Supplement
Momentous Acetyl-L Carnitine

$25.95

Per serving: $0.43

Best Bulk Carnitine
BulkSupplements ALCAR HCl

$22.96

Per serving: $0.06

Best Tested Carnitine
Nutricost Acetyl L-Carnitine (ALCAR)

$49.95

Per serving: $0.10
Assuming that you're taking the serving size and dosage recommended by the manufacturer, carnitine supplements are an easy addition to your current stack. A bottle will cost around $20 to $50 depending on the servings it contains and the other ingredients included. Purely carnitine products generally cost only a few cents per serving while more comprehensive formulas can be more expensive. Common carnitines range from $0.05 to $1.50 per serving, so you can add this to your daily regimen for a relatively cheap cost.
What to Consider Before Buying Carnitine Supplements
Since each customer comes to the market with different needs, it's important to consider your personal goals before scouring the web or scanning shelves at your local supplement shop. Here are a few considerations we would make before buying.
Type of Carnitine
There are several forms of carnitine. L-carnitine is typical, but among others, there's also d-carnitine (which seems to limit your absorption of more usable carnitine, so it may be best to avoid), l-carnitine l-tartrate (perhaps most common in sports supplements as it absorbs quickly) and acetyl-L-carnitine, which is almost identical to regular carnitine but it's been acetylated, so it may cross the blood-brain barrier more efficiently. (13)(14)(15)
Dosage
A pretty typical dosage is 250 to 500 milligrams twice per day, though a lot of the research mentioned above used two to three grams a day. It's usually recommended to start with a lower dose and work your way up, as carnitine can sometimes cause nausea if consumed in higher doses.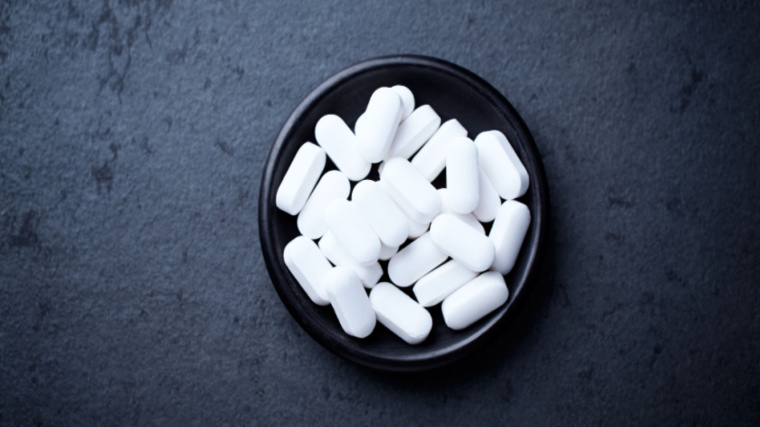 It's ideal to buy a supplement with a flexible dosage, meaning you can take single or multiple capsules a day (versus buying a product that provides only a high dosage in a single capsule).
Lifestyle
For your body to produce plenty of its own carnitine, it appears to be important to eat plenty of vitamin C. (16) Before starting any supplement, it's important to be consuming a healthy diet of whole foods and implementing regular exercise in your routine. If you're not healthy outside of your supplementation, no supplement is going to be a cure-all.
Carnitine in Other Supplements
Carnitine is found in a variety of supplements — not just carnitine-only products. It can often be found in pre-workout supplements where it can help provide energy, or post-workout supplements where it may improve recovery. You can also find carnitine in fat burners to potentially help with fat oxidation. We break down carnitine's inclusion in each of these products below.
Carnitine in Pre-Workout Supplements
Some pre-workout supplements will contain carnitine. Usually, carnitine is combined with other weight management supplements, such as conjugated linoleic acid (CLA), or stimulants, like caffeine. You can also commonly find ingredients like creatine and beta-alanine. Almost all of these supplements will come in a powder or liquid form.
In addition to its potentially weight loss properties, there is evidence that carnitine can be a potent strength-enhancing supplement — another reason you will find it in pre-workouts. Researchers saw improvements in both strength and aerobic capacity when subjects were given two grams of carnitine per day over a nine-week period. (19)
Carnitine in Post-Workout Supplements
You'll find carnitine in many post-workout and recovery shakes too, either by itself or as part of a proprietary blend. The reason carnitine is included in post-workout supplements is thanks to its potential to improve recovery from exercise. (20)
Additionally, supplementing with carnitine after resistance training has shown possible improvements in muscle mass, reduction in fat mass, and increased mental and physical energy. (21) Other ingredients that you'll commonly find in these supplements that work together with carnitine are carbohydrates, protein, occasionally creatine, and other amino acids.
Carnitine in Fat Burners
Many fat burners on the market include carnitine for its fat-burning properties. (21) Supplementing with just l-carnitine has been shown to reduce fat mass in adults, and even more in those who are considered overweight or obese. (22)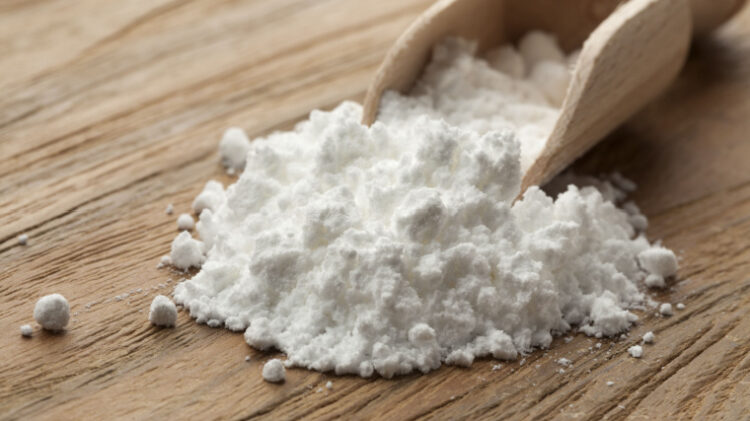 Carnitine can also help to increase energy expenditure and prevent body fat accumulation, which is why it's included in so many fat-burning supplements. (23) Other common ingredients in fat burners that you'll find with carnitine are stimulants like caffeine, guarana, and green tea leaf extract. These supplements also commonly include CLA, forskolin, and grains of paradise, which can also aid in fat burning.
Final Word
Carnitine comes in many forms and can help with fat loss, muscle retention, brain function, and even sperm health. However, more than anything, it's imperative that you speak with a physician before making any additions to your nutrition and supplement regimen. Carnitine in particular can cause nausea and other unwanted side effects if it's not used properly.
If you've spoken to a physician, follow a healthy diet, and exercise regularly, carnitine can be a helpful addition to your supplement regimen for its potential to turn fatty acids into energy, boost memory and focus, help with short bursts of cardio, and more. Many carnitine supplements are pretty straightforward, but a little direction can be helpful when digging through a lot of options on the market — let this list be your guide.
FAQs
What is a common dose of carnitine?
Carnitine can be found in dosages varying from around 200mg to over 1,000mg. There isn't really an upper limit to how much you can take since it is an amino acid, but taking over 5,000mg per day does not seem to have any added benefit. (24) A typical dose in a carnitine supplement is generally 500mg or 1,000mg, which can be adjusted up or down depending on goals and needs.
What is the best carnitine supplement?
There are a lot of options for the best carnitine on the market with a ton of products jockeying for the top spot, but we are big fans of Momentous Acetyl-L Carnitine right now. This one provides 500mg of carnitine per serving without any unwanted added ingredients or fillers. Plus, it's third-party tested to guarantee product accuracy.
How much do carnitine supplements cost?
Carnitine supplements are some of the most cost-effective supps on the market. Bottles cost around $20 to $50, depending on the ingredients list and the number of servings included. Costs per serving are attractively cheap, ranging from about $0.05 to $1.50 with pure carnitine supplements being on the less expensive side and combination products like fat burners or pre-workouts residing in the more costly range.
Should I avoid carnitine if I'm not trying to lose weight?
Not necessarily. Carnitine does have weight loss properties and been associated with increased fat oxidation, but it has also been shown to have a significant effect on improving muscular strength. (5)(19) Many pre-workout and post-workout supplements include carnitine in their formulas because of this, so there is no need to avoid carnitine when trying to build muscle and strength.
How much weight can I expect to lose when supplementing with carnitine?
Carnitine, just like other supplements, is meant to supplement hard training and a healthy diet. Yes, there is evidence that carnitine can help improve fat oxidation, which has the body use fat for fuel instead of other energy substrates, but it isn't a miracle product on its own. (22) Carnitine can give you some extra help and may push your fat loss further than without it, but you still have to do the hard work of exercising and eating right.
References
Karlic, H., & Lohninger, A. (2004). Supplementation of L-carnitine in athletes: does it make sense?. Nutrition (Burbank, Los Angeles County, Calif.), 20(7-8), 709–715. https://doi.org/10.1016/j.nut.2004.04.003
Sahin, K., Orhan, C., Kucuk, O., Sahin, N., Tuzcu, M., Er, B., Durkee, S., & Bellamine, A. (2020). A Dose-Dependent Effect of Carnipure® Tartrate Supplementation on Endurance Capacity, Recovery, and Body Composition in an Exercise Rat Model. Nutrients, 12(5), 1519. https://doi.org/10.3390/nu12051519
Iossa, S et al. Acetyl-L-carnitine Supplementation Differently Influences Nutrient Partitioning, Serum Leptin Concentration and Skeletal Muscle Mitochondrial Respiration in Young and Old Rats. J Nutr . 2002 Apr;132(4):636-42.
Rosca, M et al. Mitochondria in the Elderly: Is Acetylcarnitine a Rejuvenator? Adv Drug Deliv Rev . 2009 Nov 30;61(14):1332-1342.
Pooyandjoo, M et al. The Effect of (L-)carnitine on Weight Loss in Adults: A Systematic Review and Meta-Analysis of Randomized Controlled Trials. Obes Rev . 2016 Oct;17(10):970-6.
Broad, E et al. Effects of Four Weeks L-carnitine L-tartrate Ingestion on Substrate Utilization During Prolonged Exercise. Int J Sport Nutr Exerc Metab . 2005 Dec;15(6):665-79.
Kraemer, W et al. The Effects of L-carnitine L-tartrate Supplementation on Hormonal Responses to Resistance Exercise and Recovery. J Strength Cond Res . 2003 Aug;17(3):455-62.
Spiering, B et al. Effects of L-carnitine L-tartrate Supplementation on Muscle Oxygenation Responses to Resistance Exercise. J Strength Cond Res . 2008 Jul;22(4):1130-5.
Volek, J et al. L-Carnitine L-tartrate Supplementation Favorably Affects Markers of Recovery From Exercise Stress. Am J Physiol Endocrinol Metab . 2002 Feb;282(2):E474-82.
Malaguarnera, M et al. L-Carnitine Treatment Reduces Severity of Physical and Mental Fatigue and Increases Cognitive Functions in Centenarians: A Randomized and Controlled Clinical Trial. Am J Clin Nutr . 2007 Dec;86(6):1738-44.
Pistone, G et al. Levocarnitine Administration in Elderly Subjects With Rapid Muscle Fatigue: Effect on Body Composition, Lipid Profile and Fatigue. Drugs Aging . 2003;20(10):761-7.
Jacobs, P et al. Glycine propionyl-L-carnitine Produces Enhanced Anaerobic Work Capacity With Reduced Lactate Accumulation in Resistance Trained Males. J Int Soc Sports Nutr . 2009 Apr 2;6:9.
Wall, B et al. Chronic Oral Ingestion of L-carnitine and Carbohydrate Increases Muscle Carnitine Content and Alters Muscle Fuel Metabolism During Exercise in Humans. J Physiol . 2011 Feb 15;589(Pt 4):963-73.
Lenzi, A et al. Use of Carnitine Therapy in Selected Cases of Male Factor Infertility: A Double-Blind Crossover Trial. Fertil Steril . 2003 Feb;79(2):292-300.
Spasov, A et al. Effects of L-, D-, and DL-carnitine on Morphometric Parameters of Skeletal Muscle and Exercise Performance of Laboratory Animals Receiving Carnitine-Deficient Diet. Bull Exp Biol Med . 2006 Oct;142(4):458-60.
Traina, G. The Neurobiology of acetyl-L-carnitine. Front Biosci (Landmark Ed) . 2016 Jun 1;21:1314-29.
Trappe, S et al. The Effects of L-carnitine Supplementation on Performance During Interval Swimming. Int J Sports Med . 1994 May;15(4):181-5.
Steiber, S et al. Carnitine: A Nutritional, Biosynthetic, and Functional Perspective. Mol Aspects Med . Oct-Dec 2004;25(5-6):455-73.
Koozehchian, M. S., Daneshfar, A., Fallah, E., Agha-Alinejad, H., Samadi, M., Kaviani, M., Kaveh B, M., Jung, Y. P., Sablouei, M. H., Moradi, N., Earnest, C. P., Chandler, T. J., & Kreider, R. B. (2018). Effects of nine weeks L-Carnitine supplementation on exercise performance, anaerobic power, and exercise-induced oxidative stress in resistance-trained males. Journal of exercise nutrition & biochemistry, 22(4), 7–19. https://doi.org/10.20463/jenb.2018.0026
Huang, A., & Owen, K. (2012). Role of supplementary L-carnitine in exercise and exercise recovery. Medicine and sport science, 59, 135–142. https://doi.org/10.1159/000341934
Fielding, R., Riede, L., Lugo, J. P., & Bellamine, A. (2018). l-Carnitine Supplementation in Recovery after Exercise. Nutrients, 10(3), 349. https://doi.org/10.3390/nu10030349
Talenezhad, N., Mohammadi, M., Ramezani-Jolfaie, N., Mozaffari-Khosravi, H., & Salehi-Abargouei, A. (2020). Effects of l-carnitine supplementation on weight loss and body composition: A systematic review and meta-analysis of 37 randomized controlled clinical trials with dose-response analysis. Clinical nutrition ESPEN, 37, 9–23. https://doi.org/10.1016/j.clnesp.2020.03.008
Stephens, F. B., Wall, B. T., Marimuthu, K., Shannon, C. E., Constantin-Teodosiu, D., Macdonald, I. A., & Greenhaff, P. L. (2013). Skeletal muscle carnitine loading increases energy expenditure, modulates fuel metabolism gene networks and prevents body fat accumulation in humans. The Journal of physiology, 591(18), 4655–4666. https://doi.org/10.1113/jphysiol.2013.255364
Soop, M., Bjorkman, O., Cederblad, G., Hagenfeldt, L., & Wahren, J. (1988). Influence of carnitine supplementation on muscle substrate and carnitine metabolism during exercise. Journal of Applied Physiology, 64(6), 2394-2399.