We receive free products and receive commissions through our links. See
disclosures page
.
Legion is a Virginia-based supplement company with a big focus on natural ingredients; there are no artificial sweeteners, flavors, or colors in their products. We're fans of their pre-workout called Pulse, but their creatine-based recovery drink Recharge has some pretty interesting components as well.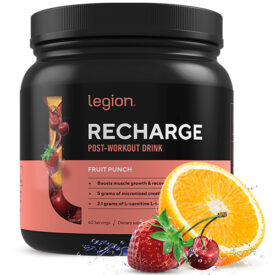 Legion Recharge is a well-rounded option that includes a solid dose of creatine monohydrate, along with l-carnitine l-tartrate, which may help to reduce exercise-induced muscle damage and improve recovery.
Legion Recharge Ingredients
One scoop contains 5 grams of creatine, 2.1 grams of l-carnitine l-tartrate, and 10.5 milligrams of corosolic acid, which is derived from Banaba leaf extract.
The rest of the ingredients are natural flavors, stevia, anti-caking agents calcium silicate and silicon dioxide, tapioca starch, and salt.
Recharge comes in Fruit Punch, Unflavored, and Watermelon flavor. We grabbed the Watermelon flavor, which has some red beet juice powder for coloring. The Fruit Punch has the same ingredients list (though the "natural flavors would of course be different), plus some citric acid for a more sour flavor.
Legion Recharge Benefits and Effectiveness
Creatine is one of the most popular and well-researched supplements on the market, with strong links to power output, muscular endurance, muscle size, and some mental benefits. Recharge uses creatine monohydrate, which is the most well researched form of creatine.
Why does Recharge have l-carnitine l-tartrate? Legion claims that it's because it can reduce exercise-induced muscle damage and soreness and improve muscle repair. The company does a great job on their site of citing several studies to back up these claims, and I'm confident that the dosage here may well improve recovery in that regard. It appears to have the same effect taken pre-workout as well, and since creatine taken at the same time may help with power output and endurance, you may want to try taking this "recovery" supplement before you train.
Finally, there's the banaba leaf extract. Corosolic acid is sometimes used in supplements for people with diabetes because it may help with managing blood sugar and improving insulin sensitivity. The theory here is that taking it post-workout may improve the insulin response and therefore help the body to better absorb post-workout carbohydrates.
The other things to note are that it's made in a facility that also processes a lot of common allergens, so athletes with very sensitive allergies may want to steer clear, and while it's made in a GMP facility there's no indication that it's been tested for impurities and banned substances by a third party like Informed Choice or BSCG. I called Legion to confirm, and the representative I spoke to wasn't sure.
Legion Recharge Price
This costs $35 for 60 servings, so it's 58 cents per serving or 11.6 cents per gram of creatine. That's pricier than your standard creatine monohydrate, which is typically between 3 and 5 cents per gram, but of course with this supplement you're paying extra for the l-carnitine l-tartrate, corosolic acid, and flavorings, so you may find the price justifiable.
Legion Recharge Flavor
Every other watermelon-flavored supplement I've tried has been Sour Watermelon, so I was expecting a sour, candy-like flavor when I tried Recharge. But this isn't Sour Watermelon, it's just "Watermelon," and that's what it tasted like: a pleasant, watery, slightly sweet, not-at-all strong flavor that tasted quite a bit like a bite of an actual watermelon. It's mild — which, again, is what watermelons taste like — and I really enjoyed it.
Use code BARBEND10 for 10% off your first order at Legion Athletics HERE.
The Takeaway
Whether or not you like Recharge depends on what you want from a creatine supplement. If you just want a good creatine, there are a lot of cheaper options on the market, but if you want a simple recovery supplement, this looks like it could be an effective product to consume before and/or after a workout to improve muscle soreness, repair, power, and growth.
Legion Recharge
Per Serving: $0.51