I am no one in the sport of weightlifting. I am not a coach, and I do not want to sell you any personal training, or a t-shirt or a supplement. For an American athlete, I had some success; but what is interesting is that from 2013 to 2015 I had some power and influence in American Weightlifting. I didn't use that influence to promote myself as many people do, but rather I used that influence to bring elite level weightlifters to compete at the Arnold Sports Festival in Columbus, OH.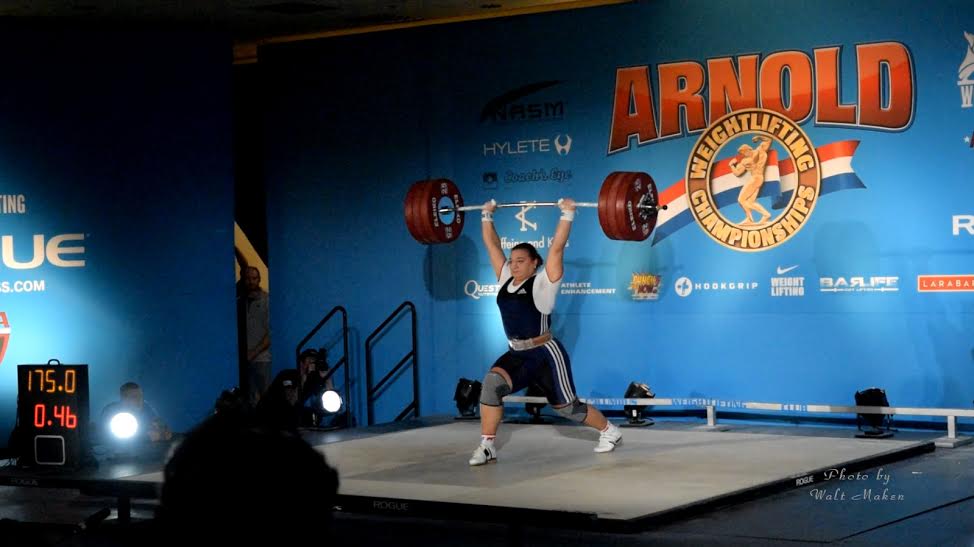 Photos courtesy Walt Maken
I think it is pretty wide known that in international competition, America is far less competitive that the traditional world powers. In the last decade, the population of people who know what the sport is, who know how to exercise the movements and actively or passively practice them has grown exponentially. Last I heard, USA Weightlifting membership was over 20,000 members, and people who exercise at CrossFit affiliates and/or participate in the Open I am sure is in the millions of people. The money that flows into USA Weightlifting from coaching certifications and other revenue streams is also at an all-time high. Yet we still are not significantly getting improvement in the international results. What matters today is how the USA fares at the Senior World Championships and the Olympic Games. Youth and Junior results are part of the journey when athletes have developed and matured into senior level athletes.
So what does elite level weightlifting look like? It is not the mediocrity that comes out of most gyms and training centers in the USA. Most Americans enter the sport when their high school athletic career is over, and that is far too late. The best in the world have already been practicing Olympic Weightlifting for a decade of their lives at that point. To quote Dave "The Godfather" Spitz, Head Coach of California Strength Weightlifting club, "We are trying to fight the war on mediocrity with mediocre athletes, and that will not get the job done."
What does America have strength in? For well over a decade, the crown jewel of American Weightlifting has been the Arnold Sports Festival in Columbus, OH. Mark Cannella is a promoter and organizer like few else, and he and his team have expanded this local meet into a world-class operation. The Festival routinely draws close to 200,000 people to the Greater Columbus Convention Center and awards tens of thousands of dollars in prize money. However, if the top athletes attending are mediocre athletes, does that makes the event as good as it can be? Clearly not, and that was what happened in 2013 when the top money was awarded to a few very good athletes and a lot of less than very good athletes.
Fast-forward seven months to the 2013 World Weightlifting Championships in Poland, where I was representing USA Weightlifting as a delegate to the competition, along with the coaches, athletes, some staff, and other delegates. I saw this as an opportunity in two regards: the primary reason to find world class elite level weightlifters who had an interest in visiting America and performing an exhibition of their talents, and additionally to show American weightlifting fans in person that world class weightlifting can be done and is being done, and it can be us as easily as it can be any international athlete.
It is easy to see a photo or video or read a blog about an elite weightlifter; it is a totally different experience to see how they perform, how they prepare to perform, how they go about conducting themselves. America doesn't see that nearly enough; except for the World Championships and occasionally at the National Championships, we do not get that opportunity.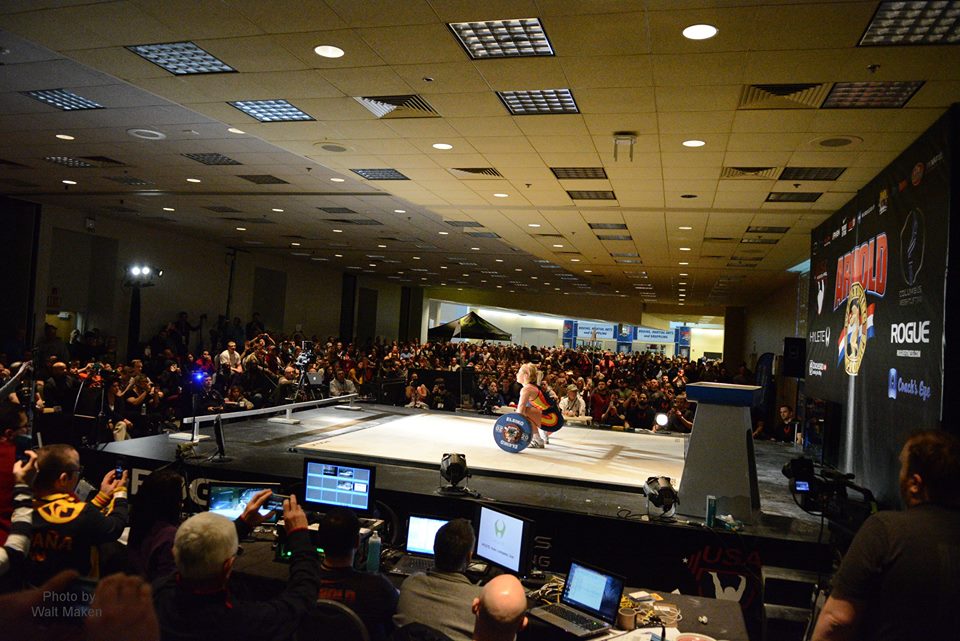 Photos courtesy Walt Maken
That year, the Spanish National Team — 3 athletes and 1 coach — accepted the invitation to the Arnold. I worked with them to arrange logistics, fronted my own resources to secure everything, and organized a weightlifting seminar to pay the costs of their trip. Generally speaking it was successful; we saw a woman snatch 115 kilos and clean and jerk 135 kilos, which at the time had been years since those weights were lifted on American soil. The reaction from those in attendance and overall was positive. A standing room only crowd for their session remained in attendance for American athletes. People were taking photos during and after the session with these elite level athletes. There was no noticeable disapproval of their presence at the Arnold.
For 2015, the goal was to find an Olympic Medalist who would come and put on an exhibition. The invitation was accepted by 3-time World Champion, World record holder, and Olympic Silver Medalist Tatiana Kashirina of Russia. Kashirina is one of the most decorated weightlifters of the day for either men or women, which made her presence quite an honor.
Lydia Valentin and Tatiana Kashirina lifting at the Arnold. Video by Walt Maken.
Again, I arranged logistical planning and we held a seminar in Ohio. Tatiana totaled 310 kilos, a total that would have medaled at the World Championships, behind primarily her. Easily one of the best weightlifting performances ever in our country, her 175KG clean and jerk was more than about five men who competed that day in the 94KG through superheavyweight categories. Top level athletes and coaches were very excited to meet her, take photos with her, watch her lift, and she shared the excitement of being at the Arnold. It was a win for everyone involved. And 200,000 odd people walking through the expo were able to see the sport of weightlifting in all its glory and candor. After all, this is what the Arnold represents: The best of the best, showcasing performances you hardly ever see.
Going forward, I hope to see America continue to improve. It will not be easy; in addition to money and resources, successful countries have a plan of action to develop athletes from beginner to world champion. They also have a large pool of athletes to pull talent from. That being said, in 2012 our neighbor Canada earned a bronze medal with Christine Girard, and they probably have less money and resources than USA Weightlifting. Our country has seen it is possible to have success; the next steps in this process are for our federation and the USOC to put a plan in place to get more young people into the sport and develop that talent.
As a whole, if America wants to have international success, we need to think big. American records and championships are steps along the way to international records and championships.
Editors note: This article is an op-ed. The views expressed herein are the authors and don't necessarily reflect the views of BarBend. Claims, assertions, opinions, and quotes have been sourced exclusively by the author.