There's often a stigma about whether cardio and weightlifting are counterproductive to each other. The notion is that cardio hinders muscle growth and can negatively affect strength gains in the gym.
Seven-time CrossFit Games athlete Kristi Eramo O'Connell debunked that myth on May 7, 2023, in a video published on her YouTube channel. She believes it is possible to improve cardiovascular endurance and gain strength without one having to compromise the other. Check it out below:
[Related: 2023 South America CrossFit Semifinal Results — Victoria Campos, Kaique Cerveny Claim Victory]
Kristi Eramo O'Connell's Background and Max Lifts
Eramo O'Connell opened by sharing her max lifts at a body weight of 132 pounds:
Deadlift Max: 380 pounds
Back Squat Max: 330 pounds
Front Squat Max: 283 pounds
Fastest Mile: Five minutes 19 seconds
Fastest Marathon: Three hours, four minutes (roughly pacing a seven-minute mile)
Based on the above metrics, Eramo O'Connell is simultaneously strong and fast. However, that wasn't always the case. She started as an endurance athlete and avoided weights. Like many, she thought lifting would make her bulky and slow her down on the track.
"I thought it had to be one or the other," O'Connell says in the video. "Either I could run really well or had to spend time building muscle and lifting weights to get stronger. Then I found CrossFit, and I started weight training along with conditioning."
This revelation was pivotal for O'Connell's status as a CrossFit athlete. CrossFit requires strength and endurance to excel at the top of the sport. She's one of CrossFit's all-time best-performing female athletes thanks to her blend of lifting weights and conditioning — among her seven CrossFit Games appearances, she's ranked inside the top 10 four times.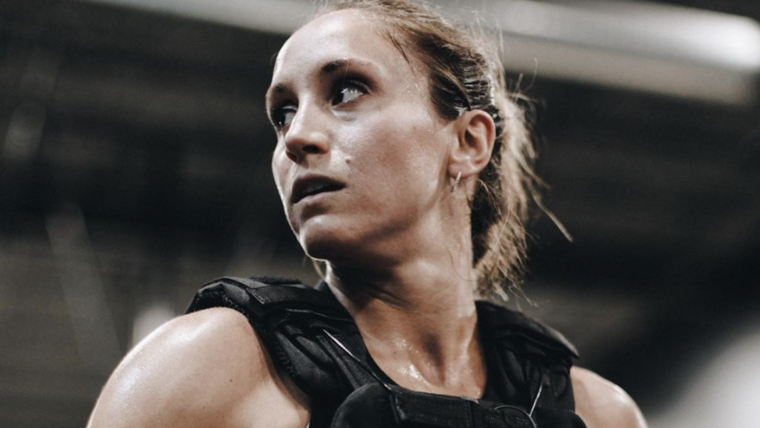 [Related: A One Month Push-Up Training Program for Beginners (3 Days Per Week)]
O'Connell's Top Cross-Training Technique
When O'Connell split her time between interval training and strength work, she found a compounding effect on her running. She raced faster or at comparable times to those she ran before competing in CrossFit — her strength training didn't negatively affect her endurance at all.
Despite O'Connell's belief that one had to commit entirely to one aspect of training to be the best in the world at it, her goal was to be one of the best all-around CrossFit athletes. That meant altering her training routine to implement running and weight training harmoniously.
Whether training for a marathon or the CrossFit Games, Eramo O'Connell trains whichever is more important for the given endeavor first thing in the morning. Then, if she has a second daily training session, she'll train the lower priority skill at the front end of that session.
Eramo O'Connell announced her retirement from competitive CrossFit on Feb. 19, 2023. 2023 marks the first year since 2016 that Eramo O'Connell will not be a competitor at the CrossFit Games. She remains the owner of the affiliate CrossFit Polaris in Ohio.
Featured image: @kristieramo on Instagram