Are these the ONLY important dates in weightlifting this year? Depending on who you ask, probably not, as many of us will be competing in or watching local, regional, or other smaller competitions throughout 2016.
But if you're hoping to catch a live view or video of the world's top lifters snatch and clean & jerk their way to glory, below is the list of dates you don't want to miss.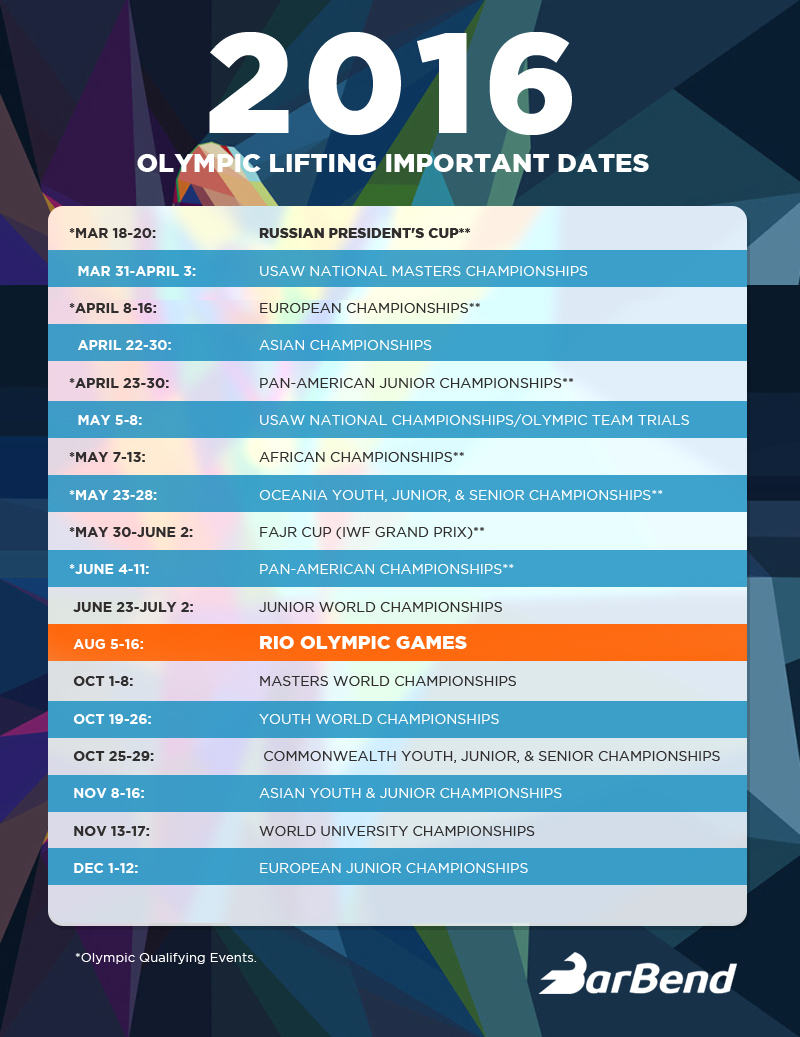 The text version of this list is below, which some nerd told us makes it easier to add these to calendars (whatever, nerd). The highlighted events are qualifiers relevant to the 2016 Rio Olympic Games, and these are the last chances for national teams to earn spots for weightlifting's biggest stage. While we won't see all the worlds' best until August, some of the sport's biggest faces will likely use these competitions as tune-ups for the Olympics, so we're sure to see some pretty good lifting even before Rio.
Worth noting: The United States men still have set to secure a guaranteed spot to Rio 2016, so they've got their work cut out for them at the Pan American Games to earn even one spot.
And if you want listings of events both major and minor on the world stage, check out USA Weightlifting Events Page and the IWF Events Calendar.
Mar 18-20: Russian President's Cup
Mar 31-April 3: USAW National Masters Championships
April 8-16: European Championships
April 22-30: Asian Championships
April 23-30: Pan-American Junior Championships
May 5-8: USAW National Championships/Olympic Team Trials
May 7-13: African Championships
May 23-28: Oceania Youth, Junior, & Senior Championships
May 30-June 2: Fajr Cup (IWF Grand Prix)
June 4-11: Pan-American Championships
June 23-July 2: Junior World Championships
*Aug 5-16: Rio Olympic Games*
Oct 1-8: Masters World Championships
Oct 19-26: Youth World Championships
Oct 25-29: Commonwealth Youth, Junior, & Senior Championships
Nov 8-16: Asian Youth & Junior Championships
Nov 13-17: World University Championships
Dec 1-12: European Junior Championships