On July 29th, the International Weightlifting Federation (IWF), the governing body of Olympic Weightlifting, decided to ban the Russian Weightlifting Federation from having Athletes and Technical Officials participate in the 2016 Rio Olympic Games. 
Based on that decision, the Russian Weightlifting Federation held the Grand Prix "Geraklion" in the suburbs of Moscow. The top 3 male and female athletes based on Sinclair won cash prizes of:
1st: 100,000 RUB (~$1,550)
2nd: 70,000 RUB (~$1,085)
3rd: 40,000 RUB (~$620)
While no official results have been posted online as of this writing, Russia's Fit League posted a video (embedded below) of over 2 hours of the competition. The Fit League is a fitness style competition that includes many of the gyms and CrossFit locations around Moscow, including Dimitri Klokov's Baza Team.
The athletes who were introduced included:
Tima Turieva

Anastasia Romanova

Jana Kondrashova

Tatiana Kashirina

Victor Getts

Artem Okulov

Adam Maligov

Timur Naniev

Alexey Yufkin
After watching the video, the un-official results that I tabulated are as follow: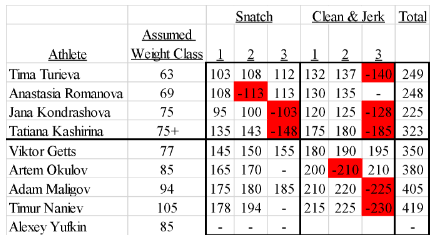 Of note:
Alexey Yufkin was introduced, yet never stepped on the platform in the video. It either was ceremonial or something happened in warm-up and he was not able to compete.

Bodyweights were never shown on screen, and this is assuming everyone was in the weight class they would be in for a significant competition (such as the Olympics) — however, it appears a few lifters may have been a few kilos overweight and did not bother to cut before lifting.
Based on the results of the 63KG session at the 2016 Olympics, Turieva's 249KG total would have won a silver medal behind Deng Wei of China, if all things stayed the same.
Romanova's 248KG total probably would be outside the medal range in Rio, while Kashirina's 323KG would likely lock down the gold medal. My assumption is that none of these athletes really lifted to the best of their abilities due to the emotional toll of being banned from the Olympic Games. (Just my assumption.)
On the men's side, everyone lifted reasonably well. Maligov's 405KG and Naniev's 419KG total total would have won medals at the 2015 World Championships in the 94KG and 105KG categories, respectively.
Noticeably absent from this event were Oleg Chen (69KG) and David Benzhanyan (105KG). On August 1st they submitted a joint letter to the Russian Federation saying they would be ready to fly to Rio to represent their country at the spur of a moment if their appeal was granted.
Top 3 men based on Sinclair Formula were:
1st – Adam  Maligov
2nd – Timur Naniev
3rd – Artem Okulov
Top 3 women based on the Sinclair Formula were:
1st – Tatiana Kashirina
2nd – Tima Turieva
3rd – Anastasia Romanova