The hit reality TV show Survivor, where castaways are marooned on a deserted island to fend for themselves while vying for a million dollar prize competing in a strategic game of lies and deceit, is headed into its 40th season titled Winners at War. Although castaways and season themes are ever changing, Survivor has never failed to showcase feats of strength when the opportunity arises ‒ and there have been many.
One of the most epic feats of strength took place on day 7 of season 2, Survivor: Australian Outback. The challenge titled "Water Torture" pitted Michael Skupin and the Kucha tribe versus Colby Donaldson and the Ogakor tribe. The challenge involved tribe members carrying buckets of water that each weigh approximately 3kg (6.6lbs) each along a balance beam to then place along a wooden barbell resting upon the shoulders of the opposing tribe's strongman ‒ Skupin or Donaldson ‒ who are each standing atop a narrow pillar sticking out from a body of water.
As you watch the clip below, remember that part of playing Survivor involves being severely malnourished and sleep deprived.
According to an interview conducted by Men's Health with Survivor USA's physician, Dr. Adrian Cohen, the average daily caloric intake for a Survivor contestant while competing on the show is under 1,000 calories, the majority of which comes from white rice.
During the challenge, both tribes successfully placed all sixty-six available buckets on the opposing strongman's barbell. Survivor host, Jeff Probst, declared the challenge would come down to which strongman could outlast the other.
"Colby [Donaldson] and Michael [Skupin], you both now have all the buckets. That means you're each now holding over 400lbs of water."
While Skupin's face revealed sheer agony, Donaldson channeled the pain into a smile and said:
"This sucks. This sucks."
After an extended period of time involving each team rooting for their strongman, Skupin's barbell cracks in half! Despite Ogakor's celebrating, Probst called for a no decision since Skupin did not actually concede and had no agency over the barbell breaking. The challenge was ultimately won by Donaldson and the Ogakor tribe after a five minute race to see which tribe could place more buckets on the opposing strongman's barbell.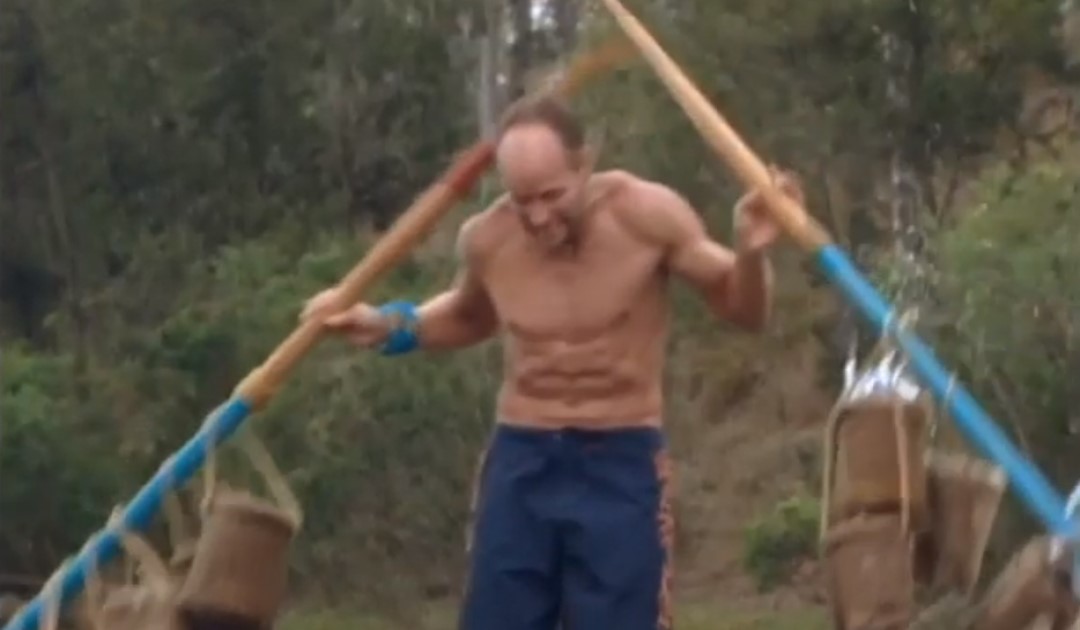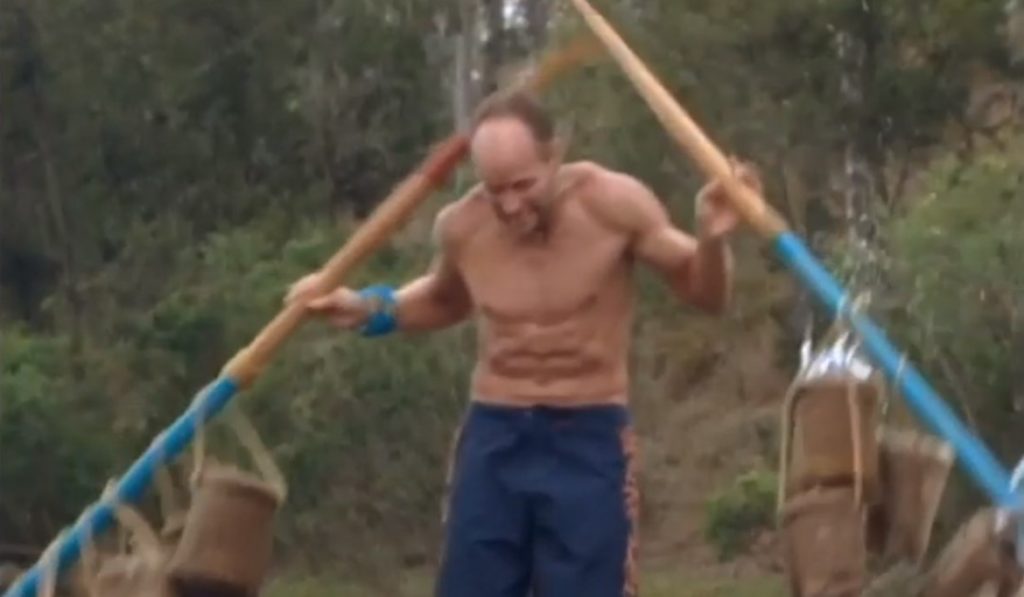 Survivor debuted twenty years ago and thrust colloquialisms such as "the tribe has spoken" and "voted off the island" into the social foray. It was the eighteenth highest rated show for adults aged 18-49 in 2018-2019, according to Variety. For context, Game of Thrones was number one.
3-time Ms. Figure Olympia champion Cydney Gillion competed on season 32, Survivor: Kaôh Rōng.
https://www.instagram.com/p/B5-ZlxoAIy8/
Gillion lasted thirty-seven days and had her torch snuffed after losing a fire making challenge to ultimately earn a fourth place finish.
https://www.instagram.com/p/B6TAb85gKqu/
Season 40 of Survivor: Winners at War features a cast fully comprised of former Survivor winners. You can bet we'll be watching for any new feats of strength the greatest players of all-time might pursue.
FAQs
When was the first episode of Survivor?
The first season, Survivor: Borneo, debuted on May 31, 2000. Richard Hatch won the season to become the first ever "Sole Survivor".
When does Survivor: Winners at War air?
Season 40, Survivor: Winners at War, premieres on February 12, 2020 on CBS at 8:00pm EST. The entire cast is comprised of previous Survivor winners.
Feature image from Survivor Geek YouTube Channel.