When I was growing up in the 1990s, the cracker market was dire: Loaded with white flour, various preservatives and ingredients I still can't pronounce, while others were so structurally sound you could build a house with them.
If you're like me, when you got into your 20s, you realized the crackers you grew up with neither tasted good, nor were healthy. Factor in the rise of more sophisticated evenings sipping wine with friends over a charcuterie platter, and by the time I got into my 30s, I was left with a dilemma on my hands:
What is the best cracker-like vehicle to deliver cheese or prosciutto to our mouths, all the while continuing to adhere to keto guidelines and hit our macros?
First world problem, indeed, but a real one among my girlfriends and me.
So began a long process of experimentation—one that, I believe, has ultimately made me an expert in sourcing the best cracker and crostini substitutes on the market today.
Top 3 substitutes for the sinful crackers we used to eat
1. The high-end cracker market
Maybe you have already discovered it, or maybe it's new to you, but there's a whole high-end, gluten-free, high-fibre cracker market out there that will blow your mind. And will let you hit your macros or stay in ketosis.
If you choose, wisely, that is.
Like the supplement market, you need to be discerning and read the labels, as many of these allegedly healthy crackers still contain sugar, while others are made with one of the various alternative flours that exist today—which aren't much healthier than traditional flour, I would argue. And more often than not, these crackers still contain ingredients you have never heard of and probably don't want to put in your body.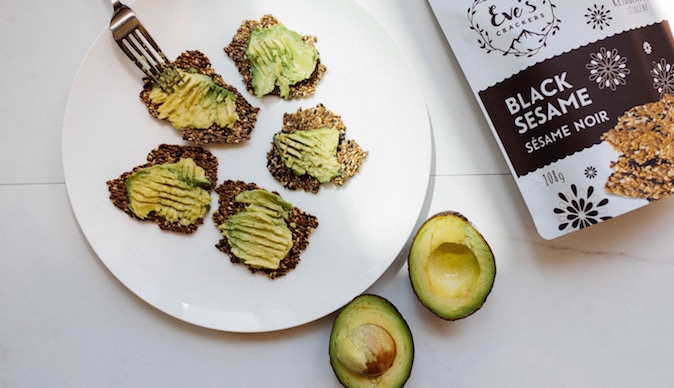 While there are various quality options for healthier crackers today, the winner for me is, hands down, Eve's Crackers
Eve's Crackers are keto-friendly, plant-based and gluten free and their ingredients are simple: flaxseeds, chia seeds, white sesame, black sesame, Braggs Liquid Aminos and psyllium husk.
Psyllium husk?
Relax, it's simply a type of water soluble fibre that's able to pass through your digestive system without being completely broken down or absorbed. As a result, it becomes a viscous compound that helps reduce constipation, diarrhea, blood pressure, cholesterol and is also believed to help with weight loss.
In terms of nutrition, one quarter of a bag (25 g) of Eve's Black Sesame Crackers has:
0 grams of sugar
4 grams of fibre
3 grams of protein
6 grams of fat
4 grams of carbohydrates (but because of the 4 grams of fibre, essentially it means 0 net carbs).
And take it from me—a self-proclaimed charcuterie vehicle expert—they are damn good!
2. The Daikon Radish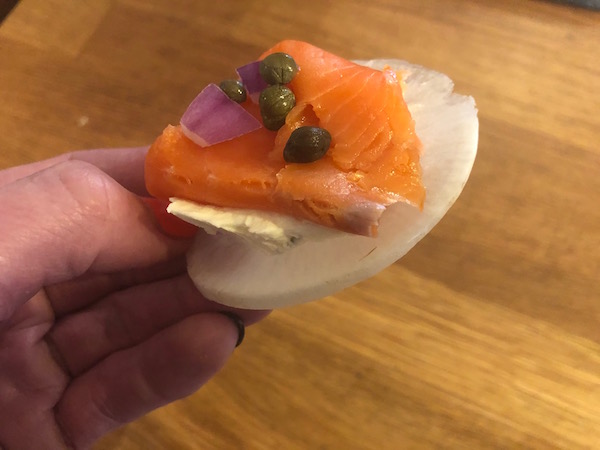 OK, so it's not a cracker, but this radish, native to China and Japan (but can be found at most grocery stores in North America) is a useful addition to charcuterie boards, as it provides a crunchy and almost juicy kick—kind of like celery, but with a bit of a spicy edge to it.
And daikon is not going to cause you to overshoot your carbs: You'd have to eat an entire pound of daikon to get 18 grams of carbs.
Further, it's high in vitamin C and Vitamin B9 (folate), as well as magnesium and potassium.
If you're ready to take an uncharacteristic step and place some daikon on your charcuterie board, here are two keys to take to heart:
Key #1: Slice finely
I'm talking super thin—with a mandolin is by far the easiest—or else the radish flavour will take over, and it's the stable vehicle and crunch you're after more than anything.
Key #2: Select your daikon toppings wisely
Sharper cheeses, prosciutto or salamis don't go so well with daikon, but what is super delicious is smoked salmon or smoked oysters with cream cheese on a daikon round topped with capers and red onion.
Or replace the cream cheese with goat cheese if you're one of many people who finds goat cheese easier on your digestive system than cow's milk cheese.
3. Homemade crackers
While we're not all Suzy Homemakers, if you're feeling momentarily culinarily brave, give these homemade crackers a try. They're not Eve's Crackers, but they're pretty good nonetheless.
Ingredients:
1 cup almond flour
3 Tbsp. water
2 Tbsp flaxseeds (whole or ground)
2 Tbsp. sesame seeds
2 Tbsp. coconut oil or olive oil
½ Tsp. Fine sea salt
½ Tsp. Black pepper
½ tsp. Paprika
Flaked sea salt (to dust on top if desired)
Directions:
Put all of the ingredients, except the flaked sea salt, into a bowl and mix together until it becomes a dough. If it's too stiff, add another tsp. of water, and if it doesn't seem stiff enough to roll, add a bit more almond flour.
Place the dough on parchment paper and cover with a second piece of parchment. Then roll it out between the pieces of parchment paper. Aim to get it to be just ⅛ of an inch thick.
Remove the top sheet of parchment and sprinkle the sea salt over the dough. (I also grind some more black pepper on top).
Cut the dough into small squares (use a pizza wheel if you have one).
Bake the crackers for 20-25 minutes or until the crackers are golden brown.
Editor's note: This article is an op-ed. The views expressed herein and in the video are the author's and don't necessarily reflect the views of BarBend. Claims, assertions, opinions, and quotes have been sourced exclusively by the author.