File this under awesome things we wish we'd bought back in the 1990s (then kept around to show off today). Russian weightlifter Timur Ovchinnikov recently posted on Instagram about a Reebok "Instapump" weightlifting belt he's trying to sell — and it appears to date all the way back to 1997. The collaboration between Reebok and belt manufacturer Cardillo was actually developed in 1992 (personally designed by Steve Cardillo), but production has been halted for awhile, and it's a rarity to see one still floating around in fighting (okay, lifting) form.
Check it out below. This is a belt you strapped on, tightened with a single prong, and then "pumped" until it had your preferred amount of tightness around — at least, that's the idea, as we're not sure exactly how much the pump factor would affect things more than tightening by another belt hole. We guess it's those "in-between" levels where it may have been most beneficial?
Translated from Russian via Google Translate (so a bit rough):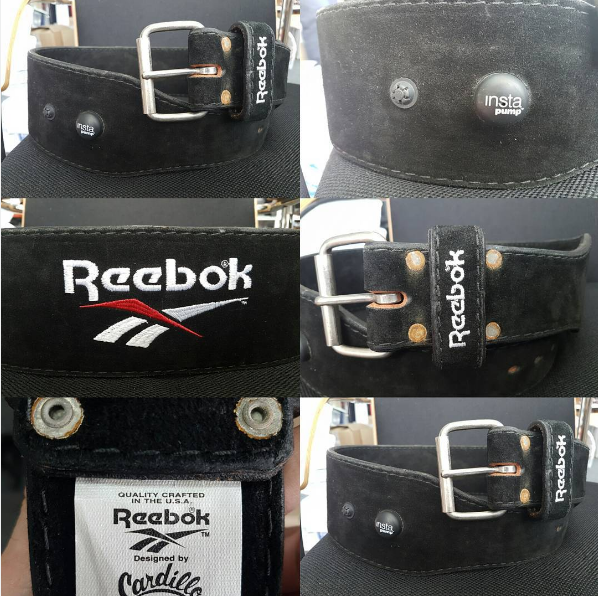 Vintage! Exclusive! Only the judge will understand! Belt for weightlifting #reebok with technology #pump . These belts weightlifter gave more in 1997! Skin is soft, the back holds great! In the presence of only one copy of the XXL size. Made in USA !!! Price $ 300
Remember, these were made back in the days when Reebok was focusing heavily on the fitness market, pre-CrossFit and when pastel spandex was still all the rage.
We don't know too much about the seller Ovchinnikov, but from his Instagram presence, it seems he's known to hang out with Russian weightlifting stars like Dmitry Lapikov and Alexander Ivanov.
How much would you slap down for a piece of vintage weightlifting history? Did you ever get to try one of these weightlifting belts? Let us know in the comments below!
Image: @teemosha on Instagram