CrossFit Trainer Jeff Yan is no newcomer to fitness, and he's been a part of NYC's functional fitness scene for going on ten years. Around a year ago, Yan — who trains out of CrossFit Concrete Jungle — decided to start tackling as many Hero WODs as possible.
As listed on CrossFit's FAQ, Hero WODs are workouts named in honor of service men and women — mostly military and first responders — who gave their lives in the line of duty. The workouts are famed for tending to be particularly long, heavy, or otherwise taxing, and some — like "Murph" — have become fitness rites of passage in and of themselves.
Yan's not the first to start working his way down the list of all Hero WODs — which number into the hundreds — but he's the first we've talked to who has completed them all. We caught up with Yan to talk about the journey, his changing motivation, and how focusing on Hero WODs as his primary workouts has impacted his fitness.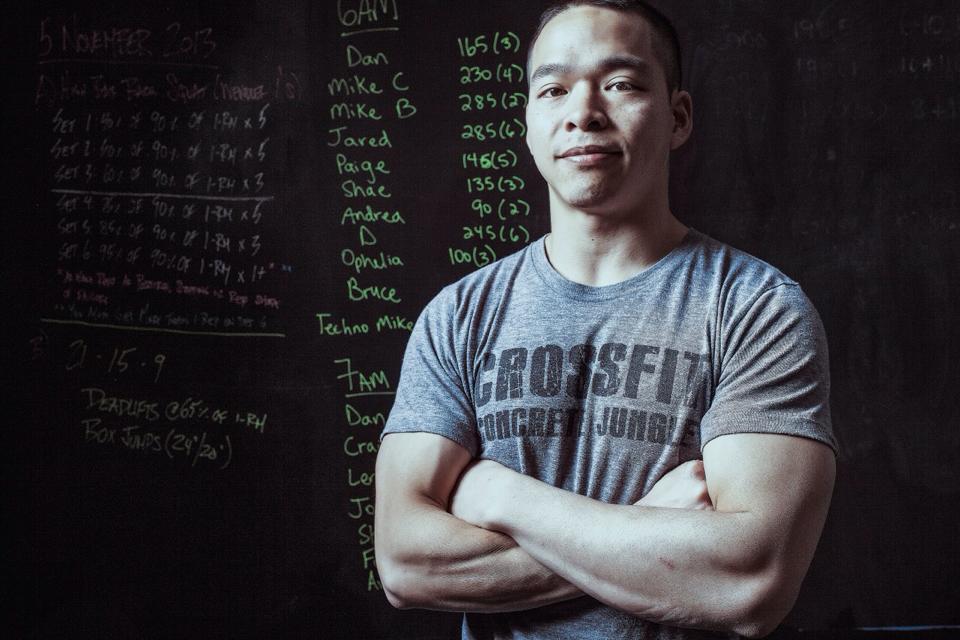 1. Tell us a little bit about what you're doing?
Update: Parts of this interview were conducted before Yan completed all the Hero WODs.
I'm trying to complete as many hero WODs as possible, as close to RX as possible. If I can do them all, great, but I'm aware that I might not, due to limitations in my strength, available equipment, or injury. I'm also hoping to finish them as soon as possible too, but I didn't set any hard time frame because I wanted this to be a journey, not an obsession.
I ended up finding and contacting a couple of other CrossFitters who had also done all or most of the hero WODs. Since I was already finishing these WODs on a near-daily basis, I decided that that was how I was going to differentiate my endeavor.
2. What inspired you to do this?
When I first started doing CrossFit around 10 years ago, because it was comparably underground, it attracted the most highly motivated fitness enthusiasts who actively sought to separate themselves from what the mainstream was doing. Nowadays, CrossFit's popularity has skyrocketed to the point where it seems like everyone and their grandmothers are doing it, thereby raising the bar for casual fitness. Checking off these hero WODs has been a way for me to return to my CrossFit roots while staying connected to the ever-growing and ever-evolving community.
Of course, inspiration is also drawn from the namesakes themselves. Admittedly, at the beginning, for me it wasn't about the heroes at all, but when you do enough of these workouts, you can't forget the fact that they're more than just a collection of movements. Each of these WODs is a commemoration to a life cut short while in the service of others. Their stories are worth learning, remembering, and honoring, and they enrich the experience.
Short answer: I originally only planned to do one Hero WOD on a whim, and it just escalated from there.
3. Which have you done so far? Which ones do you have yet to do that you'd like to tackle?
This is the order in which I did them:
Morrison, Small, DG, Crain, Pike, Dobogai, Foo, Sham, Hammer, Carse, Meadows, Justin, Stephen, Klepto, Pheezy, Gator, Santora, Cameron, Barraza, Paul, Zimmerman, Zeus, Lee, Garrett, Adambrown, Moore, Matt16, Del, War Frank, Luke, Donny, Terry, T.U.P., JBo, Jorge, McGhee, Gallant, Wittman, Weaver, Nick, Desforges, Omar, Wilmot, Falkel, Marco, Tumilson, J.J., Bradley, Rankel, Forrest, Jack, Taylor, Spehar, TK, Abbate, Helton, Brenton, Sisson, Bull, Weston, Nutts, Hortman, The Don, Collin, Coe, Thompson, Ship, Whitten, Woehlke, Jerry, Ned, Bradshaw, Luce, Ozzy, Bruck, Kevin, Riley, Ralph, Murph, Smykowski, Walsh, McCluskey, Bowen, Hidalgo, Severin, Zembiec, Gaza, Coffey, Harper, Strange, Clovis, Servais, Manion, Jag 28, Tom, Hildy, Shawn, Arnie, Glen, Bulger, Johnson, Moon, Capoot, Santiago, Jenny, Kutschbach, Roy, RJ, Wood, White, Loredo, Hamilton, Feeks, Blake, Maupin, Bell, Roney, Jared, Dragon, René, Brian, Hotshots 19, T.J., Schmalls, Jennifer, Alexander, Sean, Ricky, Brehm, Dae Han, PK, Horton, Badger, Daniel, Lumberjack 20, Holbrook, Hansen, Jason, Tommy V, Scooter, Mr. Joshua, Joshie, Josh, Randy, Danny, DT, Michael, Hall, Griff, Erin, Nate, Holleyman, Ryan, Rahoi, Willy, Robbie, Tyler, Adrian, Ledesma, J.T., Big Sexy, Nukes, Wyk, Monti, Tully, Rocket, The Seven
4. Of the Hero WOD's you've done, which has been the:
Hardest?
"Ship" and "Walsh" were challenging for me. The heaviest ones were indeed the hardest.

Easiest?
"Griff" would probably be the most obvious answer. "J.T." plays well to my body type and strengths.
Most surprising?
Since I usually use the false grip and because I set the rings 6″ above my reach, the weighted burpee muscle ups in "Taylor" were a bit of a shock. "Thompson" was still worse though.

5. How do you think doing all these Hero WODs has impacted your overall fitness?
I haven't taken any measurements, so this would be purely subjective and based off my feelings. Working at lower intensity and higher volume has probably been restorative, allowing more time for some of my nagging training injuries to gradually heal up. Unfortunately, it's come at a cost to my maximal lifting and power, since I've had less time for dedicated strength work. From a body composition standpoint, I've stripped body fat and increased definition, according to comments from colleagues who have had to endure me being shirtless at the box.
Also, I'm better at climbing rope.
6. What advice would you give to someone hoping to accomplish the same?
Be flexible, and not just in the obvious sense. Along the way, you're going to come across self-doubt masquerading as an obstacle that makes you question how you'll be able to complete a workout. No matter what the problem is, it is surmountable. If you don't have the solution, that's because it's somewhere you haven't looked yet.