If you're looking to qualify for the 2017 USA Weightlifting Senior Nationals, make sure to double check qualifying totals, because some of the numbers have changed. According to the recently released USAW minutes, senior men will be required to lift an average of 5.57 kilos more than they needed to in 2016 in order to qualify for the 2017 Nationals. On the high end, the 85kg lifters will have to improve by 8 kilos while the 62kg lifters will only have to up their game by 3 kilos. Only the 105+kg lifters totals remain the same, at 310 kilos.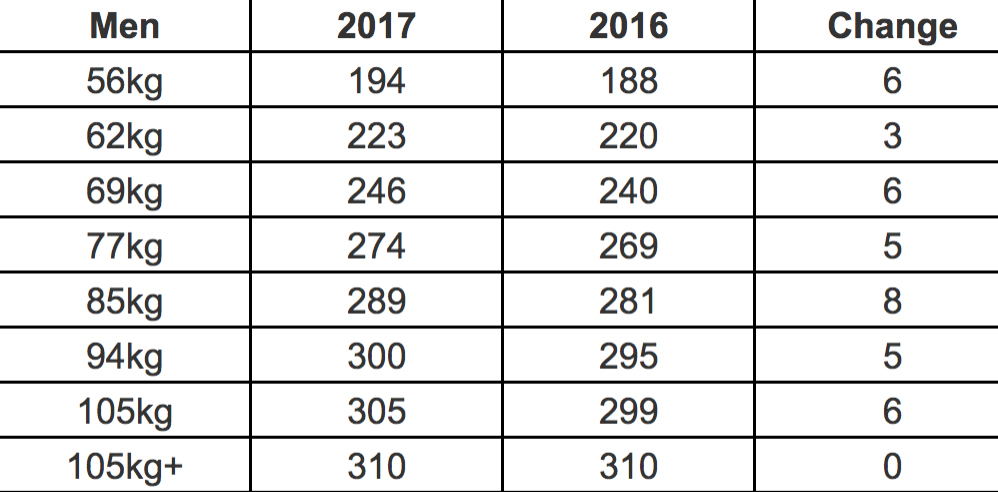 The women, on the other hand, aren't seeing an increase in their qualifying totals. Most of the totals remain the same as 2016. Only the women's 75kg and 75+kg actually change, with their qualifying totals decreasing by 1 kilo and 11 kilos respectively.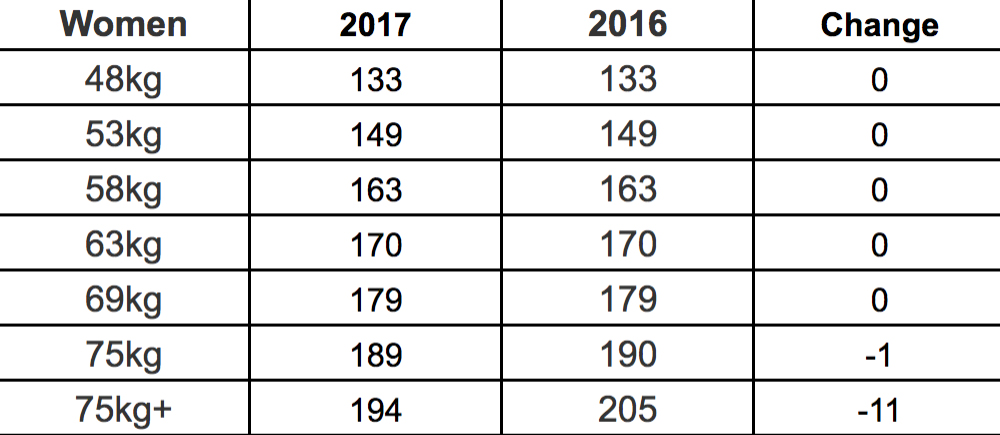 The committee's decision to raise and lower the qualifying totals most likely has less to do with the field getting stronger and more to to with logistics and crowd control. Weightlifting's increased popularity means more competitors, and more competitors means more complications. Adjusting the qualifying totals allows for a well run competition. 
Furthermore, altering individual weight class totals (as opposed to an identical bump in weight across each weight class) helps to balance out the number of competitors in each weight class. According to BarBend contributor Mike Graber — consulted with for this article — the committee likely has an ideal number of athletes allocated per weight class to make things run smoothly. He says the competition committee will "make an assumption on what the qualifying totals should be to make that quota. You don't want 100 men lifting at 85kg and only 3 men lifting at 56kg."
Graber adds that not adjusting the women's totals likely means the committee "must feel they are happy with the woman's turnout."
Find the full breakdown of 2017 USAW qualifying totals, including youth qualifying totals, in the July 8, 2016 USAW minutes posted on Team USA's website.