The 2016 CrossFit Regionals have included plenty of surprises, including sure-thing veterans missing out on qualification and fresh faces proving more than capable enough to take their spots. If you tuned into the Pacific Regional a few weeks ago, chances are Zeke Grove was a first-time qualifier who turned your head more than once.
Along with fellow Australian Games newcomer Maddie Sturt, Grove was one of our sleeper picks for the Pacific Regional (spoiler: we nailed it). In addition to their status as CrossFit Games rookies, Grove and Sturt also share a coach: Darren Coughlan, a former pro rugby player, founder of CrossFit Newcastle, and BarBend contributor who's also coached multi-sport athlete Pip Malone to the Games on two occasions.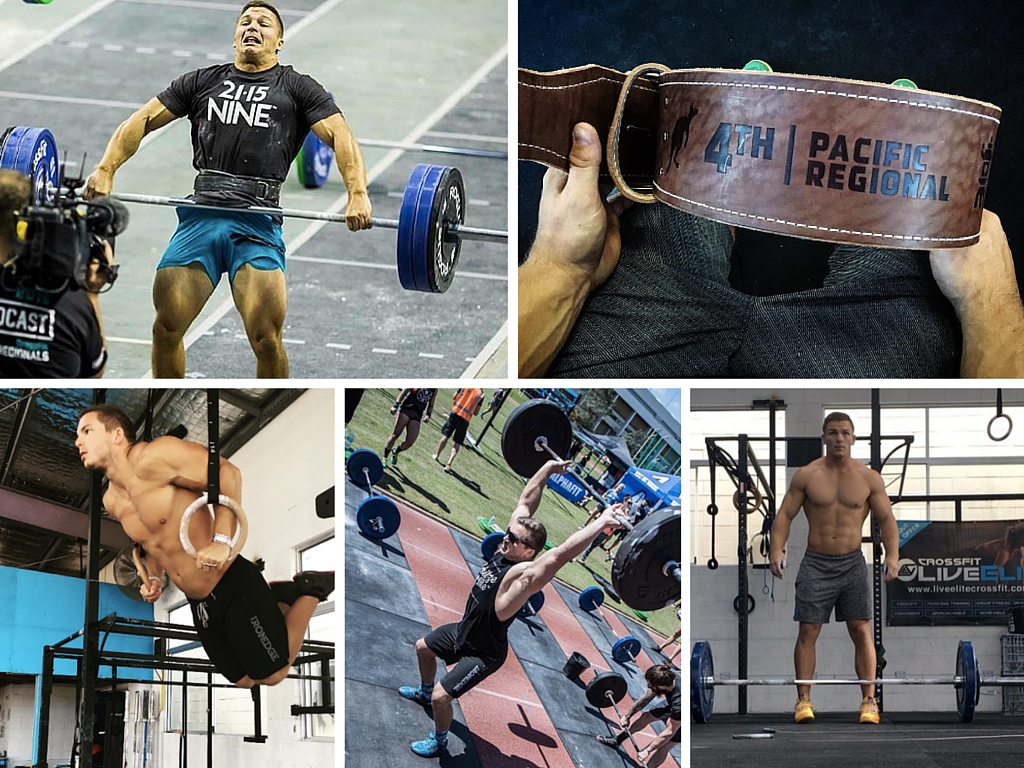 Grove, 24, wasn't a newcomer to Regional competition, finishing 12th in 2015 and 7th in 2014. But this year, he looked like a completely different athlete, handling every Dave Castro-programmed challenge on his way to completing all Events under the time cap — the only Pacific male to do so. Yes, Grove still has polishing to do on some some movements, but even for a lighter athlete, there aren't many glaring holes in his fitness.
I caught up with Grove to talk about his Regionals experience, expectations for the Games, and how he and Coughlan have worked together to go from squeaking out of the Open to Games qualification in two years.
Tao: Tell me about your athletic background. What sports did you play before CrossFit?
Zeke: I played lots of sports when I was younger, anything from golf to cricket to rugby league, and swimming. I eventually put all my efforts into rugby league and golf after a while.
I started CrossFitting in 2013, so about three years now.
So you're still pretty new compared to some athletes.
Yep. I actually started CrossFitting on the Gold Coast. I got in contact with Darren Coughlan, my coach, after my first Regionals. That's been about two years with him, and I go to his box [CrossFit Newcastle] a few times a year and do about a week training camp when I go. We do a lot of training over Skype in between those trips.
Do you send him videos of your lifts and training pretty regularly?
Oh yeah, all the time! We have a chat every day about what's going on with the programming and what I'm doing with my lifting, how I'm feeling. It's pretty close to being at Newcastle without actually being there, we talk so regularly.
What's Darren been like as a coach? A lot of people are curious how he got two young athletes to the CrossFit Games out of a stacked Region.
He suits me, especially given my rugby league background. You get used to a lot of hard-asses, a lot of old school trainers. Darren's training style reflects that, it's a lot of straightforward hard work. Darren has a rugby union background, he was a professional for a long time, and there are a lot of similarities between that sport and rugby league. One of the hashtags he's always putting up is #BHW, which just means "Bloody Hard Work."
He's a bit of a hard ass, but that's exactly how I like it. There's never anything left out; if you're slacking off or being lazy or half-assing it, he'll let you know. And that's exactly what you want in a coach, especially in something as competitive as what CrossFit has become.
What were some of the weaknesses you first started attacking when you met Darren?
I think everything! I made my first Regionals, and I juuuust made it. I was around 50th, and a few people pulled out, so I got in. I was very new to CrossFit, so as a whole we began working on everything. For me, I thought I struggled with my midline and posterior chain, they were both very weak and needed a lot of work to strengthen up. So we worked really, really hard on that, and lifting technique as well. I was self-taught, a lot of my lifting was put together from coaches here and there. But having a pro look at me and give honest feedback regularly made the difference.
What are your current Olympic lift maxes?
Probably my snatch is the biggest that's improved, and that's just come from heavy technique work, I'm still working on it every day. My Olympic lifting isn't my strength, I'm more of a gymnastics kind of guy being a lot shorter.
My snatch has gone up a lot. In my first Regionals, I hang snatched 225 pounds, and this year I finished the snatch ladder at 265 pounds, so it's gone up significantly. My personal record is 123 kilos [~271 pounds], so the snatch ladder was basically hitting my PR for two.
Gymnastics are a strength, you seemed to excel on bodyweight movements in Regionals. Which workout gave you the most trouble at Regionals, and did that surprise you?
Traditionally, I struggle with movements like GHDs. Last year, they absolutely destroyed me, and that was basically from not having one in the gym. I didn't do a lot of GHD sit-ups, and I avoided it. The heavy deadlifts, I don't mind them, but coupled with the GHDs it scared me a little bit.
To be honest I was happy to just complete Event 5. I finished it in training, but training is always different from when you get out on the big stage. There are different variables, how you're feeling after the first day as well. I was pretty cooked after Day 1.
I was worried, but confident I could get through it, and I just got there.
You were the only male to finish all the workouts in the Pacific, so it clearly worked out okay. Now that you're prepping for the CrossFit Games, have you talked to any other Games athletes about their experiences or tips leading up to it?
I've spoken a lot to Pip Malone, she's another of Darren's athletes who made the Games in 2013 and 2014. Darren has been working with her for a number of years, and now she's focusing on Olympic lifting. I'll be having a few more conversations leading up to July I'm sure.
I'm planning another trip to Newcastle right now to work some weaknesses and attack some areas I know I struggle with. So it'll be good to catch up with Pip and talk about the whole experience from her perspective.
Have you been to California before?
No, I've never been to America! It's a first for everything.
We're not all bad, I promise.
Haha! I'm looking forward to it, I'm excited and I've heard some pretty good things about the States. As well as the Games, I'm pretty pumped to get over there and see what it's like.
Did anything shock you at Regionals about your performance?
I won't say anything shocked me, but I was really happy to see the strict muscle-ups. I think it's awesome. A lot of people go away from CrossFit progressions, and everyone wants to do the fun stuff — kipping muscle-ups, butterfly pull-ups — without building the fundamental strength first. So to see that at a high level, I think that's awesome. It showcases the people who actually work on it and the people who avoid it.
It flows down into regular CrossFit gyms. You see guys at a high level doing that, and you think, "Holy shit, I can't skip steps any more, because even the best have to do it." I think they're raising the standard, but they're also going back to basics.
How'd you feel the Monday after Regionals? How'd your body hold up?
To be honest, I didn't really care how my body felt, I was still on cloud nine. It was unbelievable.
We had a few beers on Sunday night, it's a big event after Pacific Regionals and everyone gets involved. It was pretty cool to have some beers with all the competitors and then a bunch of fans who were there, who basically stayed through the entire weekend to watch and celebrate.
Anything you think we'll see at the Games we haven't seen before? What's the peg board of 2016?
I honestly have no idea what to expect. But whatever comes up, I'll have a fair crack at it, hopefully Daz [Darren] gets me prepared for everything. I'm not too worried about what's going to be there. I'm going to enjoy the experience and hopefully do well.
Are you training full time right now or balancing a job? What's your life outside of CrossFit?
I co-own a gym on the Gold Coast, CrossFit Live Elite. I'm coaching about 16 hours a week at the moment, and I do a lot of programming for the gym. We have a little competition squad, and I work with them quite a bit. It allows me to train when I need to and focus on my goals. I have two business partners, so through Regionals and now with the Games, those guys are going to be stepping up big time, and I'm really appreciative of that.
Any family or friends heading to California to watch you in July?

At the moment, I'm not too sure. Everyone's pretty excited and talking about going, I'm sure I'll have a few folks over there. My wife's coming over, and her parents are thinking of coming as well, so that's a good start. There are a heap of guys at the gym looking for an excuse for a holiday, so that'd probably be as good as any.
Who are you looking forward to meeting at the Games? Any CrossFit idols you look up to?
Josh Bridges. He's the man. Ever since I've started, I've looked up to him. He's a similar size and has similar strengths to me.
One of Darren's big points is to be a student of the game. Looking at Bridges, how he presents himself in terms of media, and then out on the playing field, he's a bit of a legend. Definitely looking forward to meeting him, I think most people would agree with me as well.
Think he'll keep the mustache for the Games?
I dig it, I'm a big fan!
He looks like a Conquistador.
I love it, I wish I could grow one.
What's your training schedule look like now? Volume, number of training sessions per week?
To be fair, I'm not sure just yet, I know I need to work on both swimming and running. They're not weaknesses, but I haven't done a whole lot of them recently. I had a bit of a back issue leading into the Open and actually from late 2015. So every time I tried to do a bit of running, it flared up my back. I stayed away from it, but now that it's feeling pretty good, I need to get back into it and incorporate more into my training.
Something I know Americans always ask is, "What's different about CrossFit Australia? How are they so good?" For the size of Australia's population, you guys produce a lot of great CrossFit athletes.
Good question! I can't really comment on others, but growing up, I basically played every sport there was to play. I know having a rugby league background, and competing on a team, you're always competing against each other and trying to make each other better.
A lot of the training we did was pretty brutal. Before CrossFit, I think I was super, super fit to start with, which helped me progress quickly in CrossFit. Having those backgrounds in those types of sports definitely helped. I know Ricky Garrard, who just missed out on qualifying this year, he's got a rugby league background as well. Ricky has a massive, massive engine, and having that rugby league background built a lot of that.
In rugby league, you're doing a lot of interval-style conditioning, correct?
Exactly, and it's brutal. When you get out there, there's a war. I love the NFL, but you've got no pads in rugby league, it's full contact and it can be rough. And you learn quite a bit from that.