At BarBend, we're big fans of videos of strength athletes crushing PRs and pulling heavy lifts at an older age. (Some of our favorites include Fred Rice deadlifting 520 pounds on his 72nd birthday and Janis McBee taking up Olympic weightlifting in her late 70s.)
But it's not often that we're treated to a documentary about senior lifters that's as high quality as Iron Grandpa, the excellent short film about Finnish powerlifter Esko Ketola.
The documentary, which was produced by Al Jazeera and the Finnish media company Matto Media, follows the 70-year-old Ketola as he trains to compete in the 2014 Global Powerlifting Committee World Championships in Argentina.
It's a complex story. Not only does Ketola have to contend with his history of injuries (in particular, a ruptured joint capsule in his hip), he also has to grapple with his checkered history of steroid usage. Ketola failed doping tests in 1992 and 1995 and received a lifetime ban from international competition. He is now only able to compete in untested federations, which is why he flies to Argentina to win the GPC's 67.5kg division. Check out the trailer below.
The full film can be watched right here.
"I've talked a lot about winning five world championships," says Ketola. "I need one more to be a man of my word. That's why i'm going to Argentina for the World Championship. Only the weak give up."
The film overall is a great meditation on the sport of powerlifting, and Ketola — though he experiences the occasional moments of cantankerousness — is a wise soul who shares lifting philosophy from the perspective of a septuagenarian.
You have to be strong overall, just as strong from head to toe. Legs for squats, arms for bench, back for deadlift. (…) It's a test for the whole body. If competitors are equally strong, the one with the strongest willpower wins. Luckily, all I have in my head is incredible willpower.
Ketola's goal is to deadlift 190kg (419 pounds), and along the way he experiences a troublesome weight cut, and a lot nailbiting failed lifts. The final competition lifts, even for audiences unfamiliar with the sport, are seriously suspenseful.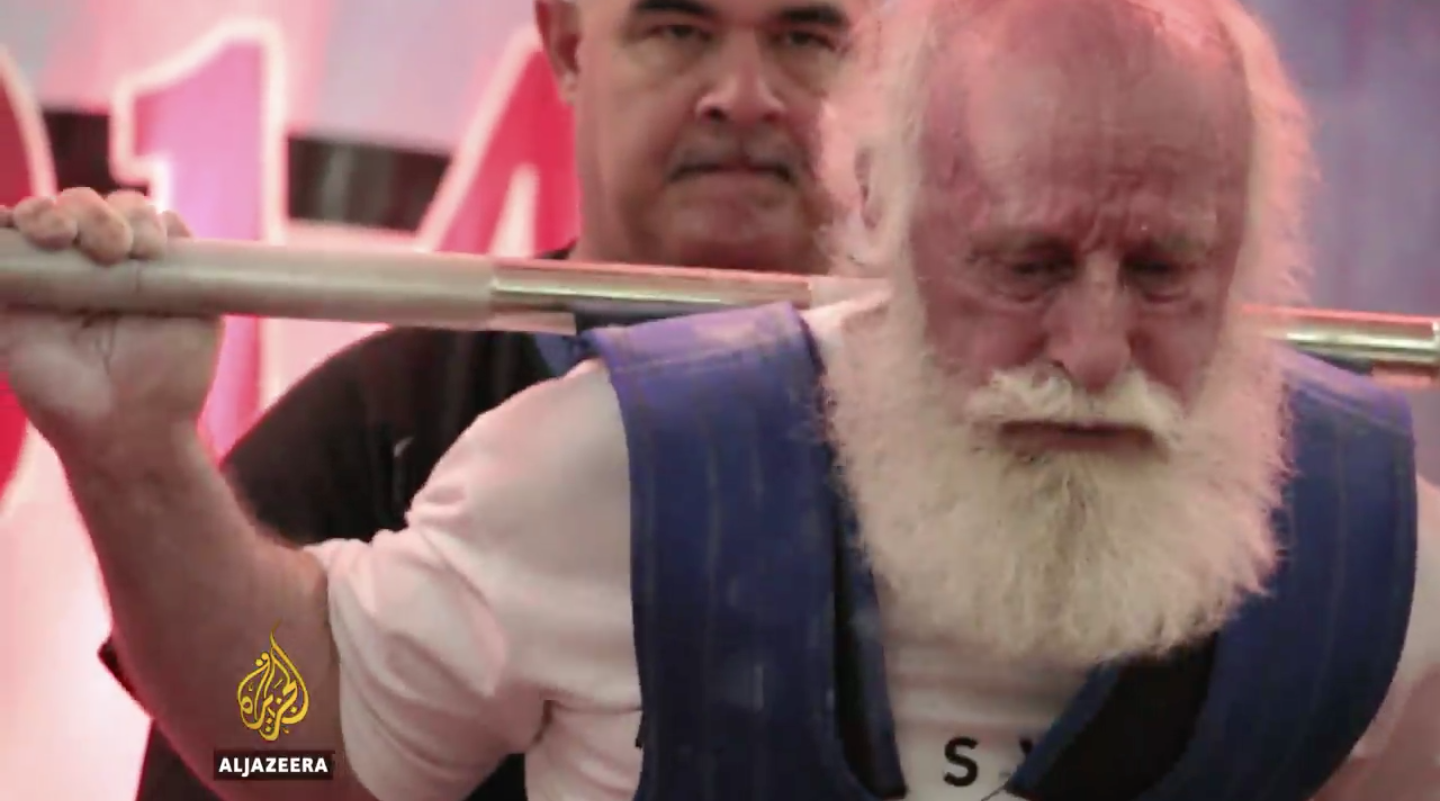 Image via Al Jazeera on Facebook.
We won't reveal whether or not he achieves his goal, but the film closes with Ketola joyfully describing his doctor's anger at his decision to continue lifting, despite requiring surgery on his hip.
"You should've seen (his) face," he smiles. "I'll train to become the strongest in the world in my category. Then we'll go again."
Featured image via Al Jazeera on Facebook.