Li Wenwen is a world-class weightlifter. So much so that on Dec. 15, 2022, she handily outdid every other +87-kilogram woman in the world at the 2022 International Weightlifting Federation's (IWF) World Weightlifting Championships (WWC) in Bogotá, Colombia.
In addition to winning her second World title in three years' time, Wenwen also put some truly absurd numbers in the competition's training hall. One of her more significant training lifts included a 220-kilogram, or 485 pound, triple in the back squat. The video was recorded by 2012 Olympic Champion Oleksiy Torokhtiy, who was on-site in Colombia to capture some of the sport's best in action:
[Related: American Weightlifter Mattie Rogers Wins Three Silver Medals at World Championships]
Wenwen performed her set of high-bar squats without the assistance of a lifting belt or knee sleeves, though she was wearing heeled lifting shoes at the time.
Torokhtiy did not specify when exactly he captured Wenwen hitting this massive squat triple in the training hall. Wenwen likely performed it in the days leading up to her appearance on the competition platform.
During the +87-kilogram Group A session, Wenwen lifted 141 kilograms (310.8 pounds) in the snatch and clean & jerked 170 kilograms (374.7 pounds). Her 311-kilogram cumulative Total beat the runner-up by a margin of 24 kilograms.
Women's +87-Kilogram Podium | 2022 World Weightlifting Championships
Li Wenwen (CHN) — 311 (141/170)
Emily Jade Campbell (GBR) — 287 (122/165)
Duangaksorn Chaidee (THA) — 286 (126/160)
In Context
Competitive Olympic lifters aren't judged on their strength in the back (or front) squat; the exercise is, however, a commonplace accessory movement. Weightlifters will often back squat quite heavily in close proximity to their competitive appearances as a way of maintaining their leg strength before the big day.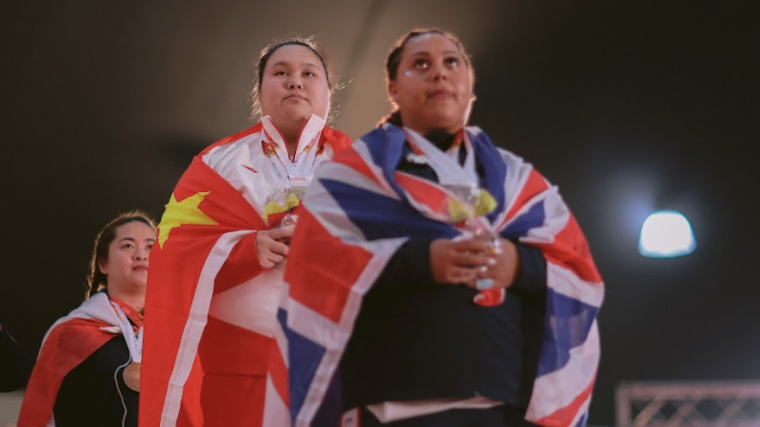 As the weights on Wenwen's barbell in competition are much lighter than what she can squat, the small amount of fatigue accumulated from pre-competition squatting is generally considered a tolerable consequence in exchange for maintaining a significant strength reserve.
What About Powerlifting?
A 220-kilogram back squat is massive for any strength athlete. For super-heavyweight Olympic-lifting women, it's an elite performance in an accessory exercise. However, does Wenwen's 220-kilogram triple stack up to the best powerlifters in the world?
According to the International Powerlifting Federation's records, the women's Open Classic World Record in the squat in the +84-kilogram category is 273.5 kilograms. That lift was set by American Bonica Brown in June of 2022 at the IPF World Classic Championships in Sun City, South Africa. So, are the two lifts comparable?
BarBend's 1-rep-max calculator can generate a rough estimate of Wenwen's 1-rep-max squat:
One Rep Max Calculator
Weight Lifted
Reps Performed
A 220-kilogram three-rep max in the back squat would indicate that Li Wenwen has a max back squat of about 235 kilograms. Note, though, that calculators often return conservative predictions; some athletes are better at single-rep sets than rep-maxes. Regardless, Wenwen falls nearly 40 kilos behind Brown in absolute strength.
Still, Wenwen clearly has a surplus of leg strength that rivals the best powerlifters in the world — she as a weightlifter also squats with a high bar position, which tends to be a weaker squat style than the low bar technique employed by competitive powerlifters.
World-Class Squatting
The 2022 IWF World Weightlifting Championships ran from Dec. 5 to 16 in Colombia, showcasing the best of the sport for the world to see. However, plenty of action happens behind the scenes in the athletes' training hall. Make no mistake; it's a safe bet that Wenwen had more in the tank. Still, watching an elite strength athlete squat with such speed and ferocity is always worth seeing.
Featured Image: /u/TOROKHTIY on Reddit