Mattie Rogers sets records. Her latest came on Dec. 13, 2022, when she competed at the International Weightlifting Federation's (IWF) World Weightlifting Championships (WWC) in Bogotá, Colombia.
During the Women's 76-kilogram Group A session, Rogers won silver medals across the board. She snatched 109 kilograms (240.3 pounds) and jerked 138 kilograms (304.2) for a 247-kilogram Total.
In addition to putting Team USA on the podium at the highest levels of competitive weightlifting yet again, veteran Rogers also broke a longstanding record: She's the only modern American weightlifter to have won a medal at five consecutive World Championships.
[Related: Weightlifter Li Fabin Sets New Clean & Jerk World Record With 175-Kilogram Lift]
Rogers, 27, has consistently cultivated a medal-winning pedigree since she first competed at the World level back in 2015. Since then, Rogers has won more international medals than any currently-active weightlifter on Team USA.
Her silver snatch medal in the first half of the session in Bogotá marked her fifth consecutive World Championships medal, in addition to:
Note: No WWC event was held in 2020 as it was originally slated to host the Tokyo Olympic Games. The IWF does not conduct Senior World Championships during Olympic years.
2022 World Weightlifting Championships | Women's 76-Kilogram Results
After a fiery battle in the 71-kilogram class the day prior, the women in the 76s followed suit with equally-impressive lifting. It was the only session thus far at the 2022 WWC where every Group A lifter successfully made their opening snatch attempt.
The 76-kilogram category may not be recognized as a valid class for the upcoming 2024 Olympics in Paris, but many of the world's best weightlifters in that category have yet to make a bodyweight adjustment should they wish to qualify for the Games.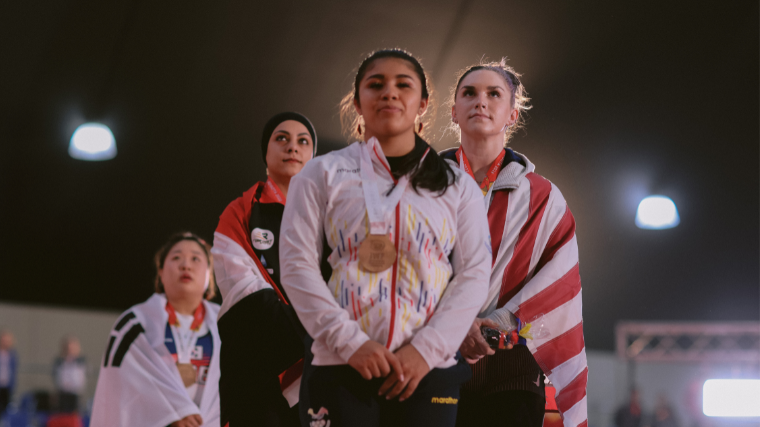 Here's how the 76-kilogram podium looked once the chalk had settled on the weightlifting platform:
Women's 76-Kilogram Podium
Sara Samir Ahmed (EGY) — 261 (113/148)
Mattie Rogers (USA) — 247 (109/138)
Kim Suhyeon (KOR) — 245 (108/137)
Note: The notation above refers to the athlete's best Total, bolded. Their best individual snatch and jerk are parenthesized.
Name a More Iconic Duo
…Than Mattie Rogers and weightlifting records. Her exceptional performance (coached by Aimee Anaya Everett of Catalyst Athletics) at the 2022 WWC speaks to her dedication to her craft both on and off the competition platform.
The World Weightlifting Championships may be winding down, but there's still plenty more great lifting to see if you grab a ticket to the Weightlifting House live stream on their website. The 2022 WWC runs from Dec. 5 to Dec. 16, 2022, in Bogotá, Colombia.
Featured Image: William Johnson / BarbellStories