Li Fabin has gotta catch 'em all. The 61-kilogram Chinese weightlifter wept, for he has no worlds left to conquer after setting a new World Record in the clean & jerk at the International Weightlifting Federation's (IWF) 2022 World Weightlifting Championships (WWC).
After winning a gold medal in the snatch portion of the competition, Fabin capped off the Men's 61-kilogram A-Group by clean & jerking 175 kilograms or 385.8 pounds for a new Senior World Record.
Fabin now owns all three records in the 61-kilogram class. Check it out:
[Related: Weightlifter Hayley Reichardt Wins Bronze Medal Clean & Jerk for Team USA at 2022 World Championships]
Fabin confirmed his standing as one of China's most consistent competitors with his performance in Bogotá, Colombia, where the 2022 WWC is being held.
Entering the competition with the World Record snatch (145 kilograms) and Total (318 kilograms), both set during the 2019 WWC, Fabin had his gaze fixed on one thing: Besting the previous World Record of 174 kilograms in the jerk, long-held by six-time World medalist Eko Yuli Irawan of Indonesia.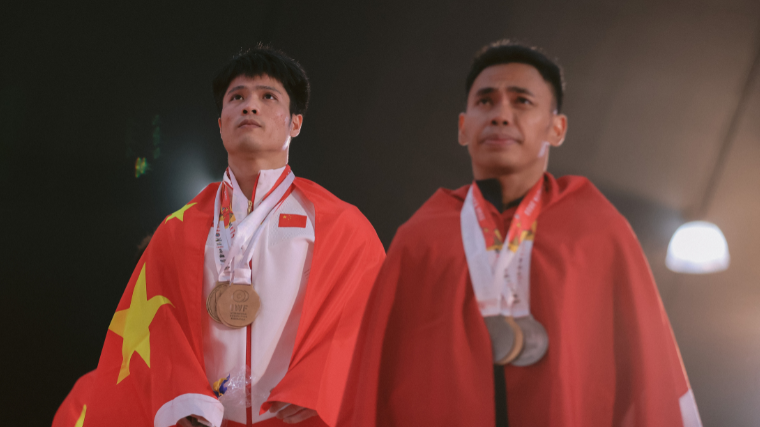 After successfully making 167 kilograms on his opening attempt, Fabin was the only athlete left on the field when he first appeared to try for the big three reds. Fabin failed to clean the weight on his second attempt, leaving the audience to wonder if he would bow out of the competition having already secured the overall win.
However, Fabin appeared right at the end of his two-minute clock to lock in his hook grip and send the 175-kilogram barbell soaring overhead.
Men's 61-Kilogram Group A Results | 2022 World Weightlifting Championships
The Men's 61-kilogram session saw a lot more great lifting beyond the inaugural World Record of the competition. Strong showings from Indonesia, Italy, and Fabin's teammate He Yueji made the event a sight to behold.
Here are the final podium results from the Men's 61-kilogram Group A session:
Men's 61-Kilogram Group A Podium
1st place: Li Fabin (CHN) — 137/175/312
2nd place: Eko Yuli Irawan (IND) — 135/165/300
3rd place: He Yueji (CHN) — 136/160/296
Catch the Action
With the barrier broken by Fabin, the way is open for more athletes to set new World Records throughout the remainder of the biggest yearly competition in weightlifting. It's a safe bet that Fabin was the first of many to come.
If you want to keep up with the action at Worlds from the comfort of your home, you can pick up a ticket to the Weightlifting House live stream on their website. The 2022 WWC runs from Dec. 5 to Dec. 16, 2022, in Bogotá, Colombia.
Featured Image: William Johnson / BarbellStories