Team USA is on the board. On Dec. 6, 2022, American weightlifter Hayley Reichardt bagged a bronze medal in the clean & jerk during the Women's 49-kilogram event at the 2022 International Weightlifting Federation's (IWF) World Weightlifting Championships (WWC).
On her third and final lift of the day, Reichart sent 110 kilograms, or 242.5 pounds, to arm's length — guaranteeing the States their first medal in Bogotá, Colombia, where the event is being held. Check it out:
[Related: USA Weightlifting Names Matt Sicchio as New Chief Executive Officer]
Reichardt had a perfect clean & jerk day; she was the only lifter in the field to successfully make all three of her attempts. She lifted 104 kilograms on her opening attempt, followed it up with 107 for her second, and capped it all off with a very gutsy 110-kilogram lift.
23-year-old Reichardt has competed for Team USA since 2015 as a Youth athlete. Her 110-kilogram bronze-medal jerk is also an international personal best and falls just a single kilo shy of the 49-kilogram American Record (111 kilos), held by teammate and Tokyo Olympian Jourdan Delacruz.
Women's 49-Kilogram Group A Results | 2022 World Weightlifting Championships
The Women's 49KG Group A event saw spectacularly bold lifting from all athletes in attendance. The field was particularly crowded during the clean & jerk portion, with multiple weightlifters taking turns at putting the bar overhead between 105 and 109 kilograms.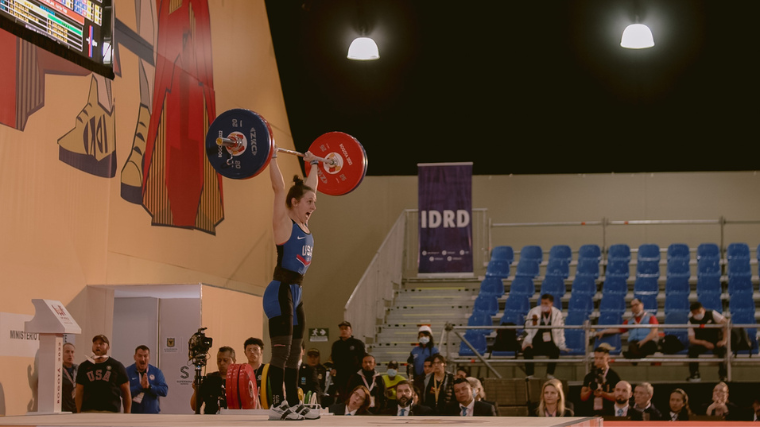 Reichardt ranked fifth overall with a 194-kilogram Total, while Team China dominated the podium. Here are the top-three finishes from the 49-kilogram event:
Women's 49-Kilogram Podium
1st place: Jiang Huihua (CHN) — 93/113/206
2nd place: Mirabai Chanu (IND) — 87/113/200
3rd place: Hou Zhihui (CHN) — 89/109/198
Note: The notation above is formatted as [snatch] / [clean & jerk] / Total.
Notably, 49-kilogram winner Jiang Huihua took a very aggressive final attempt. After securing her title with a 113-kilogram clean & jerk, Huihua jumped a whopping seven kilos up to 120 in an effort to take the World Record from Indonesia's Mirabai Chanu. Huihua successfully cleaned the weight but narrowly missed the split jerk.
To the Stars
Reichardt is soaring. In July of 2022, she clean & jerked 108 kilograms in the process of winning the Pan American Weightlifting Championships, which were also held in Bogotá.
At the same competition one year prior, she made 107. Reichardt is demonstrating a consistent progression in both her strength and technique.
Catch the Action
Reichardt's performance in Bogotá deserves a round of applause, but there's plenty more stellar weightlifting on the way.
If you're interested in catching the action live on your computer screen, you can purchase an e-ticket to the Weightlifting House live stream on their website. The 2022 WWC runs from Dec. 5 to Dec. 16, 2022, in Bogotá, Colombia.
Featured Image: William Johnson / BarbellStories
Editor's Note: BarBend is the Official Media Partner of USA Weightlifting. The two organizations maintain editorial independence unless otherwise noted on specific content projects.