When Loredana Toma is hungry, she eats. And on Dec. 12, 2022, Toma ate a new World Record snatch alive; 119 kilograms (262.5 pounds) to cap off the snatch portion of the Women's 71-kilogram Group A session at the 2022 International Weightlifting Federation's (IWF) World Weightlifting Championships (WWC).
Her performance in the snatch helped secure her a second World Championships title after first winning the WWC in 2017. Not only is Toma's snatch a five-kilogram personal record, but it also claimed the as-of-yet-untouched World Standard in the highly-competitive 71-kilogram class.
[Related: Weightlifter Li Fabin Clean & Jerks 175-Kilogram World Record]
The World Standard was put forth by the IWF in 2018 when they reorganized their competitive weight classes.
It remained at 117 kilograms as an unclaimed benchmark for over four years' time; no weightlifter in the world had snatched more than 117 in competition until Toma brought the hammer down in Bogotá, Colombia, where the WWC is being held.
71-Kilogram Group A Results | 2022 World Weightlifting Championships
Toma's World-Record performance in the 71-kilogram class may have been the most impressive event on paper, but the Group A event as a whole was packed to the brim with spectacular performances.
The gold-medal snatch at the 2021 WWC was 104 kilograms (a three-way tie between the podium members). One year later, nine out of the 11 71-kilogram Group A weightlifters snatched more than 104. Seven of the athletes snatched more than 110 kilograms, showcasing the tremendous uptick in competitiveness in the 71s now that it's been ratified as a valid category for the 2024 Olympics.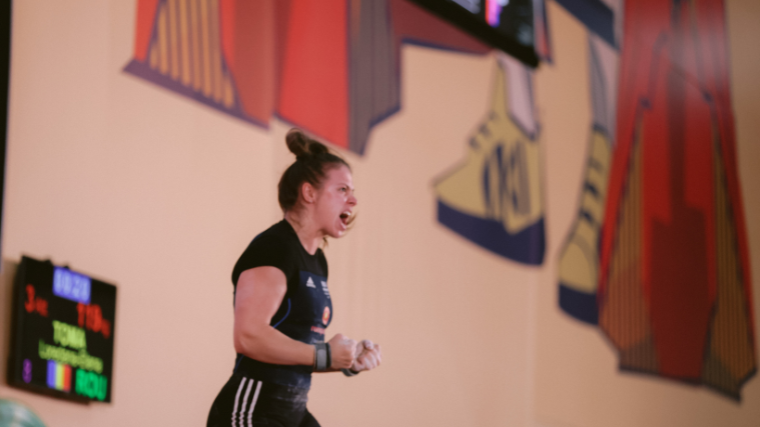 A startlingly close clean & jerk event nearly saw Toma lose out on her lead, but by the strength of a 137-kilogram final clean & jerk, she ascended to the top of the podium and won her second (after 2017) World title.
71-Kilogram Group A Podium
1st place: Loredana Elena Toma (ROU) — 256 (119/137)
2nd place: Zeng Tiantian (CHN) — 253 (113/140)
3rd place: Angie Palacios Dajomes (ECU) — 252 (116/136)
Note: The notation above refers to the athlete's best Total, bolded. Their best individual snatch and jerk are parenthesized.
Catch the Action
After missing the Tokyo Olympics in 2021 due to the Romanian weightlifting federation receiving a provisional drug-related suspension, Toma is back with a vengeance. She's made her claim as the strongest snatcher in the world at 71 kilograms, a title she undoubtedly intends to keep for the foreseeable future.
Want to see all the great Olympic lifting at Worlds in real-time? Grab a ticket to the Weightlifting House live stream on their website. The 2022 WWC runs from Dec. 5 to Dec. 16, 2022, in Bogotá, Colombia.
Featured Image: William Johnson / BarbellStories