Mattie Rogers continues her reign. On Jul. 28, 2022, the 76-kilogram weightlifter took the stage by storm at the 2022 Pan American Championships in Bogotá, Colombia.
By lifting 111 kilograms (244.7 pounds) in the snatch and 141 kilograms (310.8 pounds) in the clean & jerk, Rogers took home gold medals across the board in both lifts and the Total (252 kilograms).
The Tokyo Olympian also set a new 76-kilogram Senior American Record in the clean & jerk in the process, besting her own former record by a single kilogram, which Rogers had set just a few weeks prior at USA Weightlifting's (USAW) National Championships Week in Las Vegas.
View this post on Instagram
[Related: Hampton Morris Sets New Junior World Record at 2022 Pan American Championships]
Sealing the deal in Colombia also marked Rogers's ninth consecutive year in which she has medaled at a Pan American event.
Speaking to BarBend over text, Rogers remarked about her near-decade career in the Pan American circuit:
"It feels great to have medaled at Pan Ams so many times in a row. At this point for me, there's kind of an expectation to come and secure medals here. [When I'm at the World Championships] we're prepared to take bigger attempts, but here it's all about showing up and getting the job done."
Mattie Rogers at the 2022 Pan American Championships
Although she didn't have a perfect six-for-six performance on the day, Rogers put on a strong showing in Colombia. She missed only two of her six attempts on the platform — her third snatch at 114 kilograms and her second clean & jerk at 141, which she returned with confidence to make on her final try.
Snatch — 108/111/114X
Clean & Jerk — 136/141X/141 | Senior American Record
Total — 252
Note: "X" refers to an unsuccessful attempt. The bolded value is the athlete's best result in that discipline.
Rogers's 252-kilogram Total is three kilos shy of her domestic competition best, but is the highest Total she's achieved at an International Weightlifting Federation (IWF) event.
Her unsuccessful attempt at 114 kilograms in the snatch would've been a new personal record, but would have still fallen four kilograms shy of the 76-kilogram Pan American Record of 118 kilos, held by current Olympic Champion Neisi Dajomes.
A Mountain of Medals
Since her international debut for the United States in 2014 (at that year's Pan American Junior Championships), 26-year-old Rogers has racked up a ludicrous 38 medals across various IWF competitions.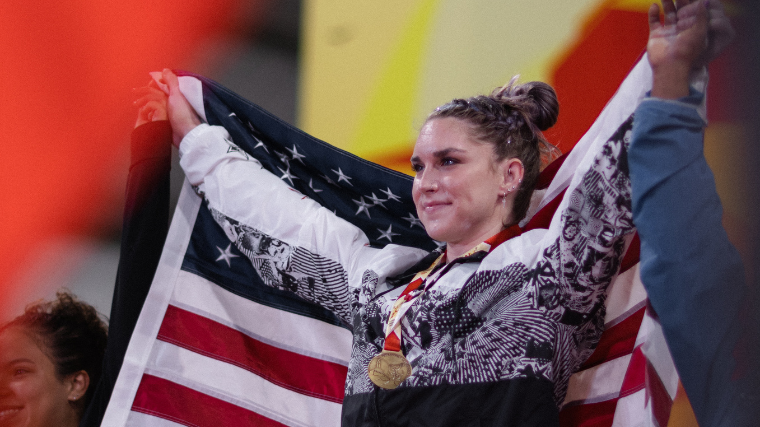 Few athletes in weightlifting, stateside or otherwise, have consistently brought home hardware from international events for as long and as reliably as Rogers.
In a twist of fate, Rogers will likely return to Bogotá in December of 2022 to partake in the World Championships (the IWF has yet to publicize exact dates for Worlds). The 2022 World Championships are also the first major benchmark for athletes who wish to qualify for the 2024 Olympic Games in Paris.
Beyond that, Rogers is expected to lace up a decade on the podium at 2023 Pan Ams as well.
Featured Image: William Johnson / BarbellStories