At the Arnold Classic, Rogue Fitness holds an annual Record Breakers event. This is a series of events that allows strongman athletes to attempt to break world records. Last year they held four events, which included farmers walk with inch dumbbells, weight over bar with a 56-pound weight, metal log lift with 507 lbs, and manhood/Atlas stone (555 lbs).
This year professional strongman Mateusz Kieliszkowski will be attempting to break the Cyr dumbbell record. Kieliszkowski won Poland's strongest man in 2015 and 2016, and finished 7th last year at the World's Strongest Man in his first year competing.
In Kieliszkowski's most recent Instagram post he highlights a 127kg (279 lb) Cyr dumbbell lift with relative ease. In the description he writes, "My first cyr dumbbell training after one year break. I will take part in rogue record brakers and i will try lift 142 kg cyr dumbbell."
The record breaking attempt of 142kg is around 312 lbs, which doesn't seem unrealistic for Kieliszkowski to press. Dimitar Savantinov set the current record in July with a 141kg (310 lb) Cyr dumbbell press.
Last year at the Arnold Classic the Cyr dumbbell event involved pressing a 300lb Cyr dumbbell for as many reps as possible. Kieliszkowski finished second behind Brian Shaw (3-presses) with two complete presses.
There's no question that Kieliszkowski can handle and press the weight – but with a one year break from training – can he come back to break a world record?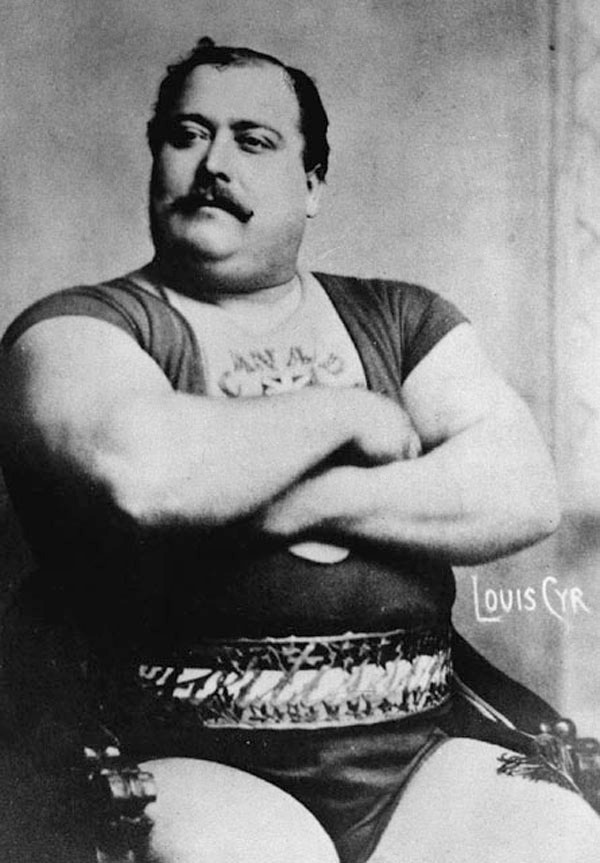 Photo by Library and Archives Canada. Licensed under C-086343
The Cyr dumbbell event was created and inspired by Louis Cyr a French Canadian strongman. Cyr is referred by as some to be the strongest man in recorded history.
In 1892, Cyr broke Eugen Sandow's one-arm dumbbell push press record with 124kg (273 lbs).
The Cyr dumbbell is designed by Rogue Fitness to replicate this historic feat of strength as closely as possible. This test has become a signature way to test this generation's strongest men.
This year's Cyr dumbbell is only being used in the Rogue Fitness Record Breakers portion of the exhibition, so competitors should be fresh in their attempts for this feat of strength.
Do you think Kieliszkowski can break the record with a 142kg press?
Feature image from @kieliszkowskimateusz Instagram page.