Ahmed Shafik is a decorated Para Powerlifter and member of Team USA. As a two-time Paralympian, he competed in the 2012 London Paralympic Games in the 82.5-kilogram weight class and the 2016 Rio Paralympic Games in the 80-kilogram class to a seventh-place finish. In that same weight class, he holds a bronze medal from the 2016 International Paralympic Committee (IPC) Powerlifting World Cup and a silver medal at the 2015 IPC Powerlifting Americas Open Championships.
Additionally, Shafik has runner-up finishes at the Lima 2019 Parapan American Games in the 97-kilogram class, the 2018 National Para Powerlifting Competition, and the 2014 USA ParaPowerlifting Competition in the 88-kilogram class. In 2013, he scored his first gold medal finishes at the University of Central Oklahoma Endeavor Games and the IPC National Powerlifting Bart and Nadia Sports Festival. According to Disabled Powerlifting, he currently holds the American record in the 80-kilogram weight class with a 165-kilogram (363.8-pound) bench press.
We had the opportunity to interview Shafik about his injury, his journey into the sport of Para Powerlifting, his training, his diet, and his plans for the future.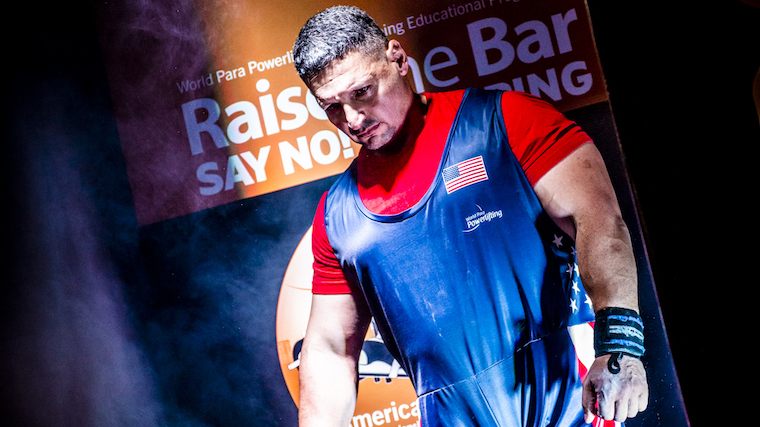 [Related: Irish Para Powerlifter Britney Arendse Breaks Records And Aims For Tokyo Paralympic Games]
The Injury and The Dream
Shafik was born in Iraq in 1973. When he was three years old, an ear infection and high fever left him with a temporarily weakened immune system. His doctor failed to acquire a temperature reading or do the proper check-ups to ensure he was healthy enough to receive a polio vaccine.
He basically gave me the disease.
The result was an ensuing sickness the permanently affected his left leg — the muscles atrophied until his "left leg looked like [only bones]." This injury would later stymie his dream of becoming a championship weightlifter like his father, who was a member of the Iraqi National Team during the 1960s and 70s. "I was always [looking at] his pictures and how strong he was. In the late 80s, I started to get involved with lifting weights."
Fortunately, Ahmed would find a way to compete on the world stage.
Introduction To Para Powerlifting
Although the prospect of becoming an
Olympic weightlifter
was off the table, Ahmed still spent his early years in the gym. By the age of 15, he was following
bodybuilding programs
. However, he knew he would never have a career in
professional bodybuilding
due to his left leg. "I was so disappointed that I will never [stand on] the podium like my father."
His disappointment was washed away after his then-workout partner introduced him to Para Powerlifting. Iraq's Para Powerlifting program was in its early stages and Shafik knew that was where his chance at ascending the championship podium was.
There were significant obstacles, however. Shafik did not grow up with circumstances conducive to
successful training
. He only had access to one gym that accommodated Para Powerlifters and it was
50 miles away
. Due to his financial situation, Shafik was compelled to
ride his bike
to and from the gym — an obviously arduous task. Avoiding poor nutrition was also a challenge due to budget restrictions.
[Related: Para Powerlifter Matteo Cattini Believes In The Transformative Power Of Strength Sports]
Fleeing Iraq
In 1998, Shafik made his debut at the World Para Powerlifting Championships for the Iraqi National Team. He scored a fifth-place finish. Although finishing fifth in the world seems like an impressive result, it was not satisfying for the Iraq National Olympic Committee. He was placed in prison for 14 months by Sadam Hussein's regime where he was tortured.
Upon his release from prison, Shafik successfully sought refuge in the United States in 2000. In 2007, he joined the U.S. Army as a translator deployed to Iraq. Eventually, his Para Powerlifting training led him to an opportunity to compete for Team USA.
Training
When asked about the biggest differences between competing for Iraq in the late 90s versus for the USA in the mid-2000s, Shafik expressed relief about a facet not many American-born athletes have to consider:
At least when I don't medal in the US, they won't send me to jail.
A routine training day for Shafik will usually span about an hour and a half. He is
conscious of his form
to ensure he doesn't sustain any injuries and doesn't strain too hard so as to be fatigued
post-workout
. Like many other athletes who were prepping for the 2020 Tokyo Paralympic Games, Shafik's training prep had to adjust accordingly for both the schedule changes and restrictions imposed by the state governments to slow the spread of COVID-19.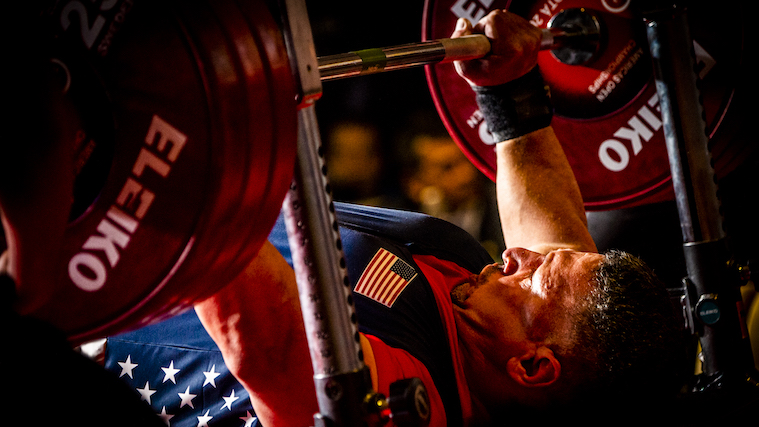 [Related: USAPL Announces Adaptive, MX, Para Bench, And Raw With Wraps Categories]
Diet
There is nothing particularly unique about Shafik's
diet
. Keeping it simple works for him. He has managed to compete in multiple weight classes that span from 80 kilograms to 97 kilograms with successful results. To compete in the former weight class, Shafik would have to
skip meals
. To compete in the heavier class, he had to
add meals
he otherwise would not have consumed.
He steers clear of empty calories such as soda, desserts, and anything fried. He also doesn't
count his macros
, but he does eat the bulk of his daily carbohydrates in the morning. Rather than count the
grams of protein
he consumes daily, he focuses on getting "eight ounces of meat every day." The strategy that has worked for him in the past when needing to
cut weight
for a competition is to replace carbs with protein and only eat when he feels hungry. A diet shift of this nature usually takes place two weeks before a sanctioned meet.
When not
prepping for a specific competition
, Shafik usually consumes some type of
simple sugar
before a training session — usually some type of fruit. He shared that rice is the food he consumes the most per week, usually paired with fish, sometimes with chicken, and
red meat
on occasion.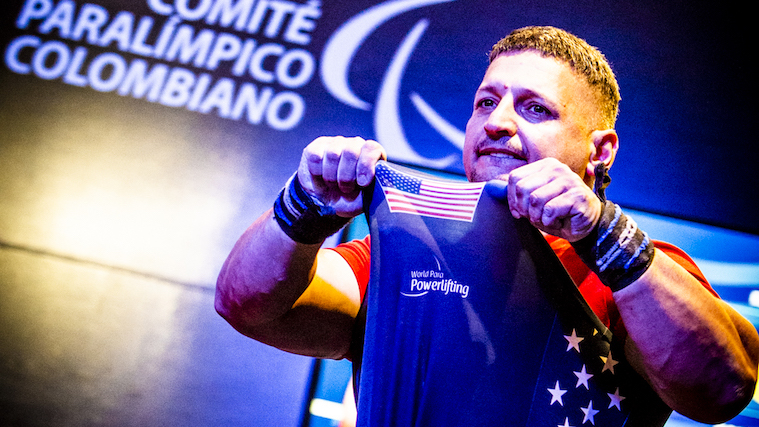 [Related: Para Powerlifter Sedric Roussel Competes To Change Society's Mindset]
Looking to the Future
Shafik has his sights set on making his third appearance at the Paralympic Games in 2021 in Tokyo, Japan. As he has moved up in weight class, his strength has followed suit. If he can maintain the momentum of his biggest career finish to date — his runner-up ranking at the Lima 2019 Parapan American Games — then it is very possible that he achieves his life-long dream of matching his father and standing on the podium on the world's biggest stage.
[Related: Multi-Time Paralympian Ali Jawad Talks Training And Anti-Doping Efforts In Paralympic Powerlifting]
Editor's Note: This article was published in collaboration with World Para Powerlifting. BarBend is an official media provider for World Para Powerlifting.
Feature image via World Para Powerlifting.