In 2018 Irish Para powerlifter Britney Arendse set a junior world record with a lift of 98.5kg at the -73kg weight class after only being involved in powerlifting for two years. You read that correctly. Arendse was at the top of her game after only two years of training. It's no wonder why she has the nickname of "Spartacus," a name given to her by her mother.
Arendse's 2018 junior world record was the first by an Irish Para powerlifter and a mark she would go on to break two more times in 2019 (100kg and 102kg). Her growing list of accomplishments also includes two senior bronze medals and a world ranking of 12th (as of August 2019). All of this comes at just 20-years-old.
Check out Britney's impressive record setting lift at the Asia-Oceania Open Championships in Kitakyushu, Japan here:
We had the opportunity to talk to Britney about her origin in the sport, her training and diet, her future goals, and more.
(Note: The interview below has been lightly edited for clarity.)
Origin in Para Powerlifting
After a car accident in 2009 resulted in paraplegia, Britney endured an extremely trying year of hospitalization and rehabilitation. She played sports recreationally before her accident and got involved in swimming and wheelchair basketball after to stay active and remain fit. While playing basketball at a tournament in 2016, she was approached by her current coach, Ken Hurley, who was recruiting Para powerlifters for the Irish national team. As it turned out, Britney's mother used to train as a powerlifter when she was younger so it was a natural fit.
Coach Hurley asked me to try out powerlifting and I thought it would be an amazing opportunity to represent my country.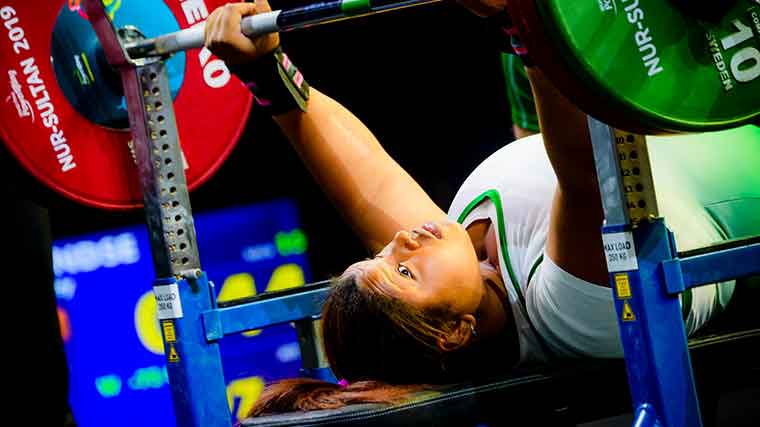 [Related: Para Powerlifter Sedric Roussel Competes To Change Society's Mindset]
Training and Diet
Arendse's weekly training schedule is broken down into three days of weight training and three days of cardio. It's a schedule that's a lot more packed than many others her age, but Britney is laser focused on qualifying for the Tokyo Paralympic games. And while the Tokyo Paralympic Games will not be held until Summer 2021 due to the Coronavirus pandemic, Britney has kept up her six days of training a week throughout. For her diet, Britney works alongside a nutritionist that provides her with daily guidelines and recipes for specific days.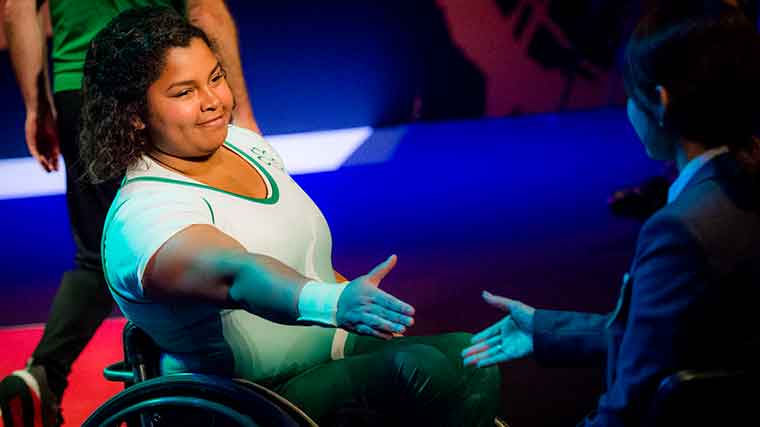 [Related: How Are Feyisetan Trains Nigeria's Para Powerlifting Champions]
Future Goals
Arendse's primary focus is to represent Ireland at the Tokyo 2021 Paralympic Games. Only the top eight powerlifters at each weight class qualify for the Paralympic Games, so this is no easy feat. She also believes she has a lot of room to grow and is not done setting records yet.
"My goals in powerlifting are to be healthier and to make history for Ireland and women in the sport. I'd also like to break world records and make my family proud."
With a couple of records under her belt already, there's no reason to believe Arendse won't achieve these goals and more.
Editor's Note: This article was published in collaboration with World Para Powerlifting. BarBend is an official media provider for World Para Powerlifting.
Featured image courtesy of World Para Powerlifting.