Over the last five years, I have had several opportunities to venture north of the border and attend national events that were hosted by the Canadian Weightlifting Federation. In addition to friendly people, great culture, and a similar use of the English language, I keep coming back to Canada whenever possible due to the fact that they have some exciting athletes to watch lift weights.
The athlete who routinely continues to improve is Boady Santavy. I have seen him grow from a 77KG athlete who barely won a medal at the Canadian Junior Championships, into a record setting 94KG athlete who is the second overall ranked male in the country; he now has lifts of 155KG in the snatch and 183KG in the Clean and Jerk.
Did I mention he is still only 19 years old?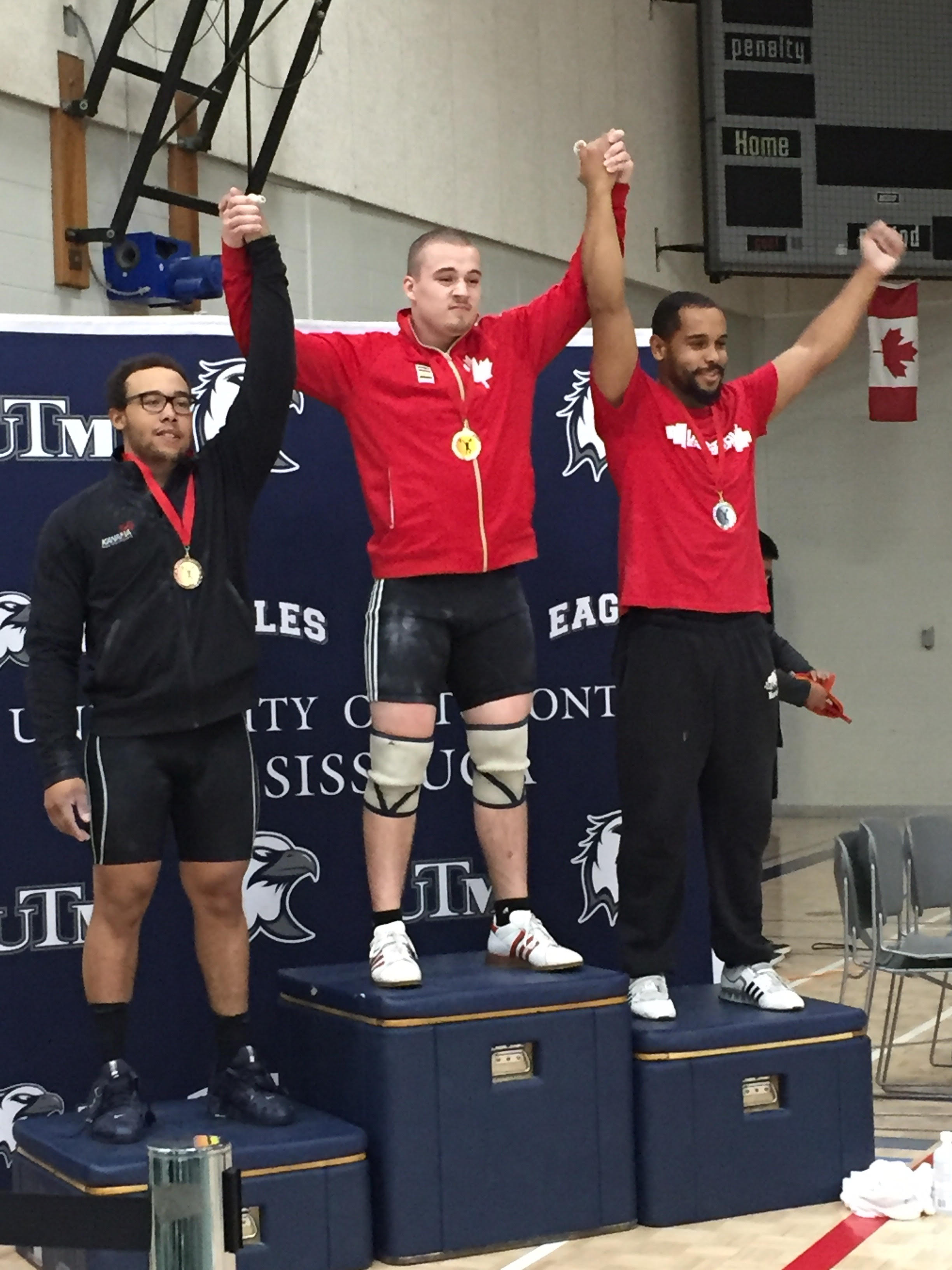 Santavy at the top of the podium; images and videos courtesy Mike Graber
Success at a young age is not the norm, regardless of what side of the American-Canadian border you live on. However, Santavy comes from a weightlifting family that is anything but the norm. Their legacy in Canadian Weightlifting can be traced back into the 1940s, before Canada had an organized National Championships of their own. Back then, Great Uncle Joe Turcotte won the Michigan State Championships as one of his crowning athletic accomplishments because it was one of his best options to compete in an organized competition. Grandpa Bob Santavy earned his way onto two Olympic Teams for Canada in 1968 and 1976, and father Dalas Santavy qualified for three Senior World Teams and two Commonwealth Games for Canada in the early 2000s.
On Sunday, November 6th, I had the chance to catch up with Boady and Dalas Santavy at the Ontario Fall Classic in Mississauga, Ontario, right after he broke 22 year old Canadian Junior Records in the 94KG category.
Boady Santavy (Canadian National Team / Santavy Weightlifting Club, 94KG)
Instagram: @boady_champ
Hometown: Sarnia, Ontario, Canada
Education: "I am going to start taking classes next year at Lampton College in Sarnia. I want to study Spanish because of all the trips I take to South America for weightlifting. I would like to be able to talk with more people."
Athletic Accomplishments:
#2 Ranked Male overall in Canada Weightlifting
3 X Canadian Junior National Champion
2X Most Outstanding Junior Weightlifter
2016 Senior Pan American Team Member (8th Place)
2016 Junior World Team Member
2015 Silver Medalist at Canadian Senior National Championships
2015 Senior World Team (25th place – scoring Team Points for Team Canada)
2015 Pan American Youth Champion
2014 USAW American Open Bronze Medalist
Canadian Junior Record Holder in 85KG & 94KG categories
Commonwealth Youth Record Holder in 85KG category
How long have you been lifting? How did you get started?
"When I was young, my dad [Dalas] was a weightlifter. I wanted to get strong like him, I thought it was the coolest thing."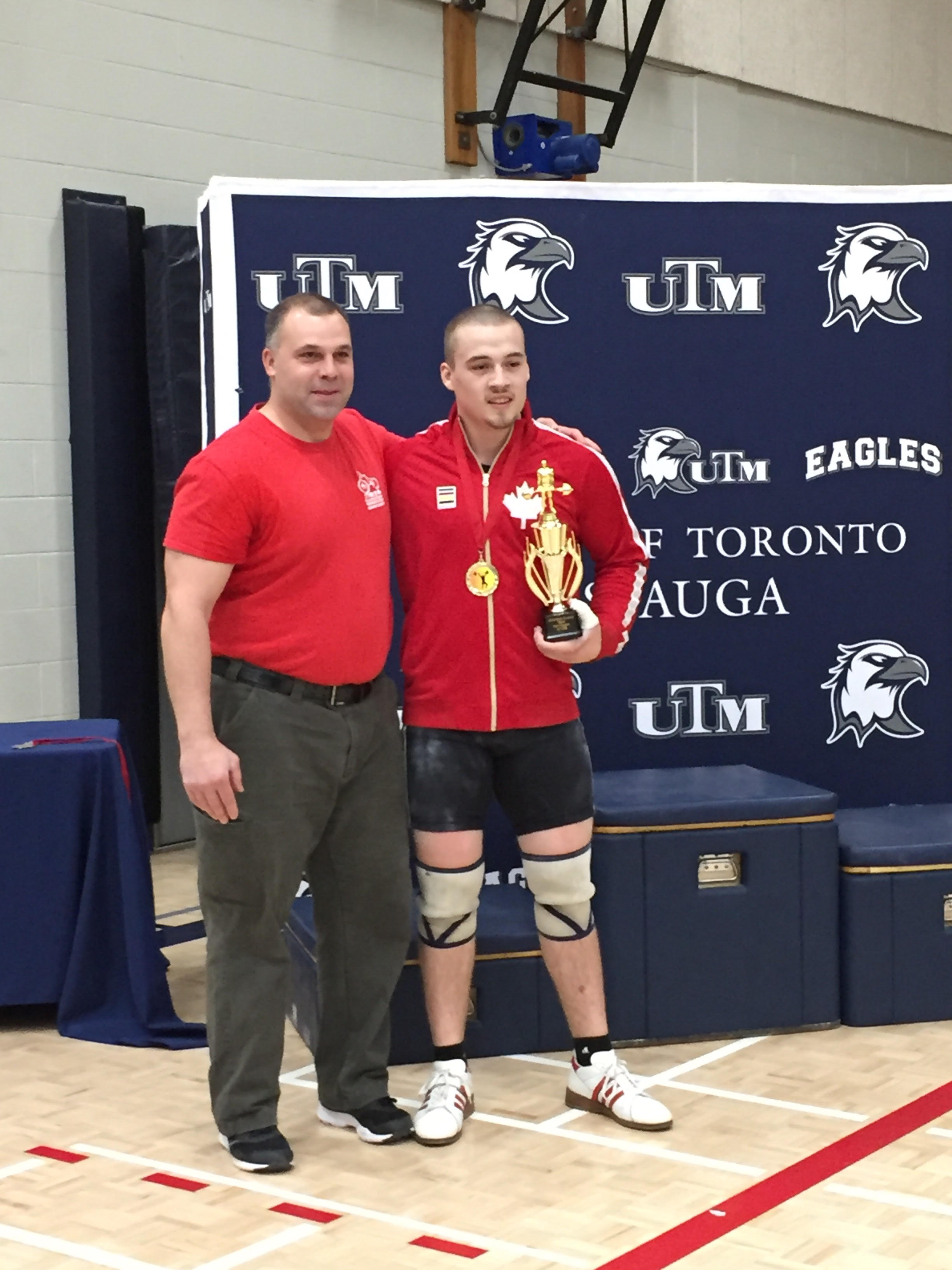 Santavy receives the Outstanding Lifter Trophy from 2004 Olympian and Ontario Weightlifting President Akos Sandor
Hobbies / Activities outside of OW: "I play a lot of video games. My favorites are Call of Duty and GTA (Grand Theft Auto)."
Writer's Note: Boady proceeded to ask me if I knew where the 2017 World Championships would be held so he can compare the location to one of his maps in Grand Theft Auto V. He also asked how close he would be to Compton. I had to inform him he will be in Anaheim across the street from Disneyland, not that close to Compton.
Goals for Fall Classic and the rest of 2016? "I wanted to go 6/6, and snatch at least 153KG. I wanted to set new junior records today."
Writer's Note: Santavy was successful with 155KG (341lb) in the snatch and 183KG (403lb) in the clean and jerk. These surpassed the previous records that were set in 1994 by Jim-Dan Corbett of Nova Scotia.
Santavy's snatch:
And his clean & jerk:
Goals for 2017 and beyond? "I want to make the Olympic team in 2020 and be the #1 ranked male in Canada. I want to go to the Pan American Games in 2017 and the Commonwealth Games in 2018 – I have a great chance to win a gold medal there."
Who is your Biggest Competition? "Myself – weightlifting is a physically and mentally demanding sport. You have to keep going through all the pains to have success."
Who is your favorite weightlifter to watch? "I love watching Aleksandr Kurlovich, Andrei Rybakou, and Pyrros Dimas. I watch their videos on YouTube."
Training PRs?
Snatch: 158KG (348lbs)
Clean & Jerk: 183KG (403lbs)
Jerk: 200KG (440lbs)
Back Squat: * Secret *
Front Squat: 200KG (440lb)
Number of training sessions/week (how often do you go heavy (90% +)?
Answer from Dalas Santavy: "Boady works out 5 times a week. His workout is never set in stone, if he is having a good day and the weights feel light I will have him push it and go heavier. 3 of his workouts are normal (classical lifts, squats) and 2 are primarily assistance work (hypers, pulls, etc.)."
How has the culture of weightlifting changed in Canada over the last several years?
Answer from Dalas Santavy: "Compared to even 10 years ago when I was competing, it's vastly different. With smartphones you can upload a video to social media and everyone knows what you are doing. CrossFit has brought a lot of attention to the sport that we have not seen since the 1970s when Weightlifting was shown on CBC (Canadian Broadcasting Corp) Sports."