In the world of Olympic weightlifting, and specifically the Pan American Region of the world where the United States is a prominent member, few weightlifters have had the type of success at all age levels as Luis Mosquera, one of Colombia's Olympic medalists in the 2016 Rio Olympic Games. Leading up to the pinnacle moment in his career, by the ripe old age of 22 year old he had already won the Youth World Championships, he twice won the Junior World Championships, and in 2015 he was the Pan American Games Champion.
That being said, when you see him compete in person, the part of his game that stands out the most is his speed. The man is fast; freakishly fast. People have referred to him as one of the fastest athletes on the planet, and I for one would agree with that statement. On April 29th, I had the pleasure of watching him compete at the 2017 Doral Weightlifting Championships in Doral, Florida and catching up with him afterwards. In my opinion, he is easily the fastest man in the Western Hemisphere. Comparatively speaking, he is to weightlifting what Usain Bolt is to the 100 meter dash.
Luis Javier Mosquera Lozano (Team Colombia, 69KG)
Instagram: @luisjavierhd16
Hometown: Cali, Colombia
Athletic Accomplishments:
2016 Olympic Games Bronze Medalist, 69KG category
Colombian Record holder at 69KG

Snatch – 155KG
Clean & Jerk – 187KG
Total – 338KG

2016 South American Games Champion
2015 Pan American Games Champion
2X Junior World Champion (2014 – 62KG & 2015 – 69KG)
2X Junior Pan American Champion (2014 – 62KG & 2015 – 69KG)
2012 Youth World Champion, 62KG category
How long have you been lifting? How did you get started?
"I have been lifting since I was 7 years old [15 years in total]. I started lifting because my brother, Jon Jaido Mosquera, was also a weightlifter. "
How popular is weightlifting in your home country of Colombia?
"It is very popular."
Author's Note: At the 2016 Olympic Games, Colombia sent 147 athletes in 23 sports. They won 8 medals, 2 of which were in Olympic Weightlifting, with Mosquera's Bronze medal and Olympic Champion Oscar Figueroa's Gold medal.
At the Pan American Games you have been injured and did not lift well. What were your goals going into the Olympics?
"I had a herniated disc in my back, which was why I did not compete well at the 2016 Pan American Championships in June. The Olympic Games were in August, and my primary goal was to recuperate from the procedure. My second goal was to fight for a medal, and I was in position to win a medal outright with my last two clean and jerk attempts."
You initially placed 4th in Rio, before Izzat Artykov failed a drug test. How did you learn you were elevated to a medal?
"I was at home in Colombia when I received a call and I was told that I had advanced up into the third position. Due to the legal process, I still have not received my medal from the Olympic Games."
Goals for 2017 and beyond?
"My biggest goal for this year is to train hard and win the World Championships. I am already thinking about the Tokyo 2020 Olympic Games, I want to make the [Colombian] team and win the competition."
You have been an international champion and medalist at the youth, junior and senior age groups, what is next? What drives you to want to improve?
"I love the warmth of the people. I love going to events around the world. People have great respect for weightlifting and I enjoy being part of it."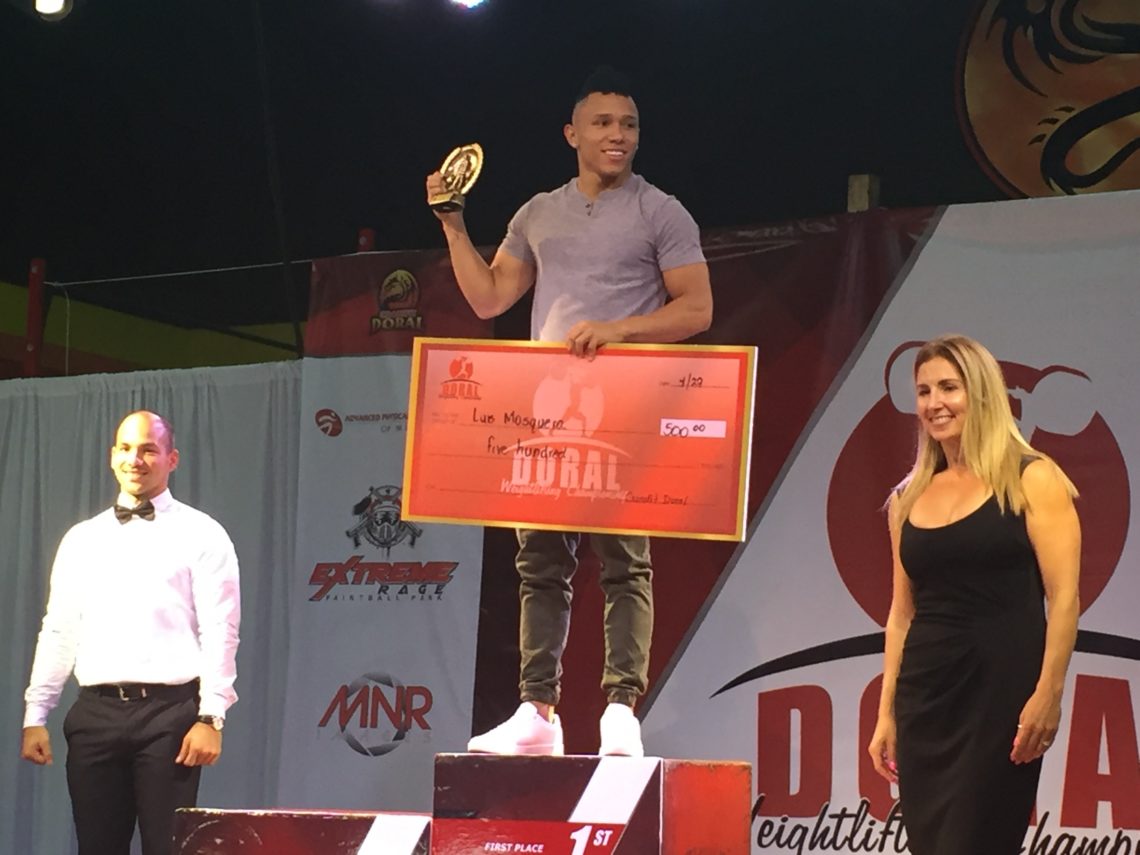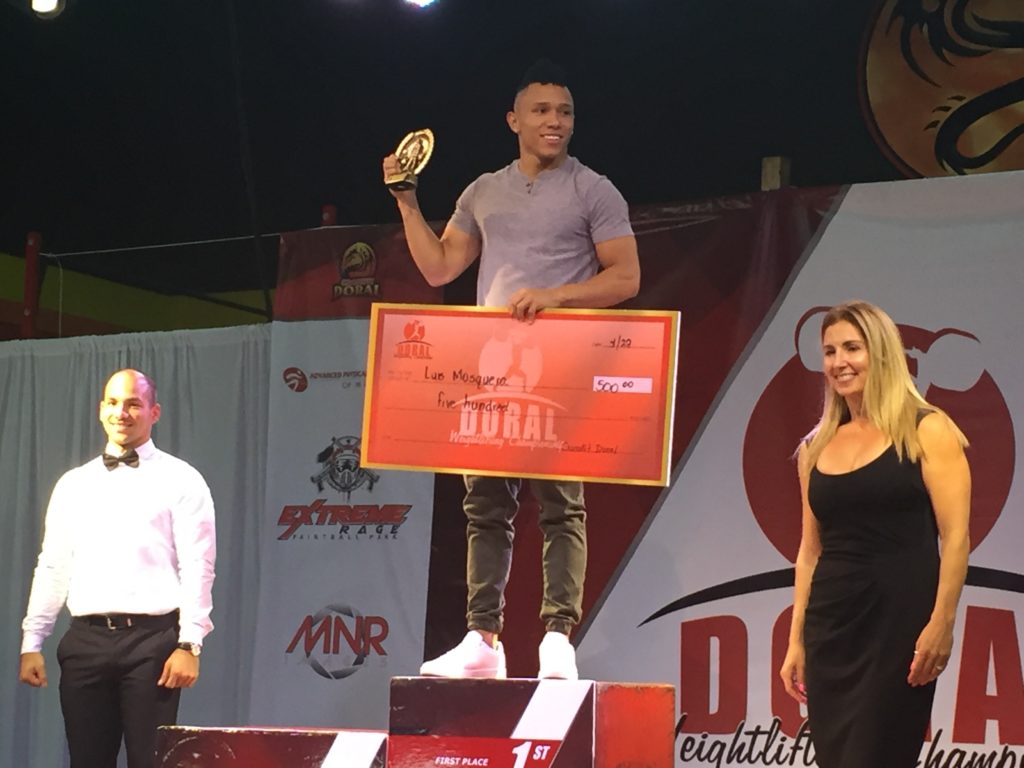 Luis Mosquera winning the best lifter prize money at the 2017 Doral Championships. Award presented by 2015 USA Weightlifting world team member Leo Hernandez and CrossFit Doral owner Loretta Carbajal.
Who is your biggest competition?
"My self – I am my biggest competition"
Author's Note: I have written several athlete profiles at this point, and generally speaking, this is the same answer every other weightlifter has given me. While it should not be surprising that the mental aspect of the sport of weightlifting is a huge part all things that go on, it still amazes me that every weightlifter from an Olympic Medalist to a less accomplished athlete considers themselves to be their own biggest competition.
Who is your favorite weightlifter to watch, or someone you look up to?
"Liao Hui" [2008 Olympic Champion in the 69KG category, he has also won 3 World Championships]
Training PRs?
Snatch: 158KG (348lb)
Clean & Jerk: 192KG (422lb)
Jerk: 200KG (440lb)
Back Squat: 240KG (528lb)
Front Squat: 210KG (462lb)
Number of training sessions/week, and how often do you go heavy (90% +)?
"I have two training sessions on Monday, Tuesday and Wednesday. Thursday I have one session, then Friday I have two sessions, followed by one session on Saturday and Sunday is a rest day. I have ten sessions overall in a given week. Friday is my day to go heavy and push my lifts to the max."
Your younger brother, Jose, is also a very good weightlifter. What kind of advice have you given him to help in his career?
"I tell him to keep training hard, and that he is going to be better than I am."
What does your diet consist of (special foods, nutritional plans, etc)?
"I do not have a special diet."
Author's Note: With ten training sessions in a week, he is burning a lot of calories in his training. I had dinner with Mosquera and 2015 USA Weightlifting World Team member Leo Hernandez, and Mosquera ate a normal meal that consisted of proteins, vegetables and a starch. He enjoys indulging in other foods, but he does so in moderation.
What are your hobbies or favorite activities outside of Olympic weightlifting?
"I like football [soccer] and I play a lot of video games on my PlayStation 4."
You are seen on social media training at a CrossFit® box in Colombia, do you do CrossFit workouts?
"Yes, I own a CrossFit box in Cali [Colombia]. I enjoy doing workouts that consist of snatches and/or muscle-ups at my box, CrossFit Relampago.
Images and video courtesy of Mike Graber
*Thank you to meet directors Leo Hernandez and Loretta Carbajal for helping to schedule the interview and providing translation services