The psychology of an athlete plays a big role in their potential successes or lack thereof on the playing field. I remember from my own weightlifting career: If I hit a Personal Record (PR) lift in training, my coach would often tell me to take a minimal increase for my next attempt, and it would freeze me up. The thought of the amount of weight on the bar can often times be harder for a strength sport athlete to overcome than the actual weight on the bar itself.
In early March of this year, I was in San Antonio for 210 Weightlifting's March Madness event and had an opportunity to catch up with Mona Pretorius of the South Africa Woman's National Olympic Weightlifting Team. In the wide world of sports, Pretorius has worn many hats.
She is an elite level weightlifter who also happens to be one of the few people in the world who has competed at the CrossFit Games as well as the World Championships in Weightlifting. Well before any of that, she won multiple World Championships in Karate before determining she had a brighter future in strength sports. She currently is living in the Texas, where she is a Weightlifting coach at Redside CrossFit, and also working on her PhD in Sports Psychology at the University of Texas at Austin.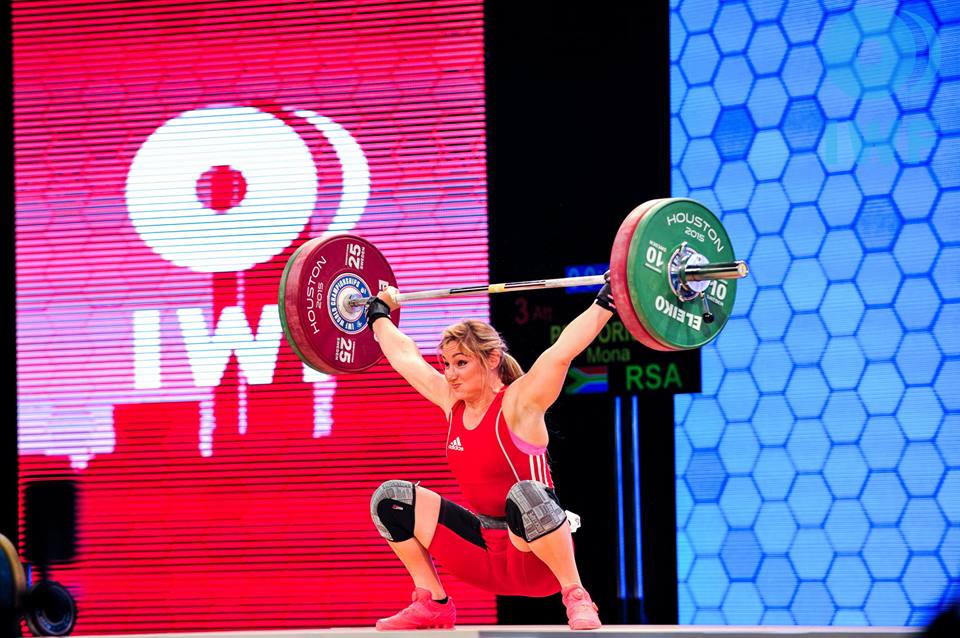 Mona Pretorius; Image from Steve Galvan
Pretorius agrees that individuals can be their own worst competition at times, and she has seen a correlation between her own mindset improving and the recent successes she has had on the platform.
Over the past year, the crown jewel on her resume has been winning the 2017 Commonwealth Championships in the 63KG category. In the United States, we had a tea party in 1776 and left the empire of the British Commonwealth, hence today the Commonwealth Championships does not receive the same coverage here as other international events do. However, this accomplishment is a big deal, as over 70 nations and roughly 5000 athletes compete in this sporting event, which includes roughly 20 different sports.
When not training, or studying, Mona is active in the coaching scene. In her hometown of Port Elizabeth, South Africa, Mona and her family own ECX Weightlifting. In the Austin, Texas area, she runs Draak Weightlifting. (FYI: Draak means Dragon in Afrikaans, Mona's native language, and it is pronounced like Draak-ula, not Drake the rapper.) Roughly half of the athletes she coaches are kids, and with them she says it is about teaching skills more than anything else. In her words:
"With kids, you are not teaching them weightlifting as much as you are helping them develop overall athleticism. They are able to develop psychological, mental, social and leadership skills that will form the base of an athletic career. I teach them how to work in a group setting; we play a lot of games and go through a lot of drills to build up fundamentals and coordination. Teaching these skills will give them a base they can take into any other sport they want to participate in."
Mona Pretorius (Team South Africa / ECX Dragons, 63KG)
Instagram: @coach_monapretorius
Hometown: Port Elizabeth, South Africa
Current town: Leander, Texas, USA
Education: – Honors Degree in Sports Psychology from Nelson Mandela Metropolitan University
Working on Ph. D in Sports Psychology at the University of Texas at Austin
Athletic Accomplishments:
2016 Commonwealth Champion – 63KG
2015 Senior World Championships Top 20 Place finish – 63KG
3X Medal winner at Senior African Championships (2011, 2010, 2009)
2008 World University Championships Silver Medalist – 58KG
17-time South African National Champion in Senior, Junior and Youth age categories
South African Record Holder in 63KG category
3rd Degree Karate Black Belt
2011 CrossFit Regional African Champion
2011 CrossFit Games Competitor
How long have you been lifting? How did you get started?
"I have been lifting for 17 years, since I was 12 years old. I was a [6 time] World Champion in Karate and my Dad wanted me to do something to become more explosive. He did research and discovered that Weightlifting would help with my strength and explosiveness. I also trained in boxing, kickboxing and taekwondo – all to improve my explosiveness for karate. When I was 16 I represented South Africa at the Commonwealth Championships, and I was going to a lot of training camps, and we were realizing I was good at weightlifting. My dad always said it's better to be a master of one instead of a jack of all trades; that is when I switched over to Olympic Weightlifting full time."
How popular is weightlifting in your home country of South Africa?
"Now, thanks to CrossFit, it is becoming very popular. Traditionally, the most popular sports are swimming, rugby, cricket and soccer. In some ways the situation is similar to America, we used to have an Olympic Training Center (OTC) but now it's closed, and most of my competitions are entirely self-funded.
When I first won the African Regionals for CrossFit® in 2011, Africa was its own region, and the competition was not as tough as it is today. I was one of the few people in Africa who could do a muscle-up. A lot of Americans would come to Africa to try to qualify for the CrossFit Games because they could not qualify out of their own region. Today Europe and Africa are combined, and I would have to compete with all the great athletes that come out of there."
As a weightlifter, what would you have done differently in training for the CrossFit Games?
"I would have practiced my swimming, it was the first event and my worst event."
What brought you to Texas from South Africa?
"I competed at the CrossFit Games and that was my first time in the United States. I had met my current coach, Dutch Lowy then. He was a multiple time Games qualifier and placed in the top 10 overall [and was National Level Olympic Weightlifter]. Around 2015 a mutual friend of ours from Sweden recommended that I start working with him remotely. Dutch and I have the same vision of how my training should be and it is going well. After the World Championships that year I moved to Texas for work and eventually to go to school. I really like Texas; the people are great.
Author's Note: I asked Mona she had a desire to ever compete for Team USA internationally. She informed me she is working on gaining dual citizenship because that could open a lot of doors for her. If she is still competing when she obtains it, she would try out for international competitions for Team USA, but today her primary focus is making the Olympics in 2020.
Goals for 2017 and beyond?
"I want to lift in the A Session at the Senior World Championships in Anaheim. My goals are 100KG [220lb] in the snatch and 125KG [275lb] in the clean and jerk. Longer-term, I want to compete at the 2020 Olympics in Tokyo. I am qualified for the 2018 Commonwealth Games; that will be a big competition for me next year. "
Author's Note: These lifts would tie the current American Records in the 63KG category. Olympian Natalie Burgener snatched 100KG in 2005 and World team member Geralee Vega lifted 125KG in the clean and jerk, and totaled 225KG at the 2013 World Championships. While Pretorius is not a U.S. citizen today, she is living full time in the country and appreciated knowing how her lifting compares to America's best all time weightlifters.
Who is your biggest competition?
"Myself, I am a very competitive person and I want to improve and do my best all the time. Over the last three years, I have worked on improving my mindset; my lifting has improved and I healthy and happy."
Who is your favorite athlete to watch?
"Olympic weightlifters are Lydia Valentin and Ilya Ilyin. In CrossFit, I am a big fan of Annie Thorisdottir."
Training PRs?
Snatch: 93KG (205lb)
Clean & Jerk: 120KG (264lb)
Jerk: 121KG (266lb)
Back Squat: 150KG (330lb)
Front Squat: 140KG (308lb)
Number of training sessions/week (how often do you go heavy (90% +)?
"I currently have 5-6 sessions per week. In a competition phase I will have 8-9 sessions per week, and that will start in May and go through the World Championships. I did the CrossFit Open this year, I like to do CrossFit type training for two months after a big competition to take a break for myself.
Hobbies / Activities outside of weightlifting?
"I am a big boxing fan. I follow a lot of athletes, but my favorite is Oscar De La Hoya. I also like MMA if there is a big fight."
Author's Note: Speaking of boxing & MMA, Mona did say she would watch a fight between 15-time Boxing World Champion Floyd Mayweather Jr. and UFC Champion Connor McGregor.
What does your diet consist of? (Special foods, nutritional plans, etc.)
"I eat a high protein diet, with a medium amount of carbs and fat. I have food allergies, so I avoid gluten and lactose products. I do have a sweet tooth, and especially enjoy chocolate fudge."
Images courtesy of Steve Galvan, 210 Weightlifting and @sickangles on Instagram