The Commerce World's Strongest Man competition is taking place this month (August) from the 13th through the 20th in Botswana. And while there will be some big names missing, there's still plenty of great strongman action to catch during the qualifying groups and finals. But don't take our word for it…
This year's event won't feature 4-time champ Žydrūnas Savickas (coming off injury), Jerry Pritchett (hamstring injury during World Deadlift Championships), or circus dumbbell record holder Dimitar Savatinov (already committed to the Arnold Asia Strongman Championships). But it still packs plenty of star power, including 3-time champ Brian Shaw, crossover celebrity Hafthor Bjornsson, veterans Mark Felix and Terry Hollands, and deadlift king Eddie Hall.
A full list of participants, qualifying groups, and events for those groups is below.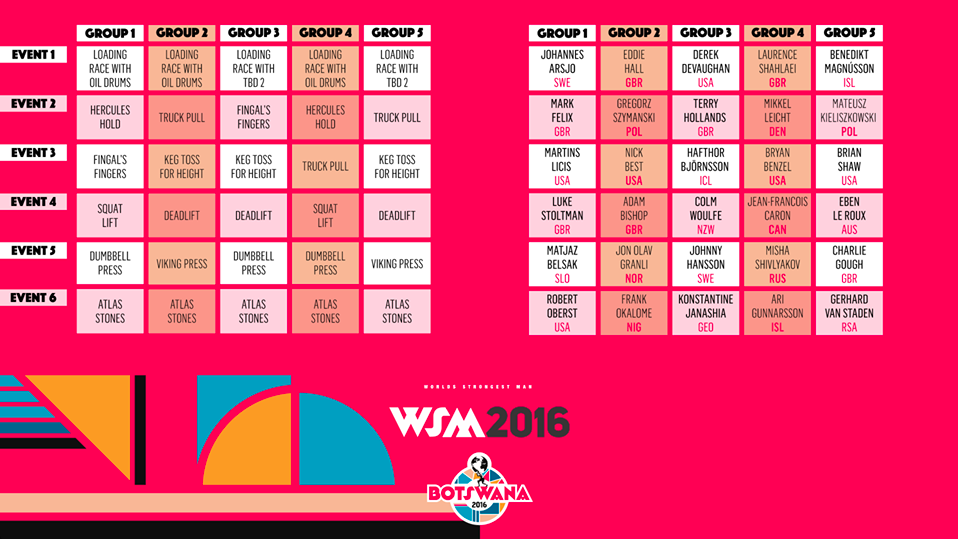 Photo: World's Strongest Man
The list was released last week but updated earlier this week due to a late substitution. From the WSM Facebook page:
UPDATE: Stan Carradine representing the United States will be replacing Misha Shivlyakov in Group 4 for the 2016 Commerce Casino World's Strongest Man Competition. #WSM
These thirty competitors are all hungry for the title, but with three prior championships under his belt — and offseason training that seems to be going particularly well, at least how it's presented on social media — Shaw is entering as a pretty clear favorite to defend his title from 2015. (He also won in 2011 and 2013.) Interestingly enough, the podium for the past three years has included some combination of Savickas, Shaw, and Bjornsson — and no one else.
The television schedule for the event has yet to be announced, but we'll update you as soon as we hear more.
Will Shaw emerge victorious once again? Is this Bjornsson's year to finally stand as best after four consecutive podium finishes? Can a relative newcomer or crafty veteran make the top three? We'll know by August 20th.
Featured image: Brian Shaw's Instagram (@shawstrength)