The Ms. Olympia women's competition has been a big hit for bodybuilding fans since its return in 2020. The 2022 edition was no different; fans waited with rapt anticipation to see if the reigning champion, Andrea Shaw, would defend her title and seek a third victory.
Shaw showed up and looked confident during pre-judging. She was joined by the soon-to-be-retired Margie Martin, Helle Trevino, and finally Angela Yeo, who few saw as a contender this year. The four athletes returned to the finals at the Zappos Theater to see who would leave Sin City as the Ms. Olympia for 2022.
Shaw retained her title, winning her third consecutive Ms. Olympia, as Angela Yeo scored a runner-up finish in her Olympia debut.
2022 Ms. Olympia Results
Andrea Shaw — $50,000
Angela Yeo — $20,000
Helle Trevino — $12,000
Margie Martin — $7,000
Branka Njegovec — $6,000
[Read: 2022 Mr. Olympia Results — Live Updates & Coverage]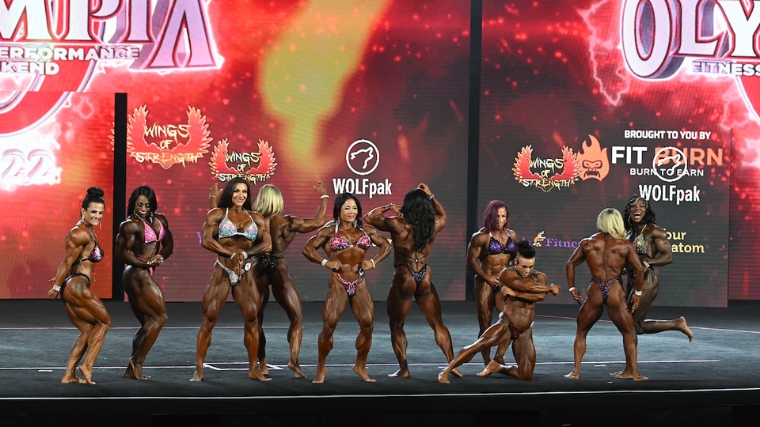 [Related: Missy Truscott Triumphant at the 2022 Fitness Olympia]
2022 Ms. Olympia Finals Recap
All 20 athletes were onstage for final comparisons: You can find the callouts below. As in pre-judging, the final callout signified the top contenders.
Callout 1
Danielle Willis
Asha Hadley
Reshanna Boswell
Eva Montgomery
Lisa Kudrey
Callout 2
Irene Andersen
MayLa Ash
Mona Poursaleh
Donna Salib
Callout 3
Michelle Jin
Michaela Aycock
Chelsea Dion
Theresa Ivancik
Branka Njegovec
Callout 4
Margin Martin
Helle Trevino
Angela Yeo
Andrea Shaw
The top 10 athletes performed their individual posing routines — Michaela Aycock, Alcione Santos Barreto, Chelsea Dion, Theresa Ivancik, Michelle Jin, Margie Martin, Branka Njegovec, Helle Trevino, Angela Yeo, and Andrea Shaw.
[Read: The Best Whey Isolate Protein Powders For Building Muscle, Digestion, And More]
[Related: Natalia Abraham Coelho Wins 2022 Women's Physique Olympia]
The 2022 Olympia Schedule
Below is the schedule for the rest of the 2022 Olympia weekend. The divisions below are listed in the same order as they appear on the official schedule.
The morning and evening sessions on Dec. 17, 2022 begin at 9:00 a.m. and 7:00 p.m., respectively.
Saturday, Dec. 17, 2022
9:00 a.m. — Pre-Judging
Classic Physique Olympia
Men's Physique Olympia
Bikini Olympia
Wheelchair Olympia — Pre-Judging and Finals
7:00 p.m. — Finals
Mr. Olympia
Men's Physique Olympia
Bikini Olympia
Classic Physique Olympia
BarBend is producing live coverage of the pre-judging and finals for each division.
Featured image: Chris Bernacchi