After nearly eight years in competitive fitness, I've been lucky enough to meet hundreds of great athletes and coaches at all levels. As fitness competitions have evolved and transitioned to spectator sports in their own right, a few personalities have stuck out from the rest. For me, one of these people is Frederik Aegidius, a Danish athlete and coach who bridges the gap between personal performance and teaching others as few have.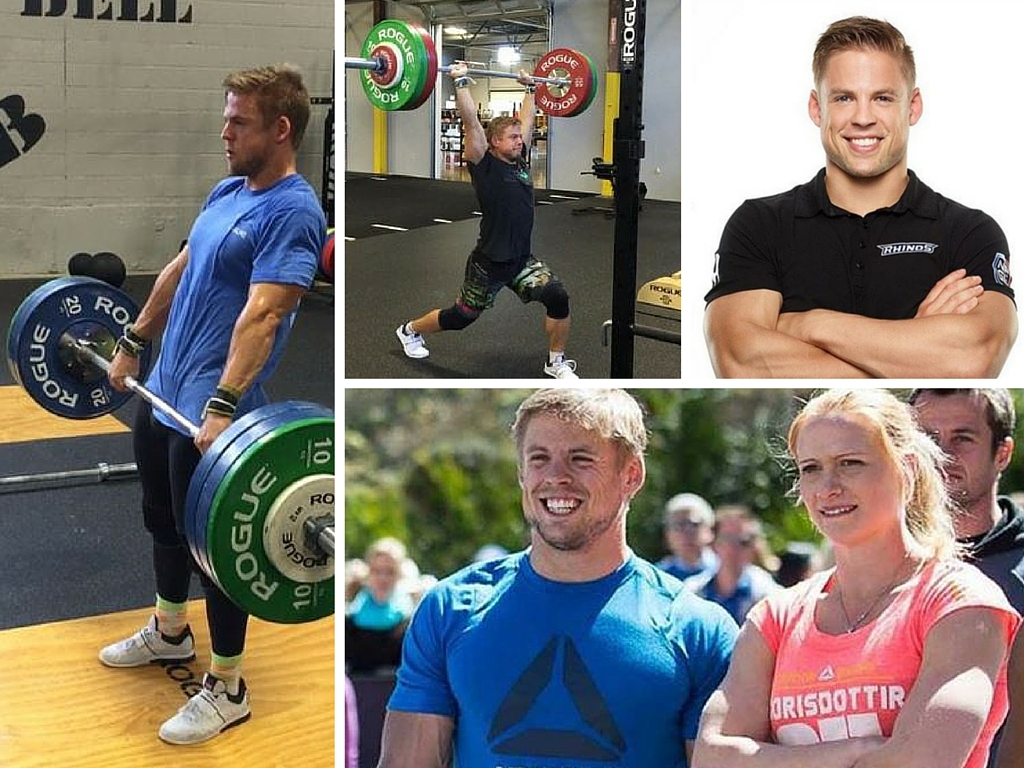 Frederik is perhaps best known as a multi-time CrossFit Games athlete, competing in 2012 and 2013 (where his best finish was 15th). He's also two-time Games champ Annie Thorisdottir's boyfriend, training partner, and day-to-day coach and motivator (but more on that below). 
I've trained with Frederik sporadically for a couple years, but my main professional interaction with him has come through the NPGL's New York Rhinos, where he currently serves as Head Coach and I serve as General Manager. While I was Head Coach during the league's inaugural 2014 season, I transitioned to a managerial role last year as Frederik came on to lead the team's training and on-GRID strategy. Frederik's eye and experience brings a lot to the table. Plus, with a degree in Sports Management from NYU, I was happy for the opportunity to flex my skills on that side of the team's operations. 
I sat down with Frederik recently to talk CrossFit, GRID, and balancing personal athletic goals with empowering others as a coach. Our conversation touched on a wide range of points — including his main competition for Regionals — and it's presented here in its entirety, edited slightly for readability.
Tell me a little bit about making the transition into coaching GRID.
For me, the transition into GRID was a very natural thing. Ever since I've been playing sports from a very young age, I've wanted to take that leap, to take people under my wing and to coach them to be better athletes. Even when I started playing handball when I was seven years old, I would play, but I would try to make everyone around me better. I could be borderline obnoxious at times!
That mentality has carried through, especially since doing CrossFit. Working with Annie, I've very much been her hands-on, day-to-day coach throughout much of her career. I felt like it was the natural transition to go back into team sports which I've been absent from for four years ever since I stopped playing American football.
I've enjoyed getting back to that, to figure out how individuals can come together to create the best possible unit in GRID.
What made you choose to be a coach versus an athlete, because you easily could have been an athlete with your skill set and experience? You've been to The CrossFit Games multiple times, you're one of the best CrossFit athletes in the world.
Being an athlete has a lot to do with the fact that I CAN right now, but my true passion is definitely in coaching. I like asking questions, why do we do this? Why do we do it that way? Figuring out why things are put together they way they are in my own fitness training has given me perspective in coaching others. It makes it easier for me to see the tiny details that others might not consider, that the athletes themselves might miss from time to time.
Helping people reach their fitness and competition goals gives me an immense level of satisfaction. Overall, especially going into year two of Grid, I realized I had more contributions as a coach on the sideline.
What was the biggest surprise about coaching GRID as opposed to other sports you've done?
When you go from an individual environment and go to a team sport, you're always surprised how much is decided by the team as opposed to the sum of individuals. You can't put all the best athletes in a room and expect them to work as a unit.
Figuring out which personalities mix and match — and which don't mix — is important, figuring out how to keep those personalities meshed and not clashing.
I know a lot of athletes who come from CrossFit backgrounds have experienced difficulty in that transition. It comes easier for some than for others, of course. Making sure everyone gets along — almost being the first grade teacher — was a surprisingly big part of controlling and leading a team.
I know both of us played team sports much of our lives and are used to that dynamic. But in fitness, that's rarely the case. Do you think that every high level fitness athlete — maybe CrossFit Games athletes — would be a good fit for a team?
It all depends, There is a place for everybody, no matter the personality type. But it all depends on the coaching style and the way the team is built up. If you look across the NPGL, you'll see several different coaching styles and variations. I don't think there's anyone in the CrossFit community who wouldn't be a good fit for ANY team, but it definitely requires the right coach and GM in order to make sure there isn't too much friction.
We have a good relationship as coach and GM. But how problematic can disconnects between those two figures be?
Players will feel that immediately. It's like in a family where mom and dad are fighting. Things are going to come down on the kids, so to speak, especially in these team sports. The strategy from the management office needs to be aligned with what the coach is interested in doing on the field, otherwise the GM may pick out random players that don't fit into the coach's scheme.
It makes my job a lot easier to be confident in a head coach! Switching gears now, what do you see the future of GRID and the NPGL to be?
I think the future for GRID is bright, especially on the U.S. market. In the U.S., after your college athletic career, you generally go pro or you stop playing sports. I see this as a great opportunity for a lot of NCAA athletes that were not quite lucky enough to make the cut to jump to the pros. They'll now have a second opportunity to showcase what they're capable of.
The fact that there are so many different elements in the sport of Grid and that it's still developing will allow more athletes to come on and explore their true potential. I can see NCAA gymnasts enter to league and dominate. Up until this point, we've taken athletes mainly from CrossFit backgrounds, because that's the main market that's paid attention to GRID. But as it grows as a sport and gains more media attention, more and more athletes will seek this path, and we'll see growth from there. That is, as long as our end product continues to be an interesting game to watch on TV, which I'm sure it will be.
If you look at someone like Wes Kitts, he's a great example. I think you're going to see people coming from football backgrounds and gymnastics backgrounds. You have people like James Townsend, Willis McGahee, athletes that weren't necessarily the best at CrossFit, but they can excel at one or a few things.
When I played soccer or you played football, we focused on being the best at our positions. One weakness can keep you out of the CrossFit Games. But you can still excel at something like GRID.
GRIDis all about bringing together 14 individuals to make an unbeatable unit, not bringing together 14 people who are each pretty good at everything.
Year one, most fitness athletes at a high level were able to keep up with all the elements in GRID. But even during year two, there was no way. Again, you look at someone like Wes Kitts, he is just too strong. The train left the platform, and I don't think there's any turning back.
What are your goals for 2016 in the NPGL?
To win the Pinnacle trophy, absolutely. To win a championship. But also to create a product that's so desirable that it can't keep sponsors away. I think there's so much potential in this sport, and i see a great future if we can reach the right people. The sport is worked out perfectly for the American market, for sports betting, for TV viewers, even people who don't work out. Eleven winners in a two hour span? What's not to love.
What are your personal goals as an athlete for 2016?
My goal is to win the European region — I guess it's called the Meridian Region now — and make it back to the Games, where I want to finish higher than the last time I was there. I finished 15th back in 2013, missed out of the Games the last two years by one spot, so making it back there is important to me. I want to show everybody what I can do.
You're coming off a great offseason. Second in the Dubai Fitness Challenge to Noah Ohlsen, who won the Open. Then you did really well at the Kill Cliff ECC, and you crushed the Open, your best performance there.
I feel stronger than ever, and my lungs are feeling very, very strong. The preparation has been a little different this year, the focus is not to be on absolute strength but rather capacity under pressure and capacity to do work even when you're fatigued. Being able to breathe is the number one priority.
And that's coming from Brian Mackenzie?
Yes, I've been working a lot with him. And that's something I know he wants to bring to the masses, some of the lessons and training we saw results from during the offseason.
You also play a crucial role in Annie Thorisdottir's success and training. You're her hands-on coach in many ways.

Annie and I have been training partners for the last five years, for the last three years that's pretty much every day. That gives you insight not only into the athlete's physical capabilities, but also mental capabilities. I'll be honest, not a lot of couples can handle that intimacy. But we've worked through that, and it allows me to coach her on a more nuanced, intimate level than normal. You can read the small signs, you can see the small things that other people might not catch before it's too late.
I know her movement patterns, I know when she starts to fatigue, I know when she can go harder. I'm able to push her to the limit, and at the same time, she pushes me, because I don't want to lose!
One more question for you, and I may know the answer already. Who do you see as your biggest competition going into this year's CrossFit Regionals?
That would be Jonne Koski. An injury-free Jonne Koski!
I think it's doable!
I think so, too!