Editor's Note: this week marks the end of the U.S. Olympic Training Center's resident program for weightlifting. In this opinion piece from former OTC resident Kyle Ernst, the author discusses what the program meant for him, his weightlifting career, and many other American lifters.
As the dust begins to settle following the end of the 2016 Olympic Games, the sport of Olympic Weightlifting in the United States finds itself in an unknown situation. On Thursday, June 9, the United States Olympic Committee (USOC) informed USA Weightlifting (USAW) that the USOC would no longer be offering a resident program to the sport of weightlifting after September 30, 2016, at the Colorado Springs, CO Olympic Training Center (OTC), which is a USOC property. What this means is no more resident athletes, no more training camps, no more training specials, and (perhaps) the dissolution of a singular, designated "National Coach."
I remember as a youth lifter when I first heard about the "OTC." It was 2003 and I had just competed at my very first "School Age Nationals." I finished second in my weight class, and my coach, Chris Wilkes, was the first to tell me that I may have made the "OTC School Age Training Camp." I never knew there was such a thing. Unfortunately on that particular year, I was on the outside looking in. The next year, I put all of my energy in the sport because I wanted to be there, I wanted to experience "the magic" of the OTC.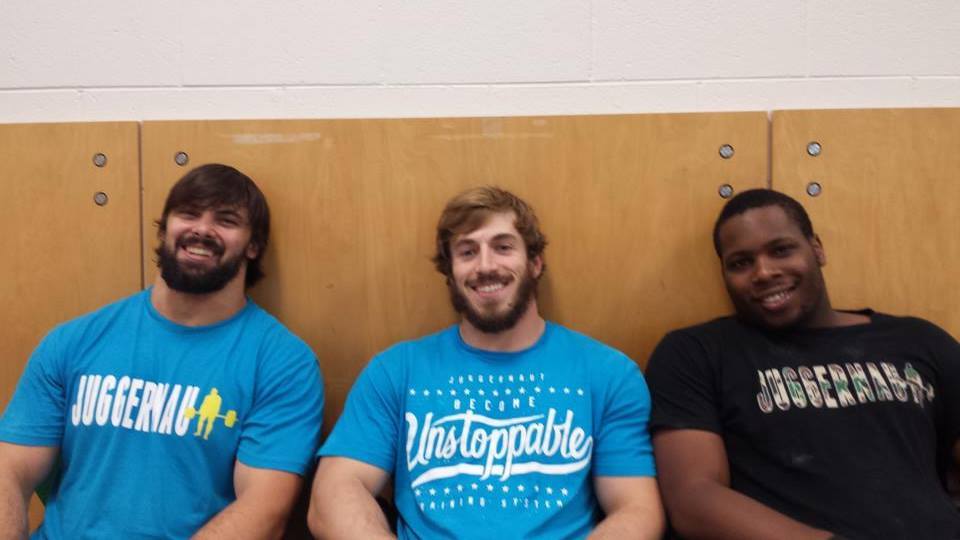 Lifters Colin Burns (left), Anthony Pomponio (center), and Donovan Ford (right). All images courtesy of Kyle Ernst.
As a 15 year old, to imagine training at the same place as the lifters I looked up to when I first got into the sport seemed surreal. It would mean living as a potential Olympian for a few weeks and training accomplished Olympic athletes such as Shane Hammon, Oscar Chaplin, Tara Nott, Cheryl Haworth, and Pete Kelly. That meant something to me. What once seemed unattainable — starting out in the sport as a football player — seemed within my grasp. I told myself I would be relentless the next year in the sport to achieve such an opportunity.
In 2004, I was another year older and had another year of experience under my belt, and  I succeeded in winning my weight class. More importantly, my hard work paid off and I found myself on the team headed to the OTC for the summer training camp. As a 16 year old high school student who had only been in the sport a couple years, the feeling was indescribable. This opportunity was an honor, and the start of something great.
Upon our arrival we were assigned our rooms in building 83. These are known as "the camp dorms." The rooms are lined with cement cinder blocks and painted white; three to four twin bed size cots sitting on top of light colored wooden frames, complete with a single sink and a couple dresser drawers to share. As you stepped outside the room, you would find the rest of the campers and coaches in the rooms across and down the hall, along with a community bathroom. If my memory serves me right, I was placed in the same room as future International Team members Cameron Swart, Caine Wilkes, and Collin Ito. All of 105's and 105+'s in the same room; needless to say it was quite cramped, but nonetheless I was excited for the next couple weeks.
The next morning we met at the gym where I finally got to meet the rest of the campers I had only watched from the stands at competitions. I was now shoulder to shoulder with these athletes who had such great talents and potential, and I was one of them. Norik Vardanian — son of 1980 Olympic Champion, Urik Vardanian — was a skinny kid with near perfect technique and really flexible wrists. I had seen him lift a couple times, and he was someone everyone seemed to be talking about. There was Aaron Adams, a kid from New Jersey, who I first saw compete at my first weightlifting competition when I was 13 years old. I lifted in the 85kg weight class and Aaron had out totaled me as a 56kg lifter. There was also this kid from Chicago named Jake Johnson who had a lot of buzz around him who I had never seen lift in person before. There were about a dozen other lifters at the camp, males and females, and over the next two weeks I got to know them all.    
Anthony Pomponio (right) recovering with fellow lifter and 2012 Olympian Norik Vardanian.
Our days at camp consisted of meeting at the gym in the morning and doing some type of morning warm-up routine to get our nerves going. This typically involved playing volleyball, calisthenics and/or stretching. After warming up, we were given the day's schedule and sent off to eat breakfast. We would all head to the dining hall in groups, sit together, and talk about what we thought the day would be like. I remember being jittery and excited every morning, thinking "what's next?" Looking to other campers, "what do you think they will have us do today?" These conversations and these moments, even as simple as sitting down, sitting across from someone eating breakfast, is where bonds began to form.  Many of these kids — now men and women — I am still friends with to this day.  
One of my favorite things about camp and about the training center as a whole was the cafeteria. As someone who had never been away from home before, this was something unreal to me at the time. All of these different types of foods available, cooked hot and ready to eat, Whatever you wanted. Needless to say, I put on a few pounds.  
When you first walk into the cafeteria, you'd find fruits, smoothies, cheeses and breads during breakfast hours; and salads, soups, and sandwiches during the lunch and dinner hours. As you continued down you the line you come across "the pasta station", complete with different types of spaghetti and meatballs or meat sauces. After this you came to the "hot line." This comprised of different types of meats, carbs and vegetables. The next section was the grill, where one could get hamburgers, fries, and the "special" for the day. Across from the food lines were drink fountains, an unlimited supply of dairy products, and even an ice cream station.
The cafeteria is where athletes spend a large amount of their time. Eating your meal, socializing, grabbing a quick snack. The place was rarely quiet while open. We would often meet in the cafeteria before and after workouts; discussing the day, talking about how much our bodies hurt or what to expect in the days to come. "Let's meet in the café" became a common phrase.  
As high schoolers, we were able to experience what it was like to be an "Olympic" athlete for just a few weeks. What it was like to live, train and eat at an elite level. Rubbing shoulders and training next to some of the best athletes our country has to offer.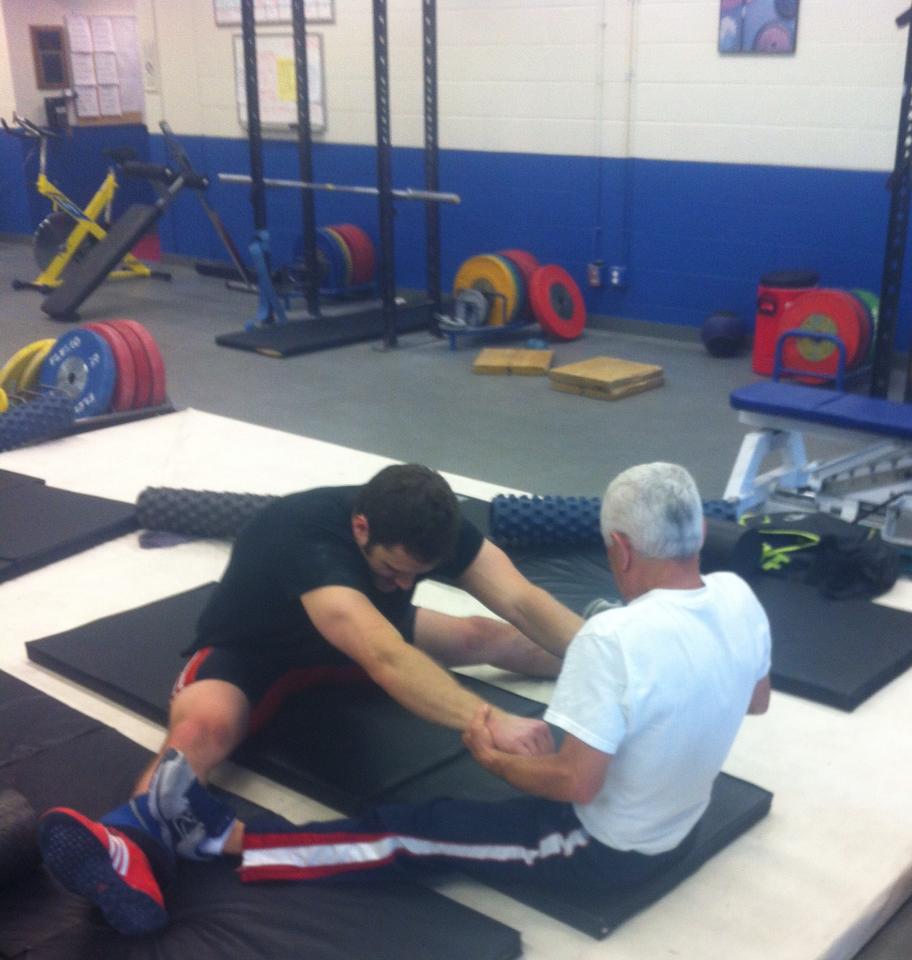 Coach Zygmunt Smalcerz helps the author stretch at the OTC.
One particular day I walked into the gym before training; I sat and watched Oscar Chaplin train. His workout that day was going up to a heavy single in the snatch and clean & jerk. He sits down, gets up, works with the bar a few times, sits back down again and back up working with the bar again. After walking over to the chalk bowl once more, the weight started to go on the bar. Seventy kilos, 90 kilos, then  110kg, then 130kg; all with ease. Next was 140kg, and it was just as routine as the others. Once he got up to 150kg I remember being in awe. Once again, "easy," and adds ten more kilos. He sits down, looks to the ground, then up and begins to center his focus. He sits up, using his knees for support as he stands up. He routinely walks over to the chalk bowl and then back to the platform. He kneels down, grabs the bar, and closes his eyes for a second and then — BOOM! — 160kg breaks off the floor, makes contact with his hips, feet slam on the floor, his arms catch the bar in the bottom of a squat, then he stands up and gives the same facial expression as he did with 70kg.
It was routine. I had never seen anything like this before in person. I was hooked with the sport from that moment on. This is what I wanted to do, this is what I wanted to pour my hours outside of school into. Oscar later worked up to a 190kg clean & jerk, and I remember after he finished he stripped all of the weight off on one side of the barbell with one quick heave and then the other side. Then it was time for us to start training.
Throughout camp, I had a lot of these moments. Watching Shane Hammon squatting 300kg for five reps, watching Cheryl Haworth put up more weight than me on some days, and meeting Chad Vaughn for the first time. Everyone who has been at the OTC has had these moments. You all can think back on those "ah ha" moments where time seemed to stop and you realized you were a part of something special.  
This camp is where I first fell in love with the process and with the sport of weightlifting. Something I had just done for fun as a sport started to become part of my identity.   
In my opinion, youth development is the key to the growth of our sport. These types of camps are where the seed for many begins to grow in the sport. This is part of what we will be losing, but there is also much more opportunity on the horizon for kids to experience this same type of feeling.   
Paul Fleschler notified me at the American Open in 2005 that I was accepted into the resident athlete program. A dream realized, and a dream had come true. The following day, Paul asked me if it was ok if I shared a platform with Pete Kelly. "Of course!" I thought to myself ,but I acted cool in my response. "Yea sure, sounds good." Pete was someone I had always looked up to and now we were lifting together in his final National meet. Just as I was starting out in the sport, he was finishing up. I was nervous and excited at the same time when I shook his hand as we started to warm up. This was another person I had stood and watched as he trained at the OTC.
As originally planned, I still ended up at the training center following my high school graduation in 2006. Some lifters were still there from when I was at camp and some new athletes as well. Donny Shankle, Matt Devine, Zach Schluender, Josh Moreau, Jason Gump, Zach Krych, Robert "The Admiral" Murphy, Casey Burgener and Norik Vardanian comprised the men's team. Cheryl Haworth, Sam Turnbull, Hilary Katzenmeier, Doreen Fullhart, Carissa Gump, Natalie Burgener, Megan Kranz and a few others comprised the women's team. At the time there were two coaches, one for the women's team; Bob "No Mercy" Morris, as the ladies called him; and Paul Fleschler, the men's team head coach. Warm-up, programming and training were often kept separate between the two genders, but we always trained at the same time.
When I moved there, I was placed in the same room as Matt Devine, the oldest of the resident athletes. (I was the youngest at 18 years old). This time, I wasn't in building 83; I was in building 9, which are considered the suites of the OTC. The room had a shared living area, yet separate bedrooms and separate bathrooms. We each had a full sized bed, a television, a built in desk, and couches and chairs that filled out the living area; quite different from our building 83 camp dorms.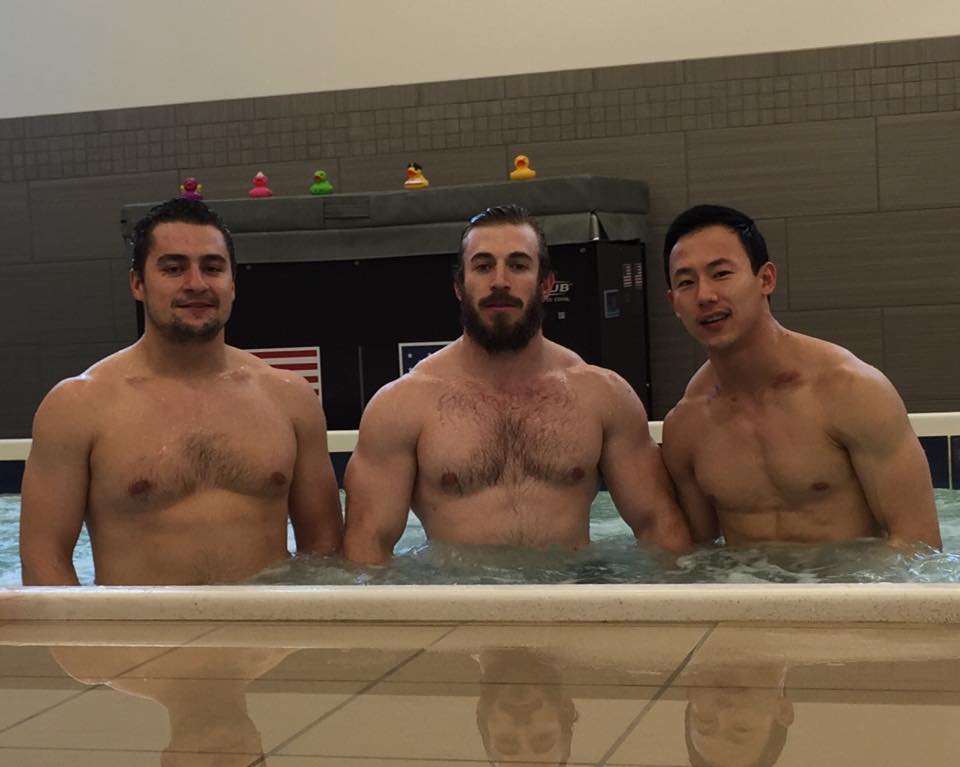 OTC athletes Norik Vardanian (left), Anthony Pomponio (center), and Alex Lee (right).
Our days started off just as most camps would: a warm up, stretching, basketball, or volleyball, and then we would head to breakfast as a team. After breakfast, some of us had sports med appointments, some of us did school work and others stayed at the gym around until it was time for training. The first training session of the day was usually scheduled at 9:30 or 10:30, but most of us got in a little early to get things going and to get mentally prepared for the day. One after the other, each of us ended up in the training hall. The first stop was to head to the coach's office to pick up our workouts which were all stacked up in binders next to the coach's chair. On Mondays, Wednesdays, and Fridays we trained twice a day, with the second training session beginning at 4:00 pm. On Tuesdays, Thursday, and Saturdays we only had scheduled training sessions in the morning.  
As our morning training sessions finished up, each of us had our own schedules. Some lifters had class, others had work, and some had additional sports med appointments.or the most part we all ended up in the cafeteria subsequent to training. On the double training days, it was important to relax as much as you could in between training sessions. Some could more than others depending on their schedules. During the summers when most of us were free we would often all meet up in someone's room to play video games. When school was in session it was usually pretty different, everyone usually had something going on.  
As the morning and afternoon wore off we all found ourselves trickling into the cafeteria for a pre-workout snack, often running into each on the way and walking with each other to our second training session of the day. Whether or not we knew it at the time we were starting to become a team.As you can imagine we all spent a significant amount of time together. Most of us had our individual clubs we lifted for from back home, but there as I said, we were a team.  
At competitions we all coordinated flights together, and many of us ended up rooming together. We would sit in the stands and watch each other lift. Once we were done lifting we would often help out in the back room when another person was warming up getting ready to go on the platform.  
As time went on, some of us left, some of us stayed, and some of us returned to the training center. No matter what would occur, there is still this sense of "team" when we ended up back together. The sense of team camaraderie was always there. 
The next few months and year didn't go as planned. I was diagnosed with cancer days after earning a spot, but that's another story for another day. Needless to say, if wasn't for the OTC and the support I had from my friends there, I don't know how I would have gotten through the year.
I ended up leaving the OTC to continue my education elsewhere, but many of the same people were still there. During the summers I would always come back to train and just as before there was still that sense of team camaraderie.  
This was not only a place for camps or full-time residents, but it was a place all of our athletes could gather and train before major competitions. I headed there during the summer before Junior Worlds in 2008. I saw a direct correlation from my training leading up to the meet to my performance.
These gatherings of lifters for camps also allowed the coaches and lifters an opportunity to get to know each other and to get accustomed to each person's type of training and coaching style. In my opinion, having that in cinque is vital to success on the international stage. It creates trust and gives coaches an idea of how to proceed with certain athletes. The camps leading up to these major competitions also give coaches an opportunity to evaluate each athlete before they are sent off to compete. This helps ensure our best athletes are ready and that our best athletes go to the competition. It creates accountability with each athlete and coach. It also creates a level of competitiveness, as well as a level of support many of these athletes have never received when they train at home.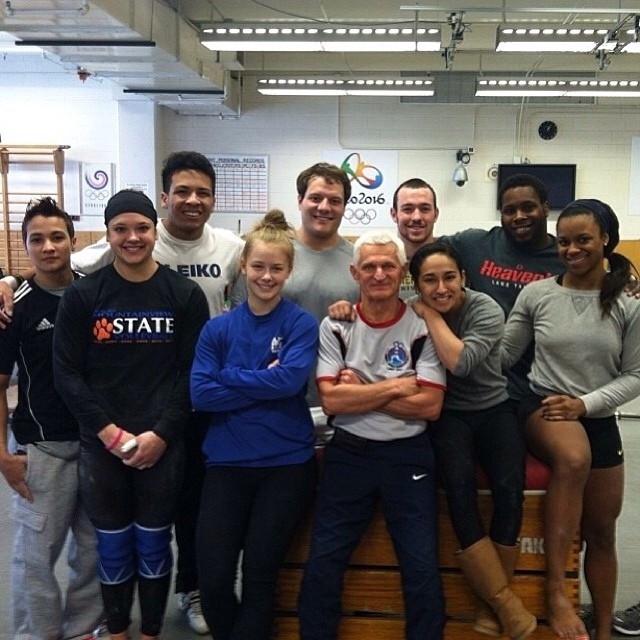 The author (back row, center) with athletes and coach Zygmunt Smalcerz at the OTC.
Many lifters get caught up in their busy lifestyles — Youth, Junior, and Senior lifters alike — but the OTC provided them with a haven to focus and hone in on their craft. Athletes would often go there for days or weeks at a time to work with sports medicine if they were recovering from an injury if they didn't have that when they were back home.  
Throughout the years we saw our spots dwindle at the training center, but we also saw a surge of athletes willing to make the sacrifice to come out to the training center to try and earn a spot or just to train under our new head coach, Zygmunt Smalcerz, 1972 Olympic Champion from Poland.
As the sport grew over the years we saw the training center become more and more of a center hub to train and evaluate our athletes. Camps coming and going each and every month, we even saw more athletes come from other countries come to experience the training center.  
After finishing up my education, I decided to return to the OTC. At the same time I also saw a huge wave of lifters make the decision to go to the training center and see what it was all about. We had athletes come out for a couple weeks and within a short time later they came back to stay for good.  
Morghan King came out to the Olympic Training Center for a little over a week, and a short time later she was back for good. While she was at the training center she continued to improve  because she was able to give the sport her complete focus. Much of what she accomplished is the result of her hard work and dedication, however the OTC provided a good foundation for her success.
I saw Cameron Swart come out there for a week for a training special. At the time he was working on oil rigs in the ocean off the coast of Houston. His job consisted of working two weeks on out in the bay and two weeks off. He barely had the ability to consistently train. I believe his trip to the training center gave him the itch to put more in the sport, and sure enough we saw Cameron make it back to the Olympic Trials.
Anthony Pomponio, Alex Lee, and Norik Vardanian all decided to make the move back to the training center as well. Norik was returning to the US to compete after being on the 2012 Olympic Team for Armenia, and he was recuperating from a nagging quad injury. Alex's training lacked the competitive atmosphere that he needed and felt this was the place for him to improve. Anthony Pomponio was still fairly new to the sport, but one trip to the training center, and he was hooked.
All of these people moved back or came to the OTC for one reason: to make the Olympic Team.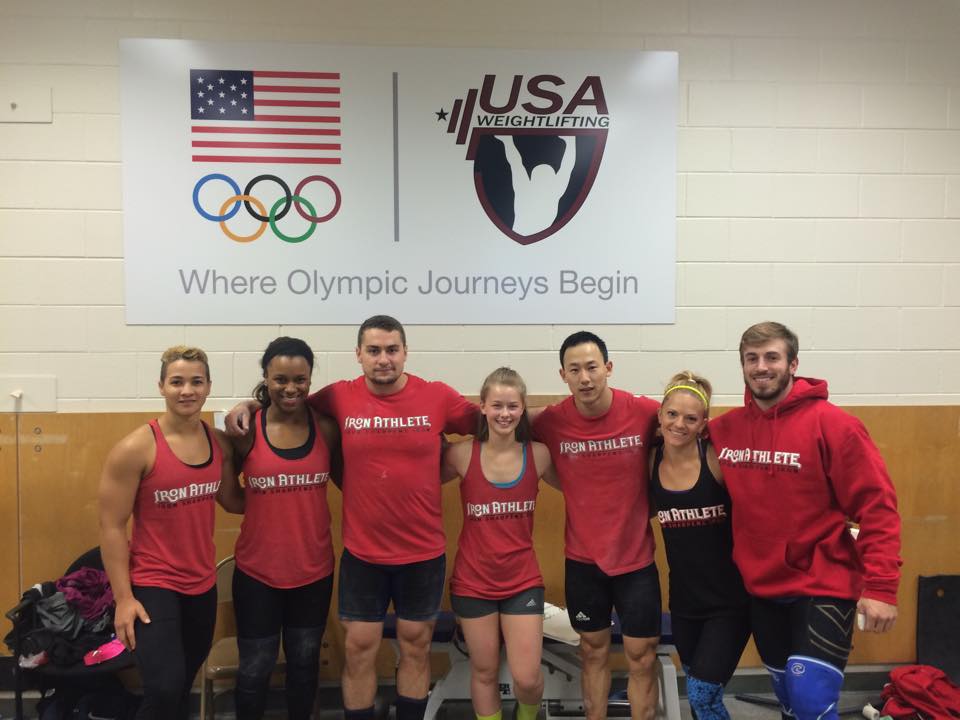 OTC weightlifters.
Within time after Norik moved back, he got healthy and brought home a silver medal at the Pan American Games. We also saw him put together one of the greatest performances from an American on international soil we had seen in some time at the President's Cup in Russia. He went on to set a new American snatch record in the 94kg class.
We saw Alex Lee set a new standard in the 69kg weight class, and a weight class mainly considered weak in our country now has become one of strongest He ended up scoring the most points for Team USA and it nearly gave us enough to earn three men's Olympic spots in Rio.
Speaking of the 69kg class, CJ Cummings was also someone who made a few trips during my time there. I don't know CJ personally, but seeing him train and seeing everyone watch him train, it wanted to make everyone better.  
Donovan Ford was a resident since 2009. He was plagued with injuries throughout his career, however he stayed the course and kept focused, and under the guidance of Zygmunt Smalcerz he was able to recover and have  a memorable performance at the 2016 Pan Americans Championships. He was very instrumental in the Pan Am Team that earned 1 Olympic Spot for the men at the 2016 Olympic Games.  
Colin Burns also made the move and ended up breaking some American records of his own, including the snatch in his weight class. His work ethic also created a good example for some of the younger lifters in helping to make the 94kg class one of the deepest weight classes our country has seen in some time.  
We watched D'Angelo Osorio arrive as a skinny kid in the 85kg class, with an undeniable amount of talent, grow into one of our top lifters. The kid turned into a powerhouse in the 94kg class and is now a force to be reckoned with in the 105kg class for years to come.
Leo Hernandez, formally a Cuban lifter, found his home at the training center and continued to push until the very end of the quad in helping our men's team earn an Olympic spot.
Cortney Batchelor, a raw talent from Alabama, rose up through the ranks during her time at the training center.  
Jenny Arthur, an athlete from Georgia, turned into the leader of our women's weightlifting team while at the Olympic Training Center. Her years at the OTC growing as a person and as a lifter who was vital to our women's team earning three spots at the Olympics.  
Our Olympic bronze medalist, Sarah Robles, also spent time at the training center.
It was a place where other people could experience what our best lifters lived like on a daily basis. We had camps for masters athletes , youth athletes coaches alike all of which were a huge success.  For some, the training center became the norm, training day in and day out. For others, it was a once in a lifetime experience. For us all, it will be missed, and for a lot of us it was our home.
This is a moment in our history where we have to change and evolve. As USAW CEO Phil Andrews has said, decentralized training.
We already have a great start. Juggernaut is starting to see many of the old faces at the training center come their way. Mash Mafia Elite is garnering their own attention with the likes of the Wilkes family, and many of the former lifters from MuscleDriver. We also can't forget the other fantastic lifters we have had come through the ranks who didn't spend much time at the OTC or spent most of their time training in a garage.  
Tim Swords has produced some of our top lifters and always welcomed them with open arms when someone needed a place to train as shown  in leading Sarah Robles to our country's first medal in 16 years. The same goes for Kyle Pierce and the program he built in Shreveport, LA, helping Kendrick become one of only eight American lifters to earn three Olympic berths in our history.
Our country has the foundation and the tools moving forward. While this may be the ending of an era, it is also the beginning of endless possibilities.
Editors note: This article is an op-ed. The views expressed herein are the authors and don't necessarily reflect the views of BarBend. Claims, assertions, opinions, and quotes have been sourced exclusively by the author.