(Coach and MC James Quigley takes us inside his quest to enter the world of fitness announcing in this exclusive series for BarBend.)
As the lights came on and the main stage lit up, you could feel the energy. The athletes were walking onto the field looking around like children at their first ball game. This type of production was unusual for a competition outside of the CrossFit Games or a handful of events, and and it was especially unusual for an event in the Middle East. It felt like a rock concert was about to begin. The crowd was electric. There was a brief silence as the DJ lowered the music.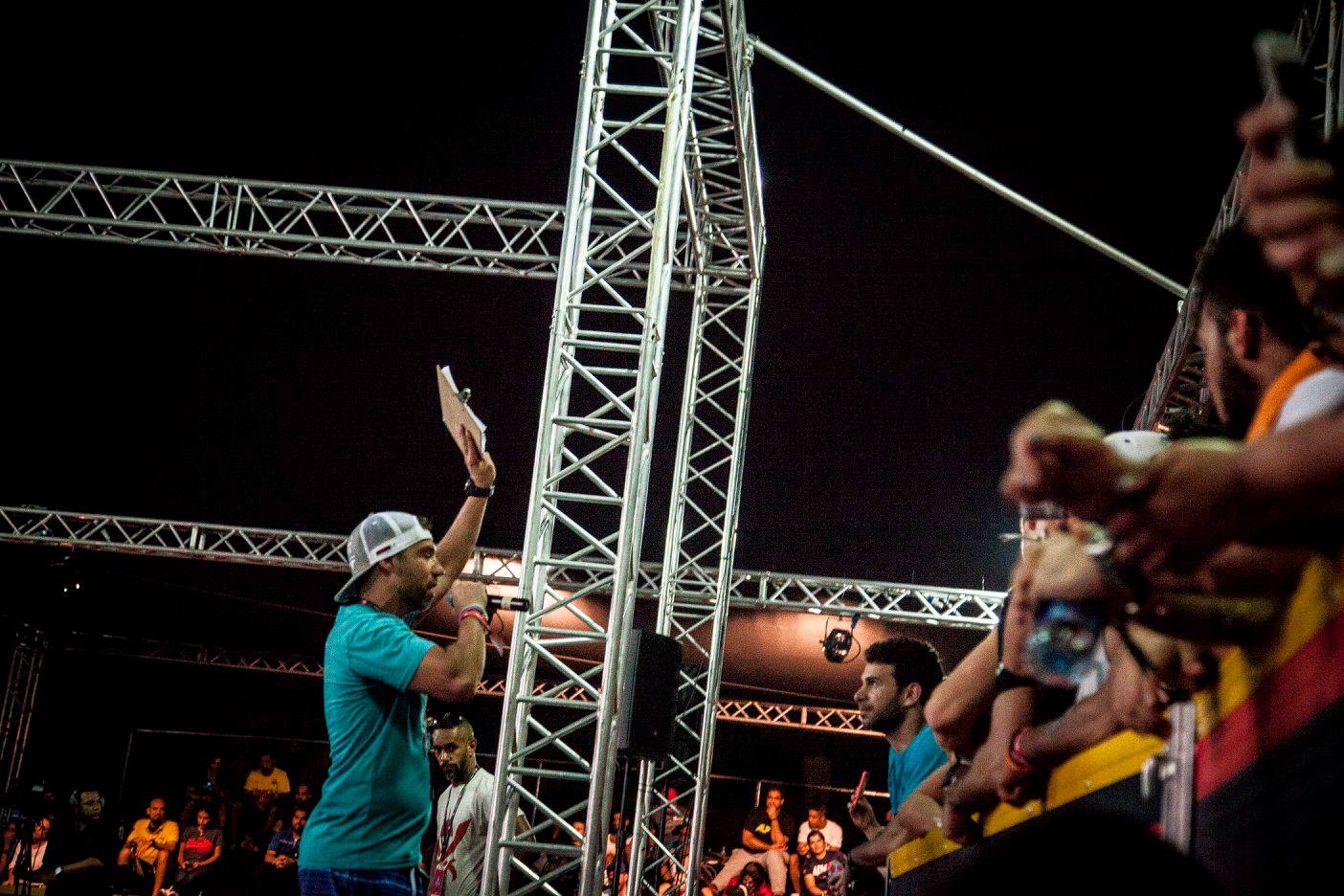 "Athletes ready?"
"Judges ready? "
Stand by…..3…2…1 GO!
The athletes exploded on to the first movement, the music blasted out of the speakers, the crowd erupted so loud you could feel their cheers in your bones. As I stood there with the microphone in hand and began to call the event, a feeling came over me that I have only felt a few times in my life.
It was an emotion only reserved for special moments or for special people. Under the lights with the athletes working and the music blasting, my voice erupted out of the speakers like gun fire and injected the crowd with a burst of energy that I can't describe. That was the moment I knew I was in love.
As a kid when we would play sports, we'd imagine we were actually real athletes in different game situations. Back then, it was pretty common for kids to let their imaginations run wild.
During wiffle ball games I'd get out there and start off with, "Now playing right field, #4 Lenny Dykstra."  If you have ever watched The Sandlot you might know what I'm talking about. Each one of us would always do this, and it didn't matter what we would play.
We grew up idolizing the athletes, sure, but we really studied those announcers and play by play guys, our intros and game calling was stuff of legend and had to be some of the funniest things I can remember about my childhood.
Back than we were just being kids; I never imagined for one second this was practice for something much bigger.
As an announcer or MC for a competitive functional fitness event, it is our job to make sure the crowd is aware of the action on the floor. A good MC understands it is the athlete's performance that will tell the ultimate story, however we are there to help them narrate it. Could you imagine if you had Morgan Freeman to narrate your life? How awesome of a performance would you give in ordinary situations?
The MC is there to help engage the crowd and maybe even bridge that gap for the casual onlooker who may just be discovering a new sport. By using tone and inflection of our voices with the backdrop of some serious beats (aka music), we can really help along a beautifully well written story line that you're watching coming alive on the fitness floor.
The crowd can see the action, butdropping a line at the right moment will not only inform them of what is transpiring but also help them to set their attention to other possibilities that might unfold within the story.
In the highest level of the sport, there are some really solid MC's establishing this. Most notable is Kiki Dickson. If you have ever been to an event that she is announcing, it's seriously impressive how clear her voice is, how she manages her tone as the action on the floor picks up or levels out. There is no one better who engages the the crowd but at the same time never overshadows the athletes or the story that is taking place on the floor.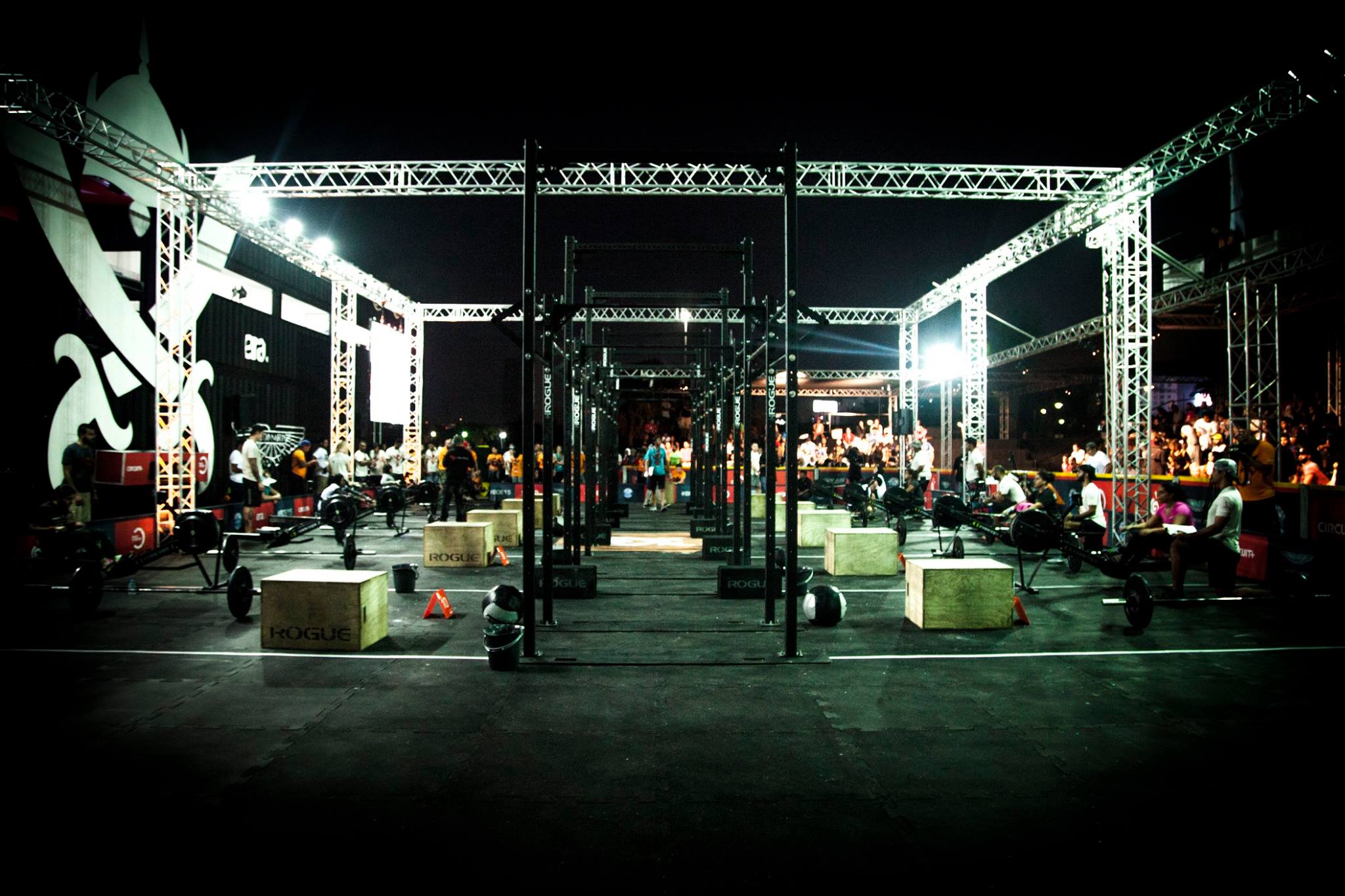 Photos courtesy Lisa Haefner
As competitive fitness becomes ever popular or other strength and conditioning events begin to find themselves a stage, more and more opportunities are presenting themselves for this role. A few years ago, the role was an afterthought as events just hired someone who would attract attention. For instance, a popular athlete who had little or no personality but would sell tickets.
Now it is a sought after position, as people are recognizing that having a quality MC can help create a really good event, which will have long term benefits if you're trying to establish a brand.  
I'm really excited to see how this journey unfolds for me as I try my best to create a what could be a respectably second career out of this for myself. As a 15 year fitness professional and CrossFit coach, I've been able to establish myself in that forum throughout the community. Entering the media world is a new challenge for me as I get out there and prove with each event that I can be effective and make an impact.
Each future event is a small but awesome step for me to continue to harness my new craft and help me prepare for the next one. Looking at it like a workout, each performance has it's takeaways. "What did I do well, and where do the improvements need to be made?"
The big challenge for me is that it is still a popularity game. There are some solid MC's out there who have their names cemented with the sport. Breaking in will not be easy. Although I have big event experience, those events have been done respectively in Kuwait (Battle of the East 2015) and London (The Athlete Games 2016). 
It's pretty hard to also get content of myself as most photographers and video teams are focused on the action and not the announcer. As it should be. Again, we're just narrators.
I'm going to need to network really well to find some opportunities to establish myself in the states. The plan is to start with smaller events and work my butt off towards the ultimate goal.
The CrossFit Games.  Now that would be something.
Next up, continue to follow my journey trying to establish myself in the Sates. I'll also see to answer how one becomes an announcer, and what are some of things you must posses to be a great one.  
Till the next time folks. Be awesome humans!
Editors note: This article is an op-ed. The views expressed herein are the authors and don't necessarily reflect the views of BarBend. Claims, assertions, opinions, and quotes have been sourced exclusively by the author.