Kym Dekeyrel's laugh is infectious.
We're chatting on the phone about her whirlwind competitive CrossFit career, and as she's describing her first competition experience, she intones a phrase I will now forever associate with her: "Life is a stage."
This isn't a surprising sentiment coming from a woman who has loved to dance since she was three years old. Kym earned her BA in Dance and a Minor in Kinesiology from San Jose State University and worked for a ballet company into her early 20's. But it is surprising from someone who needed to hide a visual impairment, a degenerative condition called retinitis pigmentosa, in order to do what she loved.
"It was all taken away."
The dance world is unforgiving. In auditions, she says, "I could have been the best dancer in that room and I would have been cut in an instant" if they knew about her condition. This environment of needing to minimize or hide her impairment in order to dance was challenging, but she didn't stop dancing until she was diagnosed with lupus and rheumatoid arthritis in her mid-twenties.
At that point, her dance life was over. For three years, Kym was sick enough that she could barely walk; constant joint pain, overall inflammation, circulation problems, and being on chemotherapy drugs made life extremely uncomfortable.
View this post on Instagram
A drastic change in diet helped Kym get back to physical activity; she was even able to have her second son. But the running and jumping she enjoyed again was short-lived. After accidentally eating something with gluten in it, Kym went into liver failure, had several surgeries to attempt the repair of her liver, and nearly died of internal bleeding.
When Kym awoke from the last surgery, her vision had gone completely white. She was blind. "I always thought that being totally blind meant [seeing] black but I learned differently. I thought maybe I would regain the vision that I had had before the surgery…but it never came back, "she says. "Now I just have to be the blind CrossFit Champion of the World!"
[The 2021 CrossFit Games season schedule.]
From Hiding to Seeking the Spotlight
It was her husband, Adam, who introduced her to CrossFit four years ago. A longtime member of CrossFit Myo in San Jose, Adam said to her one morning, after a long period of little activity, "And by the way, you're going to CrossFit today."
Kym's response: "No, I'm not." She didn't believe there was any way for her to train in a gym safely, and while tears were shed, Adam wouldn't budge.
Kym did her first CrossFit class, and the rest was history. "I caught fire," she says.
Kym is very grateful for her dance background now as an athlete. All of the proprioception (the sense of where your body is in space) and balance she has developed are now helping her perform WODs.
About two years after her first class, Kym signed up for her first competition, a partner throwdown held at a local CrossFit gym, and this is where Kym took off. "It was so unbelievably liberating," she says of being in the spotlight again.
View this post on Instagram
[Related: "I'm A Deaf CrossFit Athlete. Here's How I Navigate Fitness And Classes To Reach My Goals"]
The final event was a max lift, and Kym asked her judge to point her towards where the spectators were watching. Adam, who acts as her guide when she competes, yelled at her as the clock ticked down, "It doesn't matter!" But it mattered to Kym.
"It gave me that same feeling of the performance of dance."
Adaptive CrossFit
It wasn't until later that Kym learned of the Adaptive Division at Wodapalooza, and this led to her performing the qualifiers and competing in the WheelWOD Games in Toronto in 2019. She describes the experience as "magical," although she learned that she presented a unique challenge to the programmers at WheelWOD.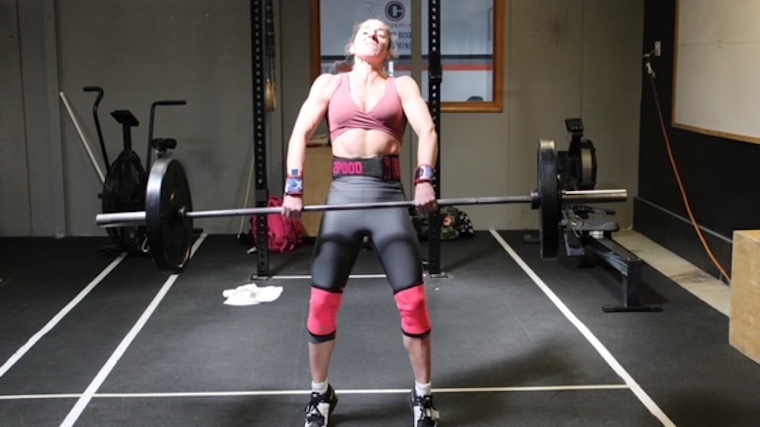 "I was the only blind person in the division," she shares, having learned that the visual impairments division is programmed for athletes who have some amount of vision. We laugh riotously as she describes having to throw baseballs for accuracy in one event. "We figured out later that I would have done better if I hadn't even thrown the ball."
Kym's inspirations for competing include her fellow adaptive athletes. Having met a young one-armed man at her gym who was inspired by Logan Aldridge, 2019's Fittest One Armed Man on Earth, to get off the couch and get to a CrossFit gym, Kym recalls thinking that she didn't have that blind athlete to look up to, to say 'if they can do it, then so can I.'
"But I could be that" for someone else, she says.
She looks forward to being a part of what brings more blind athletes to the sport. "I wanted to be a part of everybody learning more about blind athletes. I was so empowered by that."
Kym is also inspired by her husband, Adam, and their two boys, Cooper and Easton. Kym loves that "they think it's cool that mom is blind. Because I always worried that they'd be embarrassed." As for Adam, "Most of the time he believes in me more than I believe in me."
[Adaptive Classes Confirmed for 2021 CrossFit Open]
The Secrets to Success
As a fully blind athlete competing in a division where most athletes will have some vision, it would be easy for Kym to make excuses or complain about her positioning to win. But Kym's personal philosophy makes her say, "I will always be the most blind in my division, so now I just have to beat all of them. Regardless. That's the plan."
She believes that the secret to success is multi-faceted: not feeling sorry for ourselves, having fun, enjoying the experience over the results, and finding ways to push through our 'I can'ts.' Self-belief goes a long way. She also works to "maintain a gratitude outlook… [because] this KymPossible train isn't going to last forever."
I have never seen an Olympic lift. I have never watched a video of myself back to analyze my bar path or improve my technique. All I see is words… So many words. I absorb words, put them into movement, tweak words, try again, throw away words, realize that I didn't understand at all and listen to more words.
There is awe in her voice as she speaks about her experiences with CrossFit and competition: "With dance, I hid being visually impaired as much as I could, I was so embarrassed or ashamed. I couldn't tell people, because they would punish you for it. To have people celebrating it is awesome."
We're happy to see you thrive in the spotlight, Kym, and continue blazing the way for the athletes of the future.