A podium-to-podium set of performances will wrap up Laura Horvath's season of competitive CrossFit. On Sunday, Oct. 30, 2022, Horvath took home the overall win at the 2022 Rogue Invitational in Round Rock, Texas.
After placing third at the 2022 CrossFit Games, Horvath turned her gaze toward Texas and locked in a victory with 760 cumulative points. She beat out Annie Thorisdottir who scored 705 points for second place, and Emma Lawson followed up in bronze medal position with 670 points.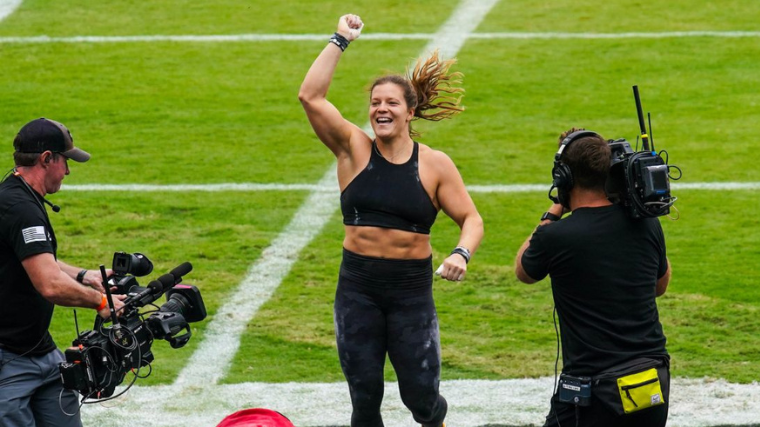 [Related: Oleksii Novikov Wins 2022 Rogue Invitational Strongman Competition]
This win marks Horvath's first at the Invitational after finishing fourth overall just one year prior in 2021. She's undoubtedly closing out 2022 in top form. Here are the top ten results from the women's CrossFit division at the Invitational:
2022 Rogue Invitational CrossFit Results | Women
Laura Horvath — 760
Annie Thorisdottir — 705
Emma Lawson — 670
Ellie Turner — 670
Gabriela Migala — 645
Amanda Barnhart — 620
Kara Saunders — 610
Alexis Raptis — 580
Danielle Brandon — 575
Arielle Loewen — 560
Manon Angonese — 555
Dani Speegle — 545
Emma McQuaid — 535
Matilde Garnes — 520
Carolyn Prevost — 410
Olivia Kerstetter — 360
Jacqueline Dahlstrøm — 340
Bailey Rogers — 330
Anikha Greer — 310
Andrea Solberg — 225
Horvath was able to play to her strengths as the competition went on. Despite a somewhat rocky start, placing 9th and 14th during Events One and Two, Horvath broke ahead of the pack and won the next four events in a row. This gave her enough momentum to edge out the rest of the field when all was said and done.
2022 Rogue Invitational Women's CrossFit | Laura Horvath
Horvath put on a clinic at the Invitational, sticking to her guns and taking a tactical approach to competition. With her victory all but locked in by Event 10, Horvath put in just the right amount of work to confirm her victory ahead of athletes like Annie Thorisdottir and Kara Saunders in overall points.
Event One — 9th
Event Two — 14th
Event Three — 1st
Event Four — 1st
Event Five — 1st
Event Six — 1st
Event Seven — 2nd
Event Eight — 19th
Event Nine — 7th
Event Ten — 3rd
With her top-of-the-podium finish at the 2022 Rogue Invitational, Horvath can close out her season of competitive CrossFit with a smile on her face. Her third-place finish at the 2022 CrossFit Games put her on the podium for a third time out of five overall Games appearances.
In addition, Horvath also bagged a win at the CrossFit Lowlands Throwdown Semifinal earlier this year prior to appearing in Madison. In totality, these three performances culminate in one of the strongest years of the Hungarian athlete's career in competitive fitness.
More Rogue Invitational Content
Horvath may have stolen the show in the women's division of CrossFit, but the weekend was jam-packed with stellar athletic performances across the board. If you want to learn more about who came out on top — breaking records along the way — in the Dell Diamond stadium, look no further:
Featured Image: Patrick Clark / Athlete's Eye Photography